Homemade French Fry Seasoning blend is quick and simple to make and adds amazing flavor to plain fries! Sprinkle on fresh or frozen french fries made in the air fryer, deep fryer and the oven!
Easy Homemade French Fry Seasoning is just right for adding salty, savory deliciousness to all varieties of fries. We love making simple and tasty seasoning recipes like our Homemade Sloppy Joe Seasoning Mix, Fajita Seasoning Mix and Homemade Taco Seasoning. This is one of our Spice Mix recipes you'll want to keep in your recipe box!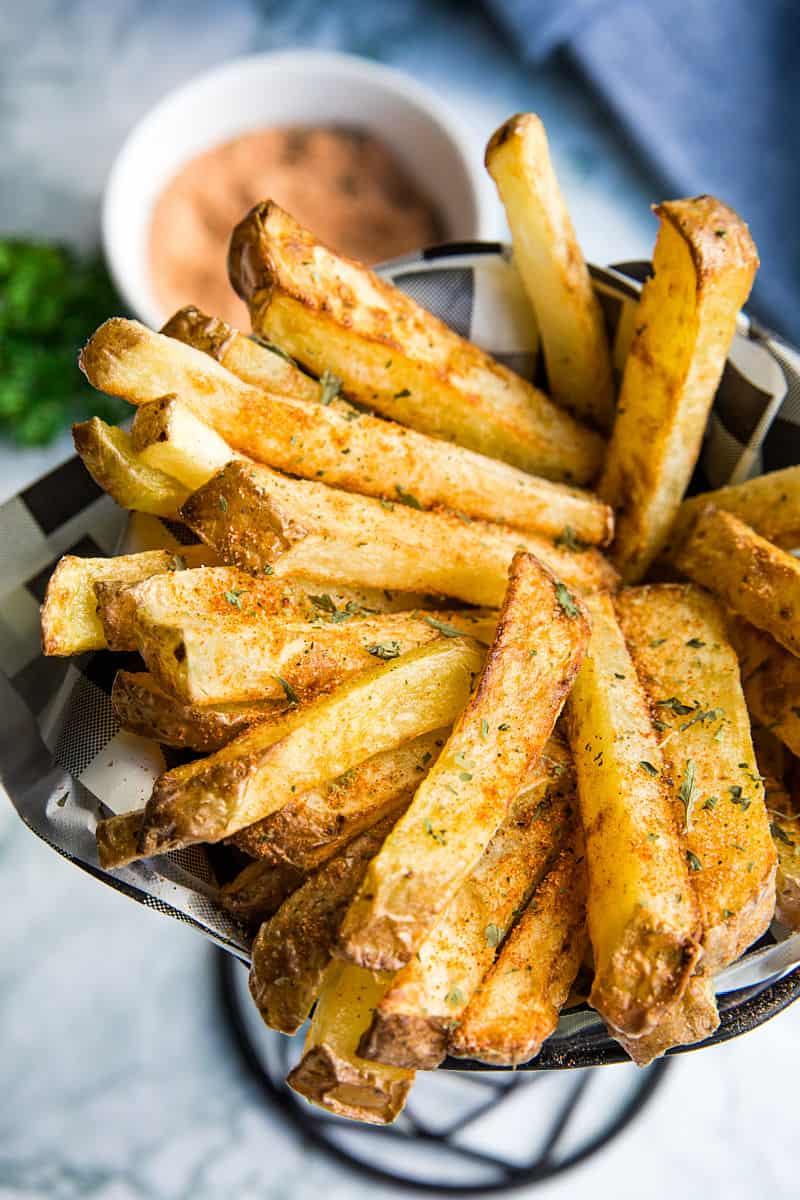 If you're like us, you love fresh fries. One way to give homemade french fries extra flavor is to shake on a tasty spice mix. The best thing about this seasoning recipe is you probably already have everything you need to make it already in your spice cabinet. Why use ordinary salt when you can dust your fries with the flavor of this awesome fry seasoning!
We love this seasoning so much usually make a big batch of this spice recipe so we have it on hand to us in place of salt on scrambled eggs, as a burger seasoning, and in casseroles.
Ingredients needed to make the seasoning
Salt – regular table salt is best, just like fast food restaurants. Granulated sea salt is great too. Whatever salt you use, the grains should be the small, to easily mix in with the other spices.
Paprika – adds nice color and mild sweet flavor.
Parsley Flakes – adds subtle earthy flavor and color.
Garlic Powder – a little garlic flavor, but not so much that it has a garlic bite.
Onion Powder – adds nutty onion flavor.
Black Pepper – familiar heat.
Cayenne Pepper – this spice is optional. Cayenne has some real heat to it, so use more or less to your own tastes.
Add Flavor Variations
Talk about a versatile seasoning blend! If you love garlic fries, add an extra teaspoon or two. Celery salt, more dried herbs and chili pepper flakes are great additions to build a seasoning blend you'll love to use on everything!
Making your own spice blends are a great way to control the amount of salt, too. You can use more or less salt to your own taste.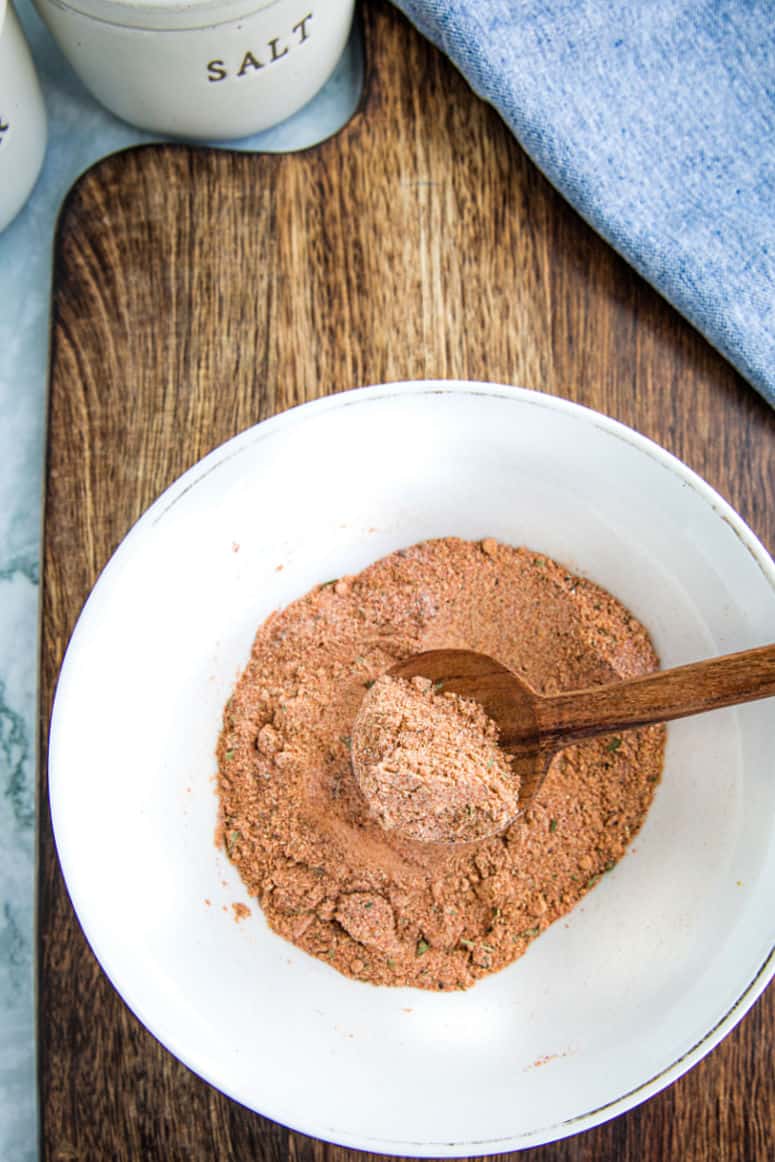 How to make Fry Seasoning
In a small bowl, combine all the ingredients until well blended.
Store in an airtight container, in a cool dry place, until ready to use.
Sprinkle on hot fries to add extra delicious salt and spice flavor.
How to store Homemade Fry Seasoning
You'll definitely want to store your fry seasoning in an airtight container. Moisture from the air can cause lumps and your spices to lose their flavor faster.
We love a sealable dredge or spice jar with a shaker top, so it's always handy for shaking on this delicious seasoning mix to whatever we make.
This post may contain affiliate links, see our disclosure here.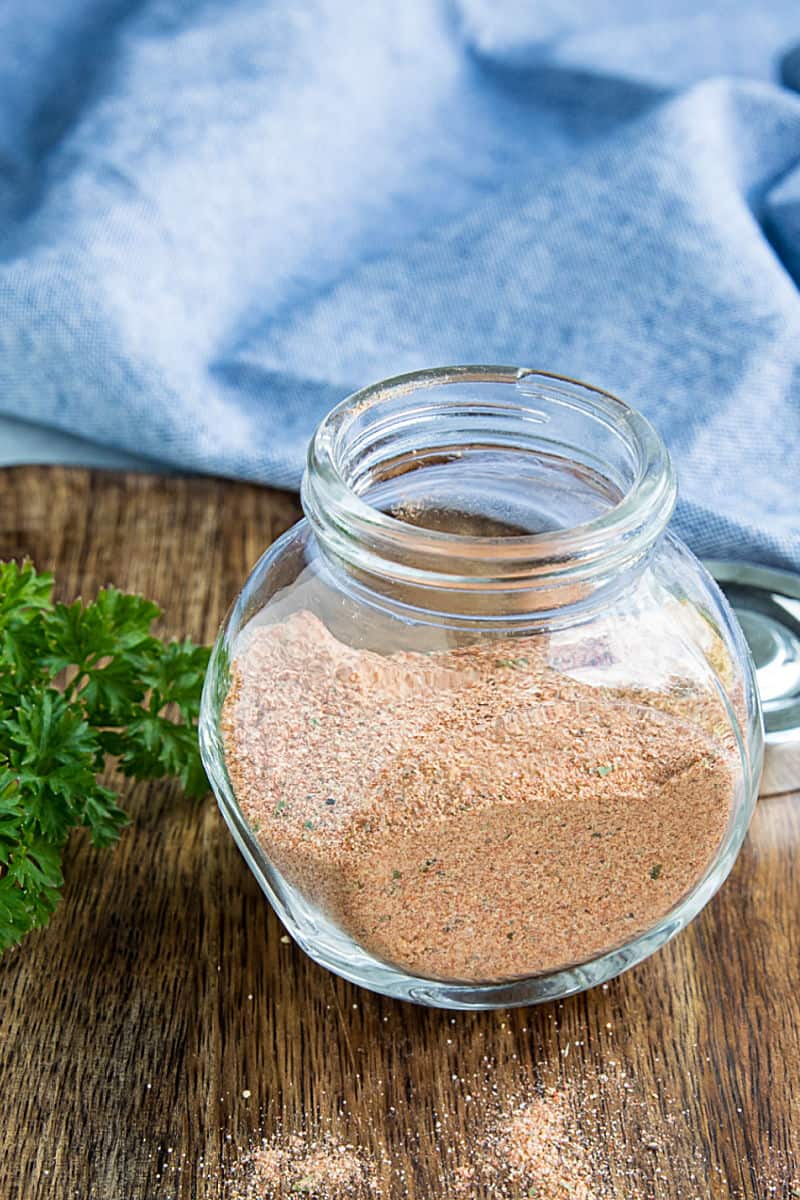 How to use French Fry Seasoning
Depending on the type of fries you're making and how you're preparing them will determine how they're seasoned. If the potatoes are going in the oven or air fryer, sprinkle on the seasoning blend before cooking your potatoes. If you're using a deep frying, give them a good shake of seasoning after!
How to get seasoning to stick to the fries
Oven Fries – toss the unbaked fries in a little olive oil right on the baking sheet, then sprinkle with fry seasoning and bake as usual.
Air Fryer Fries – toss uncooked fries with olive oil or use a mister. Sprinkle the fries with seasoning and add to the air fryer to cook and crisp.
Deep Fryer – fry the potatoes in oil, then shake off any excess oil when golden and crisp around the edges. Transfer fries to a serving plate then sprinkle on the fry seasoning.
Uses for French Fry Seasoning
Casseroles
Burgers and Sliders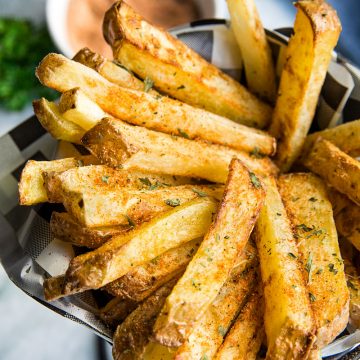 Homemade French Fry Seasoning
Homemade French Fry Seasoning is quick and simple to make with common pantry spices. Adds amazing flavor to plain old fries!
Instructions
In a small bowl, add all ingredients.

Stir until spices are evenly distributed.

Use immediately or store in an airtight container on a dark, cool shelf up to 6 months.
Chef Tips
Recipe makes 14 teaspoons of fry seasoning. I serving equals 1 teaspoon.
This recipe is easily multiplied.
Nutrition Facts
Nutrition Facts
Homemade French Fry Seasoning
Amount per Serving
% Daily Value*
* Percent Daily Values are based on a 2000 calorie diet.
© Copyright Christine Mello for Must Love Home. We would love for you to share a link to this recipe but please do not copy/paste the recipe instructions to websites or social media. We are happy for you to share a photo with a link back to this website instead.
The nutritional information shared is an estimate, and is automatically calculated through a program in the recipe card. If nutritional information, like the calorie count is important to you, we recommend running the ingredients through whichever nutritional calculator you feel most comfortable with. Nutritional values like calories, fat and sugar can vary widely depending on which brands were used.