A flavorful spice mix to replace the store bought seasoning packets!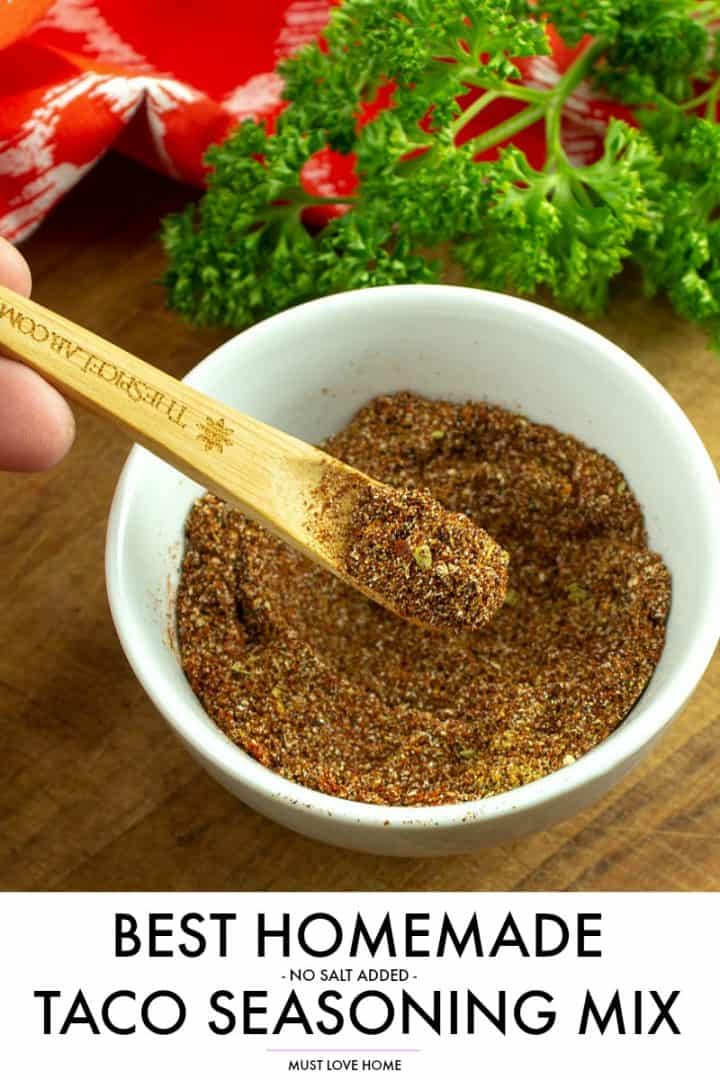 I was making tacos for dinner the other night and realized that I was out of seasoning packets. My fajita seasoning mix, which is a close cousin to the homemade taco seasoning mix, would do in a pinch, but I wanted a real mix of taco seasonings to give my recipe some punch.
The solution was to go to my spice shelves and make my own. This spice mix recipe is fairly mild, with just enough heat to please both kids and adults. We love our tacos on the spicy side so I usually add a little more red pepper flakes to my mix. That's the beauty of making your own because you can customize it to your family's tastes.
HOW TO MAKE HOMEMADE TACO SEASONING MIX
Start by gathering all of your ingredients. It's easier to measure everything out before you start mixing. You will want to make sure you have enough of every spice to get the flavors you want.
I measure all of my ingredients into separate cups first. After making sure I have double checked that the right spices are in the cups, I mix it up. One time I wasn't paying attention and measured out ground red pepper instead of red pepper flakes and just barely caught the mistake before I ruined my mix. That old carpentry saying "measure twice, cut once" works well when you are making spice mixes… measure twice, mix once.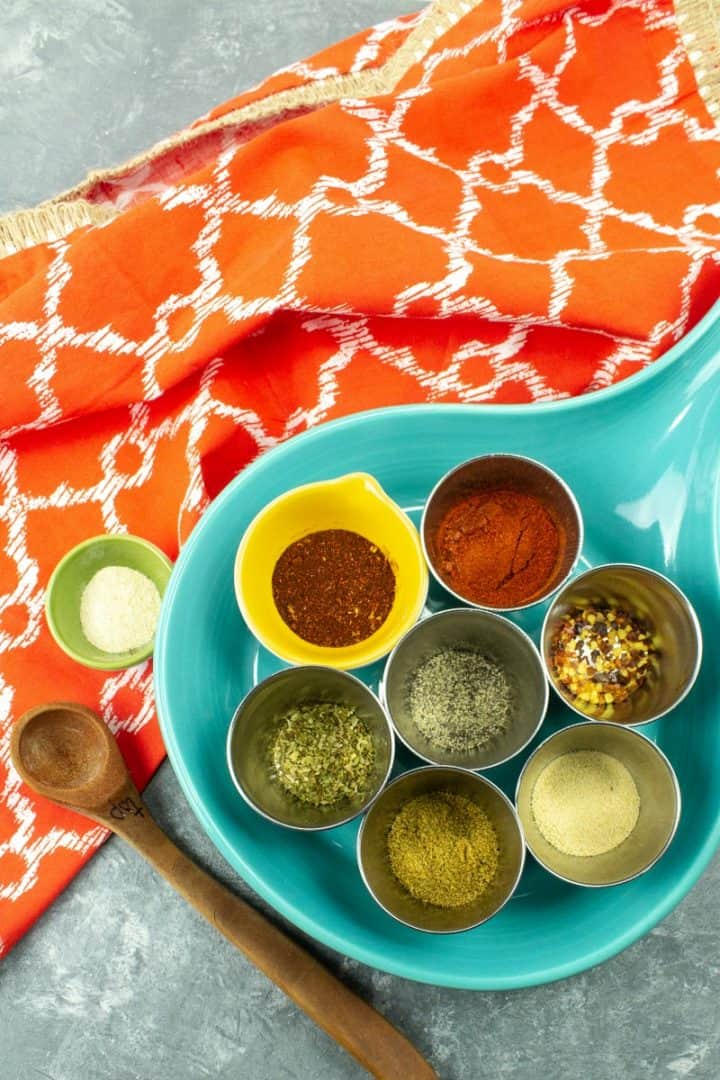 I love the convenience of these little Stainless Steel Sauce Cups from Amazon, but any container or bowl will work.
WHAT SPICES ARE IN TACO SEASONING
Taco Seasoning is wonderful to add immense flavor and is used to season southwestern dishes, soups and casseroles and I love to use it as a spice rub on chicken and ribs! These are some of the main players included in this flavorful taco seasoning.
Cumin – a nutty, earthy tasting spice with citrus undertones. One of the most used spices in the world, cumin is common in Mexican and Indian cooking.
Smoked Paprika – regular paprika is made from dried crushed chilies. Smoked Paprika gets it's strong smoky flavor from smoking the the same type of peppers before they are crushed. Oak wood is often used for the smoking.
Chili Powder – a blend of dried chili peppers, garlic and spices with a deep, pungent flavor. Used to spice chili, tacos, beans and roasted meats.
Onion Powder – a commonly used seasoning of dehydrated ground onion.
Red Pepper Flakes – aka crushed red pepper are dried and crushed red chili peppers. Adds sharp, pleasant heat to cooked dishes.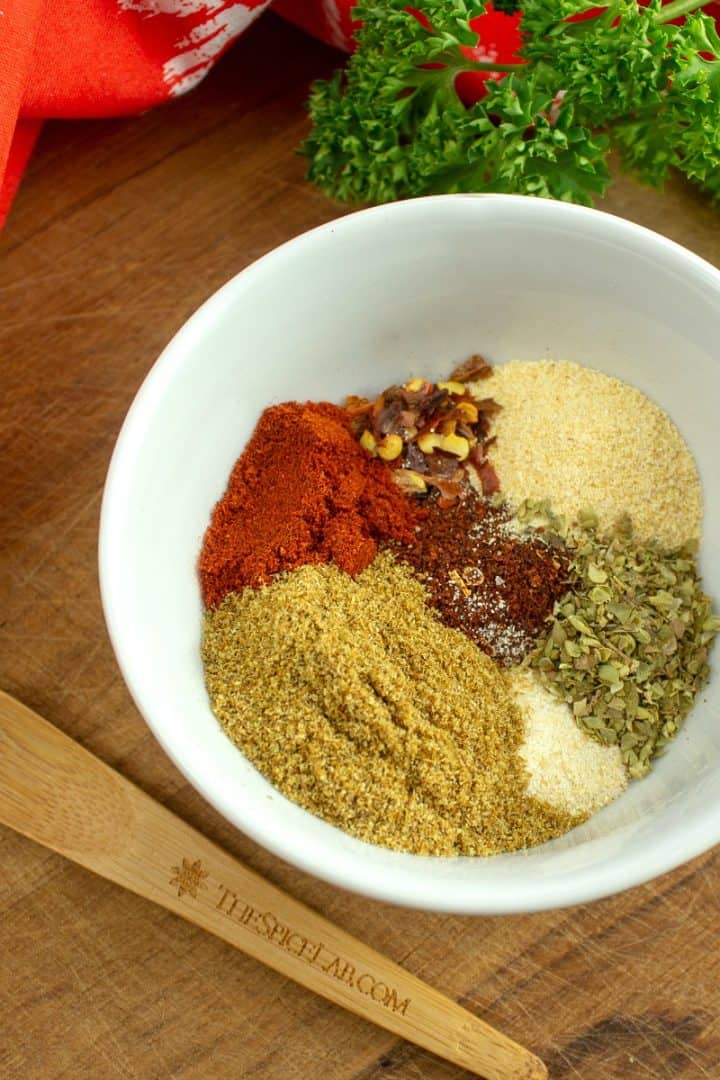 HOW MUCH WATER TO ADD TO TACO SEASONING MIX
When making ground beef taco meat, add the seasoning mix and 3/4 cup water to the browned meat. Bring the water to a boil, then simmer over low heat for about 5 minutes until the liquid has almost evaporated.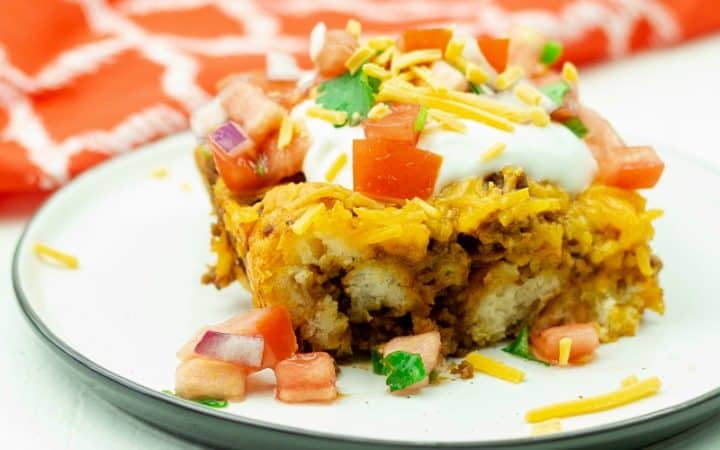 Try your new seasoning mix by making a southwestern favorite, Taco Biscuit Casserole!
Homemade Taco Seasoning
Spice mix to replace store bought taco seasoning packets.
Instructions
In a small bowl, add all ingredients.

Stir until spices are evenly distributed.

Use immediately or store in an airtight container on a dark, cool shelf up to 6 months.
Chef Tips
2 tablespoons mix = 1 store bought packet
Nutritional information is for 8 servings per 2 tablespoons of mix.
This recipe is easily multiplied.
Nutrition Facts
Nutrition Facts
Homemade Taco Seasoning
Amount per Serving
% Daily Value*
* Percent Daily Values are based on a 2000 calorie diet.
© Copyright Christine Mello for Must Love Home. We would love for you to share a link to this recipe but please do not copy/paste the recipe instructions to websites or social media. We are happy for you to share a photo with a link back to this website instead.