Chewy Molasses Chocolate Chip Cookies are amazingly soft, perfectly spiced and chock full of dark chocolate chips. A holiday favorite and great for gift giving too!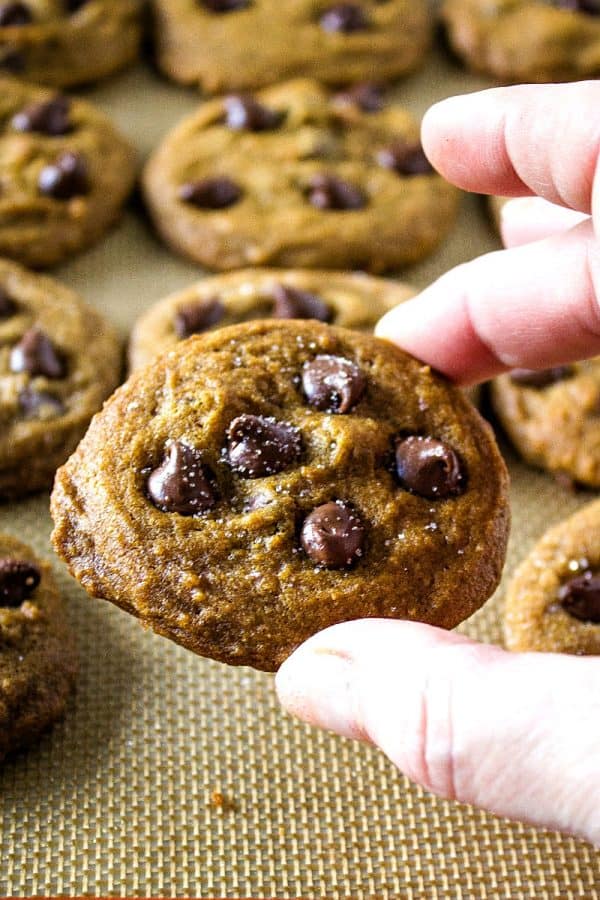 Today's Chocolate Chip Molasses Cookies are rich, lightly spiced and full of dark and delicious chocolate chips. This recipe makes a large batch of 36 cookies, but I promise they won't last long. My taste testers loved them and my husband Matthew went so crazy over these…we literally had to hide the cookie jar.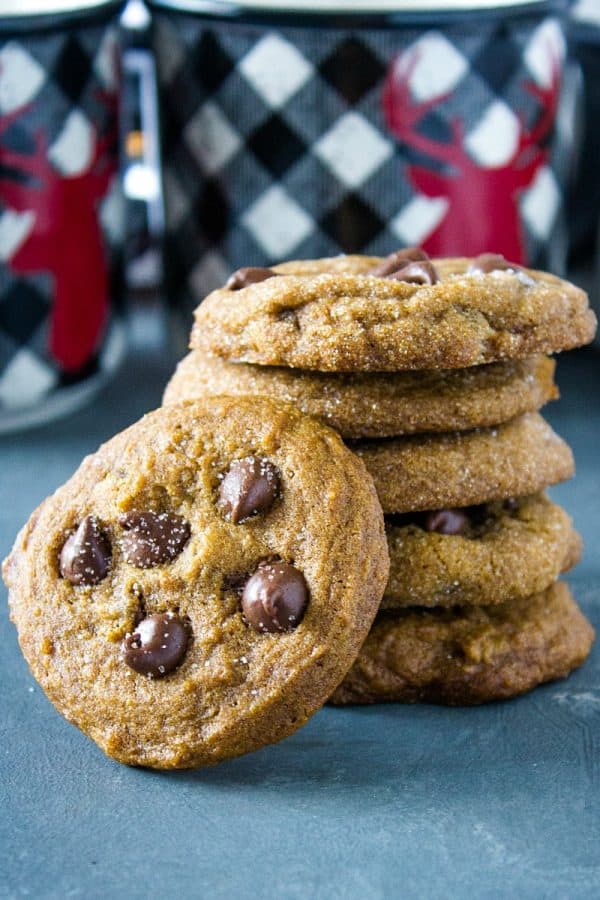 How to Make Chewy Molasses Chocolate Chip Cookies
This recipe has two basic steps and could not be easier to make.
Mix the wet and dry ingredients.
Scoop, press a few chocolate chips into the dough and bake.
The secret to making these amazing chewy cookies is in the cookie chemistry. Using brown sugar which has more moisture than granulated sugar and butter (again, more moisture) instead of vegetable shortening, results in a chewier cookie. Also, watching the baking time is crucial. Baking too long will let the moisture escape into the oven, allowing the cookie to become crunchy.
*Tip – use a small cookie dough scoop to make uniformly sized cookies every time.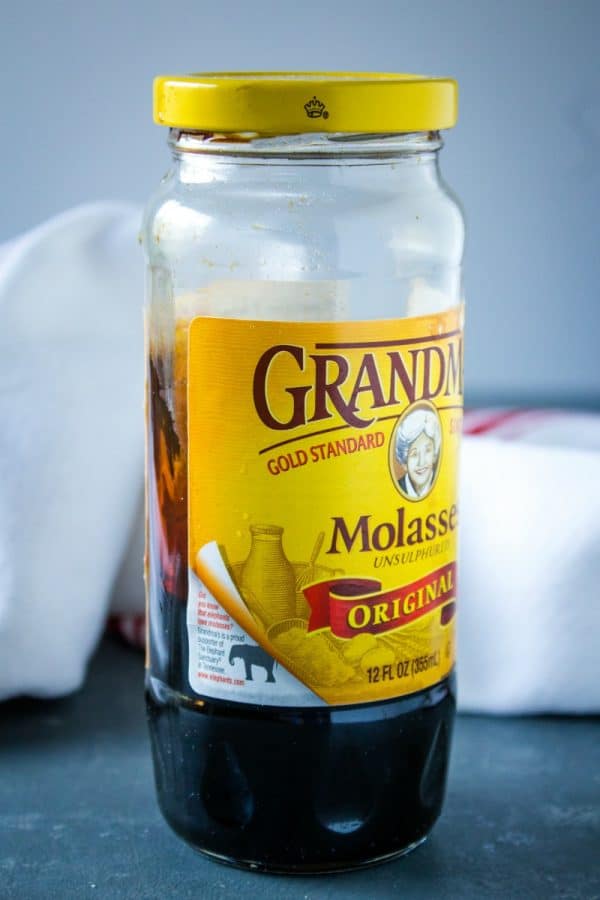 What Kind of Molasses to Use?
There are different kinds of molasses on the store shelves and online – from light and dark to blackstrap molasses. For this recipe, Grandma's Original Molasses was used, which is regular dark molasses and what I general use in baking for deep rich color and flavor.
Molasses vs Blackstrap Molasses
Simply put, molasses is made as a byproduct of refining sugar cane. During the first boiling of the juice from mashed sugar cane, light molasses is made. A second boiling produces dark molasses and a third boiling results in a super thick, dark syrup known as blackstrap molasses. Molasses retains about 70% sugar, while blackstrap has about 45% sugar, resulting in an almost bitter flavor. For that reason, blackstrap molasses is not a substitute for regular molasses in recipes.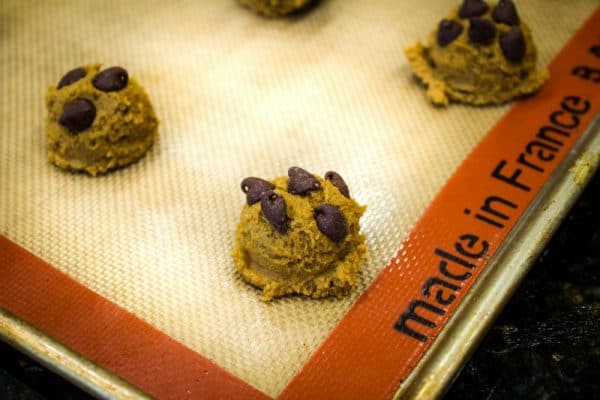 How to Bring Butter and Eggs to Room Temperature Quickly
These are two shortcuts for getting butter softened and eggs ready for baking that have saved me a lot of time over the years.
Warm the butter, in it's wrapper, in the microwave. Microwave on High for 5 second intervals, turning the butter over each time. No microwave? First, cut the cold butter into cubes. That'll give it more surface area to warm. Get out a large mug and a paper towel. Pile up the butter so it will fit under the mug, or do this method in batches. Run water until it is very hot. Fill the mug with the hot water and wait for the outside of the mug to feel warm. Then quickly dump out the water, wipe it dry with the paper towel and sit it upside down over the butter. The heat will transfer from the mug to the butter and gently soften it.
To warm eggs to room temperature, fill a bowl with warm (not hot) tap water and place the eggs in the bowl. Let the eggs sit in the bowl for 4 – 5 minutes until the egg shell is no longer cool to the touch.
What is Allspice?
Despite the name, Allspice, which many people believe is a blend of several spice, is really the dried unripe berry of the Pimenta dioica tree, which is native the Caribbean, Mexico and Central America. It's believe the name came because it has the flavor and aroma of a mix of cinnamon, nutmeg and cloves.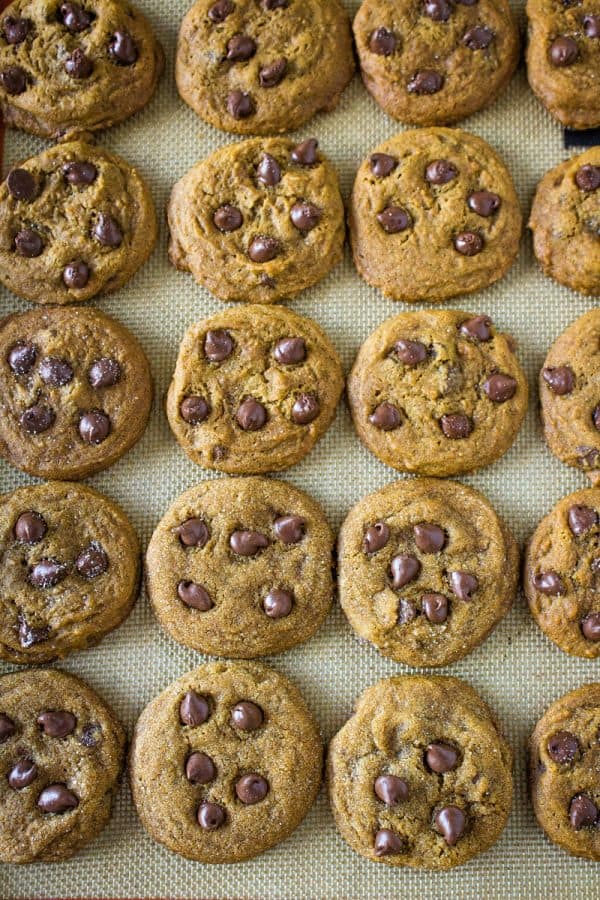 More Easy Holiday Cookie Recipes to Love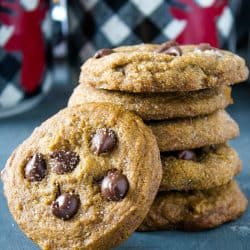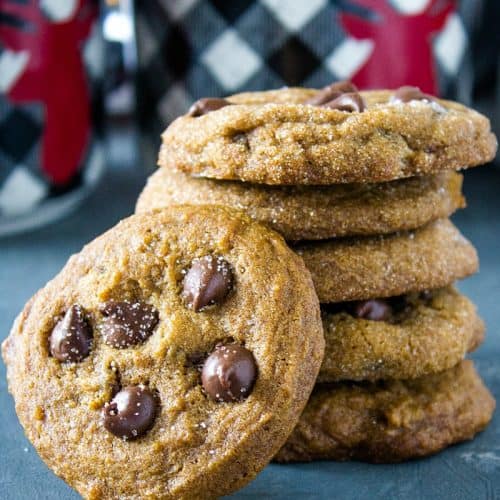 Chewy Molasses Chocolate Chip Cookies
Chewy Molasses Chocolate Chip Cookies are amazingly soft, perfectly spiced and chock full of dark chocolate chips. A holiday favorite and great for gift giving too!
Instructions
Preheat oven to 375°F. Grease or line baking sheet with parchment or silicone baking mat.

In large bowl, cream butter and brown sugar until smooth. Add molasses, egg and vanilla. Beat until combined.

In medium bowl, whisk flour, baking soda, cinnamon, allspice, ginger and salt. Add to butter mixture and beat until just combined. Fold in chocolate chips.

Use scoop or roll dough into 1-1/2 inch balls. Roll Place 2 inches apart on baking sheet. Sprinkle with turbinado sugar. Press reserved chocolate chips into top of dough balls. Bake 12 – 15 minutes until the cookies are just set. Gently remove from pan to wire rack to cool.
Nutrition Facts
Serving:
1
cookie
Calories:
146
kcal
Carbohydrates:
21
g
Protein:
1
g
Fat:
7
g
Saturated Fat:
4
g
Cholesterol:
20
mg
Sodium:
102
mg
Potassium:
55
mg
Fiber:
1
g
Sugar:
14
g
Vitamin A:
177
IU
Vitamin C:
1
mg
Calcium:
20
mg
Iron:
1
mg
© Copyright Christine Mello for Must Love Home. We would love for you to share a link to this recipe but please do not copy/paste the recipe instructions to websites or social media. We are happy for you to share a photo with a link back to this website instead.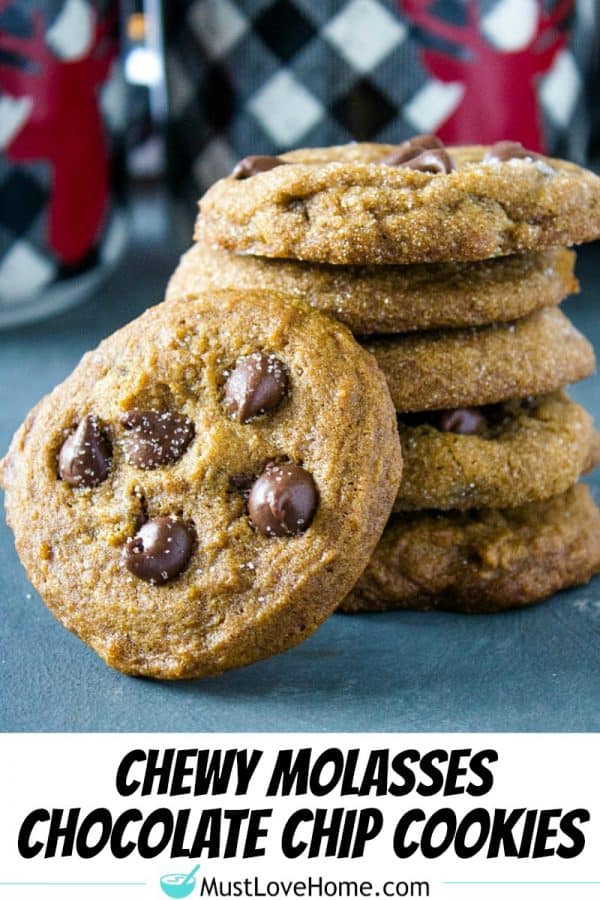 If you made this recipe, please leave a comment and rating. I would appreciate the chance to troubleshoot any issues you might have had before you leave the rating!