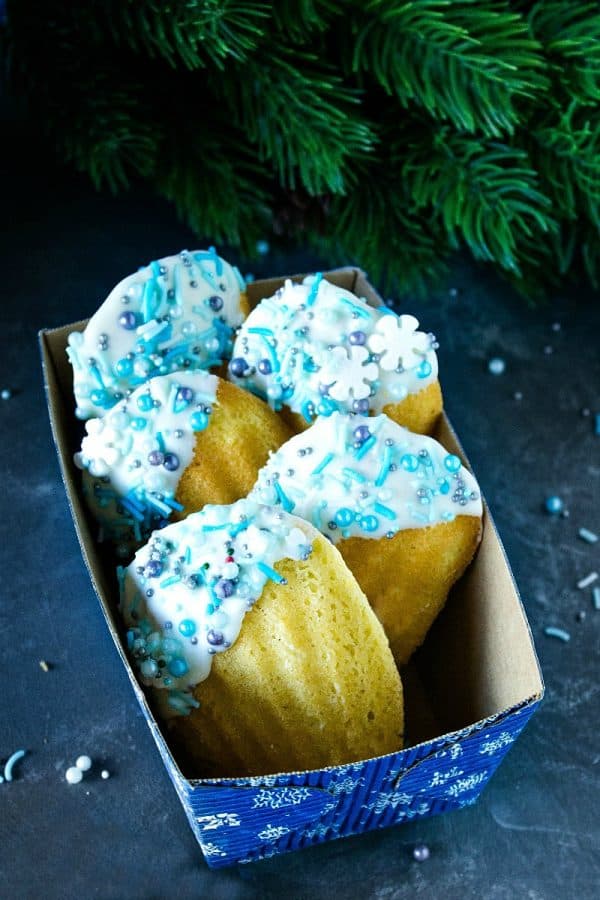 Introducing totally Easy Holiday Madeleines! They're delicate French butter cookie cakes that are golden crisp on the outside and spongy in the middle. Dipped in white chocolate and dressed to the nines, they will shine on any holiday cookie tray. Bonus – they're surprisingly easy to make with the most basic ingredients.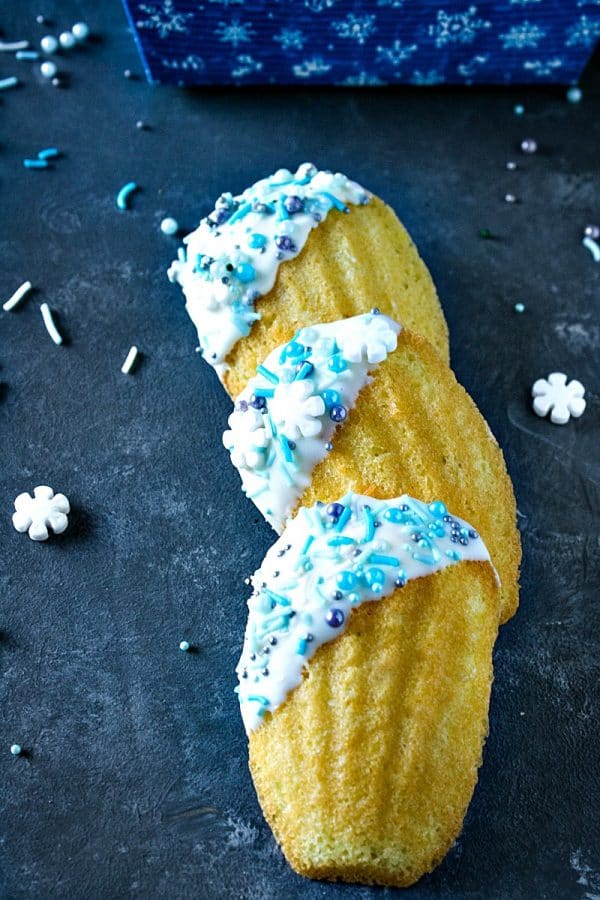 How to Make Easy Holiday Madeleines
Ingredients to Make Easy Holiday Madeleines
White Chocolate Wafers – melting wafers are the way to go for these cookies. They are made for dipping and coating, without having to add any extra shortening to make them smooth.
Butter – please only use butter for this recipe. Margarine will not work, the cookies will spread out and thin.. If using salted butter, omit the added salt in the recipe.
Flour – all purpose flour works great for this recipe. Be sure to measure your flour carefully, see my method below.
TIP 💡 Use a spoon, not a measuring cup, to over-fill the flour into your measuring cup. Then use a knife to scrape the excess off the top. Spoon filling helps keep the flour from compacting in the measuring cup. This method works well for salt, baking powder, soda and spices, too.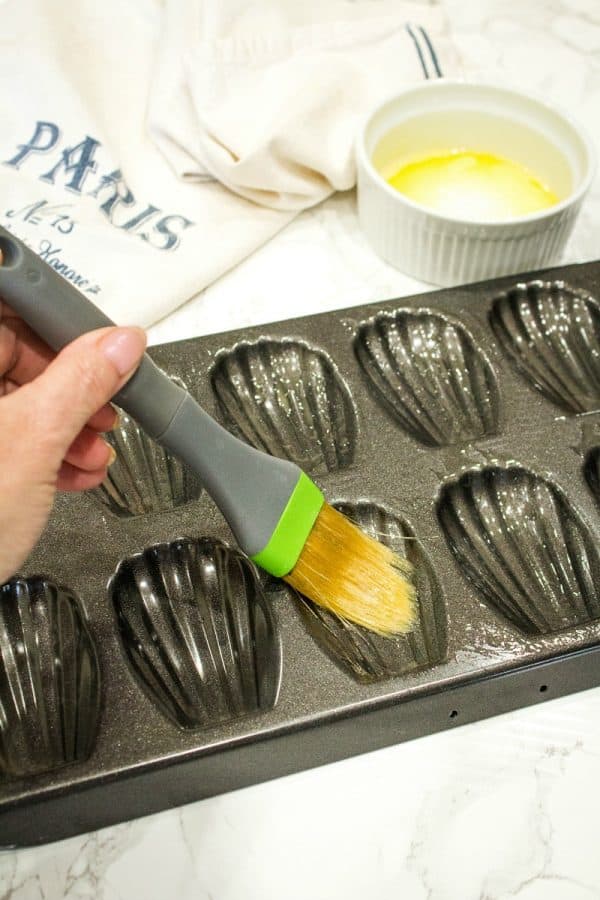 Prep Your Pan
Prepping the pan is a must when making your Mads. Whether using a non-stick or other type of pan, melt 2 tablespoons of butter and brush each madeleine well before filling. This will not only keep the Mads from sticking, but also create a nice golden color and buttery crust while baking.
If you don't have a Madeleine pan, this recipe can be baked using a mini-muffin pan. You won't get the lovely clam shell shape (or the "hump") but the texture and flavor should remain the same.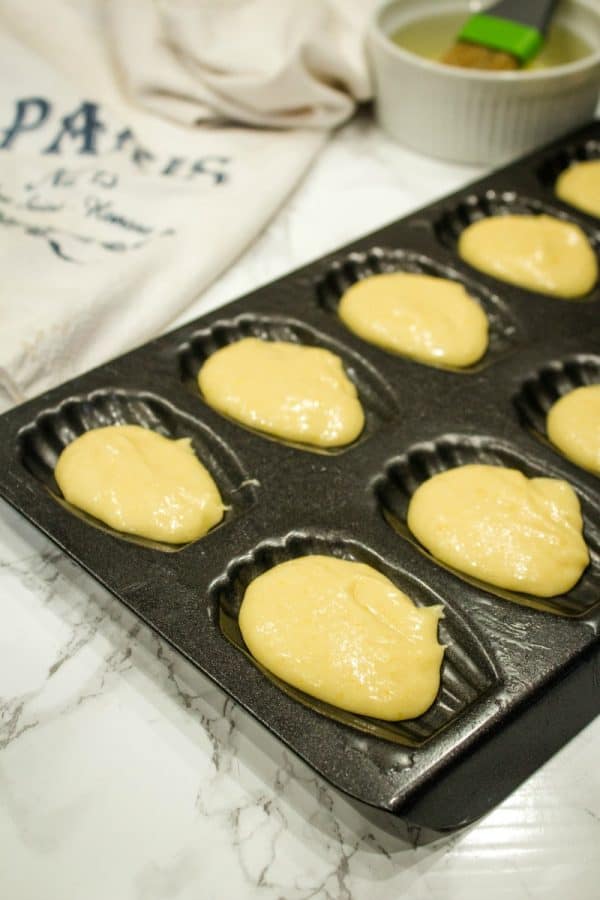 Spoon about 1-1/2 tablespoons of dough into each well. It looks like it's not enough, but the dough will spread out and rise as it bakes, creating the perfect clam shell shape. Plop it right into the center of the well, giving it room to spread. Depending on how long you chilled the dough, it may look a bit thicker than mine. That's due to how much the butter re-hardened during the chilling process.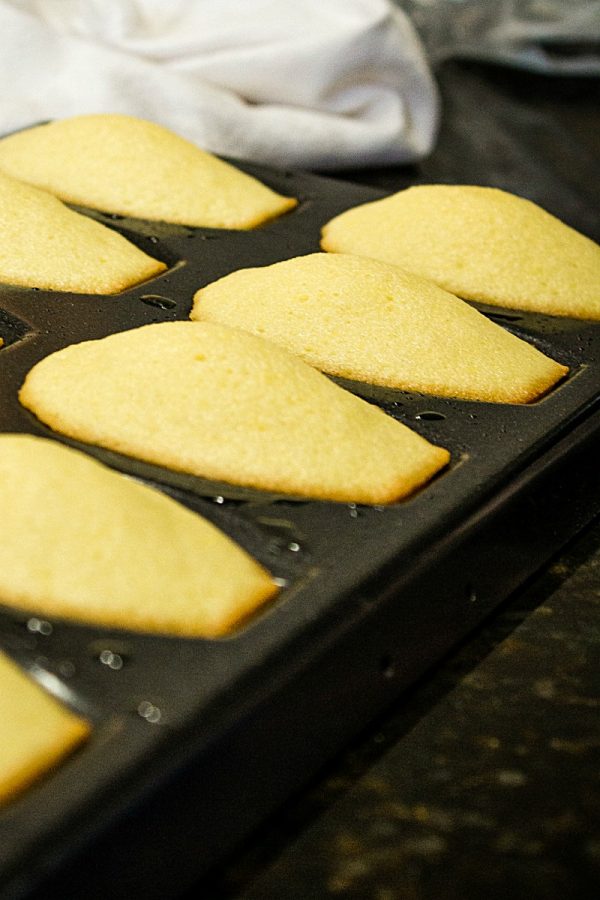 Chilling the dough is crucial to getting the tell-tale "hump" we're looking for in our mads. Chilling then baking quickly shocks the dough and causes the high rise.
After baking, let the Mads cool a few minutes in the pan, then use a fork to pop them out from the short side. Cool completely on a wire rack before dipping in the chocolate and decorating with cute holiday sprinkles.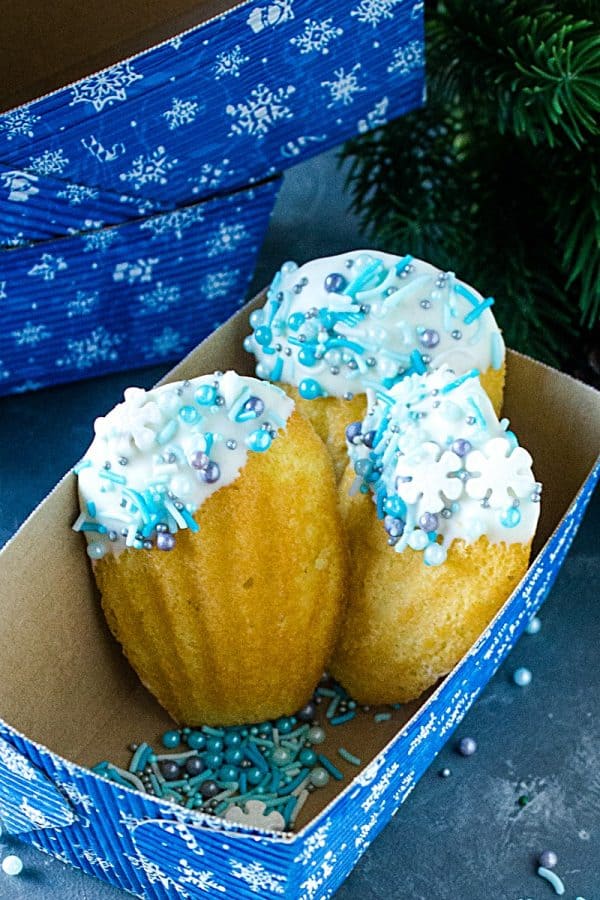 More Easy Holiday Cookie Recipes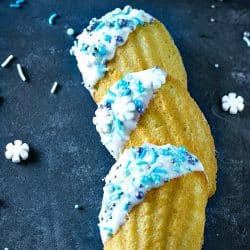 Easy Holiday Madeleines
Easy Holiday Madeleines – French butter cookie cakes that are golden crisp on the outside and soft and spongy in the middle. These holiday cookies, dipped in white chocolate and decorated for the holidays, are surprisingly easy to make with the most basic ingredients.
Instructions
Beat eggs with sugar until pale yellow, about 4 minutes. Stir in vanilla.

In medium bowl, whisk together flour, baking powder and salt. Fold into egg mixture until just combined. Gently stir in 4 tbsp melted butter. Cover and refrigerate at least 1 hour.

Preheat oven to 350°F. Melt remaining butter and brush madeleine wells lightly with butter.

Spoon 1 tbsp batter into center of each buttered well. Bake 7 – 9 minutes until just golden brown around the edges. Cool slightly in pan then remove from pan to wire rack to cool completely.

In a microwave safe cup, melt chocolate wafers in microwave. Heat for 10 seconds and stir. Continue at 5 second intervals, stirring after each, until chocolate wafers are melted and smooth.

Working quickly, dip corner of each madeleine into chocolate, allowing excess to drip off. Decorate chocolate with sprinkles and place on wire rack to harden.
Nutrition Facts
Nutrition Facts
Easy Holiday Madeleines
Amount per Serving
% Daily Value*
* Percent Daily Values are based on a 2000 calorie diet.
© Copyright Christine Mello for Must Love Home. We would love for you to share a link to this recipe but please do not copy/paste the recipe instructions to websites or social media. We are happy for you to share a photo with a link back to this website instead.