Chocolate Chip Snowball Cookies – filled with melting chocolate chips and festive sprinkles, these sugar dusted cookies are a favorite holiday cookie recipe.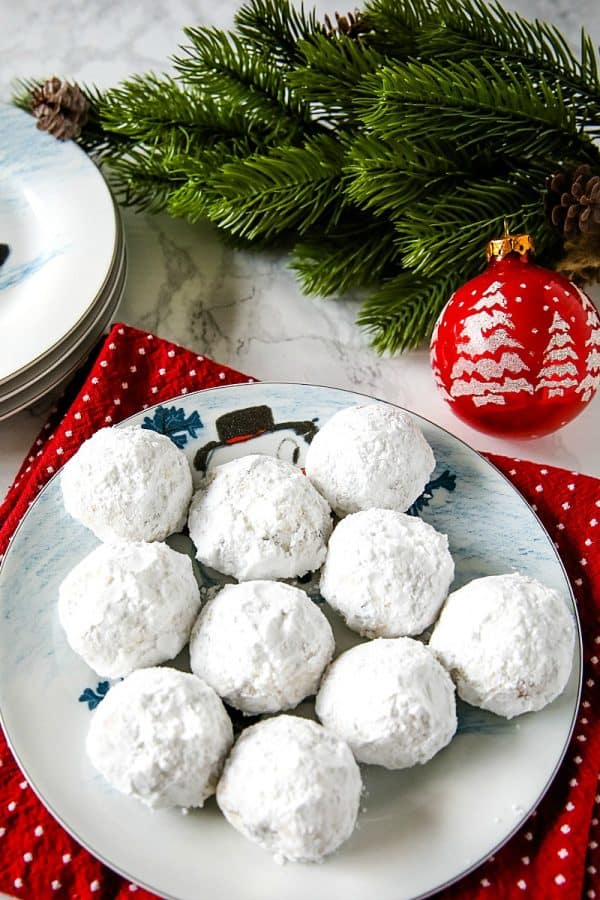 These Chocolate Chip Snowball Cookies are just like the classic, with a twist. They're loaded with mini-chocolate chip morsels and sprinkles for a bite of holiday delicious in every bite!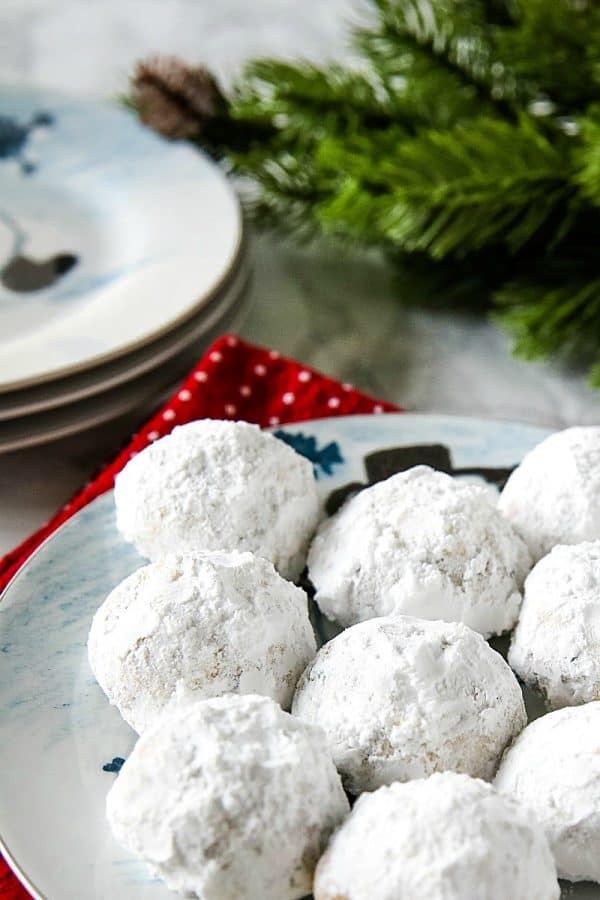 How to Make Chocolate Chip Snowball Cookies
These cookies are probably not a classic (and a favorite) by chance. Who could resist a cookie recipe that's just mix, roll and bake, with such yummy results!
Tips For Making the Best Holiday Cookies
The best tip for making any baking recipe is to measure your ingredients as accurately as possible, and making sure your ingredients are at the right temperature for blending. Baking is really just the science of how measured, blended ingredients respond to heat, so accuracy matters…a lot!
Use a spoon, not the measuring cup, to over-fill powdered or ground ingredients into your measuring cup, then use a knife to scrape the excess off the top. Spoon filling helps to keep dry ingredients from compacting in the measuring cup. This method works well for powdered sugar, baking powder, soda and ground spices, too.
Make sure to use softened butter and room temperature eggs. If you forget to take them out, here are shortcuts for warming butter and eggs to save you some time.
Warm the butter, in it's wrapper, in the microwave. Microwave on High for 5 second intervals, turning the butter over each time. No microwave? First, cut the cold butter into cubes. That'll give it more surface area to warm. Get out a large mug and a paper towel. Pile up the butter so it will fit under the mug, or do this method in batches. Run water until it is very hot. Fill the mug with the hot water and wait for the outside of the mug to feel warm. Then quickly dump out the water, wipe it dry with the paper towel and sit it upside down over the butter. The heat will transfer from the mug to the butter and gently soften it.
To warm eggs to room temperature, fill a bowl with warm (not hot) tap water and place the eggs in the bowl. Let the eggs sit in the bowl for 4 – 5 minutes until the egg shell is no longer cool to the touch.
More good stuff: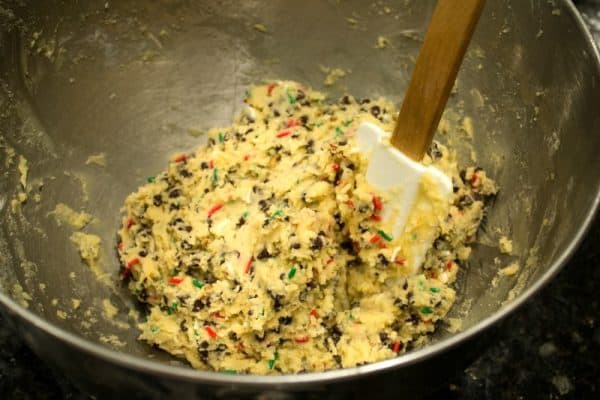 Making the dough is a breeze. You just cream the sugar and butter, add in dry ingredients then fold in chocolate chips and sprinkles. After baking is the fun part…rolling in powdered sugar and eating! Let the kids help…even my grandson who's 3, loved rolling the cooled cookies in powdered sugar for the second go-round!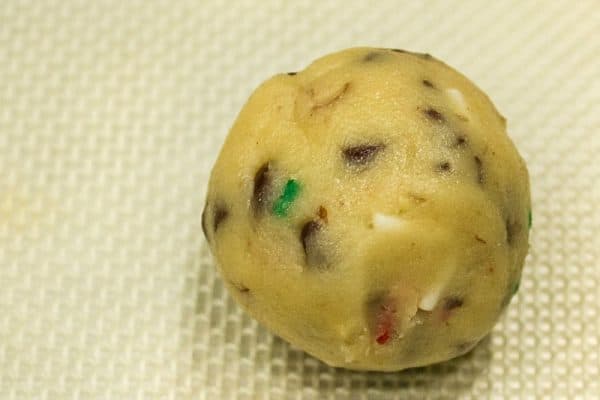 You could use a dough scoop, but the kids like to roll about a 1-1/2 tablespoons of dough into balls with their hands to make these.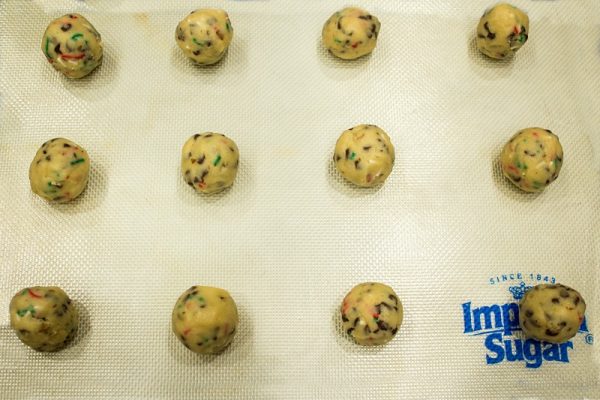 The cookies don't spread out very much when they bake, so you should be able to fit about 18 on a half-sheet pan.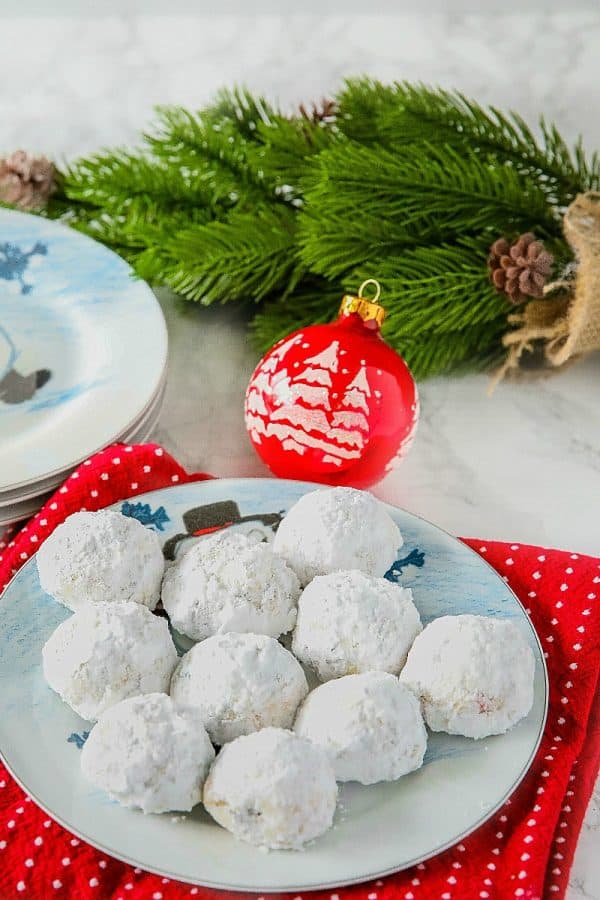 More Easy Holiday Cookie Recipes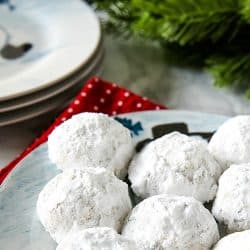 Chocolate Chip Snowball Cookies
Chocolate Chip Snowball Cookies – filled with melting chocolate chips and festive sprinkles, these sugar dusted cookies are a favorite holiday cookie recipe.
Instructions
Preheat oven to 350°F. Grease or line baking sheet with parchment paper or silicone baking mat.

In a large bowl, cream butter, sugar and salt until light and fluffy. Beat in egg and vanilla until combined. Add 1 cup flour, beat until just incorporated. Add second cup flour and beat until combined. Stir in pecans, chocolate chips and sprinkles.

Roll dough into 1-inch balls. Bake on center rack of oven for 17 – 20 minutes until starting to brown on the bottom. Cool 2 – 3 minutes on pan, then roll cookies in powdered sugar. Cool completely, roll a second time in powdered sugar.
Nutrition Facts
Nutrition Facts
Chocolate Chip Snowball Cookies
Amount per Serving
% Daily Value*
* Percent Daily Values are based on a 2000 calorie diet.
© Copyright Christine Mello for Must Love Home. We would love for you to share a link to this recipe but please do not copy/paste the recipe instructions to websites or social media. We are happy for you to share a photo with a link back to this website instead.