White Chocolate Gingerbread Crisps – thin gingerbread cookie wafers, flavored with brown sugar, molasses and spices, covered with white chocolate and decorated with festive sprinkles. Merry and bright for the holidays!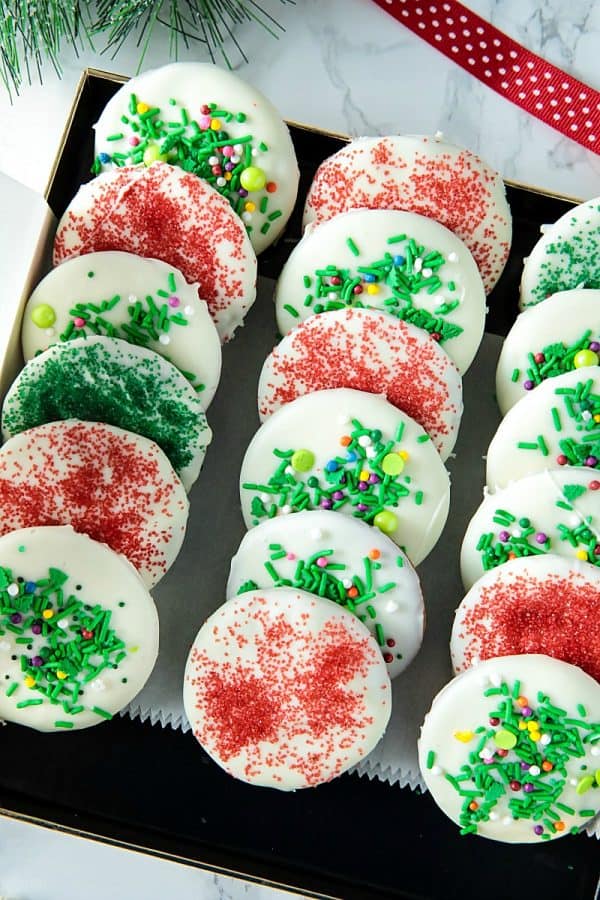 Let me introduce you to the most amazing White Chocolate Gingerbread Crisps – a spiced gingerbread cookie, and the only dough in our collection that's rolled out. No worries though, the cookie's covered in white chocolate so it's great for beginners as well as more experienced bakers.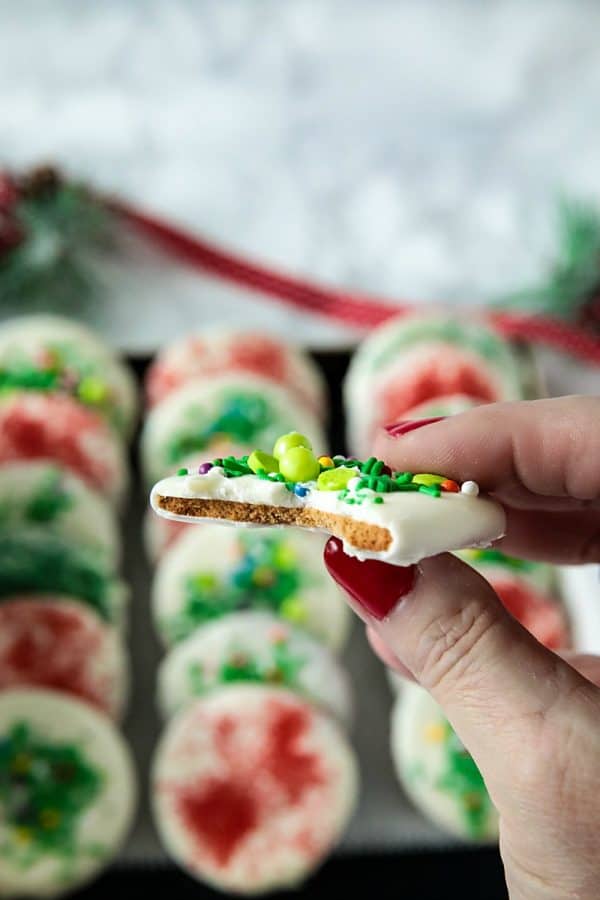 Tips For Making the Best Holiday Cookies
The best tip for making any baking recipe is to measure your ingredients as accurately as possible, and making sure your ingredients are at the right temperature for blending. Baking is really just the science of how measured, blended ingredients respond to heat, so accuracy matters…a lot!
Use a spoon, not the measuring cup, to over-fill powdered or ground ingredients into your measuring cup, then use a knife to scrape the excess off the top. Spoon filling helps to keep dry ingredients from compacting in the measuring cup. This method works well for powdered sugar, baking powder, soda and ground spices, too.
Make sure to use softened butter and room temperature eggs. If you forget to take them out, here are shortcuts for warming butter and eggs to save you some time.
Warm the butter, in it's wrapper, in the microwave. Microwave on High for 5 second intervals, turning the butter over each time. No microwave? First, cut the cold butter into cubes. That'll give it more surface area to warm. Get out a large mug and a paper towel. Pile up the butter so it will fit under the mug, or do this method in batches. Run water until it is very hot. Fill the mug with the hot water and wait for the outside of the mug to feel warm. Then quickly dump out the water, wipe it dry with the paper towel and sit it upside down over the butter. The heat will transfer from the mug to the butter and gently soften it.
To warm eggs to room temperature, fill a bowl with warm (not hot) tap water and place the eggs in the bowl. Let the eggs sit in the bowl for 4 – 5 minutes until the egg shell is no longer cool to the touch.
How To Make White Chocolate Gingerbread Crisps
These are easy to make rolled dough cookies, but are super forgiving. If they're not perfect, no one will know….a great cookie to learn on in my opinion. The cookies are covered with chocolate, so any dents or dimples are covered up. That's my kind of cookie!
Good stuff:
Perfect for Gift Giving – so pretty presented as a heartfelt gift. The chocolate coating and cookies stand up to a lot of moving around and don't crumble in the box.
Double or Tripled – the easy to make dough can be made in large batches, then rolled and chilled for up to 3 days. Break up the process over several days making these perfect for bake sales, school parties or potlucks where you need to deliver lots of beautifully decorated cookies, but are short on long blocks of time for making them.
Nuts and Bolts: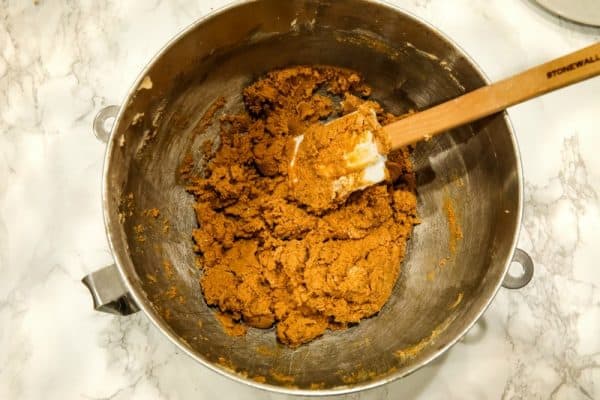 The recipe will produce a soft and smooth dough. It's not sticky or too dry, so it's a real dream to roll out. My favorite way to roll dough is using this French Wood Rolling Pin, but if your new to rolling out dough, a great tool is this adjustable rolling pin, with rings that let you set the dough thickness before you even start to roll! It's fantastic!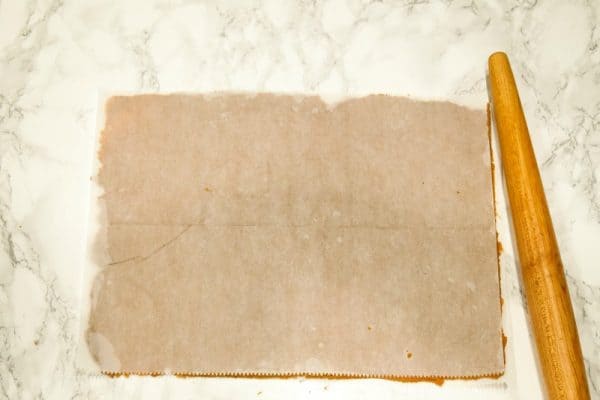 Roll out the dough very thin, about 1/8-inch. The easy way to do it is between two sheets of parchment paper. My favorite way is using two sheets of pre-cut parchment paper and rolling the dough right to the edges. Because the dough is sealed between the two sheets, I don't wrap even bother to wrap the dough in plastic before chilling, but you can wrap it if you like.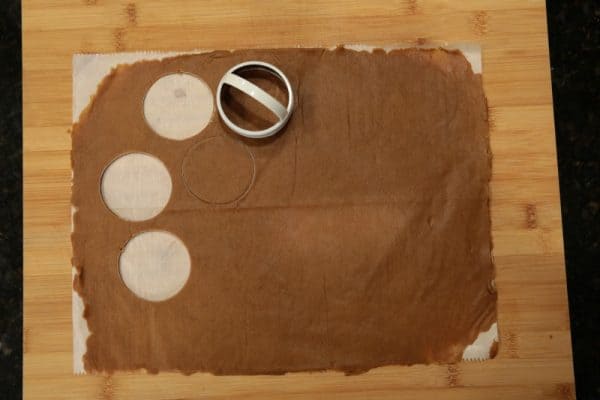 Peel off the top layer and cut out the crisps right on the bottom sheet of parchment. I used my favorite biscuit dough cutter that has a handle on it, similar to these Biscuit Dough Cutters. Be sure to dip the dough cutter in flour before each cut.
See how they look like wafers. They're really thin and crispy, but have lots of flavor.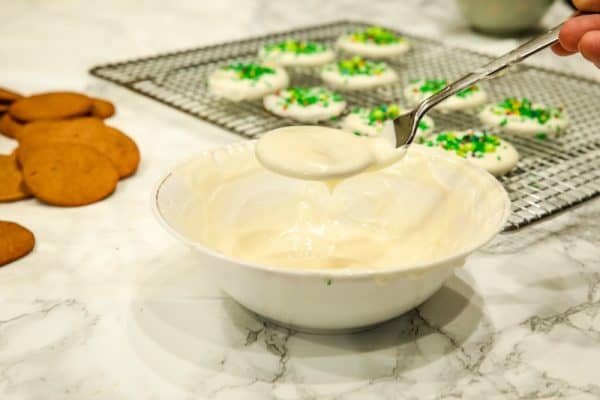 Melt the chocolate wafers in a small bowl for easy dipping. I just use a fork to dip them, turn the crisp over and dip again. Let the excess drip off and scrap the fork against the side of the bowl to remove more of the chocolate as you go to transfer the cookies to a wire rack. It's a little messy, but that's part of the fun of making these. Sprinkle each one with decorations while the coating is still wet.
Depending on how much coating you left on the bottom, the cookies might want to stick to the wire rack. I do about 12 of them, them use a sharp spatula to move them from the wire rack to a piece of parchment paper to finish firming up. I've tried skipping the wire rack step, but ended up with too much coating spreading out to the sides of the cookies. So I think the extra step is necessary.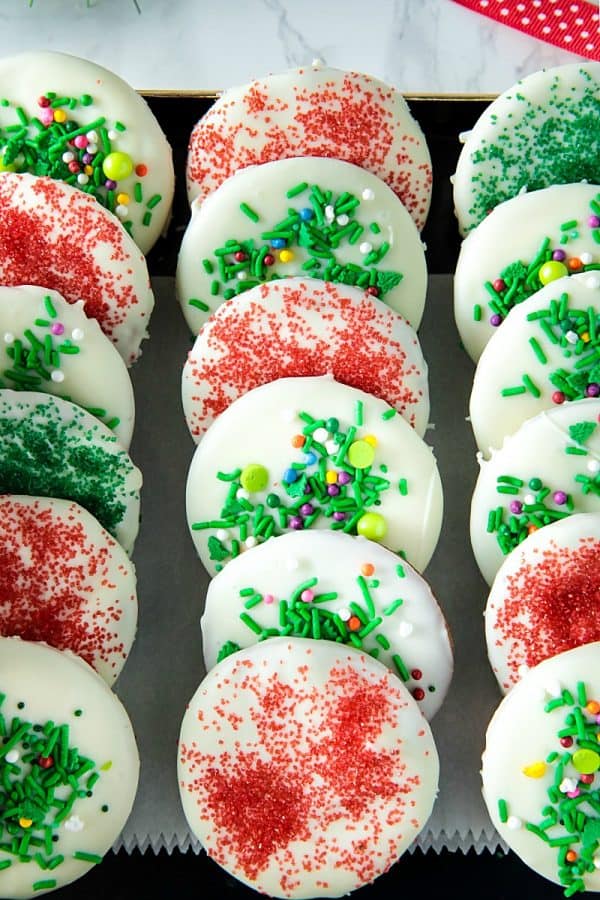 What the heck is Allspice?
I've been asked this question many times over the years. Allspice, which a lot ofpeople believe is a blend of several spice, is really the dried unripe berry of the Pimenta dioica tree, which is native the Caribbean, Mexico and Central America. It's believed the name came because it has the flavor and aroma of a mix of cinnamon, nutmeg and cloves.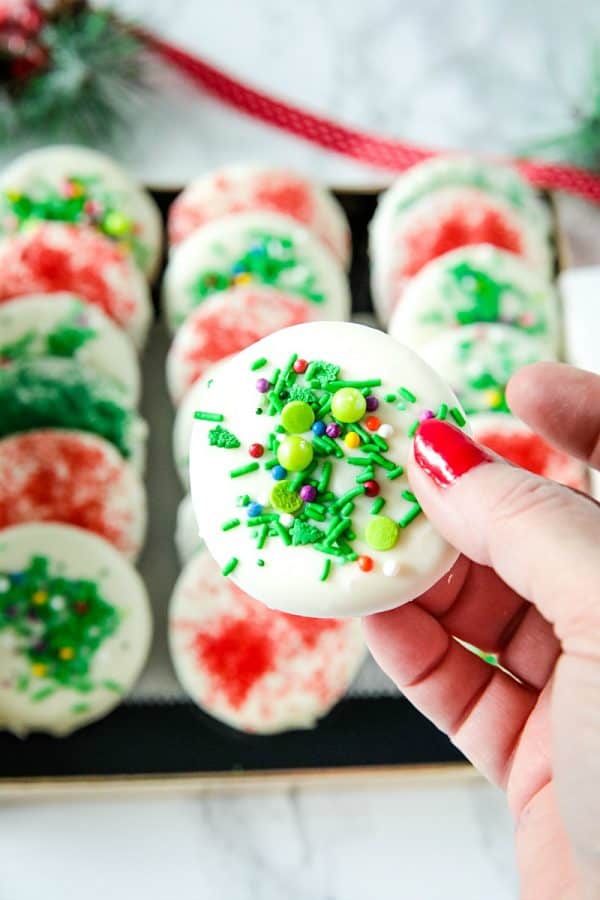 More Easy Holiday Cookie Recipes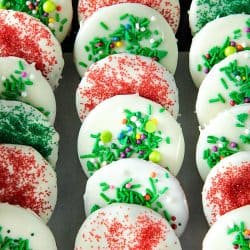 White Chocolate Gingerbread Crisps
White Chocolate Gingerbread Crisps – thin gingerbread cookie wafers, flavored with brown sugar, molasses and spices, covered with white chocolate and decorated with festive sprinkles.
Instructions
In a large bowl, sift or whisk together flour, ginger, cinnamon, allspice, cloves, baking soda and salt.

In a large bowl, use an electric mixer on med-high speed, beat the the butter and brown sugar until light and fluffy, 3 – 5 minutes. Add egg, molasses and vanilla and beat until combined. Reduce mixer to low speed and add flour mixture. Beat just until incorporated. Scrape down the bowl as needed.

Divide the dough into 2 discs, and roll each between 2 sheets of parchment paper. Dough should be thin, about 1/8-inch thick. Refrigerate flat until firm, about 1 hour.

Preheat oven to 350°F. Line baking sheet with parchment paper or silicone mat. Using round floured cookie cutter, cut out cookies. Place on prepared baking sheet 1-inch apart.

Bake, rotating baking sheet halfway thru, until cookies are lightly browned around the edges, 8 – 10 minutes. Cool on baking sheet 1 minutes, then transfer to wire rack to cool completely.

In a small bowl, place chocolate wafers in microwave, heating for 10 second intervals. Stir after each interval until chocolate is smooth.

Working one at a time, use a fork to dip cookie into chocolate, turning over to coat. Allow excess to drip back into bowl, then place on wire rack. Decorate with sprinkles. Remove wax paper or parchment when just starting to set to allow to firm completely.
Nutrition Facts
Nutrition Facts
White Chocolate Gingerbread Crisps
Amount per Serving
% Daily Value*
* Percent Daily Values are based on a 2000 calorie diet.
© Copyright Christine Mello for Must Love Home. We would love for you to share a link to this recipe but please do not copy/paste the recipe instructions to websites or social media. We are happy for you to share a photo with a link back to this website instead.