Grandma's Best Zucchini Bread is super moist, buttery quick bread made with tangy sour cream and chock full of raisins, nuts and healthy shredded zucchini.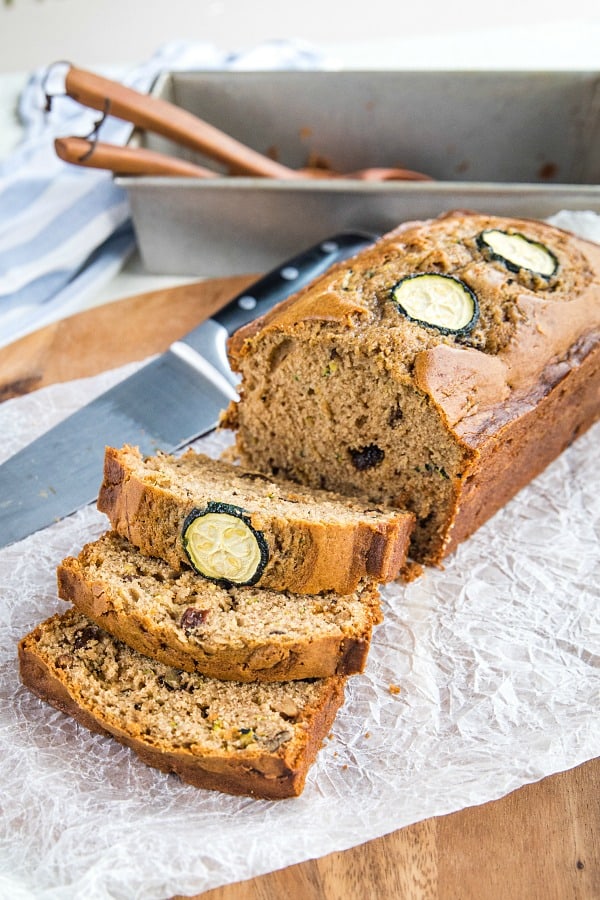 If you're looking for a simple quick bread recipe that's stuffed with good for you ingredients, you can't beat this easy zucchini bread recipe. It's an AMAZING way to use those gorgeous zucchinis from the garden or from your local farmer's market. We've been getting lots of zucchini lately our Misfit Market subscription box and this is one of my favorite ways to use it up. Healthy, easy to make and totally shovel in your mouth delicious.
How To Make Grandma's Best Zucchini Bread Recipe
It's easiest to make this if you have a stand mixer, but if not, an electric hand mixer or even mixing by hand are just fine. My Gran mixed pretty much everything by hand with a wooden spoon in her giant stoneware mixing bowl similar to this one. It took some time and effort, but turned out fantastic every time.
Directions👇
Start by preheating the oven to 350 degrees F (177 degrees C). Grease or spray with cooking spray a 9 x 4 loaf pan or similar size pan. Set the pan aside.
In the bowl of a stand mixer or large bowl, beat the butter or margarine together with the sugar until they're light and fluffy. 💡This works best when the shortening has been softened to room temperature. Hard butter or margarine beaten into sugar will leave large hard clumps.
Beat in your eggs one at a time. Then add the spices and sour cream and stir until the spices are all mixed in and there are no white streaks remaining from the sour cream.
In another bowl, mix together your dry ingredients: flour, salt and baking soda. You can sift them together if you like, but I just stir them up really well.
Add the dry ingredients to the wet ingredients, about a half at a time and beat until well mixed. Then, add the zucchini, walnuts and raisins to your batter and fold them until until distributed throughout the batter.
Scrape the batter into your prepared loaf pan, and bake on the center rack of the oven for 1 hour to 1 hour 15 minutes. It's done when the top of the bread is firm and when a knife inserted in the center of the loaf comes out clean. Cool first in the pan on a wire rack. After about 10 minutes, remove the loaf from the pan and continue to cool on the wire rack. You might need to run a sharp knife around the edges to get the loaf to release cleanly.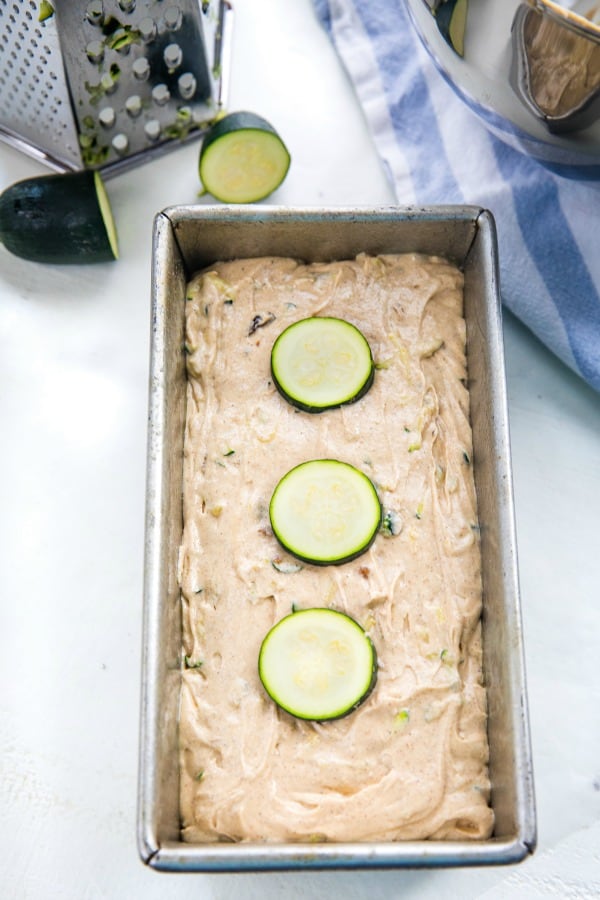 Ingredients To Make Zucchini Bread🍞
You probably have most of what you need in the pantry already!
Zucchini – adds flavor, moisture and colorful flecks of green to the bread. You'll get the most out of zucchini's health benefits by leaving the peel on!
Walnuts – a common nut that is perfect for baking. It's healthy and packed with Omega-3 fats.
Raisins – grandma's secret for adding chewy sweetness to this bread.
All Purpose Flour -nothing fancy going on here. I used King Arthur unbleached flour for this recipe.
Brown Sugar – for a slight maple flavor.
Butter or Margarine – Use margarine to to reduce the saturated fats found in butter.
Eggs – 2 whole large eggs.
Sour Cream – all natural sour cream was used to test this recipe, but regular or reduced fat varieties are a great substitute.
Spices – Vanilla Extract, Cinnamon, Allspice, Nutmeg.
Baking Soda
❓What is Allspice?
Despite the name Allspice, which many people believe is a blend of several spices, it's really the dried unripe berry of the Pimenta dioica tree, native to the Caribbean, Mexico and Central America. The name Allspice stuck because this spice has the flavor and aroma of a mixture of cinnamon, nutmeg and cloves.
In my opinion, Allspice tastes a lot like cloves, just less intense with cinnamon and nutmeg flavors thrown in. A good substitution is to use ground cloves instead of the Allspice. I recommend about 1/8 teaspoon cloves, 1/8 teaspoon nutmeg and 3/4 teaspoon cinnamon for every 1 teaspoon of Allspice called for in the recipe.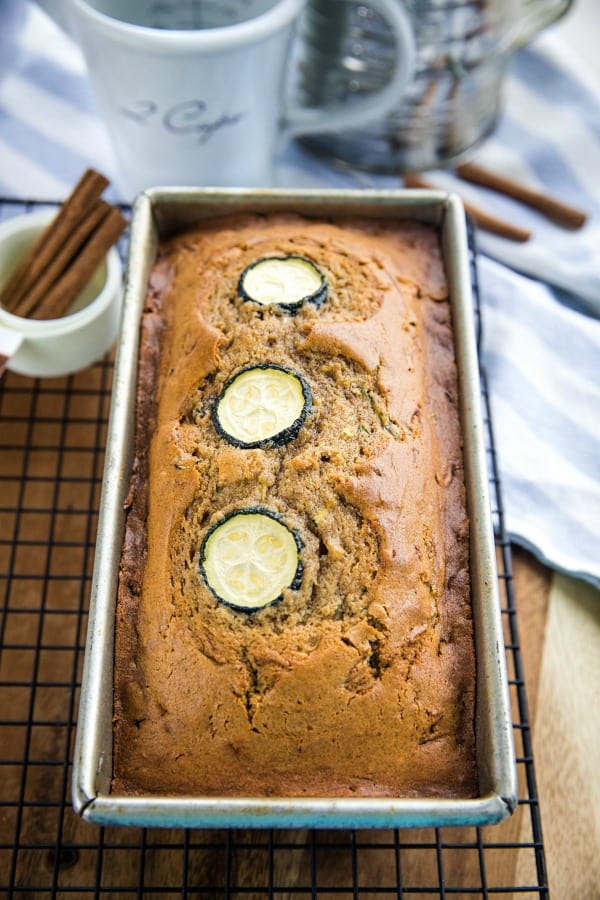 What To Serve With Zucchini Bread
A thick slice of Zucchini Bread is a great start to the day with your morning coffee, or an anytime snack and dessert. We love it as a side for roasted tomato soup and minestrone soup. Healthy mushroom soup with keep those good-for-you vibes humming.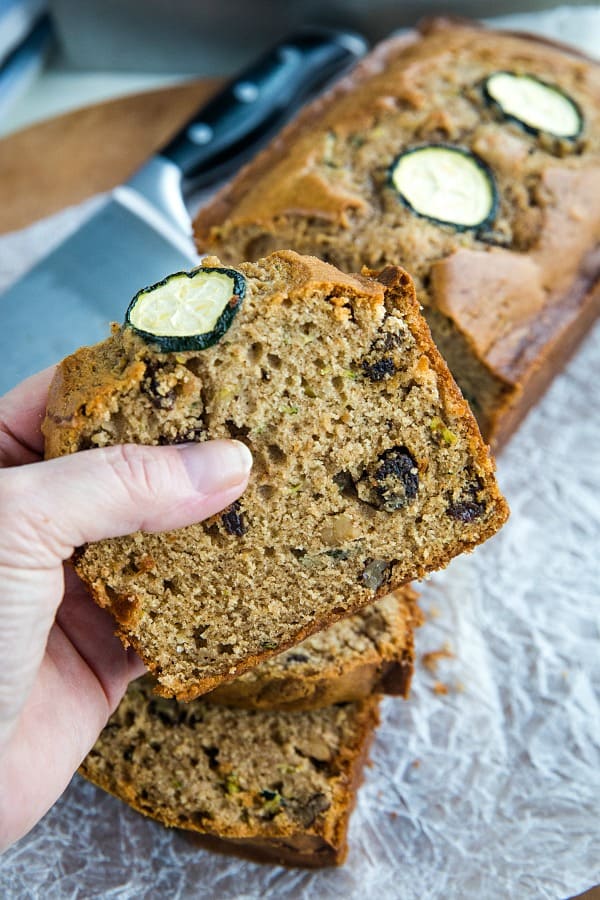 More Easy Bread Recipes to Love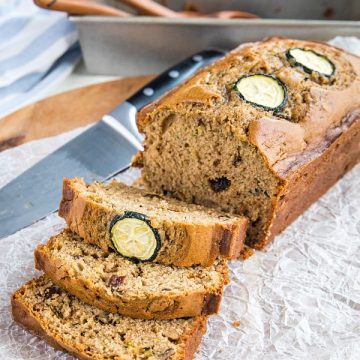 Grandma's Best Zucchini Bread
Super moist and buttery quick bread made with tangy sour cream, cinnamon and good for you raisins.
Instructions
Preheat oven to 350°F. Grease or spray with non-stick cooking spray a 9 x 5 inch loaf pan.

In a large bowl, with the mixer set on medium, cream the shortening and the sugar until light and fluffy. Add eggs, one at a time, beating well after each addition. Add vanilla, cinnamon, allspice, nutmeg and sour cream. Beat on low speed to combine.

In medium bowl, combine flour, baking soda and salt.

Add the dry ingredients to the batter, beating on medium speed for one minute. Scrape down bowl as needed. Fold in zucchini, walnuts and raisins until well distributed.

Spread into prepared pan. Bake on center rack of oven for 1 hour to 1 hour and 15 minutes, or until toothpick inserted in the center comes out clean.

Allow to cool for 10 minutes on a wire rack. Remove from the pan and cool the loaf completely on the wire rack before slicing.
Notes
Before shredding, cut a few slices of the zucchini to decorate top of bread dough before baking.
Allspice substitution – I recommend about 1/8 teaspoon cloves, 1/8 teaspoon nutmeg and 3/4 teaspoon cinnamon for every 1 teaspoon of Allspice called for in the recipe.
Nutrition Facts
Serving:
1
slice
Calories:
274
kcal
Carbohydrates:
38
g
Protein:
4
g
Fat:
12
g
Saturated Fat:
3
g
Cholesterol:
36
mg
Sodium:
259
mg
Potassium:
138
mg
Fiber:
1
g
Sugar:
19
g
Vitamin A:
464
IU
Vitamin C:
2
mg
Calcium:
44
mg
Iron:
1
mg
© Copyright Christine Mello for Must Love Home. We would love for you to share a link to this recipe but please do not copy/paste the recipe instructions to websites or social media. We are happy for you to share a photo with a link back to this website instead.