Roasted Tomato Soup – fresh, smooth and full of incredibly concentrated flavor from sheet-pan roasting the tomatoes, vegetables and garlic. This recipe is great for using up your garden tomatoes and veggies, and can be made ahead too!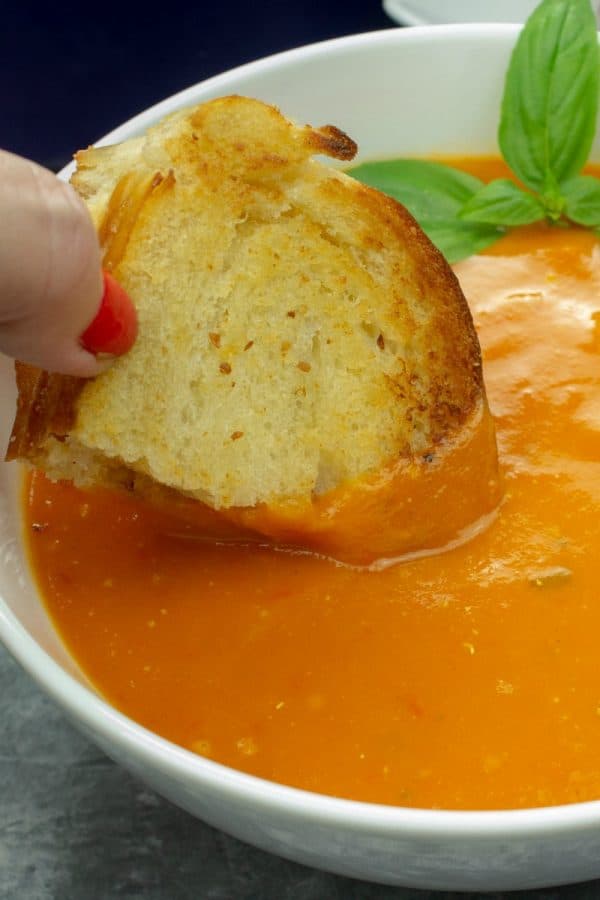 Tomato Soup is total comfort food! I can't think of a time of the year when it is not on our menu at least once a week for lunch or dinner. Did you know that tomato soup is not only a top comfort food in the United States, but also Poland!
As a kid, I loved tomato soup. It was always canned and always served with grilled cheese to dip into it, but it was a favorite. When my sisters and I came home from school and saw the can with the red and white label on the counter, there really was cause for celebration!
My mom was German, so I grew up on a lot of red cabbage, Knackwurst and other stuff I thought was gross as a child. At the time, I thought that any break from that was a good thing. As I grew up, my tune changed on the German food, but not for my love of tomato soup.
The best tomato soup uses a variety of different kinds of tomatoes for flavor. I raided my garden for Beefsteak, Roma and cherry tomatoes for this big pot of soup. I say "use what you already like and you can't go wrong!"
Speaking of my so called garden, the only plants that thrived during our crazy summer weather were the tomatoes and jalapenos. (Mexican feast anyone?) All of the herbs except rosemary and parsley are dead and my sweet peppers are too sad to eat. I have plans for planting an even larger garden next spring, but now I'm having second thoughts. Is anyone else having this same problem?
This recipe is really simple. Cut up the veggies and peel the garlic. Throw everything into a bowl, drizzle with olive oil, sprinkle on salt and pepper and mix to coat. All the cutting and peeling took about 15 minutes. You could skip the bowl and just mix the veggies and garlic with the oil on the sheet pan, but I find everything is coated more evenly when I use a bowl.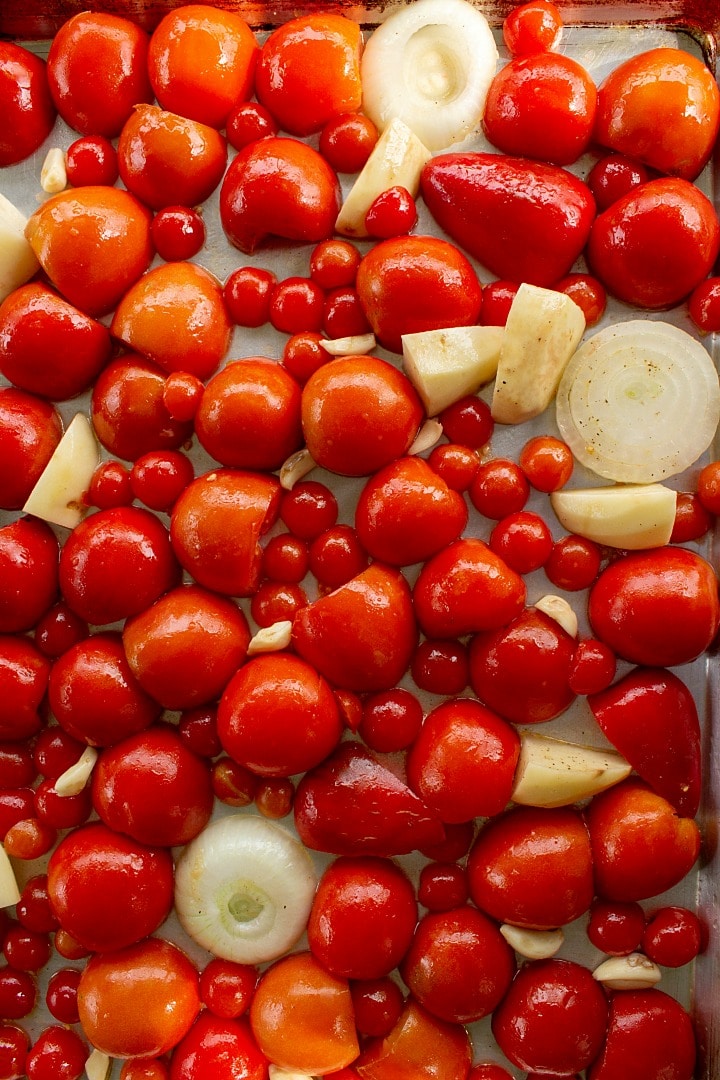 Dump the bowl of veggies and garlic onto a sheet pan and arrange them in a single layer. Roast in the oven for 25 – 30 minutes at 425 degrees. The veggies are done when the skin on the tomatoes is shriveled and starting to char.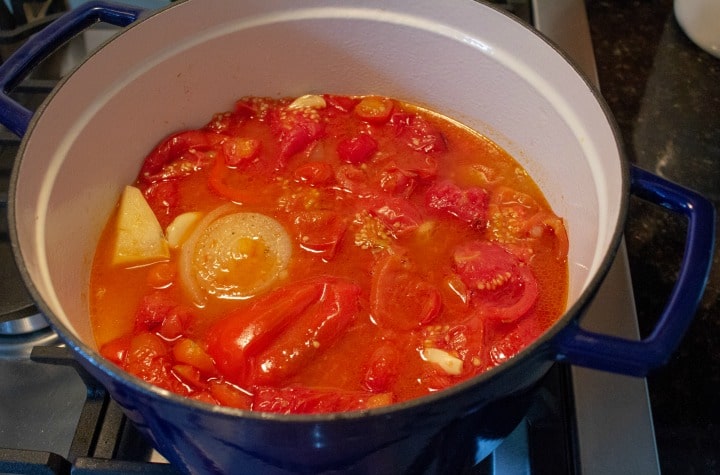 Scrape the veggies, garlic and all of the juice into a large soup pot. Add the broth and tomato paste to the pot and stir. Bring to a boil, then reduce the heat to simmer for 15 minutes. If you like basil, add it the last 5 minutes of simmering to soften. I like to use my cast iron pot, because it's heavy and keeps the soup warm long after cooking!
When the potatoes are fork tender, the soup is ready to be blended…either with a stick (immersion) blender or food processor.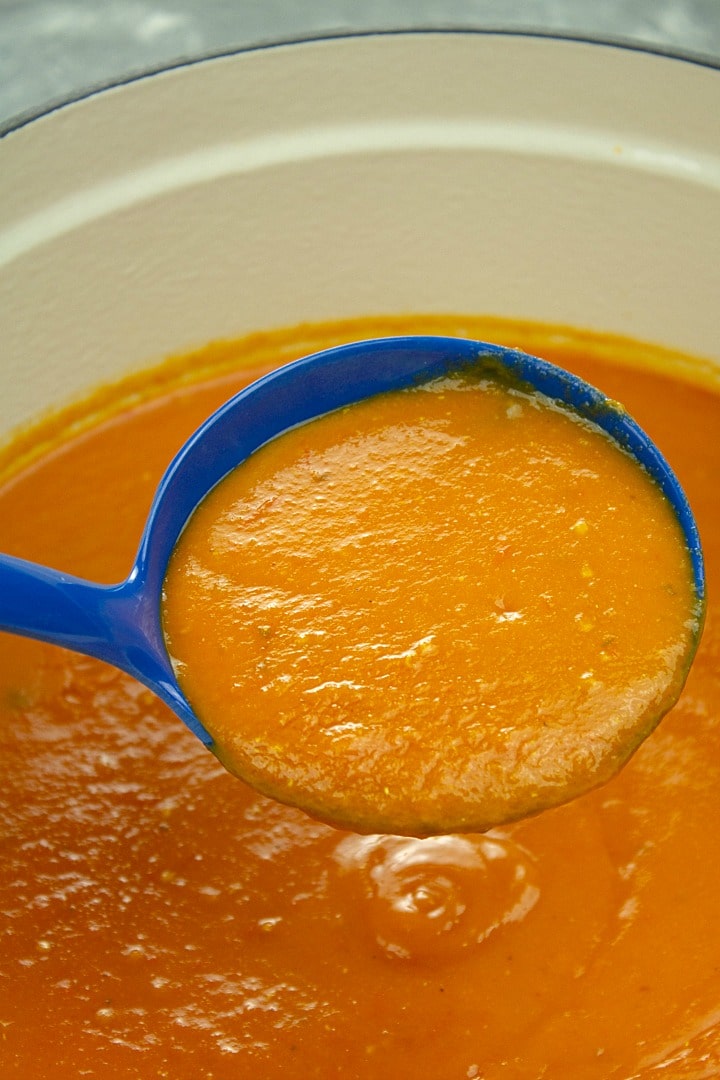 The result is a smooth, thick soup that is tasty and fresh.  *My boys were home and not huge basil fans, so I only put about a tablespoon of chopped basil in this soup. If you're a Basil lover like me, sprinkle on more basil as a garnish!
Other Garnish Ideas For Tomato Soup:
Popcorn
Slice of cheesy garlic bread
Dollop of sour cream
Dusting of finely grated hard cheese such as Parmesan
Mini pretzels
Sliced garlic fried in oil until lightly browned and crisp
Canned crispy fried onions
Tortilla strips
Cheese croutons
Crushed potato chips
Fresh herbs used in the soup
Hungry for more soup recipes?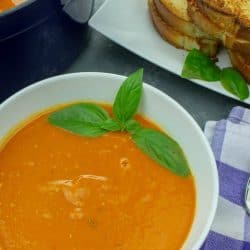 Roasted Tomato Soup
Soup that is fresh, smooth and full of incredibly concentrated flavor from roasting the tomatoes, vegetables and garlic in the oven!
Ingredients
4

pounds

tomatoes

stemmed and sliced in half

6

cloves

garlic

peeled

1

medium

yellow onion

peeled and sliced

1

medium

potato

peeled and cut into quarters or eighths, depending on size

1

medium

red bell pepper

seeded and cut into 3 – 4 pieces

2

tbsp

olive oil

1/4

tsp

salt

1/4

tsp

pepper

3

tbsp

tomato paste

4

cups

vegetable broth

or chicken broth

1/2

cup

basil

lightly packed, chopped

1

tsp

parsley

dried

pinch

granulated sugar
Instructions
Preheat the oven to 425°F.

In a large bowl, add the tomatoes, garlic, onion,red pepper and potato. Drizzle with olive oil and sprinkle with salt and pepper. Stir to coat. Transfer the vegetables to a large baking pan with raised edges. Spread into a single layer, tomato cut sides down. Roast on center rack of oven for 25 – 30 minutes, until tomatoes begin to char on top.

Scrape the contents of the baking pan, including juices, into a large pot. Stir in the broth, tomato paste, dried basil (if using instead of fresh basil) and parsley.

Bring the pot to a boil, then reduce heat to simmer for 15 – 20 minutes. The potatoes should be fork tender. Add fresh basil during the last 5 minutes of simmering to soften.

In the pot, blend the soup with an immersion blender until smooth.
Notes
I used approximately 2 pounds Beefsteak, 1 pound Roma and 1 pound cherry tomatoes.
If salt sensitive – omit the measured salt and only salt to taste
Nutrition Facts
Serving:
1
cup
Calories:
115
kcal
Carbohydrates:
17.79
g
Protein:
3.44
g
Fat:
4.09
g
Saturated Fat:
0.57
g
Sodium:
605.8
mg
Potassium:
773.22
mg
Fiber:
4.23
g
Sugar:
8.93
g
Vitamin A:
2775.85
IU
Vitamin C:
56.41
mg
Calcium:
42.72
mg
Iron:
1.83
mg
© Copyright Christine Mello for Must Love Home. We would love for you to share a link to this recipe but please do not copy/paste the recipe instructions to websites or social media. We are happy for you to share a photo with a link back to this website instead.