Easy Homemade Chicken Salt Seasoning with chicken bouillon powder and pantry spices, is the ultimate seasoning salt for adding delicious umami flavor. Great on homemade french fries!
Chicken Salt French Fry Seasoning is just right for adding salty, umami flavor to hot french fries fries, rice, chicken and so much more. We love making simple and tasty spice blends like our Homemade Sloppy Joe Seasoning Mix, Fajita Seasoning Mix and Homemade Taco Seasoning. This is one of our Spice Mix recipes you'll want to keep in your recipe box!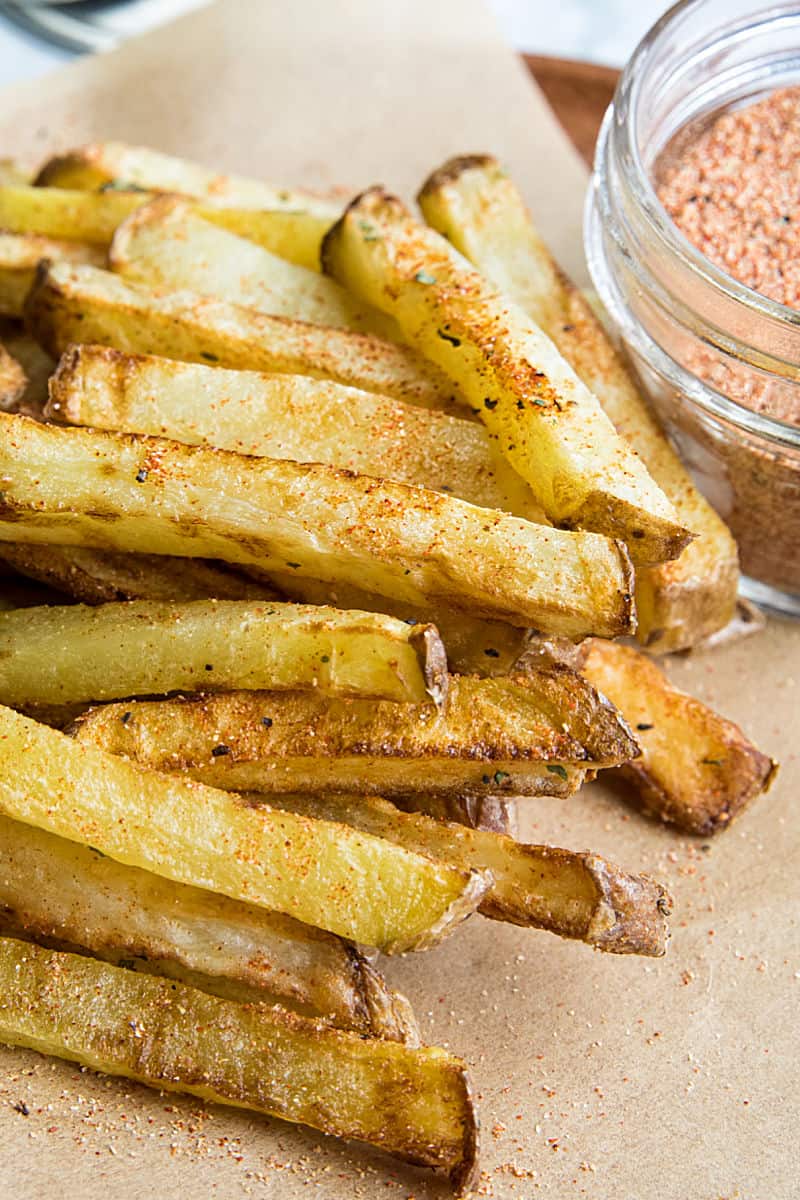 If you've heard about chicken salt, you might know that it was Australia's best kept secret. It's interesting that Australia's favorite chicken salt is vegetarian – it contains no chicken at all.
For our original recipe, we're using chicken bouillon powder. It's the chicken bouillon powder that's added to so many Asian dishes to give them amazing flavor. It definitely doesn't disappoint in our homemade chicken salt seasoning.
Many commercial chicken salts are made by dehydrating whole chickens and grinding the meat into powder. We've skipped that time consuming step by using chicken bouillon powder, which also contains dehydrated chicken.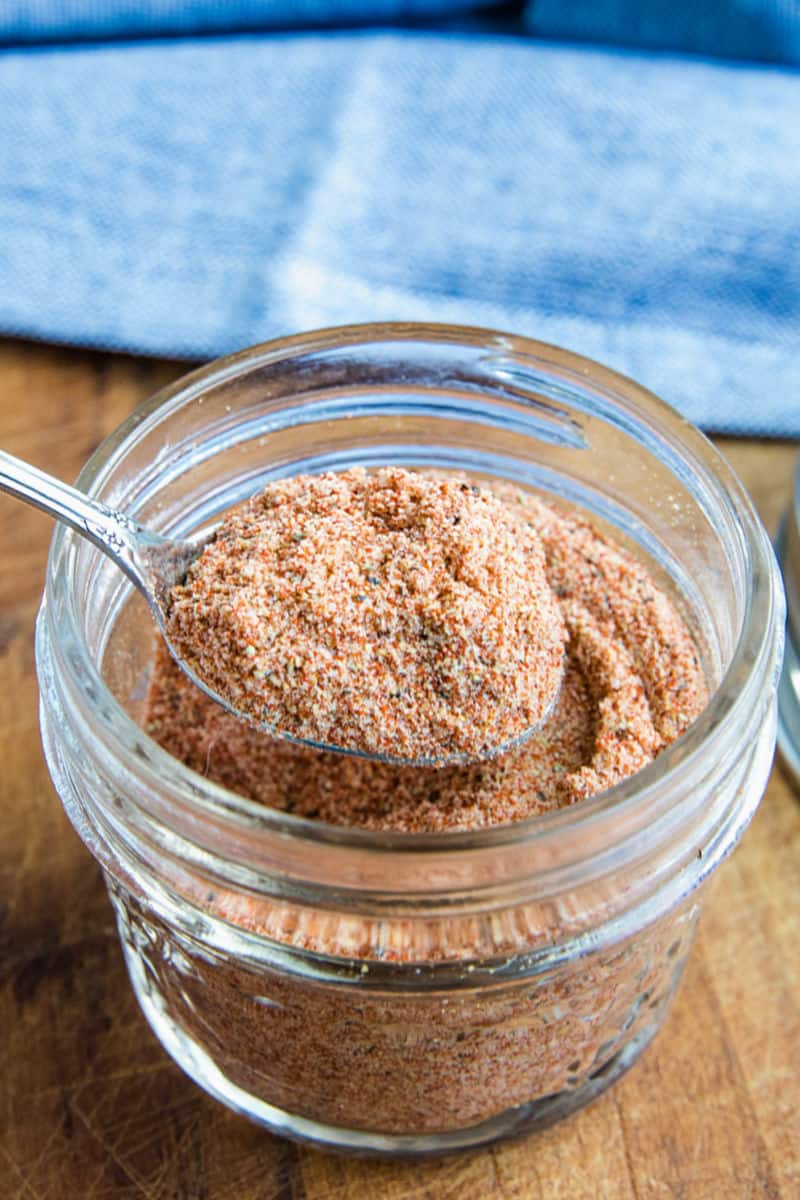 This post may contain affiliate links, see our disclosure here.
Ingredients to make Chicken Salt Seasoning
Chicken Bouillon Powder – an essential ingredient for this recipe that adds amazing chicken flavor and salt to the recipe.
Salt – plain salt is best, just like the fast food restaurants. Granulated sea salt is great too. Whatever salt you use, the grains should be small, to easily mix in with the other spices.
Garlic Powder – an essential ingredient of chicken salt, adds garlic flavor, but not so much that it has a garlic bite.
Paprika – adds nice color and mild sweet flavor.
Onion Powder – adds nutty, onion flavor.
Black Pepper – familiar heat and flavor.
Flavor Variations
Celery Salt or Celery Seeds – for earthy flavor that compliments the other spice.
Red Pepper Flakes – for intense heat.
Curry Powder – adds both savory and sweet taste. Bright and earthy but can add heat.
Smoked Paprika – delicious earthy, smoky flavor with a hint of sweet.
Chili Powder – savory with added heat.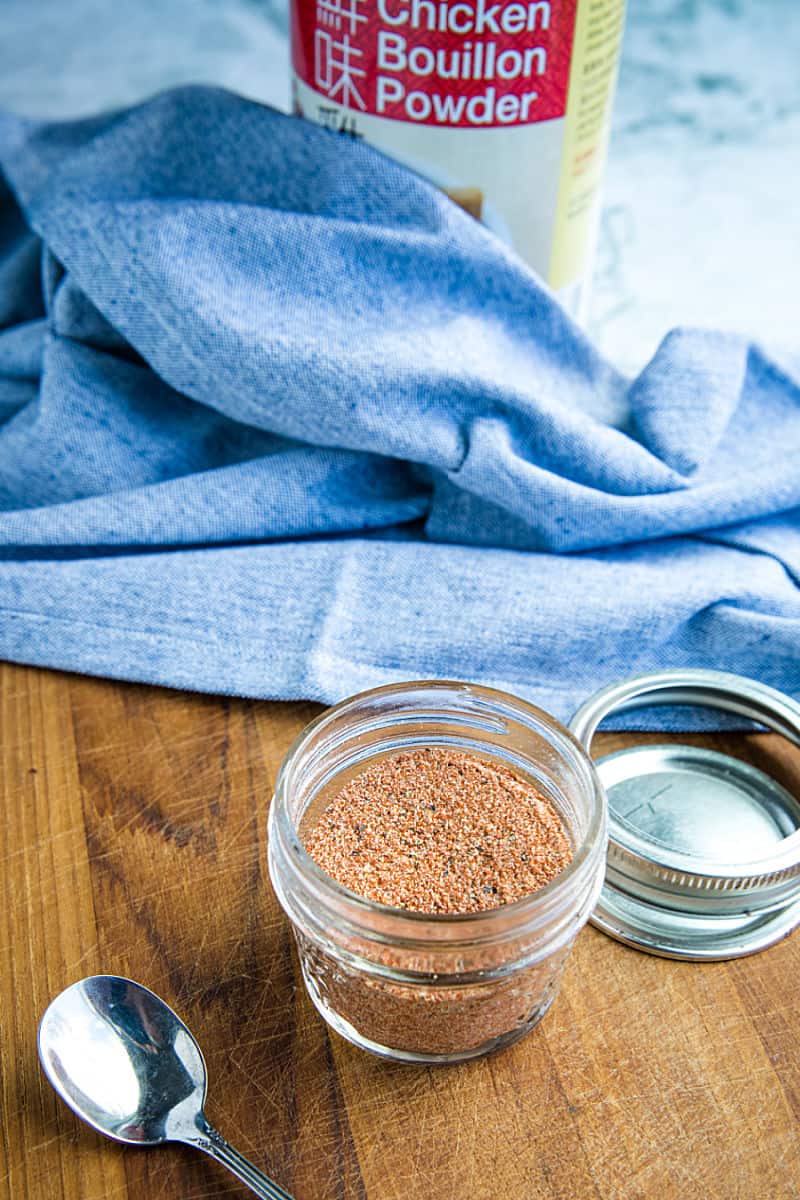 What is Chicken Bouillon Powder?
It's a flavor enhancer used in lots of Chinese dishes. It's like a powdery salt with a potent amount of chicken flavor. Our favorite chicken powder contains real chicken meat, chicken skin and fat, as well as salt, MSG, yeast extract as well as other ingredients. If you're sensitive to MSG, you might like this MSG-Free version of bouillon powder.
If the chicken powder you choose contains flour, it should be rice flour rather than wheat flour. Wheat flour holds moisture that may lead to clumping and contains gluten, while rice flour doesn't absorb liquid and is gluten-free.
How to make Chicken Salt Seasoning
Making a batch of easy Homemade Chicken Salt is as simple as mixing pantry spices with chicken bouillon powder.
Step One
In a small bow, mix all of the ingredients until well blended.
Step Two
Transfer seasoning mix to an airtight container and store in a cool, dry place.
How to store Chicken Salt Mix
You'll definitely want to store your chicken salt seasoning mix in an airtight container. Moisture from the air can cause lumps and your spices to lose their flavor faster.
We love a sealable dredge or spice jar with a shaker top, so it's always handy for shaking on this savory, umami seasoning mix to whatever we make.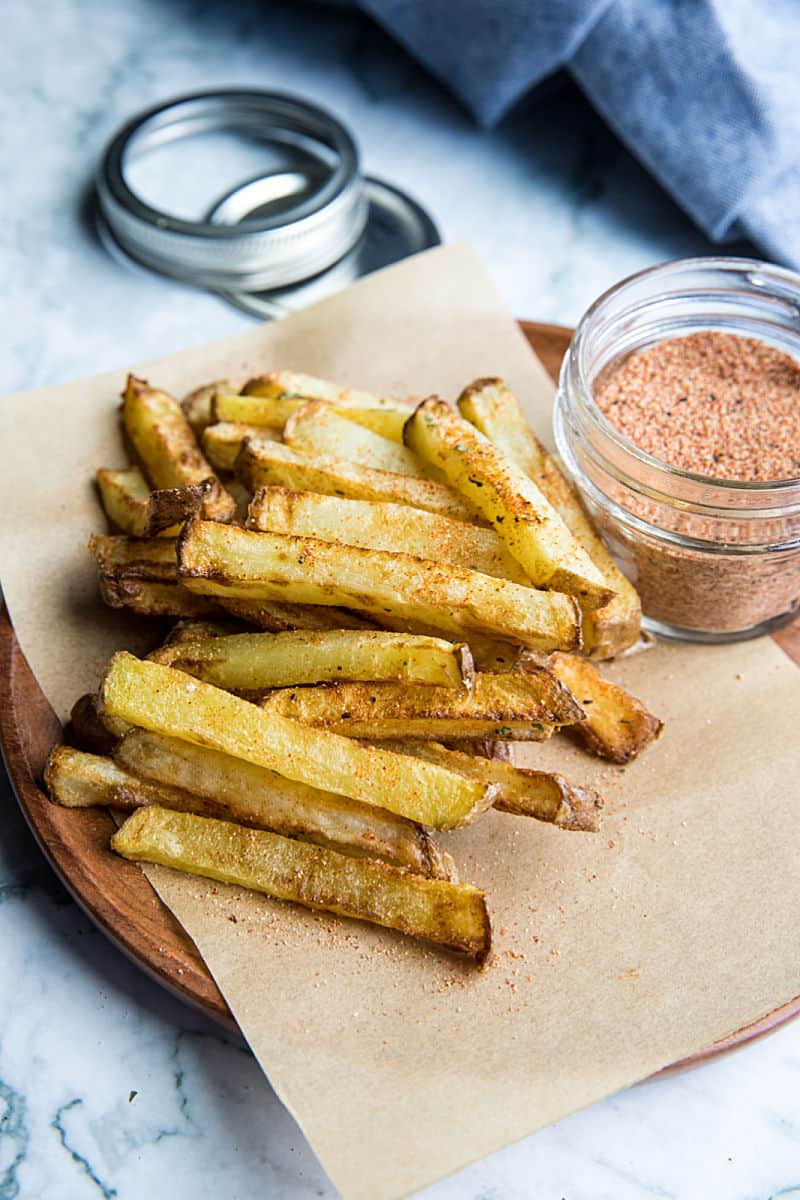 How to use Homemade Chicken Salt
Since I first made chicken salt, I've been looking for new ways to use it for everything!
As salt substitute for hot french fries and baked potatoes – sprinkle chicken salt on fries right out of the deep fryer or air fryer. If oven baking fries, lightly coat potatoes with vegetable oil then shake on the seasoning before cooking. Use just like salt on your baked potatoes.
As a roast chicken spice blend – shake right on boneless, skinless chicken breast or thighs before roasting. If making skin-on chicken pieces or a whole chicken, mix a tablespoon of oil with a tablespoon of chicken seasoning and rub all over the skin of the chicken. Roasting as usual.
As popcorn seasoning – mix melted butter and seasoning, then pour over popcorn in large bowl. Toss to coat, adding delicious salty chicken flavor. Yum!
As seasoning for roast vegetables – toss veggies in olive oil then shake on the seasoning. Toss again and roast as usual. So easy and so much flavor!
As broth mix for cooking pasta and rice – add to pasta and rice cooking water, the flavor will absorb as the rice and pasta become tender.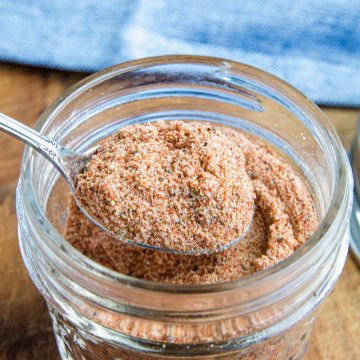 Chicken Salt Seasoning
Chicken Salt Seasoning is quick and simple to make with chicken bouillon powder and common pantry spices.
Instructions
In a small bowl, add all ingredients.

Stir until spices are evenly distributed.

Use immediately or store in an airtight container on a dark, cool shelf up to 6 months.
Chef Tips
Recipe makes 12 teaspoons of fry seasoning. I serving equals 1 teaspoon.
This recipe is easily multiplied.
Nutrition Facts
Nutrition Facts
Chicken Salt Seasoning
Amount per Serving
% Daily Value*
* Percent Daily Values are based on a 2000 calorie diet.
© Copyright Christine Mello for Must Love Home. We would love for you to share a link to this recipe but please do not copy/paste the recipe instructions to websites or social media. We are happy for you to share a photo with a link back to this website instead.
The nutritional information shared is an estimate, and is automatically calculated through a program in the recipe card. If nutritional information, like the calorie count is important to you, we recommend running the ingredients through whichever nutritional calculator you feel most comfortable with. Nutritional values like calories, fat and sugar can vary widely depending on which brands were used.