Sweet and spicy, this easy barbecue seasoning mix recipe adds serious flavor to your beef, chicken and pork! Try it on seafood too!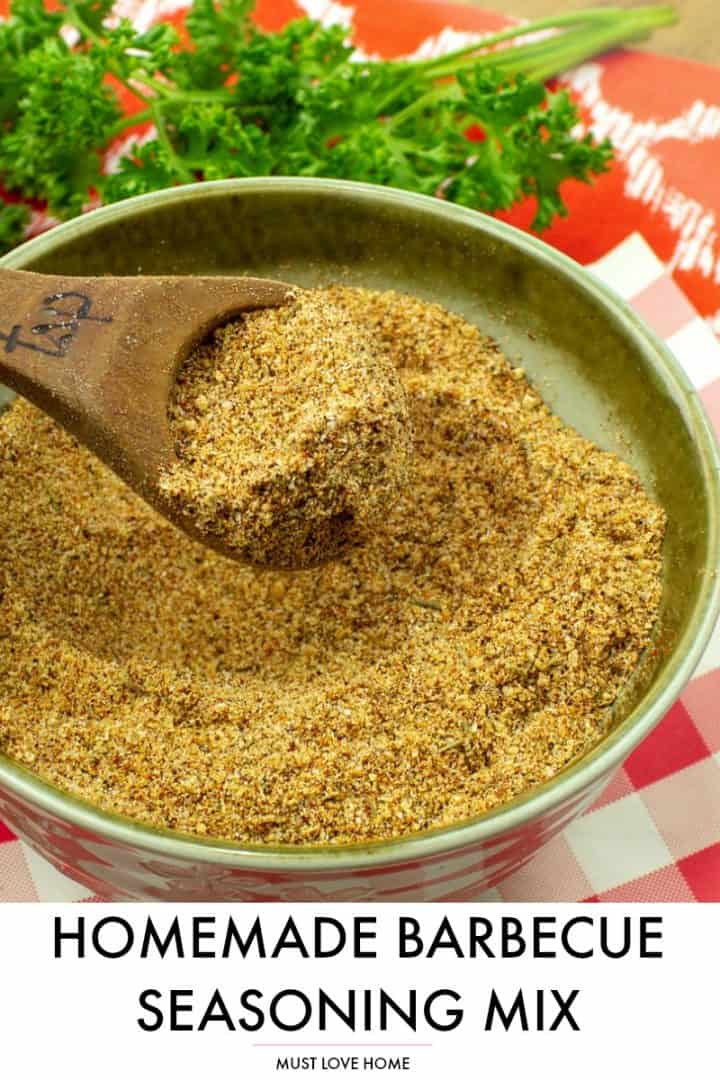 Channel your inner Iron Chef…or Martha Stewart and mix up your own Homemade Barbecue Seasoning Mix. This is a moderately spicy mix that is great for seasoning any kind of meat, seafood or veggies. A great part of making your own is that you can adjust the heat and salt up or down to your own tastes and needs.
There is the healthy aspect of making your own seasoning mix, too. Have you looked at the ingredients on some of those little packets of mix? You may find maltodextrin, modified food starch, disodium inosinate, silicone dioxide and many other chemical additives. Not for me!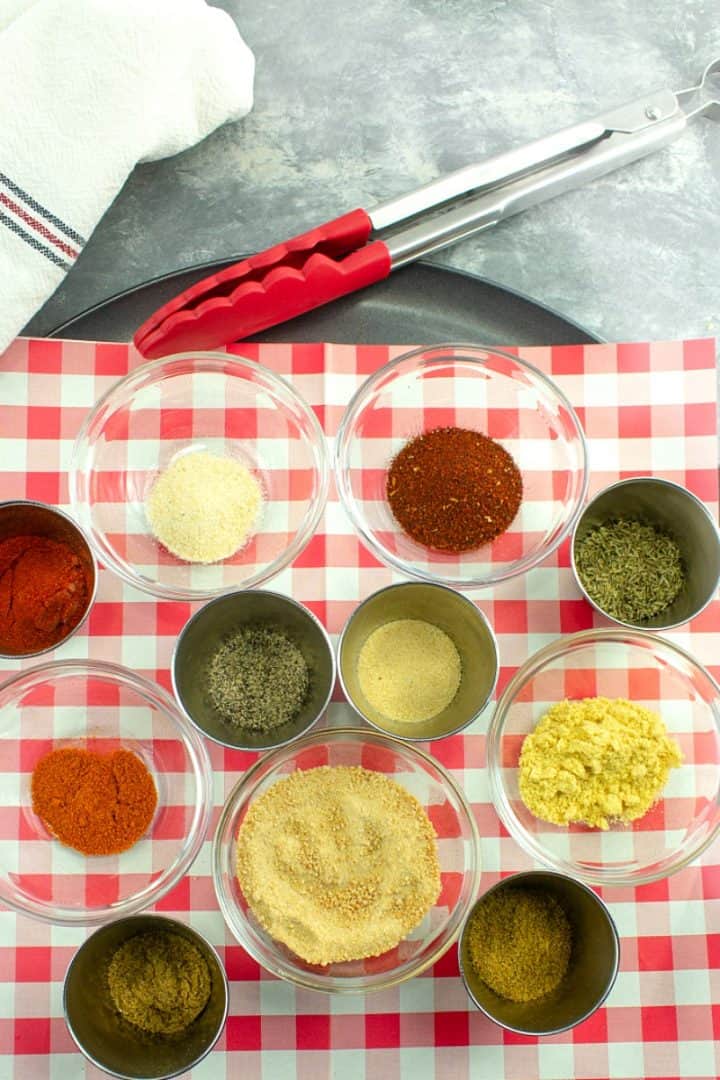 HOW TO MAKE HOMEMADE BARBECUE SEASONING MIX
Making this seasoning mix is really easy. Just measure the ingredients into a bowl and stir. Mix right in an airtight container if you are going to use it at a later time.
This spice mix can be used for seasoning food before cooking or sprinkle it over cooked meats for a final touch. It can also be mixed with oil and vinegar or lemon juice to make a barbecue marinade.
If you are using the barbecue seasoning mix right away, fell free to substitute brown sugar for the maple sugar. I don't recommend using brown sugar in a seasoning mix that you will store because of the amount of moisture from the coating of molasses on the sugar granules. You may end up with clumps.
HOW TO USE BARBECUE SEASONING MIX AS A MARINADE
Marinades generally consist of an oil, an acid and seasonings. So gather the ingredients you will need:
Acid – to tenderize the meat like vinegars, lemon juice, orange juice or wine.
Flavoring – use 1 tablespoon of seasoning mix per 1/2 cup marinade. Add even more flavor with a splash of soy sauce, fish sauce or a drizzle of honey.
Oil – holds the marinade together, helps keep the seasonings in suspension and adds moisture to the meat.
Salt – helps add flavor, leaves meat tender and juicy. **No additional salt is necessary if salt was added to seasoning mix.
To prepare the marinade –
Mix 3 parts of oil to every 1 part of acid used.
Add the seasonings and salt to taste.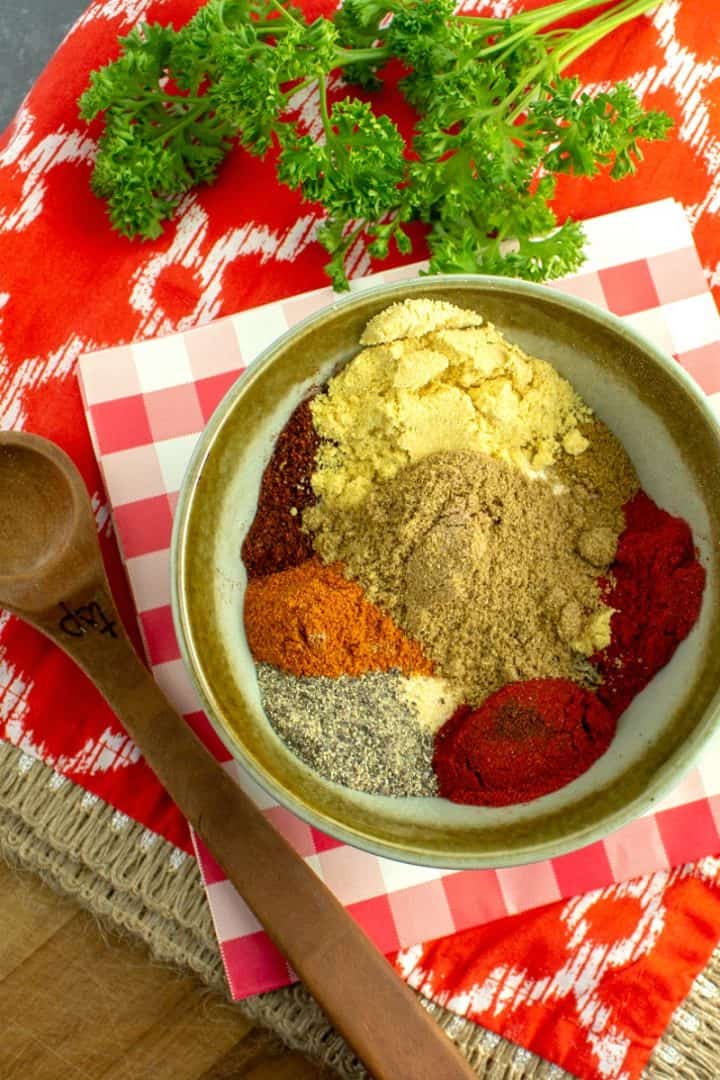 WHAT SPICES DO I NEED TO MAKE BARBECUE SEASONING MIX?
Maple Sugar – maple sugar is pure maple syrup that has had all the moisture removed. It adds maple aroma, flavor and sweetness. It's available at some grocery stores and online.
Smoked Paprika – regular paprika is made from dried crushed chilis. Smoked Paprika gets it's strong smoky flavor from smoking the the same type of peppers before they are crushed. Oak wood is often used for the smoking.
Dried Ground Mustard – Hot and savory. Adds the taste of mustard to recipes.
Dried Thyme leaves – adds a warm, woody and minty flavor to cooked dishes.
Cayenne – hot and pungent, this is a red powdered spice made from ground dried chili peppers. Cayenne packs some heat so a little goes a long way.
Cumin – a nutty, earthy tasting spice with citrus undertones. One of the most used spices in the world, cumin is common in Mexican and Indian cooking.
Coriander – complex flavor that is slightly musky, raw and earthy with hints of orange.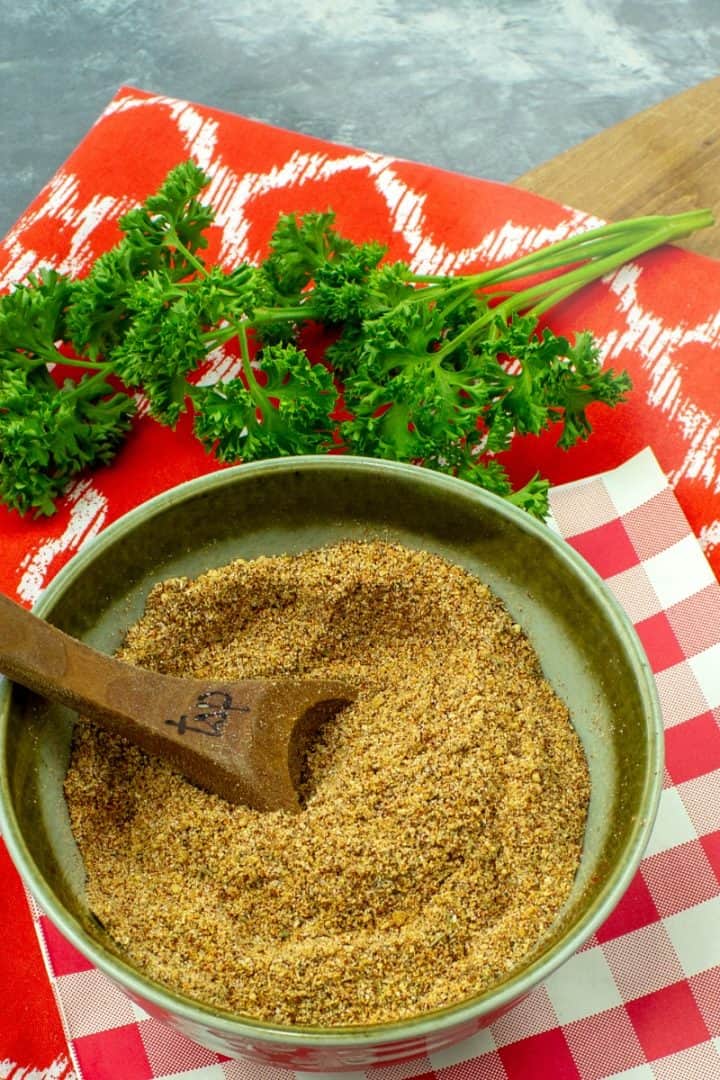 If you like making your own spice mix, you might like to make:
Print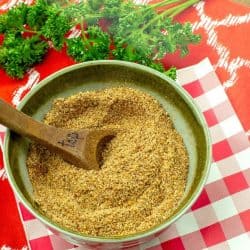 HOMEMADE BARBECUE SEASONING MIX RECIPE
Author:

Christine at mustlovehome.com
Prep Time:

5 minutes

Cook Time:

0 minutes

Total Time:

5 minutes

Yield: approx

1.5 cup

s

1

x
Category:

Spice

Cuisine:

American
---
Description
Sweet and spicy, this easy BBQ Seasoning Mix recipe adds serious flavor to your beef, chicken and pork!
---
Scale
Ingredients
1/4 cup

maple sugar or granulated sugar

2 tablespoon

s smoked paprika

1 tablespoon

garlic powder

1 tablespoon

onion powder

1 tablespoon

dried ground mustard

2 teaspoon

s chili powder

1

–

1/2

teaspoons dried thyme leaves

1

–

1/2

teaspoons cumin

1 teaspoon

ground coriander

1/2 teaspoon

ground black pepper

1/4 teaspoon

cayenne

1 tablespoon

Kosher salt (optional)
---
Instructions
Combine all ingredients in a small bowl. 
Store spice mix in an airtight container.
---
Notes
To season meat for grilling or oven baking, sprinkle 1 – 2 teaspoons per pound of meat raw meat prior to cooking.
For less heat, reduce cayenne to 1/8 teaspoon or omit.
Dried ground yellow mustard seeds were used for this recipe.
Salt is optional. Add or omit as desired. 1 tablespoon of salt is proportional amount for this recipe.
Keywords: barbecue spice mix