Juicy, tangy and sweetened with maple, Egg Sausage Breakfast Sliders are a delicious way to get Game Day or any day started. Tailgaters and party-goers alike will rave over these easy to make sliders bursting with herb laced eggs, mild sausage and melted cheese!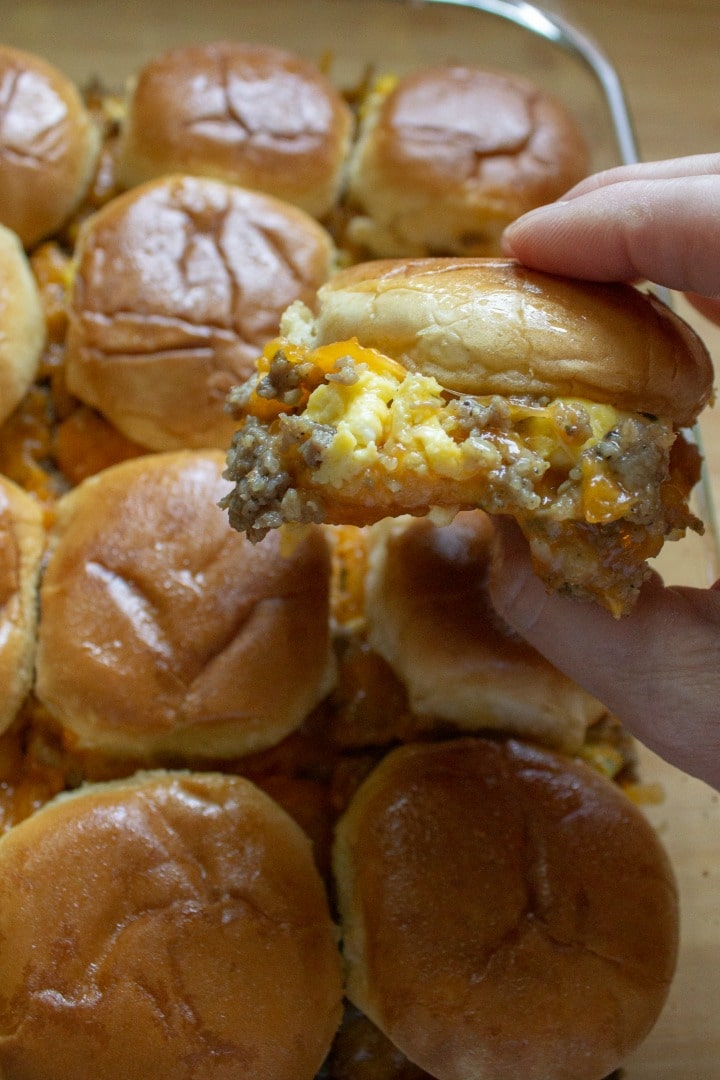 Friends, are you having the same problem I am? My herb garden is a hot mess! Between the blazing heat, hail and drowning rains, my little herbs have suffered. I have tried to help them, I really have, but I have to admit defeat with the herbs. Strangely, my tomato plants must love this crazy weather because they are almost 12 feet high! Well, they would be but I don't have stakes that tall so now they are hanging over, propped up on lawn chairs. It looks ridiculous and I can only imagine what my mother would say if she saw what that looks like!! On the bright side, there will be no shortage of tomato soup this winter!
My garden really has nothing to do with this recipe except that when I tested it, I used fresh chives in the eggs. Due to garden failure, I have changed the recipe to use either fresh or dried chives. Let me show you how I made these amazing sliders.
How To Make Egg Sausage Breakfast Sliders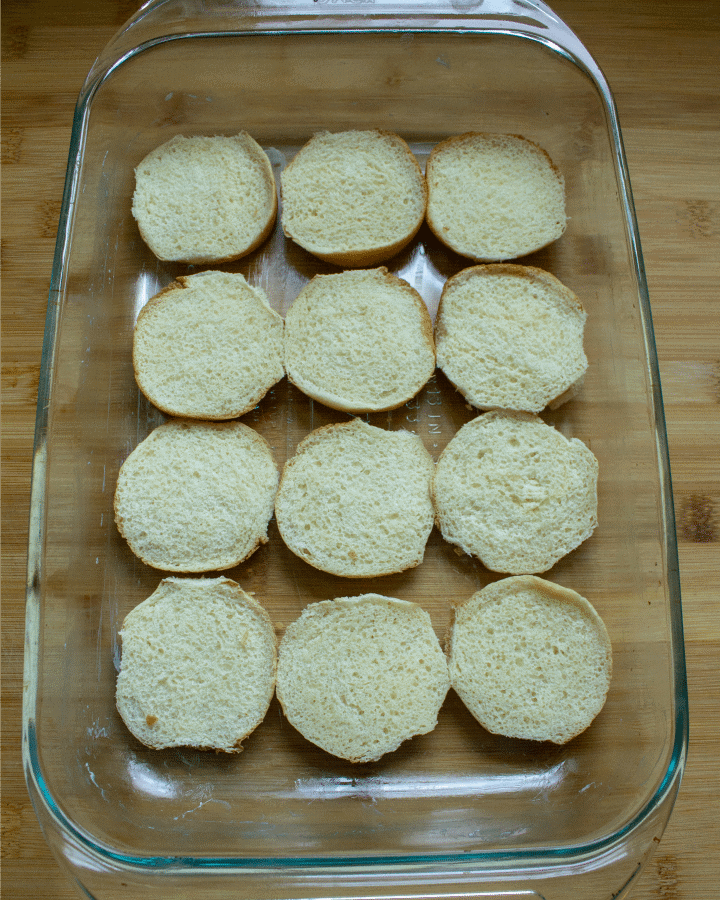 Get started by lightly buttering the baking pan. If you like non-stick spray then use that, but I like to use butter rather than spray so the bottom of the buns pick up the delicious butter flavor.
Note: Non-stick cooking sprays contain soy lecithin, which can create a sticky brown residue on pans when you're done cooking. Some cookware manufacturers advise keeping the cooking spray in the cupboard to begin with.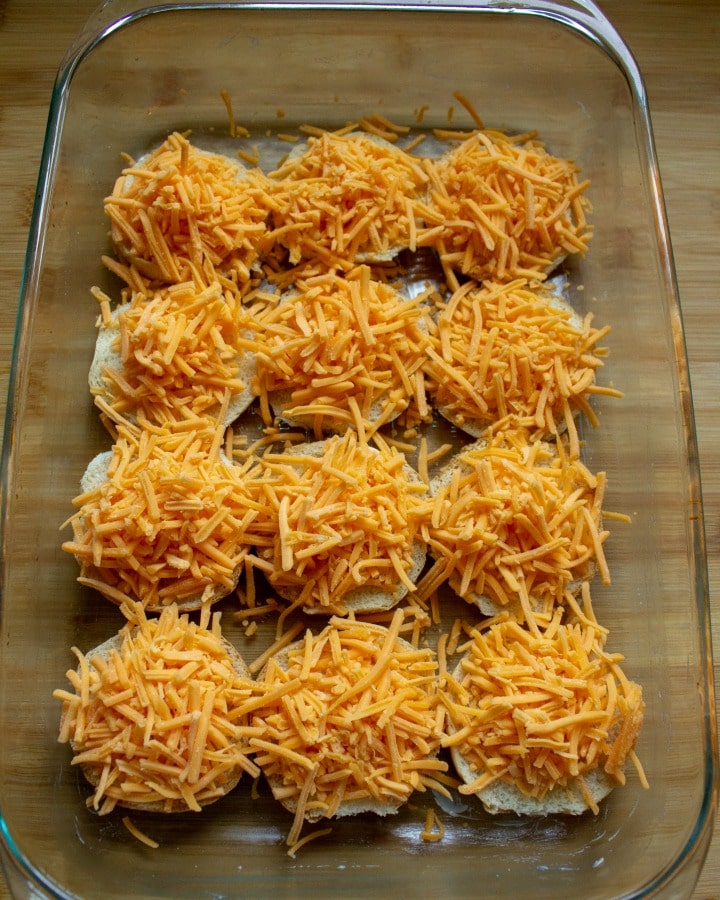 Evenly divide the cheese between the slider buns. Normally I like to freshly grate the cheese myself, but I got lazy and used shredded cheese from a bag. I know…I know. The shredded cheese stays pretty in the bag because it has stabilizers added to it. Unfortunately, I find that the stabilizers do not allow the cheese to melt as nicely as cheese you shred yourself from a block. I don't think anyone here notices the difference, but in the interest of full disclosure I am telling you.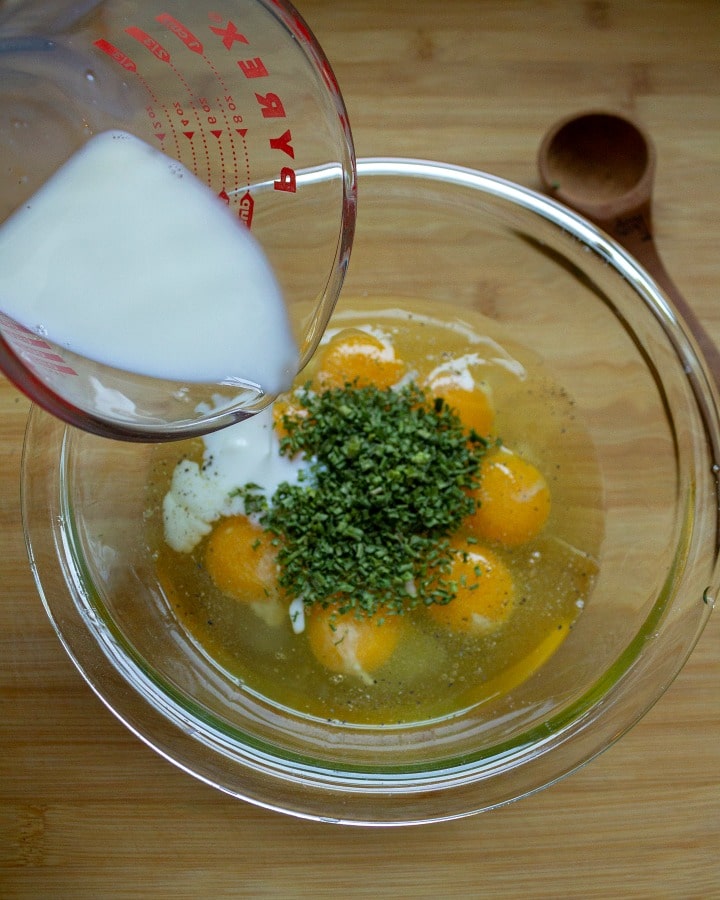 In a medium size bowl, beat the eggs with the chives, milk and as much salt and pepper as you like. The recipe calls for either fresh or dried chives…the chives in this photo are the dried variety.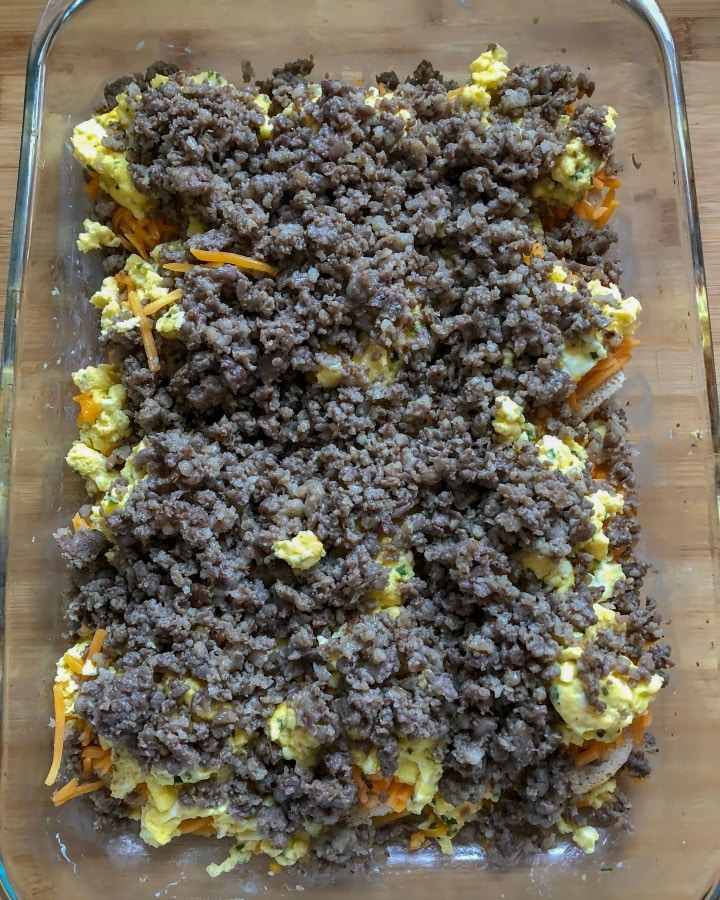 Spread the scrambled eggs and then the sausage over the cheese in an even layer. Then replace the tops of the slider rolls.
Melt the butter in a small dish and then add the maple syrup.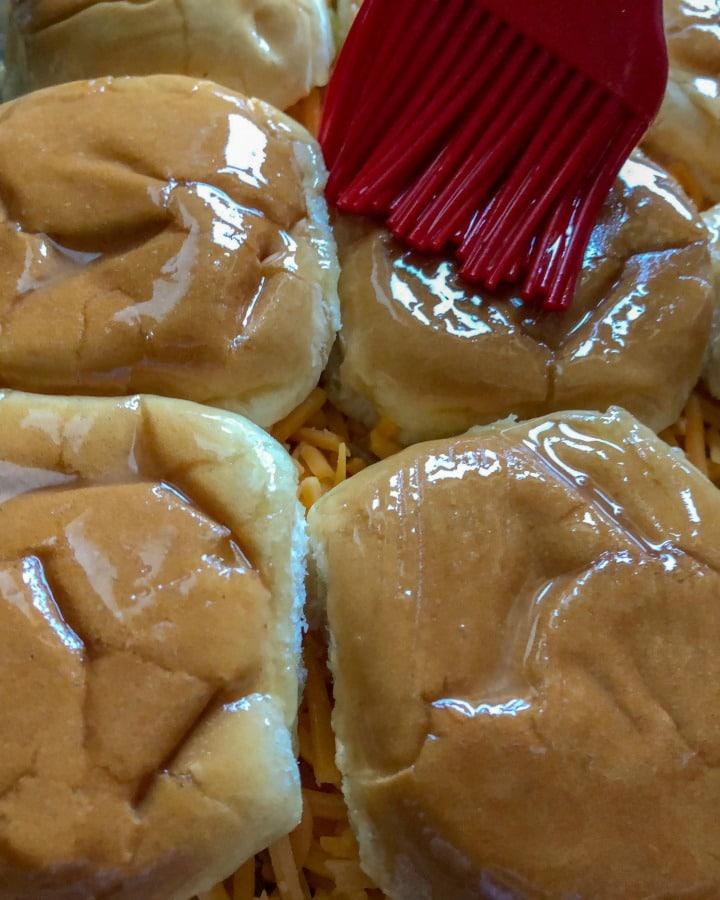 This is where the magic happens! Brush the maple butter over the top of the rolls, using all of the mixture. Then bake in 350 degree oven for 15 – 20 minutes until cheese is bubbling and tops are golden brown.
These Egg Sausage Breakfast Sliders are a great base recipe. They can be devoured immediately or made the night before and baked in the morning. We make them with different fillings based on when they will be served, like my Italian Ham and Cheese Sliders and they're always a hit! You can switch up the fillings and even the bread, here are some other ways of making these delicious anytime sliders:
Instead of using plain slider rolls, use Hawaiian rolls for a sweeter option. They're completely delicious freshly baked and crisp. Don't forget about Onion rolls…they will add immense flavor to your sliders!
Using bacon instead of sausage. I usually cook the bacon in the oven for less mess. The bacon also comes out in perfect, flat strips to make building the sliders easier. Thin slices of ham work too!
How about eggs cooked over-easy topping each roll! Yum.
Add veggies!! Anything you would use in an omelette can go in these sandwiches, like fresh spinach or very thinly sliced green bell peppers and onions. Roasted red peppers will add beautiful color to the rolls.
Variety is the spice of life! Add sriracha or other hot sauce to the melted butter you brush on top. Or mustard and minced onion. You can't go wrong with honey added to the butter, then topped with a sprinkling of poppy seeds.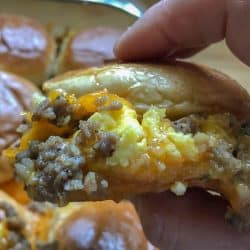 Egg Sausage Breakfast Sliders
Juicy, tangy and sweetened with maple, Egg Sausage Breakfast Sliders are a delicious way to get Game Day or any day started. 
Ingredients
12

slider

rolls

16

ounces

breakfast sausage

8

large

eggs

1/4

cup

milk

whole or 2%

1

tbsp

dried or fresh chives

pinch

kosher salt

pinch

black pepper

4

cups

shredded cheese

4

tbsp

unsalted butter

2

tsp

maple syrup
Instructions
Preheat the oven to 350°F. Lightly grease the bottom of a 9 x 13-inch (or similar size) baking dish.

Heat a large skillet over medium heat.  Add the sausage to skillet, break apart with a wooden spoon and cook until completely cooked through. Drain if necessary to remove excess grease and scrape into a bowl.

In a medium bowl, whisk together the eggs, chives, milk, salt and pepper. Heat the large skillet with 1 tablespoon of butter over medium heat. Pour in the egg mixture and cook eggs to desired consistency.

Cut slider rolls in half lengthwise. Place the bottom half of rolls in baking dish.  Set the tops aside. Evenly spread the shredded cheese over the bottom half of rolls. Scoop scrambled eggs onto the layer of cheese, spreading evenly.  Place sausage on top of the eggs and top with top half of rolls.

Melt remaining 3 tablespoons of butter. Combine melted butter and maple syrup in small bowl. Brush over tops of rolls allowing sauce to drip down sides and into bottom. Use the entire amount.

Place pan onto center rack of preheated oven. Bake 15-20 minutes or until cheese is bubbly and melted. Serve and enjoy!
Notes
Sliders can be prepped the day before and popped into the oven before guests arrive.
Try using maple flavored breakfast sausage for extra sweetness!
Nutrition Facts
Serving:
1
roll
Calories:
414
kcal
Carbohydrates:
20
g
Protein:
19
g
Fat:
25
g
Saturated Fat:
12
g
Trans Fat:
1
g
Cholesterol:
191
mg
Sodium:
536
mg
Potassium:
179
mg
Fiber:
1
g
Sugar:
1
g
Vitamin A:
597
IU
Vitamin C:
1
mg
Calcium:
219
mg
Iron:
1
mg
© Copyright Christine Mello for Must Love Home. We would love for you to share a link to this recipe but please do not copy/paste the recipe instructions to websites or social media. We are happy for you to share a photo with a link back to this website instead.