Best Instant Pot Ribs are moist, fall off the bone pork ribs made easy in the pressure cooker. In just three easy steps and under 40 minutes, they're keto, paleo and definitely family-friendly.
Best Instant Pot Ribs Recipe is perfect for making a savory and delicious rack of ribs quick and easy! We love recipes with pork ribs like our fan favorite Best Even Oven BBQ Ribs, Southern Style Slow Cooker Ribs and Spicy St Louis Ribs. This is one of our Dinner recipes you'll want in your recipe box!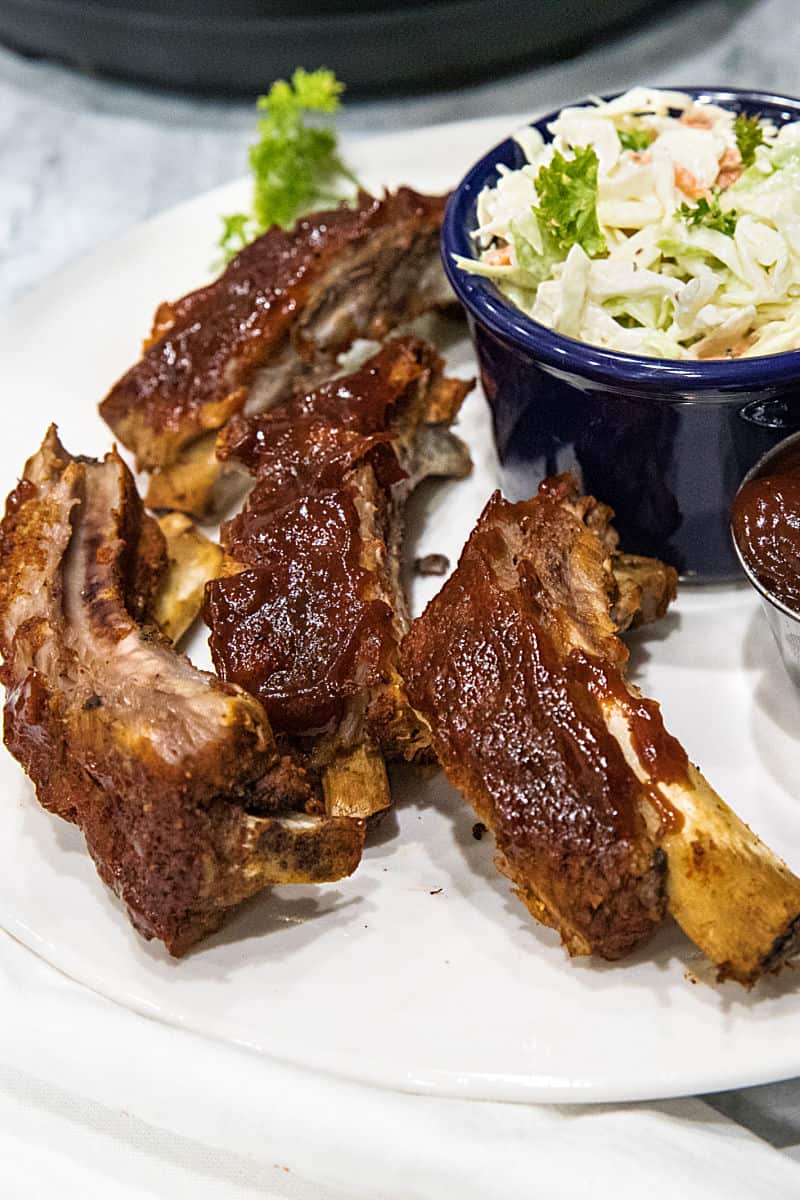 Best Instant Pot Ribs
There are three easy steps to making the best instant pot ribs. This is a fail-proof recipe that results in moist, mouth-watering ribs every time!
Dry Rub Your Ribs – this is an important step to develop flavors no matter how you're cooking your ribs.
Cook Until Tender – my favorite way to cook baby back ribs is in the pressure cooker. It's fast and clean-up is minimal. You can also cook ribs in the slow cooker or the oven. The cooking time will vary for each method. For juicy and tender ribs, the temperature of the meat should reach 180 – 195 degrees F. Ribs are safe to eat at 145 F, but the pork might be be tough and not as flavorful as it could be.
Sauce the Ribs – a rack of ribs isn't complete without a slathering of your favorite sauce. Brush the ribs thickly with sauce, then throw under the broiler for a few minutes to caramelize.
If you don't have an Instant Pot yet, I've included easy instructions to make these ribs in the oven and the slow cooker.
This post may contain affiliate links, see our disclosure here.
Ingredients for this Best Instant Pot Ribs Recipe
Baby Back Ribs – this is our favorite cut for the Instant Pot because the rib bones are pretty uniform in length. You can also use St. Louis ribs and spare ribs, using this very same method.
Apple Cider Vinegar – for tangy flavor and acidity. Regular vinegar or balsamic vinegar are great substitutions.
Brown Sugar– for a little sweet to compliment the spices in the rub.
Spices – for an incredible spice rub we used chili powder, garlic powder, onion powder, cumin, smoked paprika and cayenne pepper.
Barbecue Sauce – for amazing bbq ribs, use a sauce you love! We love our popular Korean Barbecue Sauce Recipe on any kind of ribs! For Keto, use our favorite sugar-free barbecue sauce so you can stick to your plan.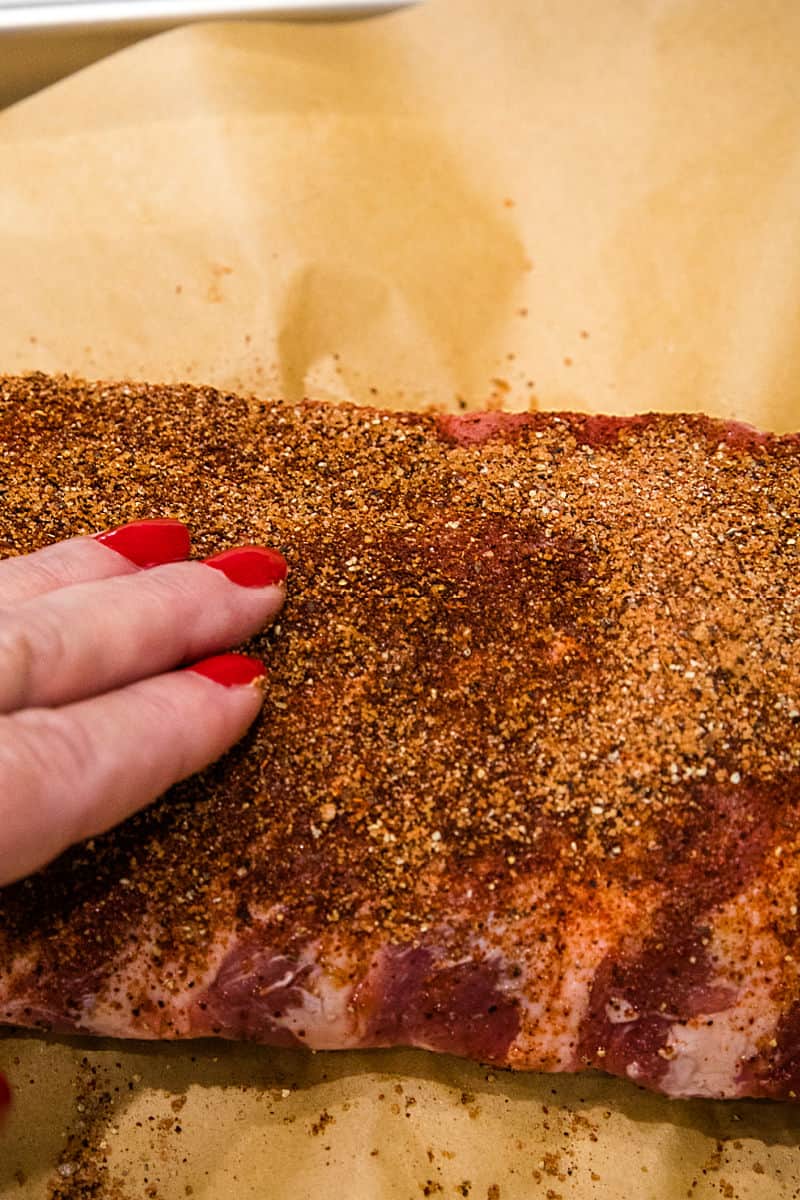 How To Make Instant Pot Ribs
Spice Rub
Start by mixing the ingredients for the spice rub in a small bowl. Set the dry rub aside for now.
Remove the Membrane
Check the underside of the ribs to see if it still has a membrane (looks like a whitish thick skin). Sometimes it's already removed (awesome) depending on where you buy your ribs. If it's still there, use your fingers or a sharp paring knife to pull up one end and then grip the membrane with a paper towel and pull it the rest of the way off.
Prepping Pork
Pat the ribs dry with paper towel. Working on waxed paper or board, use your fingers to rub the dry rub spice mixture all over both sides of the ribs, including the ends of the bones.
Set a trivet in the bottom of the Instant Pot insert and add 1 cup of water and vinegar. Place the rack of ribs standing up inside the Instant Pot on top of the trivet. It's okay if the ribs are touching the sides.
Cooking the Ribs
Close and lock the lid. Set valve to venting if it doesn't automatically do it. Press the Pressure Cook button and set to HIGH pressure for 27 minutes. The pressure cooker will take a few minutes to come up to pressure before the cooking timer starts.
If this is your first time cooking ribs in the pressure cooker, you might need to experiment with your cooking time. Time and pressure can vary between brands. If the ribs are not done quite done at 27 minutes, close the pressure cooker back up and set for another 3 – 5 minutes on HIGH pressure until they've reached the desired temperature.
Once the timer is done, allow a natural release of the pressure for 10 minutes. There may still be some steam left in the cooker, so before opening the lid, turn the vent to VENTING and release any remaining pressure.
Finishing by Broiling or Grilling
Remove the ribs and cut into serving size pieces. Place on a parchment or foil-lined rimmed baking sheet and brush on the sauce. *Place under the broiler set to HIGH for a few minutes until the sauce has caramelized. Repeat this step until the sauce is as thick and caramelized as you want it. We brush and caramelize about three times for a nice, thick sauce on our ribs.
You can also throw the entire rack on a HOT grill. Brush on the sauce, place ribs bone side down and close the lid to brown the ribs caramelize the sauce.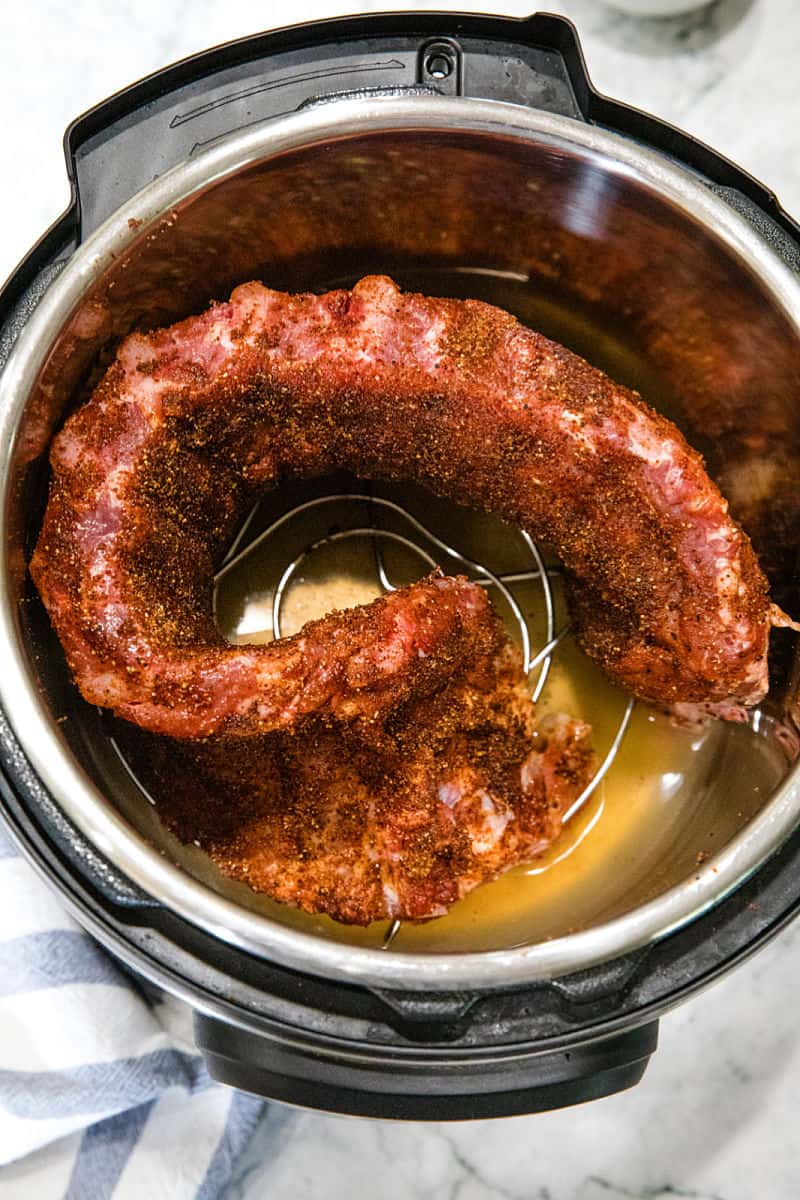 Make Ribs In the Oven
Before the Instant Pot, the oven was my go-to method for making baby back ribs. The key was cooking them "low and slow" with our Oven BBQ Ribs recipe.
After the membranes removed and the dry rub applied, wrap the rack of ribs in 2 sheets of aluminum foil on a rimmed baking sheet, like a packet. Bake at 300 degrees F for 2 hours.
Open up the foil, cut the ribs into pieces and brush on the sauce. Put the pan back in the oven and cook for 10 minutes. Brush on a second coat of the sauce, and cook an additional 10 minutes. Enjoy!
Make Ribs in the Slow Cooker
When you've got a busy day planned or just want to set it and forget it, this method is perfect! It's how I make family favorite Southern Style Slow Cooker Ribs.
Prep the ribs and smooth on the dry rub. Set the ribs in the slow cooker, cover and cook on LOW for 6 – 8 hours.
Then sauce and finish the ribs under the broiler!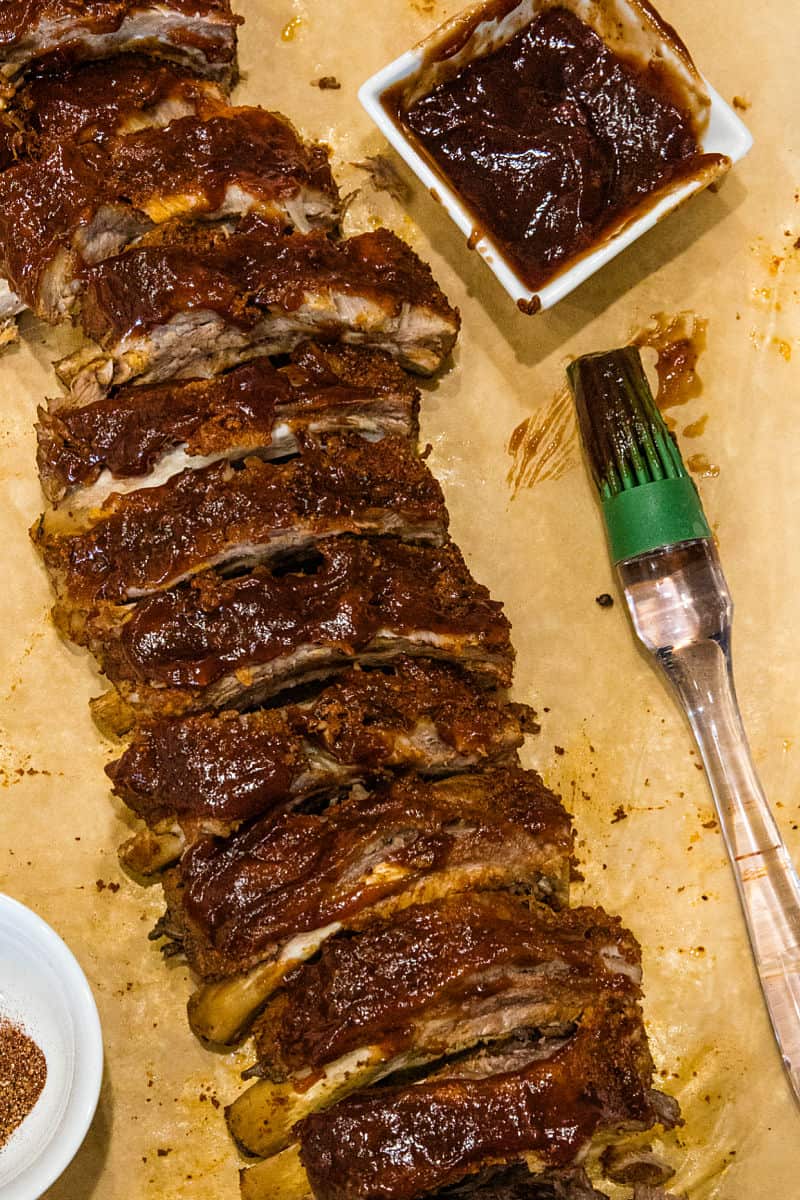 The final flavoring is in the sauce, so go wild! We love to change it up by adding sriracha to the sauce for heat, honey for more sweetness or sweet chili sauce for an Asian flair.
How to Serve
For a classic rib dinner, serve a crunchy cabbage salad on the side with our Easy Skillet Cornbread. Serve sauce for dipping like our homemade Family Recipe Classic Barbecue Sauce sauce.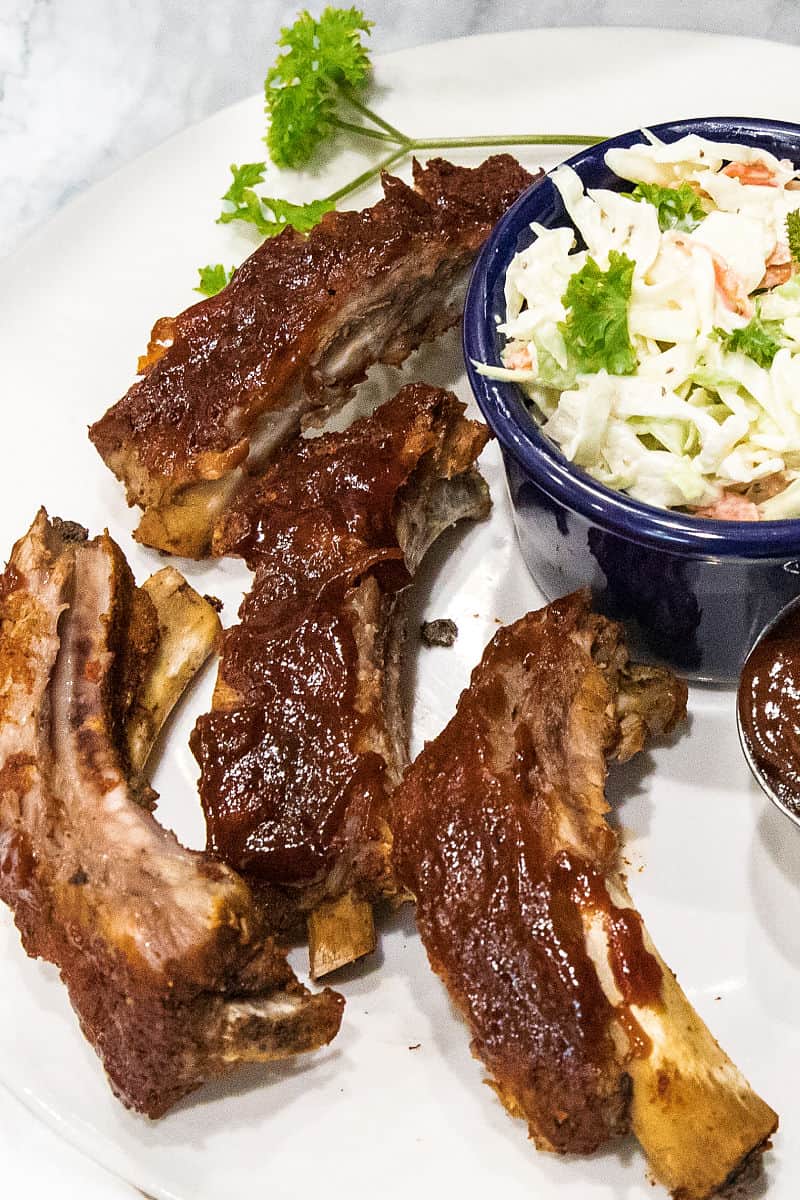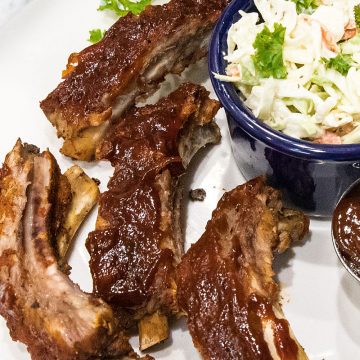 Instant Pot Ribs
Best Instant Pot Ribs are moist, fall off the bone ribs made easy in the pressure cooker!
Ingredients
2

pounds

pork ribs

we used baby back ribs

1

cup

water

1/2

cup

apple cider vinegar
Instructions
Remove membrane from underside of ribs.

In a small bowl, mix brown sugar, chili powder, garlic powder, onion powder, cumin, paprika, salt and cayenne. Rub spice mixture evenly all over the ribs, including bone ends.
Instant Pot Method
Place trivet in bottom of pressure cooker insert. Add water and apple cider vinegar. Stand the racks of ribs on the trivet.

Set cooker to Pressure Cook HIGH. Set cook time to 27 minutes. Ribs are fully done when pulling away from bone and reach 180 – 195°F. Finish by grilling or broiling.
Oven Method
Place 2 sheets of foil on rimmed baking sheet. Set ribs on top and wrap tightly. Bake for 2 hours. Open foil, brush on sauce and finish under the broiler.
Slow Cooker Method
Place ribs in slow cooker and cook *6 – 8 hours on LOW. Finish by grilling or broiling.
Finishing by Grilling or Broiling
Brush ribs with favorite sauce if desired.

TO GRILL – cook over HOT grill 3 – 5 minutes until pork is browned or sauce is caramelized.

TO BROIL – preheat broiler to HIGH. Place ribs on rimmed baking sheet, bone side down. Broil 1 – 2 minutes until browned or sauce is caramelized.
Chef Tips
Slow Cooker cook time will vary depending on brand and size of slow cooker. 
Equipment Used
Nutrition Facts
Nutrition Facts
Instant Pot Ribs
Amount per Serving
% Daily Value*
* Percent Daily Values are based on a 2000 calorie diet.
© Copyright Christine Mello for Must Love Home. We would love for you to share a link to this recipe but please do not copy/paste the recipe instructions to websites or social media. We are happy for you to share a photo with a link back to this website instead.
The nutritional information shared is an estimate, and is automatically calculated through a program in the recipe card. If nutritional information, like the calorie count is important to you, we recommend running the ingredients through whichever nutritional calculator you feel most comfortable with. Nutritional values like calories, fat and sugar can vary widely depending on which brands were used.