Homemade Corn Chowder is hearty, fresh and full of delicious flavors. Loaded with fresh corn kernels, tender red potatoes and crispy bacon, then finished with melting cheddar cheese and scallions. An irresistible summer soup that can be enjoyed any time of year.
A Homemade Corn Chowder recipe is just right for enjoying fresh sweet corn from your local farmers market or grocery store. We love making simple but delicious corn recipes like our Gran's Healthy Vegetable Soup, Easy Corn Red Pepper Salsa, Creamy Ham and Corn Risotto, and favorite Parmesan Chive Corn on the Cob. This is definitely one of our Soup recipes you'll want to keep in your recipe box!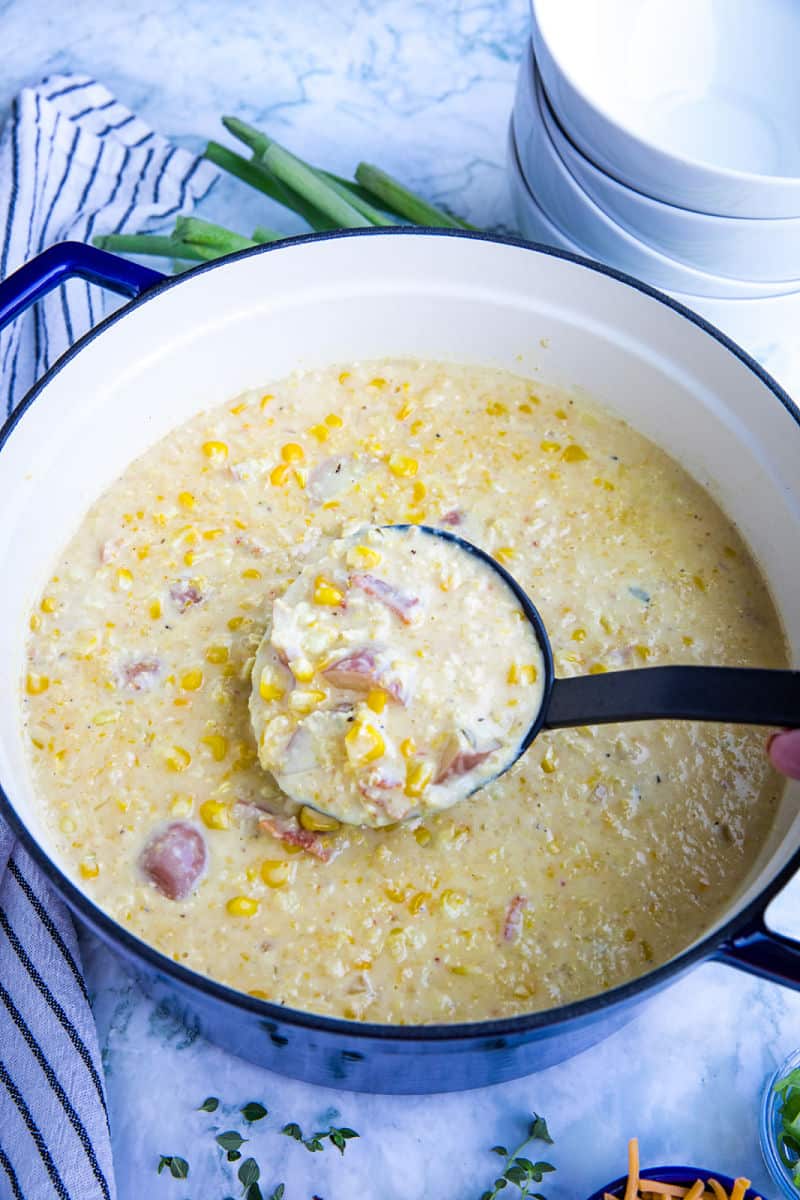 Homemade Corn Chowder Recipe
This is the time of the year when we get fun days at the local pool, backyard barbecues, long evening walks and best of all, visits to the local farmer's markets that provide us fresh produce in abundance. It's the best eating all year long, and this corn chowder takes full advantage of sweet corn coming into season.
If you're like us, your loving having those delicious cobs of corn to roast whole, dripping with butter or to add to your favorite dishes. You might also be looking for new ways to relish this summer treat, like this homemade corn chowder. It's one of our favorite ways to enjoy all those bright yellow ears of corn.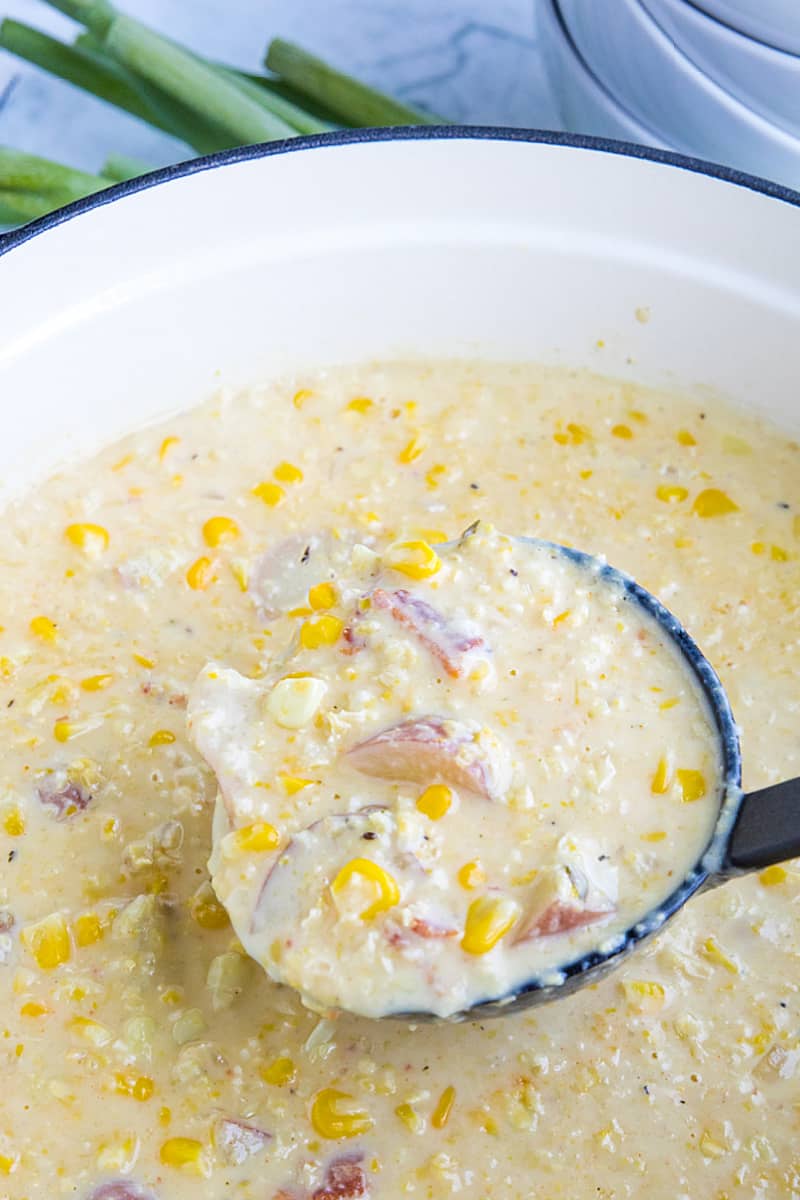 Corn Chowder Ingredients
Fresh Sweet Corn – we like to use yellow corn or a mix of white and yellow for the color. You can use all white corn if you prefer.
Bacon – adds salty bacon flavor. We love thick cut bacon for this recipe.
Onion – helps to build up the flavor and texture of the soup.
Flour – to thicken the soup and bind with the bacon fat.
Garlic – it's added to enhance the flavor and aroma of the soup.
Water, Vegetable or Chicken Broth – our favorite is vegetable broth but stick with water if you want more corn taste to come thru.
Red Potatoes – baby red potatoes are our favorite but any waxy potatoes, like Yukon Gold, can be substituted. Both varieties have very thin skins so you can leave the skins on.
Thyme Leaves – for herb flavor that compliments the corn and potatoes. Some people prefer rosemary, so feel free to use it if you prefer.
Smoked Paprika – adds subtle smoky flavor and enhances the flavor of the soup.
Half-and-Half – makes the corn chowder so rich and creamy. Heavy cream can be substituted.
Bay Leaf – a staple in homemade soups that enhances the chowder flavor, but is optional.
Honey – different varieties of corn taste sweeter than others. A little honey or granulated sugar enhances the sweetness of the corn. If your corn chowder tastes sweet enough for you, or you prefer a more savory taste, then omit the extra sweetener.
Can I use Frozen Corn or Canned Corn?
Corn is the key ingredients in this recipe and the principal flavor of the soup, it is corn chowder after all. While we always recommend using the best corn on the cob you can find, frozen corn or even canned whole kernel corn can be used when fresh isn't available.
This post may contain affiliate links, see our disclosure here.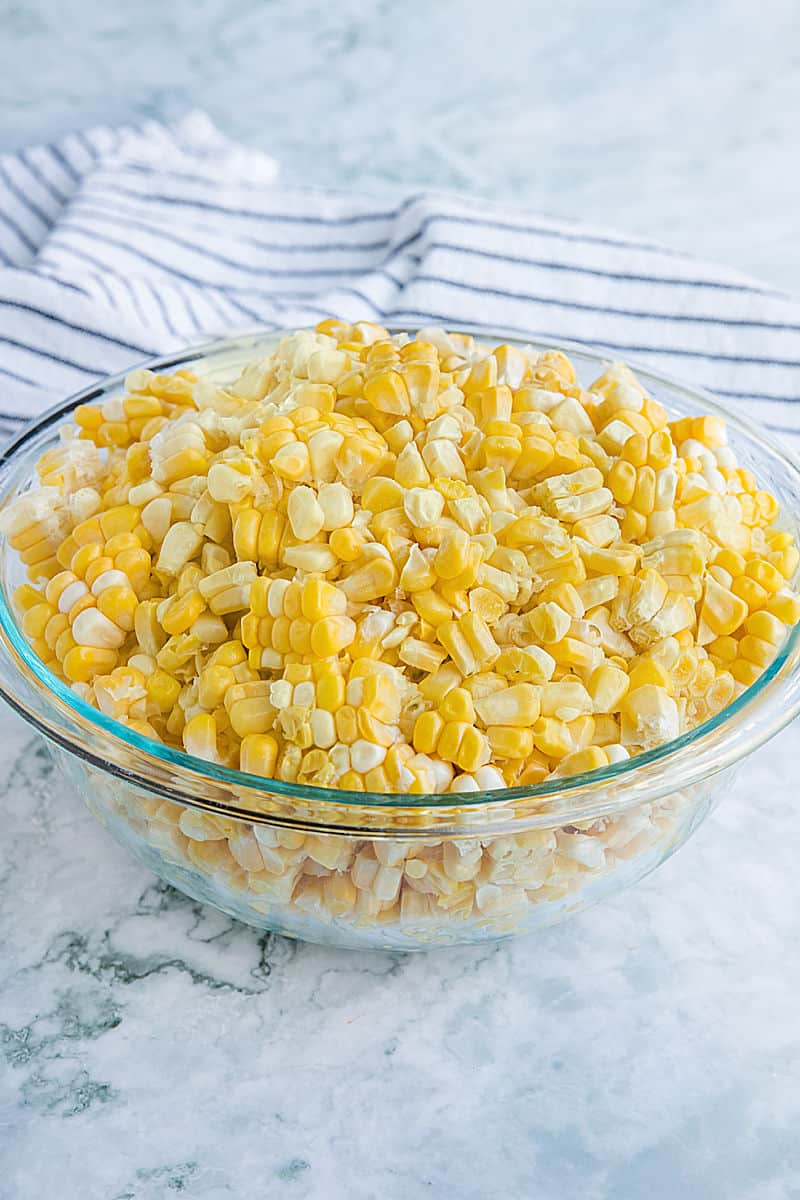 How To Make Corn Chowder
Cut off corn kernels – use a sharp knife to slice the kernels off the corn cobs and set the kernels aside.
Saute Bacon and Onions – heat a large pot over medium-high heat. Add bacon pieces and cook until crispy. Remove with a slotted spoon to a paper-towel lined plate. Remove all but 3 tablespoons of bacon grease from pot. Add onions to pot and saute until tender.
Make a Roux – add flour and garlic to onion and bacon grease in the pot. Stir to make a paste, and cook for 1 minute. While whisking, slowly (and carefully) pour in 5 cups of broth.
Add Vegetables and Spices – stir in the corn, potatoes, thyme, smoked paprika, Bay leaf and salt and black pepper to taste.
Boil then Simmer Soup – bring to a boil over medium-high heat, then lower temperature and simmer for 15 to 20 minutes until the potatoes are tender when pierced with a fork.
Blend Half the Chowder – use an immersion blender (so easy) to puree about half the soup in the pot or transfer half the soup to a blender and pulse until smooth. Pour puree back into the pot.
Add Final Ingredients – add milk, bacon and honey to the pot. Cook over medium heat until soup starts to thicken and the soup is heated thru, about 5 to 10 minutes.
Garnish and Serve – ladle soup into bowls and garnish with optional cheese, green onions and more bacon.
How We Made Our Chowder Recipe Easier
There are a plethora of corn chowder recipes available on the internet. While we cooked a few of them, from beginner recipes to more advanced, we searched for ways to make our recipe for corn chowder as easy and tasty as possible. Here's a few changes we made to the recipes we found:
Omit the Butter – while butter is like corn on the cobs wingman, we didn't think the butter flavor was noticeable enough in the finished soup to justify the extra fat and calories it adds to the recipe. One less ingredient you'll need!
Bacon Grease – Yes, we did! We used a little of the remaining bacon grease (and all it's flavor) instead of added butter to cook our onions and garlic and to make our thickening roux. The grease is already in the pot, why waste it?
No Milking the Cobs – That's right, we didn't scrape the cobs to milk out the extra juice left after cutting off the corn. Many recipes called for using a sharp knife or vegetable peeler to scrap the leftover juice and bits off the cobs, then straining and squeezing. It's messy and we didn't find any taste difference, but we did cut our kernels off close to the cob so there was very little juice anyway. Some say it adds more sweet taste. If your soups not sweet enough…add a dab of honey.
Milk – vs. Half and Half or Heavy Cream. We chose milk for our chowder rather than the richer half and half or heavy cream to make this recipe as simple, healthy(ish) and accessible as possible. We found most people have milk or a milk substitute like soy or coconut milk already in their pantry, but not necessarily half and half or heavy cream. We're all about using what you already have, so it was an easy choice for us. If you regularly buy half and half or cream, definitely give it a try in this soup.
How You can Make Corn Chowder Thicker
If your finished corn chowder is not as thick as you prefer, here are a few ways to easily thicken the soup.
Puree more of the corn and potatoes. This will quickly thicken the soup without adding any additional ingredients.
Ladle out a half cup of the hot soup (as much liquid as possible) into a bowl. Sprinkle a tablespoon of cornstarch over the liquid then stir in. Add back into the soup and stir over medium-high heat until soup thickens.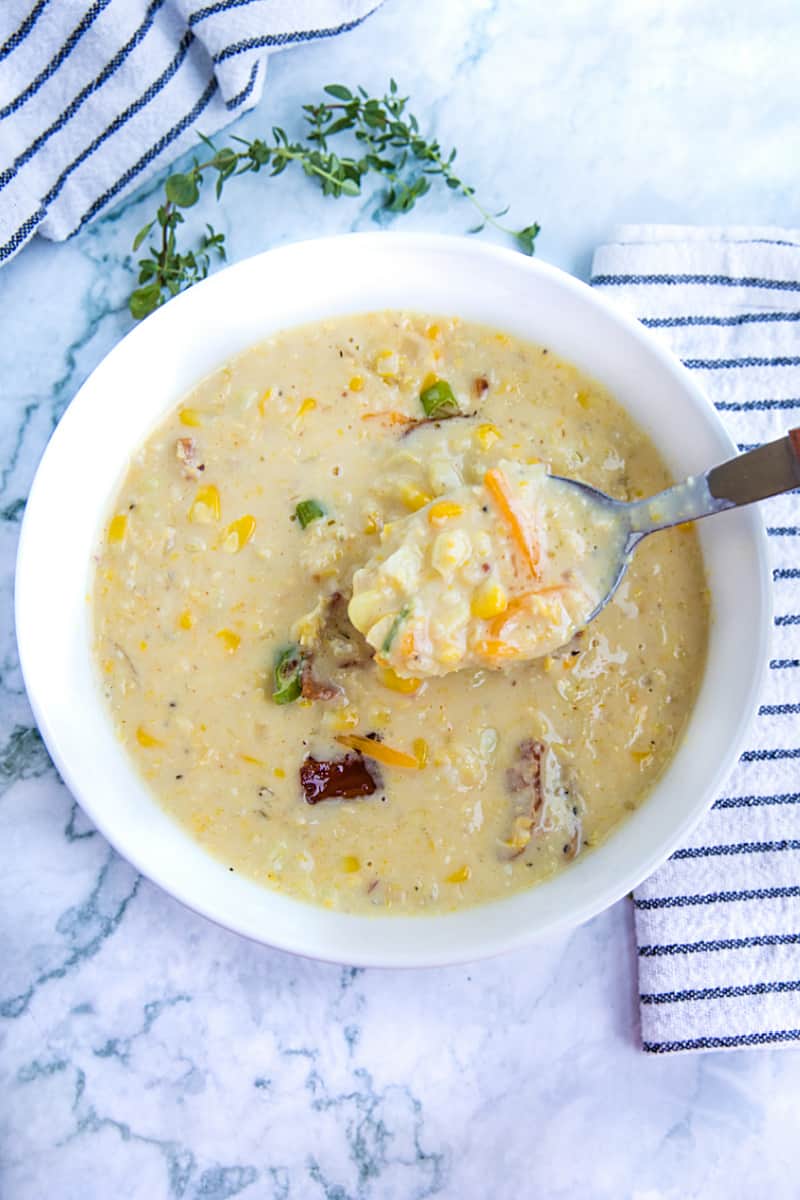 How To Store
Corn Chowder is best when served immediately, but leftover soup can be stored in airtight containers in the refrigerator for up to 3 days.
Can I Freeze Corn Chowder?
Due to the dairy and honey, I don't recommend freezing Homemade Corn Chowder as is. If you want to give it a try, make the recipe, but do not add the milk or honey just yet. (Just FYI, honey doesn't really freeze in a home freezer).
Allow the mixture to cool completely, then transfer to a freezer-safe container and place in the freezer.
Thaw in the refrigerator. Place in a large pot on the stove and add the milk and honey. Simmer until the soup starts to thicken and is heated thru. Transfer to serving bowls, garnish and serve.
What To Serve With Corn Chowder
Helpful Tools For This Recipe
Dutch Oven – my favorite soup pot that comes in 10 colors. Mine is Indigo Blue!
Immersion Blender – Incredibly handy tool to have. No need to transfer hot liquids to a blender.
Traditional Blender– My favorite blender for the past 10 years.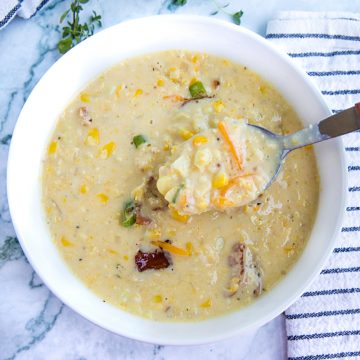 Homemade Corn Chowder
Hearty, fresh and full of delicious flavors. Loaded with fresh corn kernels, tender red potatoes and crispy bacon, then finished with melting cheddar cheese and scallions.
Ingredients
6

slices

bacon

cut into 1-inch pieces, (we used thick cut)

1

cup

yellow onion, chopped

1 medium onion

3

cloves

garlic, minced

1/4

cup

all-purpose flour

5

cups

vegetable broth

(water or chicken broth may be substituted)

8

ears

sweet corn

husks and silks removed, (about 6 cups)

1

pound

baby red potatoes or yukon gold potatoes

cut into 1/2-inch pieces

1/2

tsp

thyme leaves

1/4

tsp

smoked paprika

1

whole

bay leaf

optional

1

cup

whole milk

(half and half or heavy cream may be substituted)

1

tsp

honey

salt and pepper to taste

handful shredded cheddar and sliced green onions

optional
Instructions
Slice corn kernels off the cob with a sharp knife, Set aside.

Cook bacon pieces in a large dutch oven or soup pot, over MED-HIGH heat until just crisp, about 5 to 7 minutes. Remove bacon to a paper towel-lined plate and set aside. Pour off bacon grease, reserving 3 tablespoons grease in the pot.

Add chopped onions and cook about 5 minutes over MED-HIGH heat until soft and translucent, stirring often. Add garlic and flour and continue cooking for 1 minute, stirring constantly.

While whisking, pour in broth. Add corn, potatoes, thyme, paprika, salt, pepper and bay leaf. Stir and bring mixture to a boil. Reduce heat to MED-LOW and simmer 15 to 20 minutes until potatoes are fork tender.

Turn off heat and remove bay leaf. Use an immersion blender to blend about half the soup until smooth. OR carefully transfer half the soup to a blender, pulse until smooth and return to the pot.

Over MED-LOW heat, stir in milk, bacon and honey. Simmer until soup thickens slightly, 5 to 10 minutes.

Serve sprinkled with more bacon, shredded cheddar cheese and sliced green onions.

Store leftovers in airtight container in the refrigerator for up to 3 days.
Equipment Used
Nutrition Facts
Nutrition Facts
Homemade Corn Chowder
Amount per Serving
% Daily Value*
* Percent Daily Values are based on a 2000 calorie diet.
© Copyright Christine Mello for Must Love Home. We would love for you to share a link to this recipe but please do not copy/paste the recipe instructions to websites or social media. We are happy for you to share a photo with a link back to this website instead.
The nutritional information shared is an estimate, and is automatically calculated through a program in the recipe card. If nutritional information, like the calorie count is important to you, we recommend running the ingredients through whichever nutritional calculator you feel most comfortable with. Nutritional values like calories, fat and sugar can vary widely depending on which brands were used.