A classic Easy Italian Panini is a perfect combination of meat, cheese, and spices, served on a crispy hot roll – perfect for lunch or dinner!
One way I  keep organized in the kitchen is to use a menu board that tracks what is for dinner for the next two weeks.  My guys monitor that dinner menu board as closely as they monitor their favorite sport team rankings!  Once, I tried to take down the board, but since I hate seeing grown men cry, I had to put it back up again!
I mention this board because I like to put Paninis on it occasionally to use up leftovers from other meals.  This recipe is for an Italian Panini, but any leftover meat, cheese and sauce can be used to make an awesome panini sandwich! And no matter what other people told you…Paninis do not take any special equipment. You do not need a designated panini press (though they are great to have).  I just use a George Forman grill to press my sandwiches. Paninis are great to make on the outdoor grill, too!!
So, let's get this show on the road and make an Italian Panini –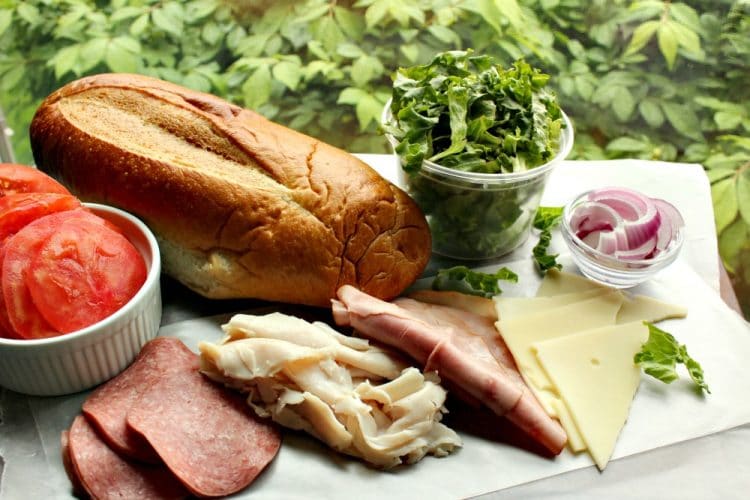 These are the main characters in today's production…
1 whole loaf Italian bread
8 very thin slices of each: Black Forest Ham, Turkey Breast and Hard Salami
4 slices Provolone or Swiss cheese
Sliced Tomato, Onion, Lettuce and Banana Peppers (all optional)
House Italian Dressing, Honey Mustard Dressing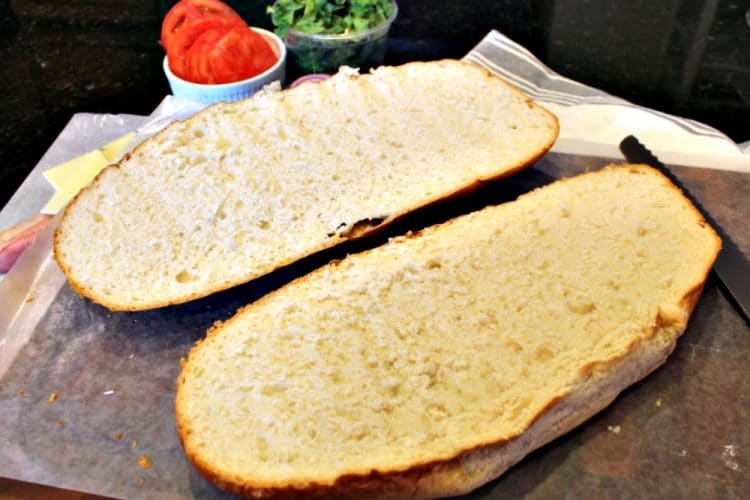 Get started by cutting your bread loaf in half, lengthwise. I like to stand mine up and cut straight down because it is easier for me to see than when it is laying down. But its your bread, so your choice.
Take a sharp knife and make a small cut all the way around the inside of both the top and bottom loaf halves, about 1/2 inch from the outside edge. Scoop out the bread that is inside the cut, leaving about 1/4 inch intact on the bottom of each.  You do not want to poke holes in the bread…it will make a holy mess (pun intended) when you grill it.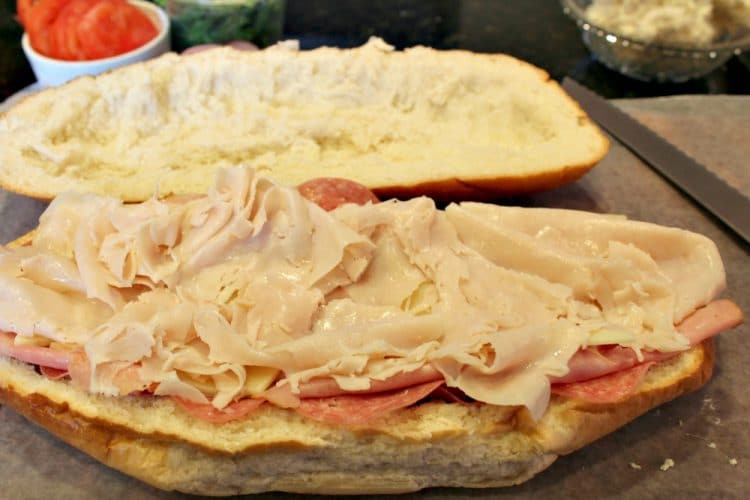 Layer your lovely ingredients on top of one of the hollowed out halves.  Cheese should not be the last layer on top. When you add the top loaf and press it, you will have a gooey mess (and burned fingers)  trying to get the top off to add your veggies and dressing if cheese is stuck to it.  Place the cheese between two layers of the meat.  I learned this lesson the hard way- no need for you to do it too!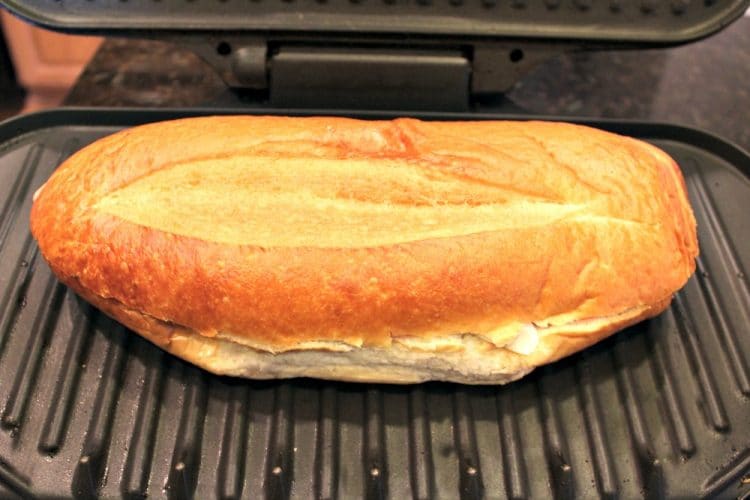 Put the filled loaf on the press and close the top. Allow to cook for 4 – 5 minutes, until the bread is the desired crispness. (If you are making it in a skillet or on a grill, just place flat on the hot surface and press down with a heavy pan on top.  You will need to flip it after about a minute to crisp up the other side.)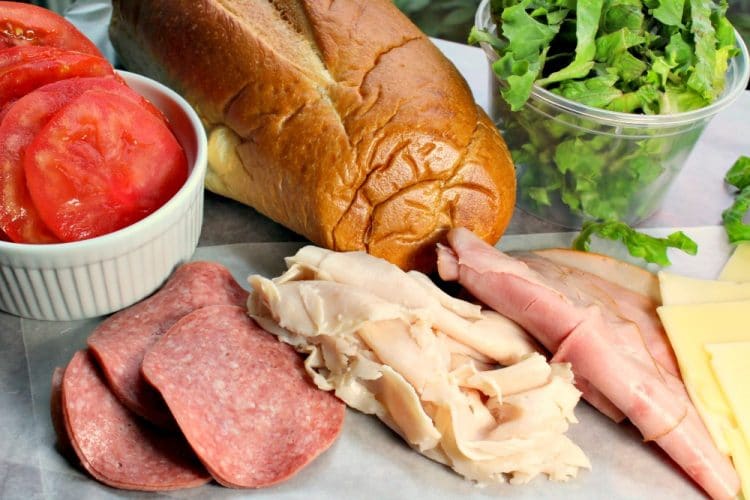 This is where we started…everything looks so pretty and delicious.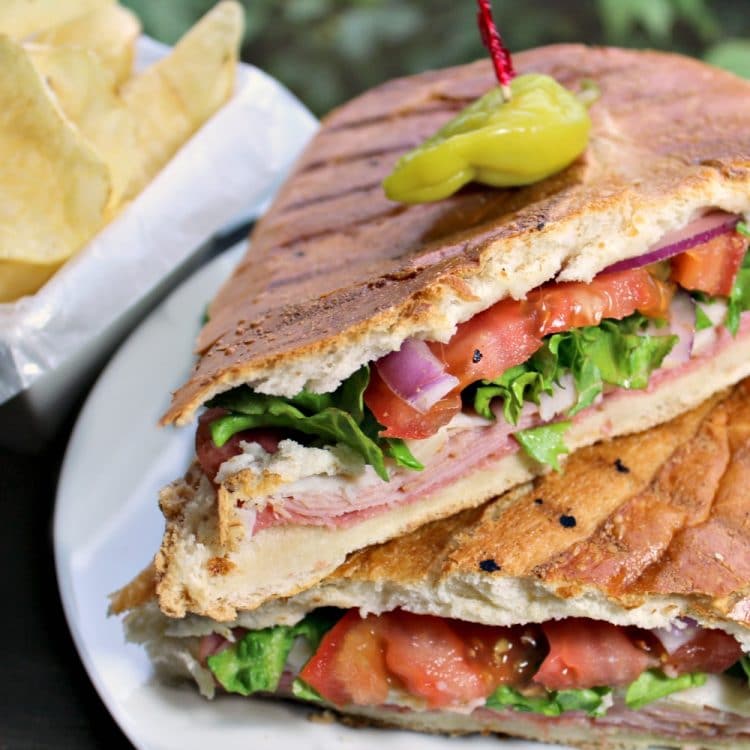 This is how good they are:  I gave The Handyman a whole Panini, then thought better of it and tried to remove half from his plate…he circled his arm around his Panini and growled…I think he also bared his teeth. (I may have imagined that part!)  Later, he complimented me on how delicious the Panini was. Good husband!
Print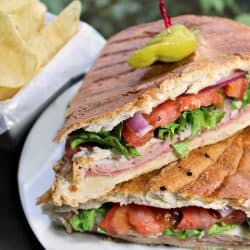 Easy Italian Panini
Prep Time:

10 minutes

Cook Time:

10 minutes

Total Time:

20 minutes

Yield:

2

servings

1

x
---
Description
This Panini can be made indoors or out on the grill. This makes a large sandwich to serve 2.
---
Scale
Ingredients
1

whole loaf Italian bread

8

very thin slices of each: Black Forest Ham, Turkey Breast and Hard Salami

4

slices Provolone or Swiss cheese
Sliced Tomato, Onion, Lettuce and Banana Peppers (all optional)
House Italian Dressing, Honey Mustard Dressing
---
Instructions
Cut the loaf of bread in half lengthwise. Hollow out some of the bread from both halves ( about 1/4 inch thickness from both sides) This will help keep the stuffing from oozing out of the sandwich when it is pressed.
On the bottom half, layer the Ham, Turkey Breast, Cheese then the Salami. Leaving a last layer of meat will allow you to open the sandwich easily once it has been pressed. Place the top half over the filling.
Put the entire loaf on the Panini press and lower the lid. ( If cooking on the outdoor grill, place on the grill and weight the top down to press the Panini. A cast iron skillet is great for this! On the outdoor grill, you will want to turn the sandwich over to grill the top side of the bread.) Allow to press for 4-5 minutes, until desired crispness. Remove the loaf from the press.
Open sandwich and place desired vegetables on the meat. Drizzle on the House Italian Dressing. Add a small amount of Honey Mustard dressing on the facing bread.
Close the sandwich and cut in half. Cut in half again to make 4 pieces.
---
Notes
Leftover steak,chicken or shrimp also make delicious Paninis.