Chicken Broccoli Pasta Alfredo is a quick weeknight meal that's ready in less than 20 minutes using simple pantry ingredients!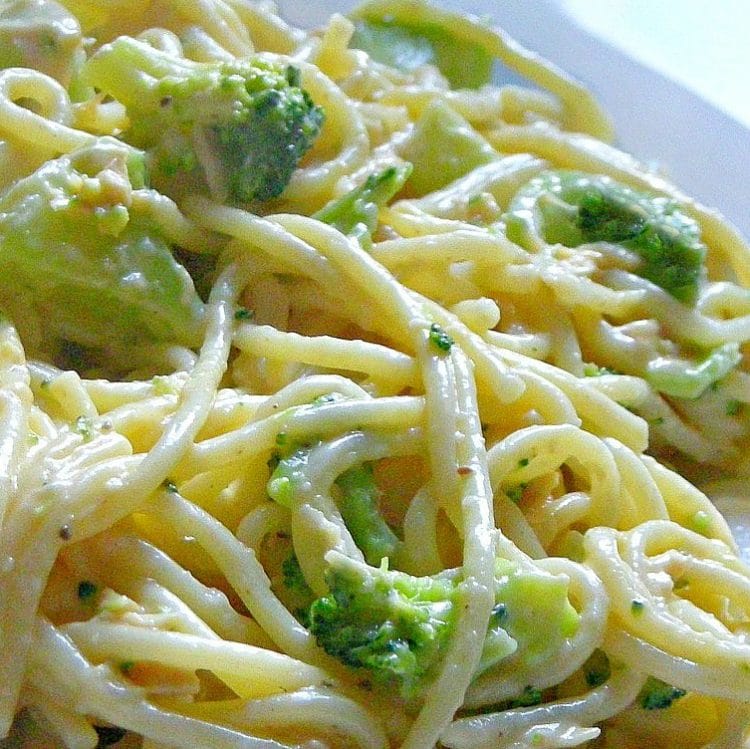 Coming home hungry and tired from a trip recently, I hopefully looked into an empty fridge for something to feed the family. No dice. Of course, I had not shopped before we left on our trip, so the fridge was empty.
Thankfully, the pantry was still stocked so I found pasta, sauces and canned meat to feed my hungry peeps. So In just a couple of minutes, a big pot of steaming hot Chicken Broccoli Pasta Alfredo was ready to put on the table.
"If you can boil water, you can make this Chicken Broccoli Pasta Alfredo"
In about 20 minutes, you can put a hot, fresh meal on the table that your family will love! Serve this tasty pasta dish as is  or add a fresh green salad and crusty bread for a full meal.
If you want to get fancy, shave some Parmesan cheese over the top and add crispy bacon pieces. Or add roasted red peppers for more flavor and color. Any way you serve this, it is just yum!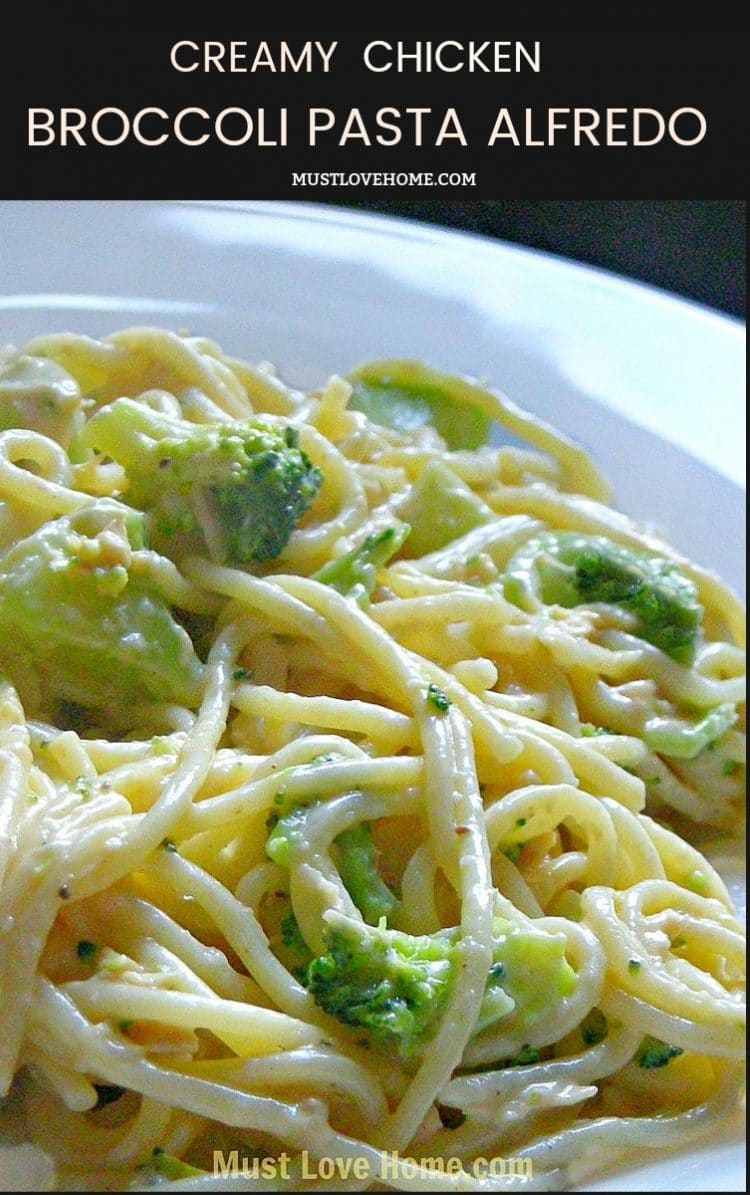 what is pasta alfredo?
Pasta Alfredo is a classic Italian-American dish, but do you know how Pasta Alfredo got it's name?  The story goes that in 1914 Alfredo di Lelio was trying to make an appetizing dish that would please his pregnant wife. He cooked fettucine noodles and then poured over a sauce he had made from Parmesan cheese and butter. He went on to  open a restaurant in Italy and served this dish.
Later, Alfredo di Lelio came to New York, opened another restaurant, and that is how American's came to call this dish Alfredo.
Interestingly, in Italy it is "Pasta al Burro", which means pasta with butter. Only in America, this dish is made with cream instead of butter.

Print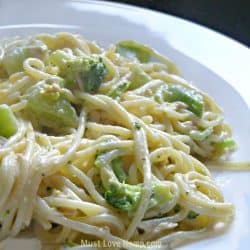 Easy Chicken Broccoli Pasta Alfredo – ready in less than 20 minutes
Cook Time:

20 minutes

Total Time:

20 minutes
---
Description
Easy weeknight meal that takes less than 20 minutes to prepare. Chicken and broccoli in a creamy sauce will become a family favorite.
---
Scale
Ingredients
1

Jar of your favorite Pasta Alfredo Sauce

12 oz

bag frozen Broccoli

1

medium sized can chicken breast,fully drained

8 oz

uncooked thin spaghetti noodles

1 tablespoon

of butter

1/3 cup

milk

1 tablespoon

Old Bay seasoning
---
Instructions
Bring a large pot of water to a rolling boil, when boiling add entire bag of frozen broccoli, cook until water again reachs a rolling boil
Add the pasta to the broccoli in the boling water
Cook pasta and broccoli together until pasta is al dente
Drain pasta and broccoli completely and set aside
While broccoli and pasta are cooking, get out large skillet and over medium heat melt 1 tablespoon of butter in skillet
Add the chicken to the skillet, breaking up the pieces as you stir chicken with the butter
Add Old Bay seasoing,garlic powder and onion powder, stir until well mixed with the chicken
Add the pasta sauce to the chicken, then add the milk to the pasta sauce jar, replace the lid and shake until the milk mixes with any sauce left in the jar,pour contents of the jar into the chicken mixture
Heat the pasta sauce and chicken mixture until steaming, but not boiling
Add the drained pasta and broccoli mixture to the skillet with the chicken and sauce mixture
Use tongs to toss the pasta with the sauce until the pasta is completely covered with sauce
Serve Immediately and enjoy!
---
Notes
Canned Tuna may be substituted for the chicken.
---