One Pan Chicken Pepperoni Pizza Pasta let's you enjoy your favorite pizza and pasta in the same dish! Spicy pepperoni, moist chicken, pasta and melted cheese makes this 30 minute recipe an easy favorite.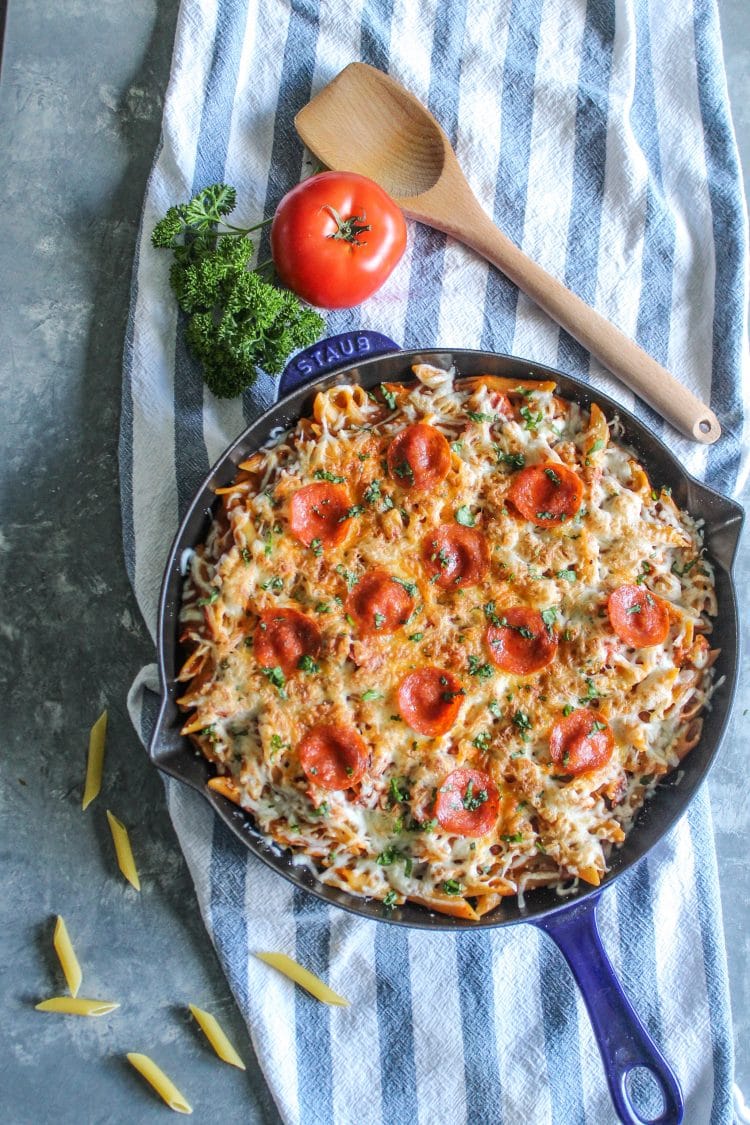 ONE PAN CHICKEN PEPPERONI PIZZA PASTA
Trying to figure out what to make for dinner each night can be intimidating. Over time most of our families develop expectations of what dinner should be; gourmet style with linen, take-out, a pizza from the freezer or something in between. How do we keep it fresh every evening, even if it is only to please ourselves? It's tough to know if we should just keep to the tried and true, branch out into trendy flavors even though we are sure someone won't like it or just give up and hit the drive thru again?
For health reasons, the one constant for our family is that whatever we eat needs to be "real"food. To me that means little or no preservatives or chemicals used to get it to the store shelves. Thank goodness for organics! In a perfect world it should also be easy to prepare, ready in under 30 minutes or made in the slow cooker. So this Pepperoni Pizza Pasta checks all of these boxes and more. I mean, who can resist the flavors of melting cheese and crispy pepperoni. Not me, that's for sure and I bet your family won't be able to either!
Reasons to love this One Pan Pepperoni Pizza Pasta Recipe:
Easy to make and ready in 30 minutes – great for busy weeknights!
Everything cooks in one pan for quick clean-up.
Family-friendly comfort food – kid tested!
You will have delicious leftovers that can be stored in the fridge, in an airtight container for 3-4 days
Versatile – substitute your leftover meat and veggies
Ever wonder what Pepperoni really is? This is the skinny on what I found out:
Pepperoni is an American invention, just like Chicken Parmesan. Put your hand up if you already knew that! The pepperoni we have come to know and love is a savory mixture of cured pork and beef and seasoned with a variety of spices like paprika, cayenne, garlic, sugar and anise seed. Though no one knows exactly when is was created, most believe that it was in the early 1900's when Italian butchers and pizzerias began spreading on the streets of Italian-American society.
Looking for more 30 Minute Meal Recipes? Check out part of my collection here:
Tips for making the best One Pan Chicken Pepperoni Pizza Pasta:
Use short cut pasta for the best results. Though long cut pastas like spaghetti or fettuccine may work okay, this recipe was tested for ingredients using short cut pasta.
When it comes to using spices, keep the shelf fresh by storing spices in a cool, dark place, away from direct heat or sunlight. In tightly closed containers whole spices will stay fresh for about 4 years, ground spices for about 2 to 3 years and dried herbs for 1 to 3 years.
For extra heat, increase the red pepper flakes from 1/4 teaspoon to 1/2 teaspoon or to your taste.
Helpful Tools and Ingredients:
Cast Iron or other oven-safe skillet – I love my ceramic coated cast iron skillet. A well-seasoned cast iron skillet will develop a non-stick surface that can go safely from the stove top then right into the oven. There are few non-stick skillets that are oven safe, so I go for my cast iron every time!
Whole Grain Penne Pasta – delicious…and filled with more fiber than regular pasta.