Rich and creamy Country Ham and Potato Bake is pure southern comfort food. Delicious chunks of ham and tender potatoes bathed in a rich cream sauce under a melted layer of cheese is great for brunch or dinner, and this recipe can be made ahead!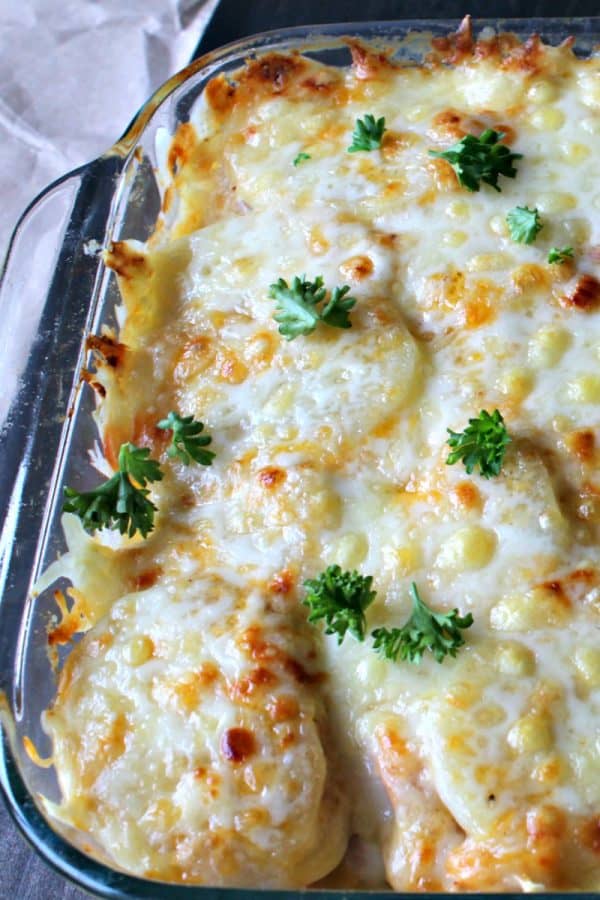 Country Ham and Potatoes is a delicious rustic baked dish my Dad would make anytime we had leftover ham from a holiday. It's a country recipe my Dad loved from his childhood in West Virginia, so the recipe name doesn't come from the type of ham used, but the geographic origin of the recipe instead.
For a lot of people, one of the best things about making a huge smoked ham are the slew of leftovers. That is not a word that gets used often in this house! Salty, smoky cooked ham goodness is something that the guys and I could eat everyday.
When there are those rare ham leftovers, I divide them into two plastic storage bags…one that the guys can pick on and one that I hide in the veggie bin to use for a couple more meals. Yes, I admit it, I have to hide leftover meat in my house. Sad, but true!
This site may contain affiliate links to products. We may receive a commission for purchases made through these links, which helps to keep this content free.
HOW TO MAKE COUNTRY HAM AND POTATO BAKE
This recipe is great for using up that leftover ham, or any cooked ham. With tons of gooey cheese and tender potatoes, this dish is at the top of our list for favorite leftover ham recipes!
Ingredients
Butter – we use unsalted butter for our recipes, so WE control the salt.
Onion – yellow or white, both are delicious in this recipe.
Flour – regular all-purpose flour
Garlic – we love pre-minced garlic from the jar. It's so easy to use.
Cayenne pepper – for a little heat. Leave it out if you like it mild!
Milk – 2% or whole milk works best.
Ham – we used leftover cooked ham to make this. If you don't have leftovers, buy a ham steak or packaged diced ham and use that.
Potatoes – russet potatoes or Yukon Gold are perfect for casseroles because they hold their shape during cooking.
Monterey Jack cheese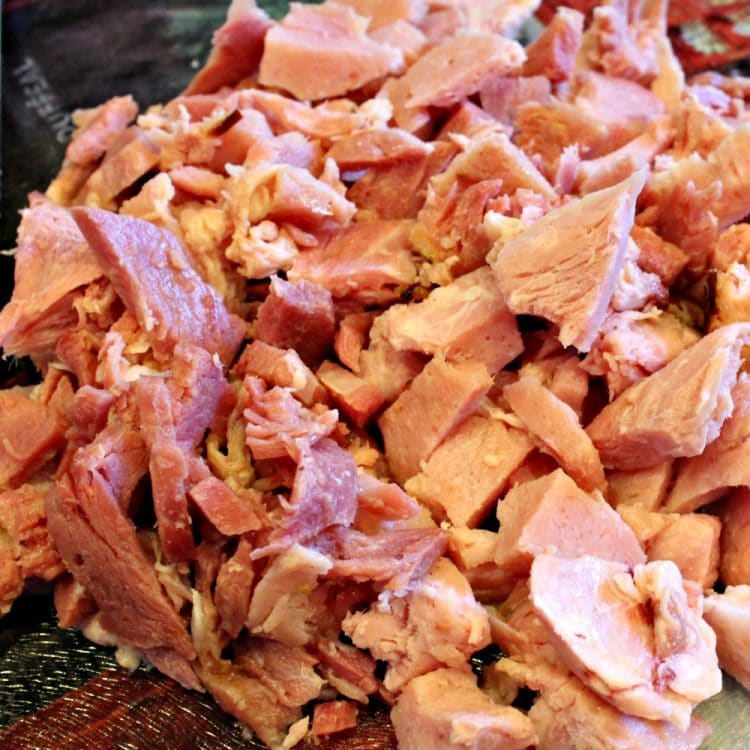 To get started, preheat your oven to 350 degrees F and grease or spray an 8 x 8 baking dish.
Get all of your ingredients ready before you start cooking or mixing. Grab your leftover ham (while you can) , or any pre-cooked ham and cut the ham into bite-size chunks. (For this recipe, I used leftovers from a pre-cooked, spiral sliced smoked Ham).
Then wash the potatoes and slice them thin. Dice the onions, and measure out the butter, milk, cheese, garlic and spices. Now you are ready to begin making this deliciousness that will have everyone saying OMG when they taste it (and licking their plates…just kidding).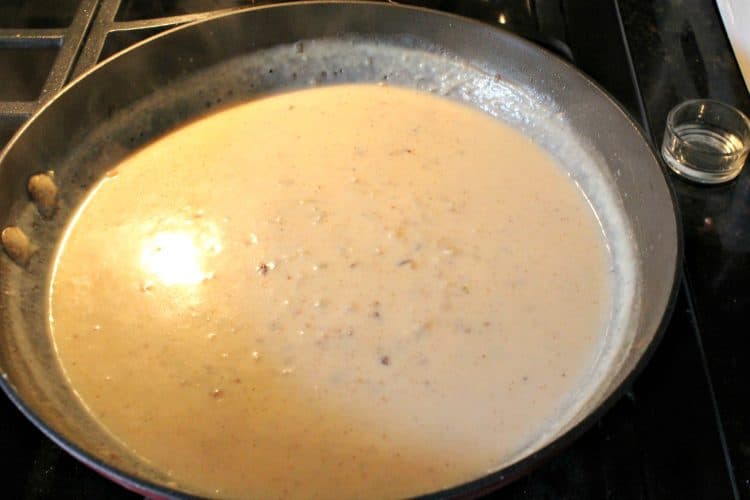 In a large skillet, melt the butter over medium-high heat. Add the onions and stir them around for about 3 minutes, until you can just see thru them. Then stir in the flour. Cook for 2 – 3 more minutes.
Now, throw in all those wonderful spices you measured out, the cayenne, mustard powder, salt, pepper and the garlic and stir to mix them up. This should be smelling pretty awesome now. Douse the whole thing by whisking in the milk. Don't worry, the delicious spice smells will be back real soon!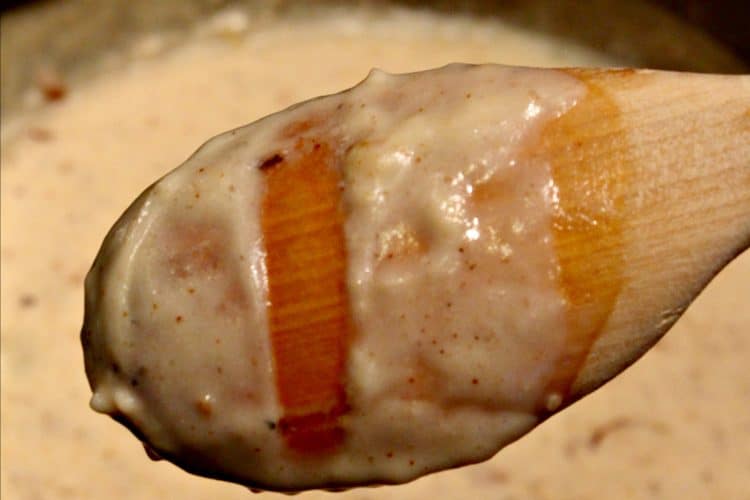 After cooking for 3-4 minutes, the mixture will start to thicken. When you can swipe the back of your stirring spoon with your finger (not your tongue) and you can see it, the sauce is done. Remove the skillet from the heat.
Now it's time to put it all together. Using 1/3 of the ham, spread a layer of ham on the bottom of the baking dish. Then top with a layer of slightly overlapping potatoes. Then spread the potatoes with about 2/3 cup of the sauce. Layer, overlap and spread 2 more times, so you end up with 3 sets of layers, ending with the sauce on top!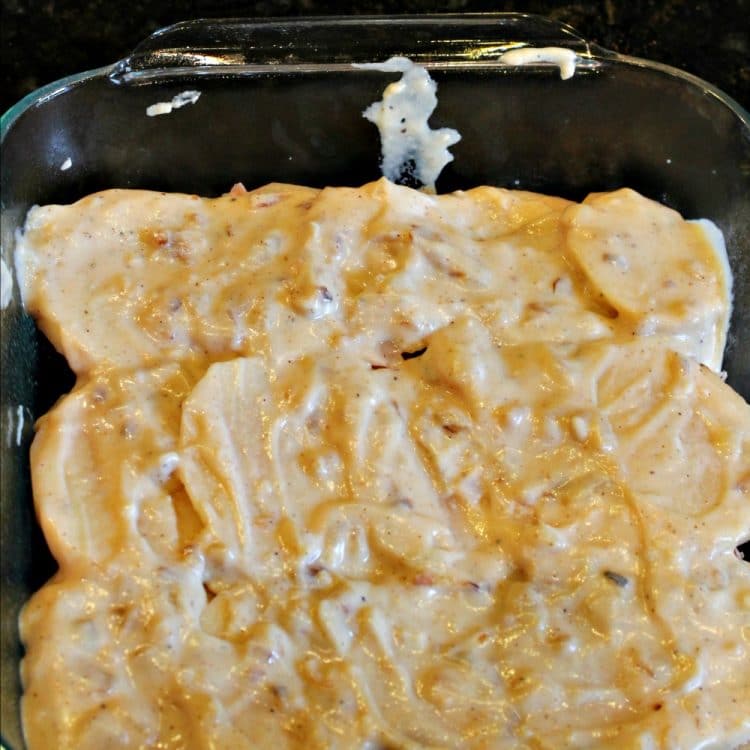 Slather that sauce on, making sure that you scrape every drop from the skillet. I use a spatula (more utensils to lick) and don't worry about being messy, the cheese will cover it all up.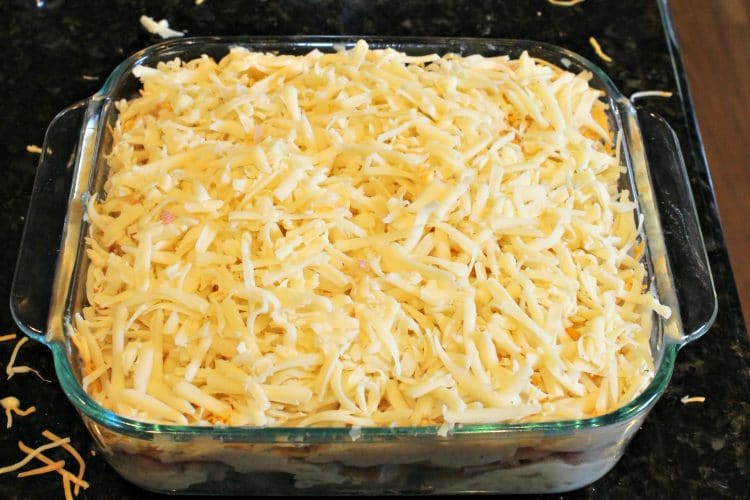 Top everything with the shredded cheese, making sure to get all the way to the sides. I went with a lot, and I mean A LOT, of cheese for this recipe to get a nice crunchy crust and a layer of gooey cheese underneath. You can use less if you like. (Party Pooper!) Cover the pan with foil and pop in the oven for 1 hour, until the potatoes are tender.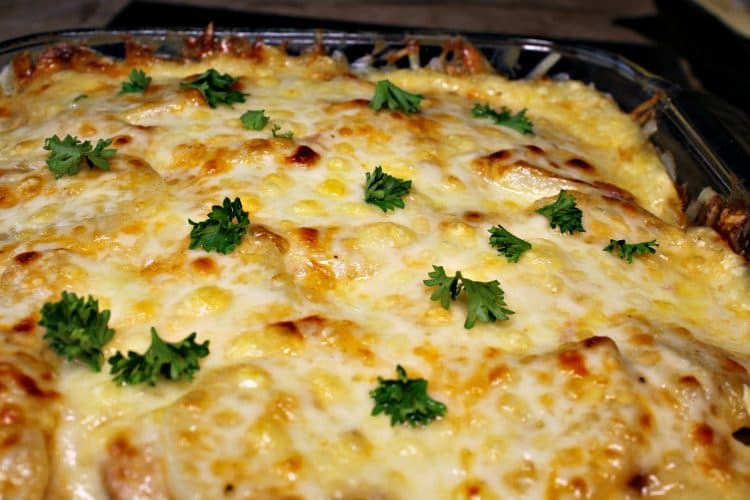 After 1 hour, remove the foil, switch the oven to broil and broil for 3-4 minutes until bubbly and browning on top. Remove from the oven and allow to cool slightly before serving. Garnish right when it comes out of the broiler so the parsley sticks to the cheese! Oh, the humanity!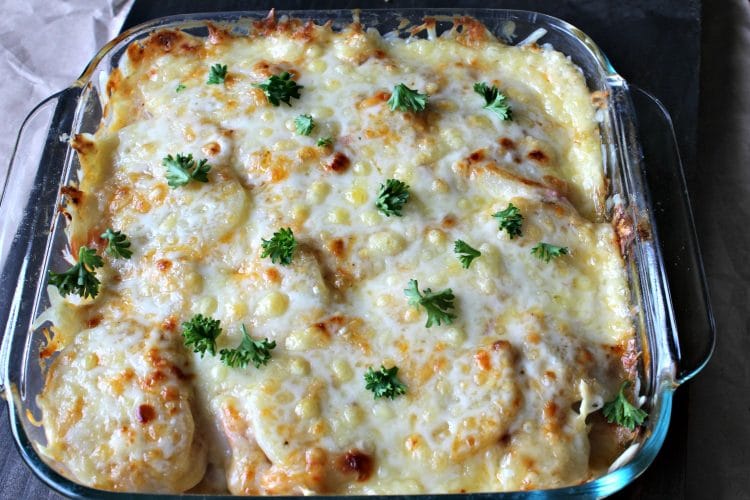 WHAT IS CITY HAM AND COUNTRY HAM?
Most grocery stores carry City Ham and that's what I used here. City Ham is the most popular kind of ham sold in the United States. It's wet-cured, which means that the has has been soaked in or injected with brine to cure it. The brine is usually made of salt, sugar, seasonings and a curing agent, like nitrates.
A Country Ham is uncooked ham that is dry-cured with salt and spices, usually smoked , then left to hang and age for a few months to several years. The meat is extremely salty, which is part of the reason why people love it.
Dig in and have a piece. Just take a good look at those juices…this is why it is a favorite!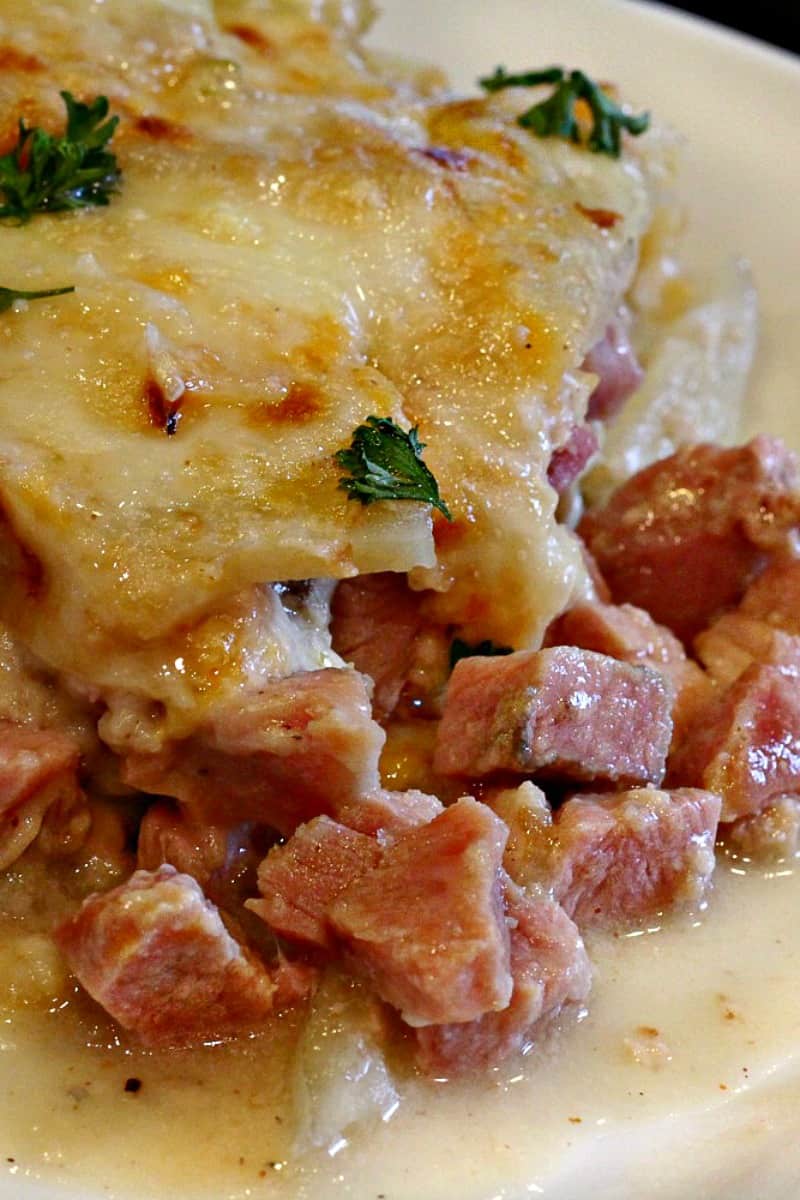 STILL HUNGRY FOR HAM?
This recipe was adapted from Scalloped Potatoes and Country Ham by Damaris Phillips on Food Network. If you love leftover ham recipes, you might also like these amazing Ham Cakes with Garlic Aioli.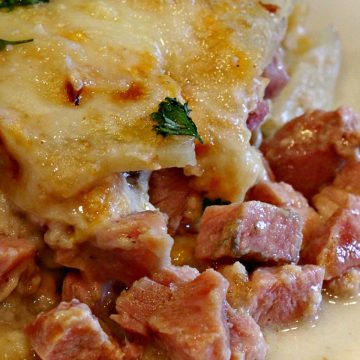 Country Ham and Potato Bake
Country Ham and Potato Bake is pure southern comfort food. Delicious chunks of ham, bathed in a rich cream sauce under a melted layer of cheese is great for brunch or dinner.
Ingredients
3

tbsp

unsalted butter

1

medium

yellow onion

diced small

3

tbsp

all-purpose flour

3

cloves

garlic

minced

1

tsp

kosher salt

1/2

tsp

pepper

1/2 

tsp

cayenne

optional for heat

1-1/2

tsp

ground mustard

2

cups

milk

2% or whole milk

2

cups

ham

cubed, fully cooked smoked ham

1-1/2

pounds

russet potatoes

sliced 1/4-inch-thick

2

cups

Monterey Jack cheese

shredded

Chopped parsley for garnish

optional
Instructions
Preheat the oven to 350° F. Grease an 8-by-8-inch baking dish with cooking spray or vegetable oil.

In a skillet over medium heat, melt butter. Add the onions and saute until translucent, 3 to 4 minutes. Add flour and stir until combined. Cook 1 to 2 minutes. Add garlic, salt, pepper, cayenne and ground mustard. Whisk in the milk. Allow to cook and thicken slightly, about 3 minutes. Remove the pan from the heat.

Line the baking dish with a layer of the ham, then a layer of slightly overlapping potatoes, then about 2/3 cup sauce. Repeat the layering until all the ingredients are used, making 3 layers, ending with the sauce on top. Top with cheese and cover with foil. Bake until potatoes are tender, about 1 hour.

Remove the foil and switch on broiler. Broil until the cheese is bubbly and browned, about 3 minutes. Watch carefully to not allow it to burn . Garnish with parsley and allow to cool slightly before serving..
Chef Tips
1. 2% milk was used for this recipe.
2. Melting cheese like Swiss or Gruyere can be substituted for the Monterey Jack.
3. For less heat, reduce the cayenne pepper to 1/4 teaspoon
If using salted butter, omit adding salt to recipe and salt to taste before serving.
Nutrition Facts
Nutrition Facts
Country Ham and Potato Bake
Amount per Serving
% Daily Value*
* Percent Daily Values are based on a 2000 calorie diet.
© Copyright Christine Mello for Must Love Home. We would love for you to share a link to this recipe but please do not copy/paste the recipe instructions to websites or social media. We are happy for you to share a photo with a link back to this website instead.