So easy and delicious, caramelized Brown Sugar Rum Baked Ham, with crispy brown edges and sticky glaze, will be the centerpiece of your Sunday or holiday dinner table. Great for parties and potlucks too!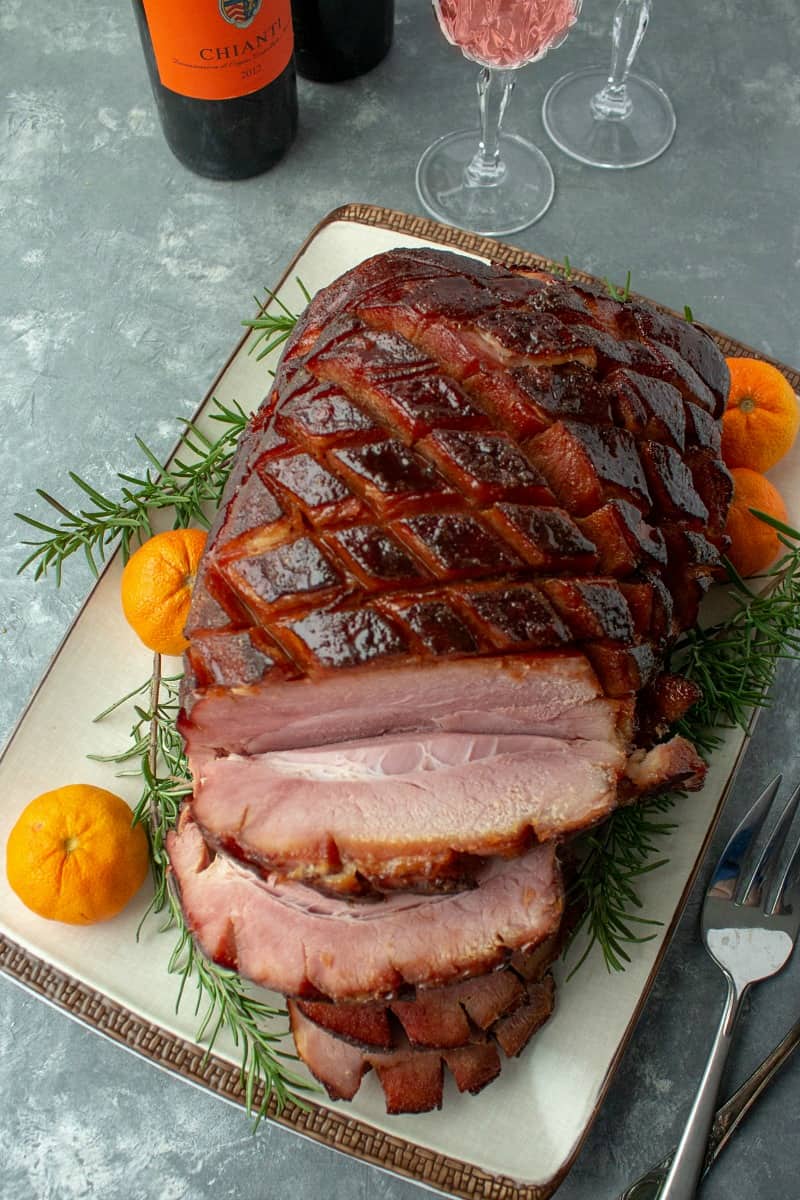 BAKED HAM
Are you thinking about making a baked ham and feeling intimidated? Worried that your ham will be like so many others you've tasted – dried out and tasteless? Rest easy folks, there is no need stress with the tips and tricks you will find here. You will make the most delicious, juicy ham your family and friends have ever tasted and they will become your raving fans!
Honestly, I have made my share of dry ham, especially the kind that are spiral cut. Now that I have finally nailed it, I am ready to share my tips with you.
WHAT IS THE BEST HAM TO BUY?
For best results, go for a fully cooked bone-in ham. Most grocery stores carry City Ham and that's what I used here. City Ham is the most popular kind of ham sold in the United States. They are wet-cured, which means that they've been soaked in or injected with brine to cure it. The brine is usually made salt, sugar, seasonings and some kind of curing agent, like nitrates or nitrites.
Spiral-Cut Ham – this is usually a City Ham where the ham stands on it's end and cuts are made around the bone to form thin, even, elegant slices. It looks very fancy!
Country Ham – uncooked ham that is dry-cured with salt and spices, usually smoked , then left to hang and age from a few months to several years. The meat is extremely salty, which is part why people love it. 
Virginia Ham – usually country ham, made in Virginia, by pigs that were raised in Virginia on a diet that includes peanuts. There's no USDA rule that legally requires Virginia Ham to be made in Virginia.
Smithfield Ham  – to be a Smithfield Ham by law, this country ham comes from peanut-fed pigs, and has been cured, cold-smoked, covered in pepper, and aged at least six months in Smithfield, Virginia.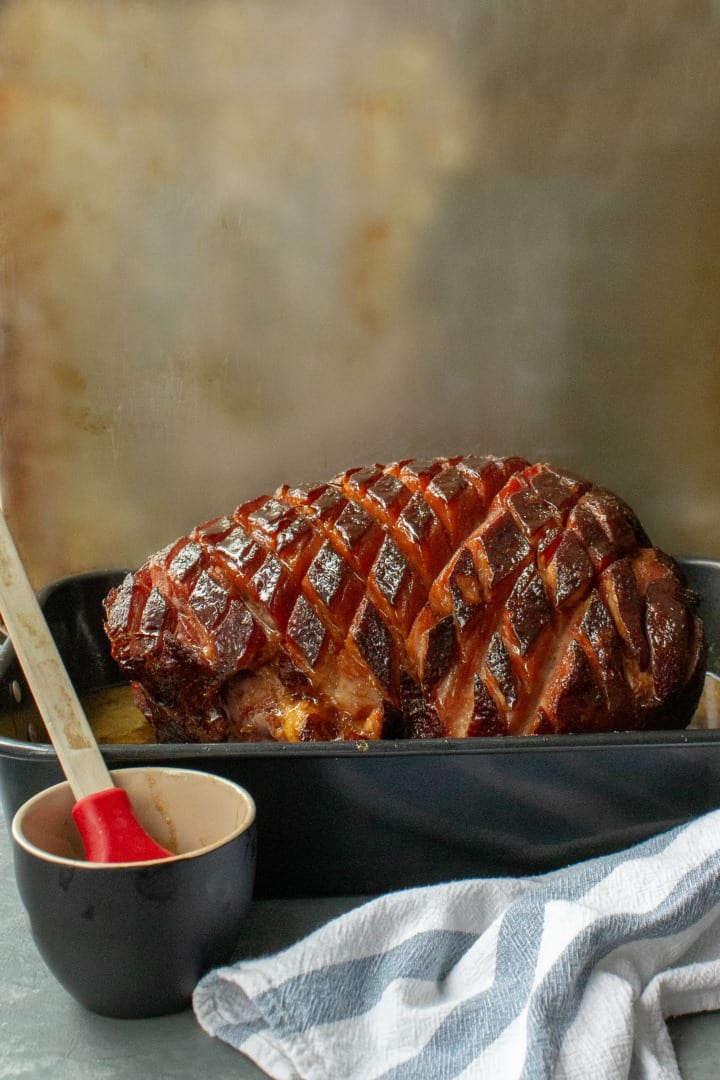 HOW TO MAKE BROWN SUGAR RUM BAKED HAM
It might look fancy, but making this ham is as easy as making a few cuts and mixing up the glaze. You will need a large roasting pan with a rack for the best results. No rack on hand, then make one by rolling up 3 12-inch sheets of foil tightly, then place them in the bottom of your pan. Ham should rest on all three rolled up pieces to create a rack.
This is how I make it:
First, preheat the oven to 350°. Then, get out your pan and rack (or make one) so you have it ready.
Mix up the brown sugar, rum and mustard in a small bowl and set aside. You might need to give it a stir again before you use it. I like to make this first to give the sugar a little time to dissolve in the rum.
Get the ham ready – remove any wrapping on the outside. Sometimes there is a layer of plasticy-paper tightly wrapped around the ham that is hard to see unless you look at the ends of the ham. Peel this layer away.
Using a sharp knife, score the ham with a diamond shaped pattern. I score mine about 1-inch deep, which results in the look from the photos. Deeply scoring the ham allows more of the glaze to get into the ham, which we love!
Place the ham on the rack in the pan, and pour a cup of water into the bottom. Cover tightly with foil. This makes a steam tent so the ham will heat but not dry out. Then bake the ham on the center rack of the oven for 2 to 2-1/2 hours. Check the temperature with a meat thermomter. It should read 140°.
Remove the foil, and apply the glaze mixture all over the ham. Be sure to get into all of the crevices! Continue baking, uncovered, for 15 minutes. Repeat the glaze, and bake for a final 15 minutes. The glaze should be caramelized and the ham starting to brown.
Set aside to cool a few minutes, then transfer the ham to a serving platter to carve.
For a festive look, surround the ham with greens and fruit!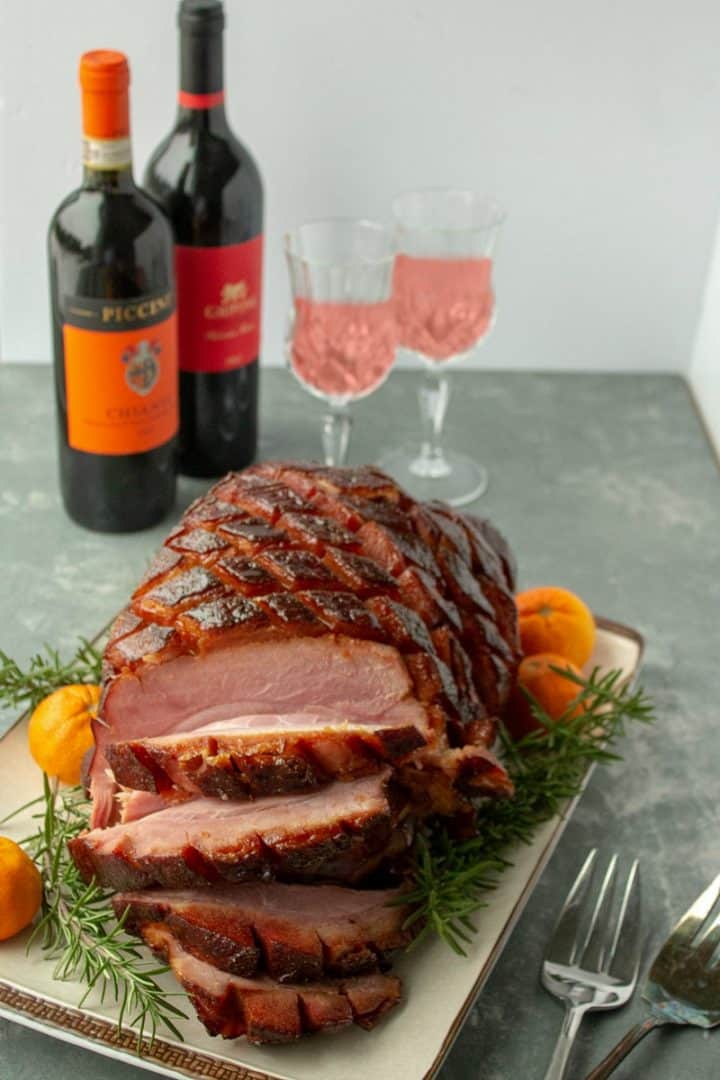 WHAT TO DO WITH LEFTOVER HAM?
Leftover ham can be frozen, stored in the fridge to use later (ham and eggs anyone?) or star in new recipes. Here are a few ideas for using your leftover ham: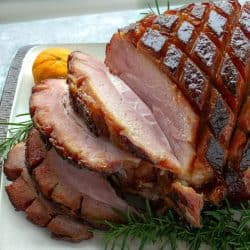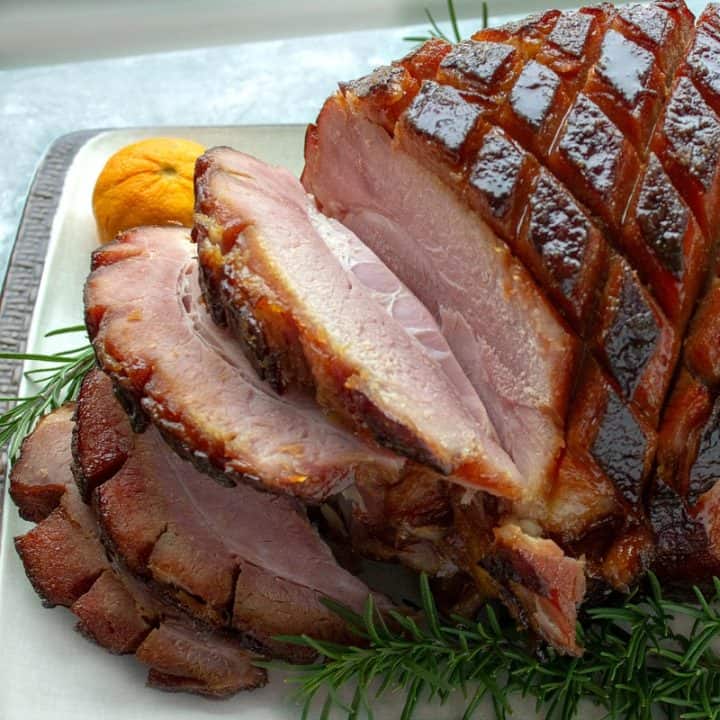 Brown Sugar Rum Baked Ham
Smoked ham perfectly caramelized with a brown sugar rum sauce.
Ingredients
10

pound

smoked ham

fully-cooked, bone-in

1

cup

dark brown sugar

1/3

cup

dark rum

3

tbsp

Dijon mustard
Instructions
Preheat oven to 350°F.

Place ham on flat surface. Using a sharp knife, make 1-inch deep cuts diagonally across ham. Turn ham 90 degrees and make cross cuts, creating a diamond pattern. Transfer ham to rack in a large roasting pan. Add 1 cup of water to the bottom of the pan. Cover tightly with foil.

Bake on center rack of oven for 2 to 2-1/2 hours.

In a small bowl, mix brown sugar, rum and mustard until smooth.

Uncover and brush liberally with the glaze mixture, getting into the cuts with the brush. Return to oven, uncovered, for 15 minutes. Remove from oven and apply glaze again. Return to oven for 15 minutes or until glaze is caramelized.
Chef Tips
Ham is done when meat thermometer reads 140°F.
Nutrition Facts
Serving:
1
slice
Calories:
301.83
kcal
Carbohydrates:
5.46
g
Protein:
24.52
g
Fat:
19.06
g
Saturated Fat:
6.78
g
Cholesterol:
70.31
mg
Sodium:
1360.36
mg
Potassium:
333.19
mg
Fiber:
0.04
g
Sugar:
5.35
g
Calcium:
13.16
mg
Iron:
1.04
mg
© Copyright Christine Mello for Must Love Home. We would love for you to share a link to this recipe but please do not copy/paste the recipe instructions to websites or social media. We are happy for you to share a photo with a link back to this website instead.