Southern Cornbread Stuffing (aka Dressing) made with vegetables, spices and plump raisins is from a favorite West Virginia family recipe. You won't believe how easy it is to make this savory dish!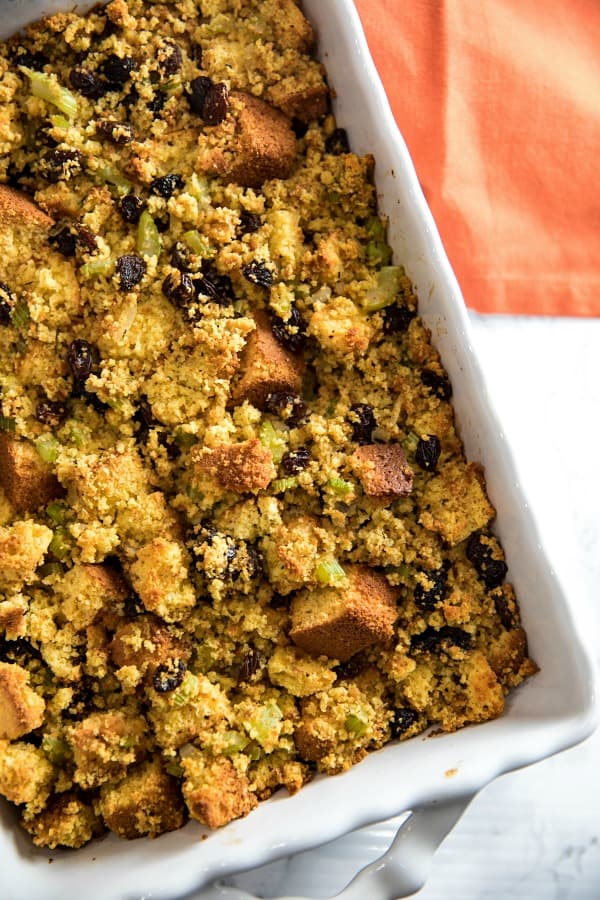 Cornbread stuffing takes center stage at our house for both Thanksgiving and Christmas, right behind the ham and turkey. There is a lot of nostalgia and family tradition behind the recipes served at both of these meals, and this one is no different.
Every year my Dad would go into the kitchen the night before the holiday and mix up a double batch of his skillet cornbread. He would be up before the sun the next day, getting our holiday feast ready for the oven. His recipes were not fancy, just simple, down home cooking he learned from my Grandma Pearl. The tradition continues in my kitchen with these very same recipes.
Southern cornbread stuffing is both sweet and savory. Cornbread has a natural sweetness from the corn, and this recipe adds lots of raisins to up the ante a little. There is also enough herbs and veggies to make it savory too. That combination is what makes this cornbread stuffing recipe so delicious.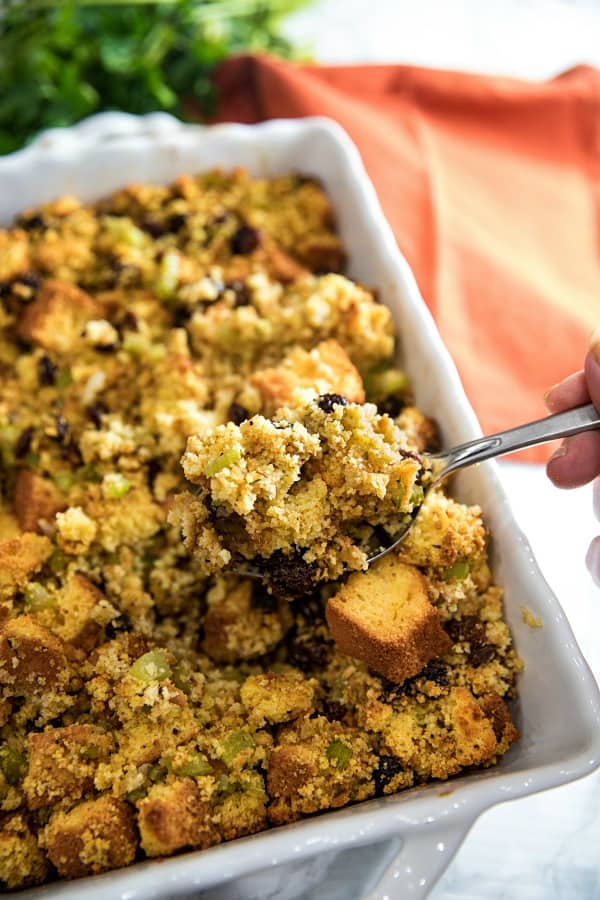 HOW TO MAKE FAMILY RECIPE SOUTHERN CORNBREAD STUFFING
First, make your Homemade Cornbread. I like to make it the night before and let it sit out on the counter overnight to dry out a bit. Cut the cornbread into small squares while it's still in the pan, then dump them into the mixing bowl. Not to worry if you didn't make it the night before. Cut your fresh cornbread into little squares after it has cooled. Lay the squares in a single layer on a baking sheet and dry put into a 250° oven for about 20 – 30 minutes to dry out. Watch the oven…you don't want to dry the cornbread into crumbs.
Before you mix up the cornbread you will want to plump of the raisins to make them soft. Put the raisins in a small bowl and pour about a cup of stock over them. Let them sit for about 20 – 30 minutes. You will pour the raisins and stock right into the dressing mix.
Crumble up your cornbread in a large bowl. Go ahead and grab the largest bowl you have. You'll want to really mix this up well. If you don't have a really large bowl, use a stockpot. It works great for when you need to mix large amounts but don't have a bowl big enough. This is a good thing to get the kids to help you do. Making crumbles was always one of my favorite things to do to help for Thanksgiving. My boys still love to do this and they are all grown up!
Don't skip the step of cooking up your veggies before adding to the stuffing mix. You might think that a little chopped onion and celery would bake while the bread bakes, but this is not the case. Whatever veggies you want to add to your stuffing should be cooked before being baked so they come out completely tender after the stuffing is baked.
Another tip is to make sure you use plenty of Vegetable Stock when you make your dressing. It makes for the most moist and tender dressing. If you don't use enough, you'll have dry dressing and nobody likes dry dressing. Well, at least no one that I know, anyway!
This recipe yields one 9×13 dishes of cornbread dressing. I suggest doubling the recipe because it goes really fast!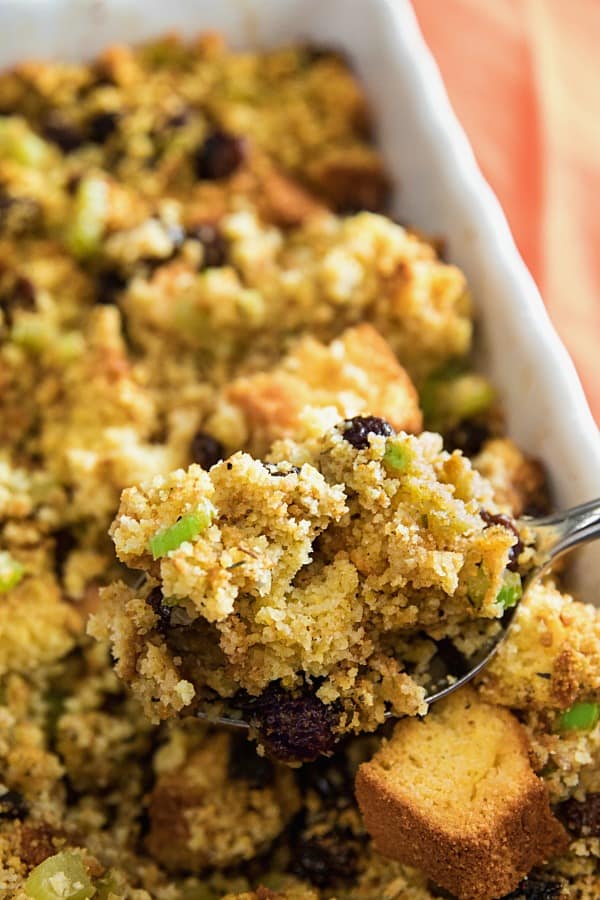 Can I Make this recipe with Jiffy Mix?
Yes, you can. Just make the cornbread according to the directions, allow to cool and cut into cubes. Let dry out on the counter overnight. If making Jiffy Mix Cornbread right before you make the stuffing, you will need to following the directions above to dry out the cornbread in the oven first.
How Do You Make Cornbread Stuffing Ahead of Time? Can It Be Frozen?
Cornbread stuffing can actually taste better when made ahead. It allows the flavors to come together more intensely. The best method is to make the stuffing according to the recipe, but do not bake it, Cover tightly and refrigerate up to 2 days ahead of time. When you are ready to serve, take out of the fridge and set on the counter for about 30 minutes, then bake in 350° oven for 40 – 45 minutes.
Cornbread stuffing is great for freezing, too. Pack baked stuffing into freezer-safe containers or storage bags and freeze for up to 3 months. Thaw in the refrigerator before re-heating.
How Do I Re-heat Cornbread Stuffing?
Stuffing can be re-heated easily. How you do it depends on how much stuffing is being re-heated. If you made the recipe ahead of time and already baked it once, the easiest method is to use the oven.
Heat the oven to 250° F.
Stir the cornbread stuffing so that it is not tightly packed into the pan.
Sprinkle about 2 tablespoons of water over the surface of the stuffing, cover the pan tightly with foil and place in the oven for about 20 -30 minutes. The water will steam and keep the stuffing from drying out while it re-heats.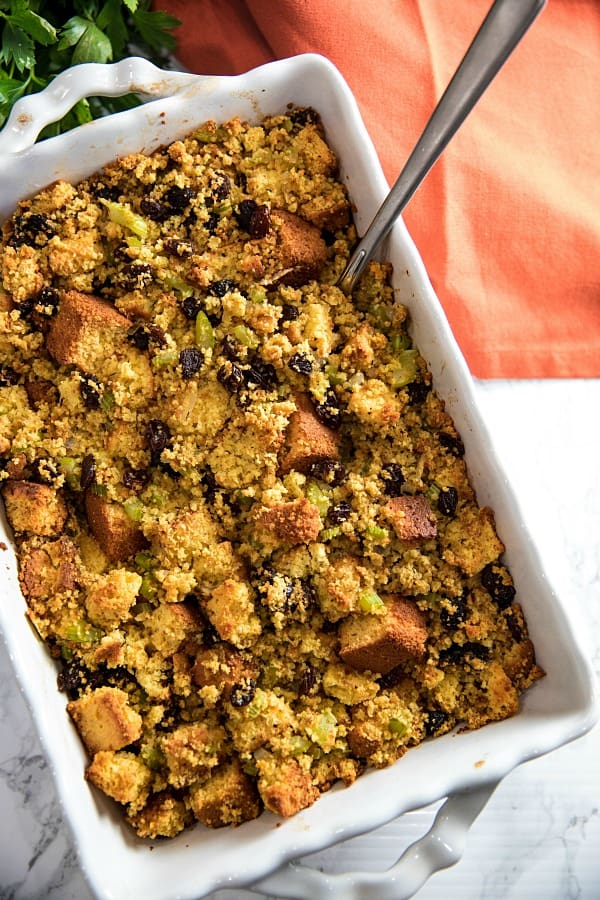 More Cornbread Recipes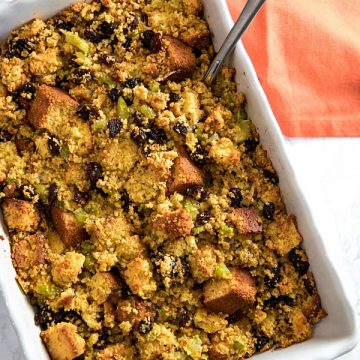 Family Recipe Southern Cornbread Stuffing
Made with cornbread, veggies, spices and plump raisins – this family recipe cornbread is served as a side dish  and is always a hit!
Ingredients
8

cups

Homemade Cornbread

cubed or store bought cornbread cubes

1-1/2

cups

raisins

2

cups 

vegetable stock

divided

2

tbsp

unsalted butter

1

medium

yellow onion

finely chopped

4

medium

stocks celery

thinly sliced

1-1/2

tsp

ground sage

1/2

teaspoon

dried thyme

1

large

egg

lightly beaten

1

tsp

salt

1/2

tsp

pepper
Instructions
Make Ahead – Bake cornbread recipe. Allow to sit in pan on counter overnight to dry out. OR make cornbread and allow to cool. Cut into cubes, place in single layer on baking sheet in 250°F oven for 30 minutes to dry out. Use immediately.

Preheat oven to 350°F. Lightly grease 9 x 13 baking dish.

Place raisins in a small bowl and add vegetable stock to cover, about 1 cup. Set raisins aside to soften.

Heat butter in medium size skillet until melted. Add onions and celery and saute over medium-high heat until translucent about 3 minutes.  Remove from heat.

Cut cornbread into cubes in baking pan. Transfer to a large mixing bowl.

Add the sage, thyme, salt, pepper and sauteed vegetables to the cornbread. Toss to combine. Add the egg and raisins with liquid to the cornbread mixture. Stir with wooden spoon to combine. Mixture will be wet and crumbly. If too dry – add more vegetable broth 1/4 cup at a time until mixture is wet, but still hold together.

Transfer to prepared baking dish and bake uncovered for 40 -45 minutes until cornbread is dry and golden on top.
Equipment Used
Nutrition Facts
Serving:
1
serving
Calories:
217
kcal
Carbohydrates:
37.88
g
Protein:
3.92
g
Fat:
6.31
g
Saturated Fat:
2.88
g
Cholesterol:
45.39
mg
Sodium:
613.17
mg
Potassium:
257.3
mg
Fiber:
2.54
g
Sugar:
7.4
g
Vitamin A:
293.52
IU
Vitamin C:
2.07
mg
Calcium:
68.76
mg
Iron:
1.39
mg
© Copyright Christine Mello for Must Love Home. We would love for you to share a link to this recipe but please do not copy/paste the recipe instructions to websites or social media. We are happy for you to share a photo with a link back to this website instead.