Hominy and Sausage Casserole is an easy, cheesy breakfast or supper bake. This hearty and nutritious comfort food can be made ahead too.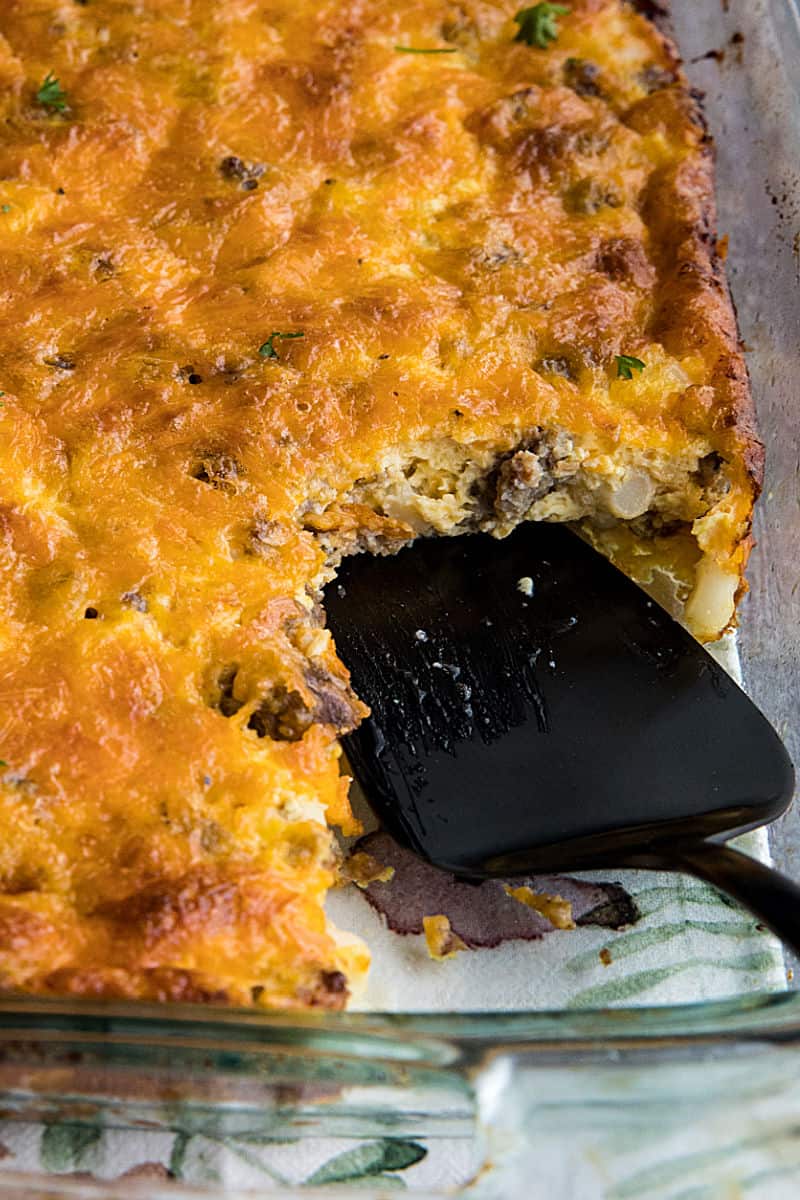 If I'm being totally honest, I'd tell you I've made this Hominy and Sausage Casserole twice in the last week! No joke…once for dinner and two days later for supper. Making it twice might tell you that this is now a family fav💗 and amazingly simple to make💗 but you really should see for yourself.
With fiber rich hominy, melting cheese and protein, it's an easy, hearty and super tasty dish you'll want to make over and over again.
How To Make A Hominy and Sausage Casserole
Talk about the perfect brunch recipe! It's simply delicious and takes just minutes to prep. Just brown your sausage, stir in a bowl with cheese and a can of drained hominy….then pour over the egg mixture and bake. You can even prep everything up to a day in advance then bake it just before you're ready to serve.
Ingredients needed for this recipe
Bulk Sausage – we love mild sausage for this recipe, but have also tried the very tasty hot and spicy variety.
Hominy – simply put – it's corn, that's been processed to puff up. With the texture of beans, and the taste of potatoes and corn, this underused vegetable is amazing added into casseroles.
Cheddar Cheese – for flavor and smooth texture, use pre-shredded or shred your own from a block. Monterey Jack is a great alternative.
Eggs – we used large eggs for this recipe.
Butter – unsalted butter is what we buy. That let's the cook control the salt!
Paprika – for earthy flavor that pairs deliciously with sausage and eggs.
Black Pepper – for subtle heat and flavor.
What is Hominy?
Hominy is maize or field corn that has undergone a chemical process. It's mainly soaking the kernels in an alkali solution, that removes the hull of the corn allowing it to puff up to twice it's normal size. It's popular in Mexican cooking like casseroles and soups.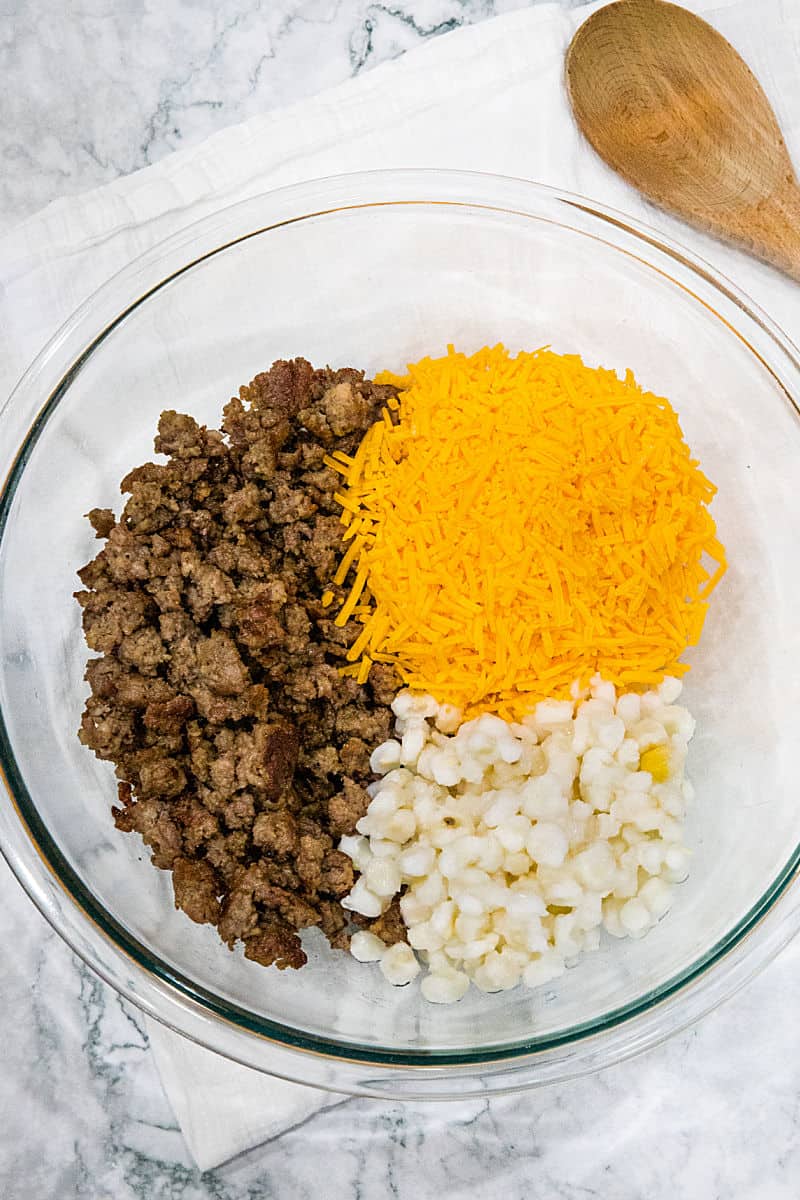 This recipe is made in a few steps. First brown the sausage and drain. Add the sausage, cheese and hominy to a big bowl.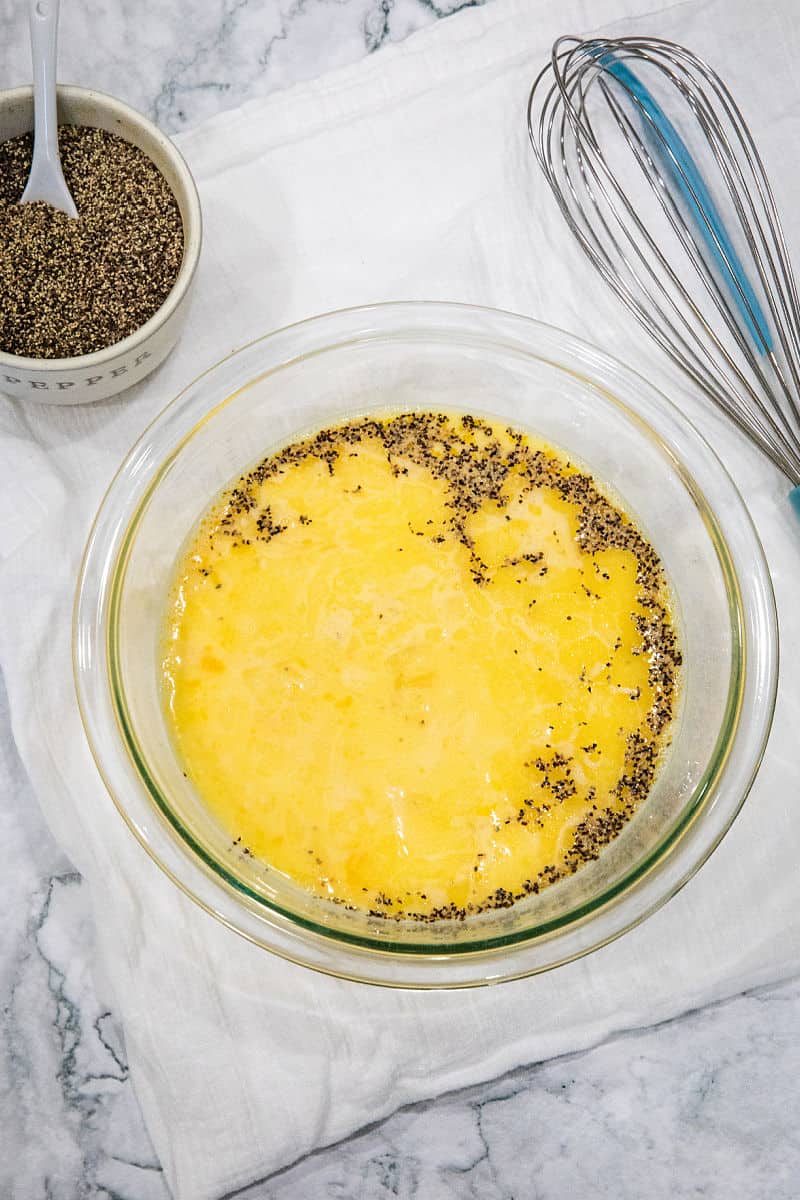 Whisk together the eggs, milk, spices and butter, Pour into the sausage mixture and stir until everything is combined evenly. Then pour the casserole mixture into a 9 x 13 pan. We love these glass baking pans with handles and lids!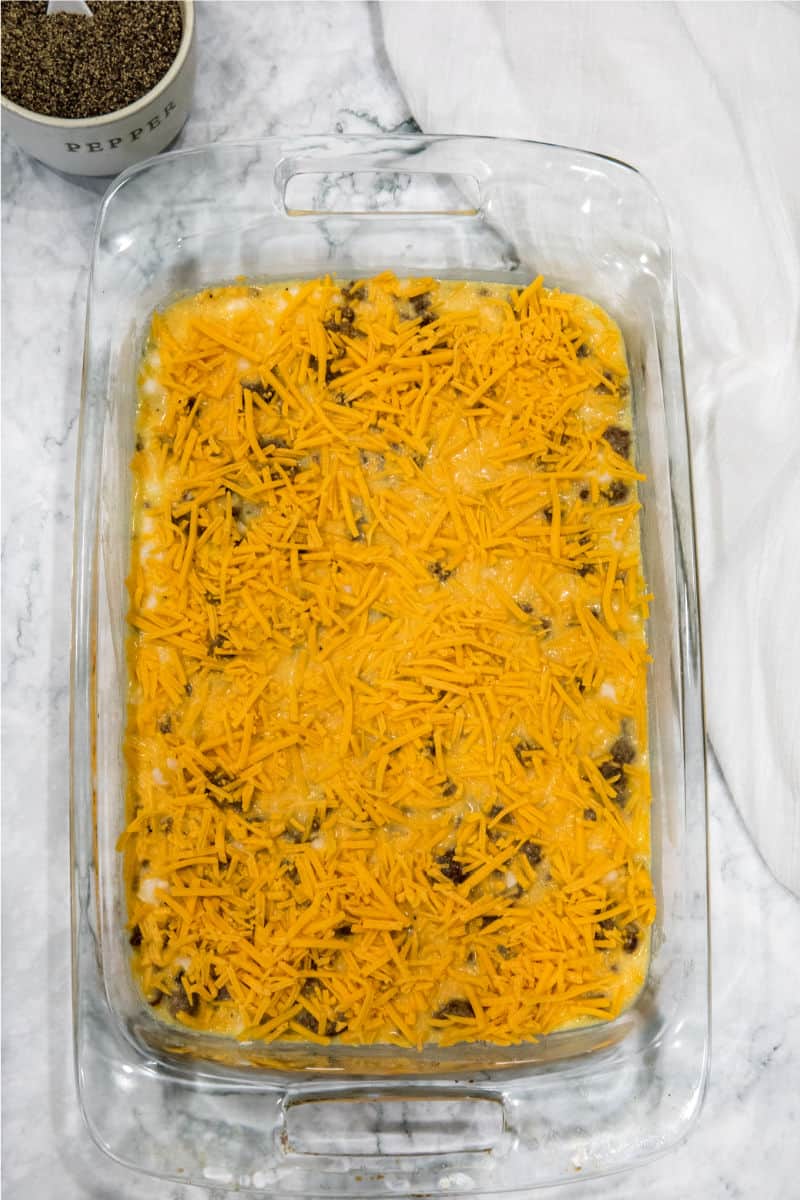 Next sprinkle on the remaining 1/2 cup of cheese and bake to crispy cheese and tender egg perfection.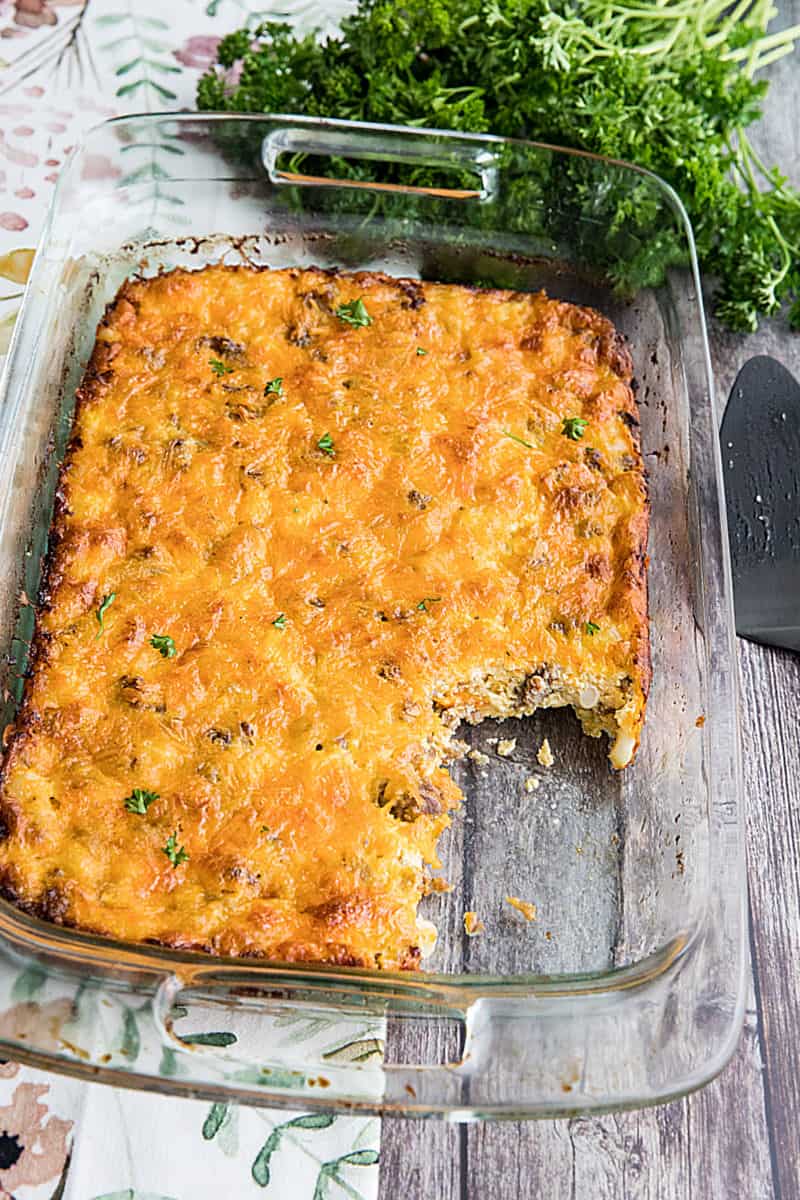 More Recipes to Love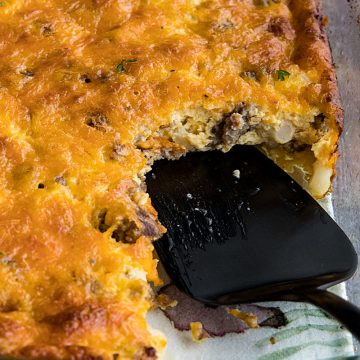 Hominy and Sausage Casserole
Hominy and Sausage Casserole is an easy, cheesy breakfast or supper bake. This hearty and nutritious comfort food can be made ahead too.
Ingredients
Instructions
Preheat oven to 350°F. Grease or spray 9 x 13 baking pan with non-stick cooking spray.

In a large skillet, cook sausage until no pink remains, breaking up any chunks as it cooks. Drain fat as needed.

In a large mixing bowl, stir together sausage, 1 1/2 cups cheese and hominy. Whisk together eggs, milk, paprika and pepper. Stir in butter until combined. Stir egg mixture into sausage mixture until well combined.

Transfer mixture to prepared pan and sprinkle with remaining cheese. Bake uncovered for about 1 hour or when knife inserted in center comes out clean. Let stand for 5 minutes before serving.

Store any leftovers tightly covered in the refrigerator for up to 3 days.
Equipment Used
Nutrition Facts
Nutrition Facts
Hominy and Sausage Casserole
Amount per Serving
% Daily Value*
* Percent Daily Values are based on a 2000 calorie diet.
© Copyright Christine Mello for Must Love Home. We would love for you to share a link to this recipe but please do not copy/paste the recipe instructions to websites or social media. We are happy for you to share a photo with a link back to this website instead.