Sausage Egg Bowl  – A crunchy Italian bread bowl filled with savory sausage, eggs, cheese and spices – the perfect recipe to create a centerpiece dish for your next brunch or dinner!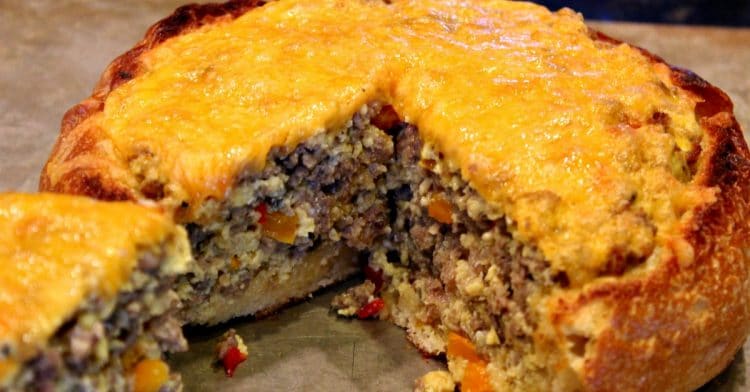 There is something magical about eating pork with eggs in the morning. The sun shines brighter, the birds sing louder, a little fairy throws pixie dust on you and you are instantly gorgeous…ok, let's not get ridiculous. But you get it, right…You can't help but be in a good mood when you smell that sizzling deliciousness.
A piece of this Sausage Egg Bowl will fill you up really fast! And it's packed with our favorite veggies – my guys love red and yellow peppers! The best part is that this dish is really a blank canvas, you can add in whatever veggies you have on hand. Let's get started and I'll show you how I made it –
Ingredients:
Round Bread Loaf
Olive Oil
Eggs
Mild country sausage
Red and Orange Pepper
Parsley
Basil
Parmesan Cheese
Cheddar Cheese
Directions:
Get started by preheating your oven to 350 F, and pull out a baking sheet. You can line it with parchment if you like.
Next, Take your beautiful round loaf of bread ( this is when I make sure no one is looking and put the loaf up to my nose and take a deep whiff of that fresh baked bread) and using a serrated knife, cut about an inch slice off the top. Carefully pick out the center of the loaf to make a bowl for the sausage mixture. Leave about 3/4 inch of bread to make a shell. If you are thrifty like I am, save those bread pieces in a plastic bag for later, to make bread pudding or homemade bread crumbs.
Use a brush to lightly coat the inside of the shell with the 1 TBSP Olive Oil. Sprinkle the inside with a dash of salt and pepper and pop the bread into the preheated 350 F oven for about 10 minutes, until slightly crispy. Remove the bread and turn the oven to broil.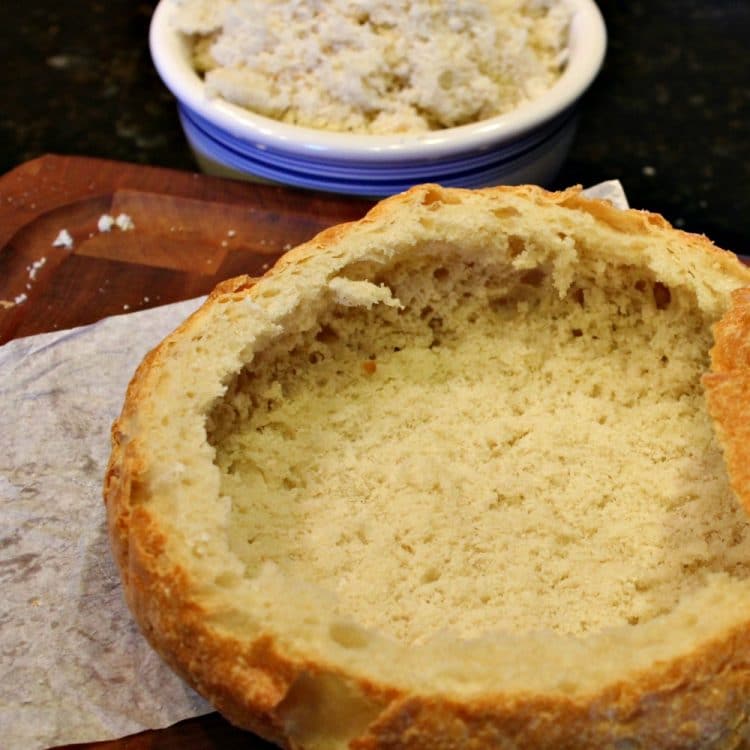 Then start browning up some of that delicious sausage. I used a tube of mild country sausage from the grocery, but you can use any kind you like.  Sometimes I use Chorizo when I want  it really spicy!! Chorizo reminds me of my days living in San Antonio when I would buy a spicy breakfast burrito from the street cart before getting to work. (Sigh…I was young and thin then…) They were  sooo good!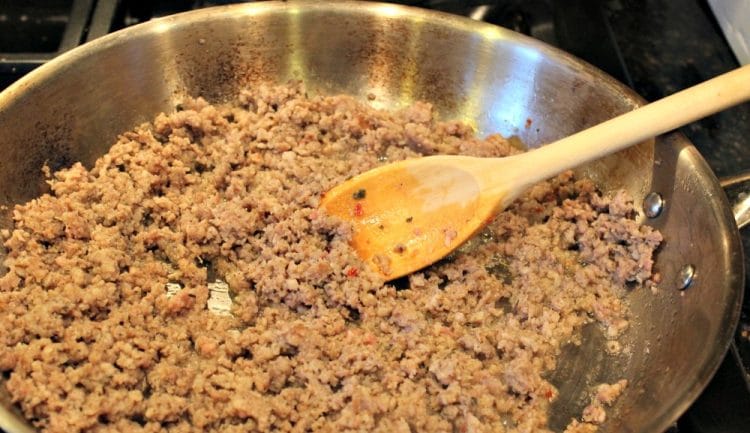 In a large skillet, heat 1 tablespoon of olive oil, it will keep the cold sausage from sticking. Over high heat, crumble the sausage into the skillet, and stir the sausage around to brown it on all sides. It is done when there is NO pink left on the sausage.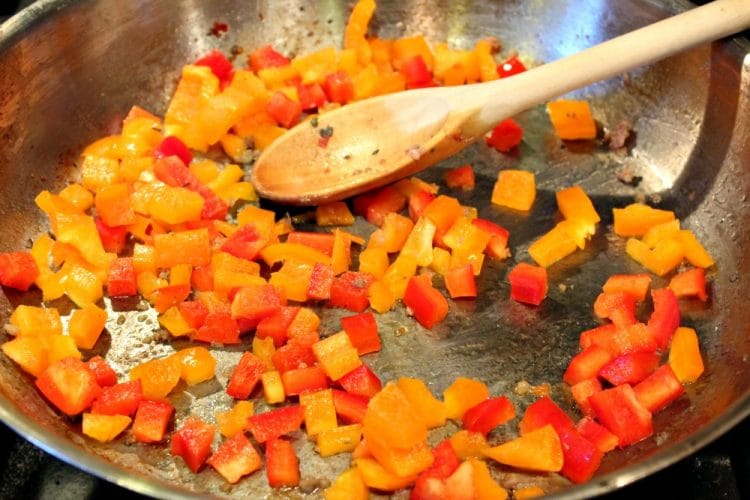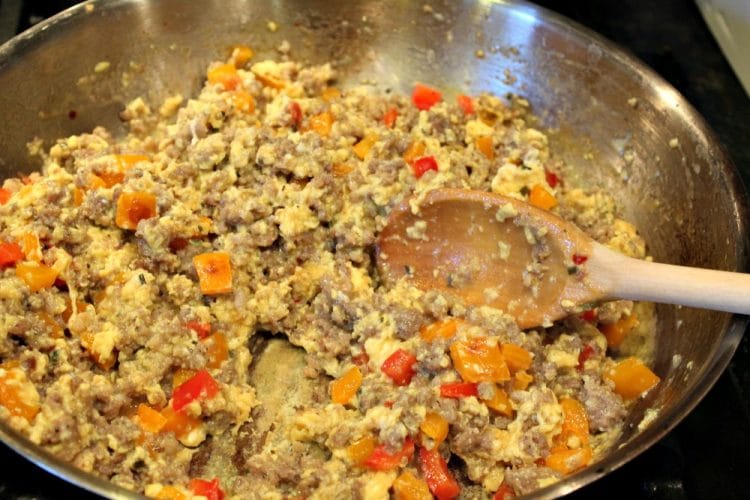 Once the sausage is browned and cooked thru, transfer it to a paper towel lined plate for later. In the same skillet, add the peppers and cook them (or whatever veggies you are using) in the sausage drippings in the skillet over medium-high heat. Stir them around until the veggies are tender. For the peppers, it was about 6 minutes over medium-high heat.

Reduce the heat to medium and add the sausage back to the skillet with the peppers. Add the beaten eggs, parmesan, salt, pepper, red pepper flakes (optional), parsley and basil. Stir everything around until the eggs are just starting to get firm. Remove the skillet from the heat. You will be tempted, but try to resist the urge to pick at the filling…and do not lick your fingers!!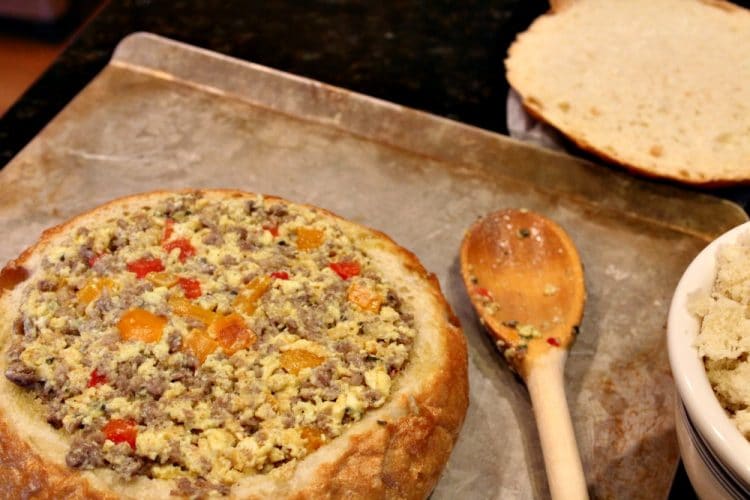 Now, it's time to stuff that bread bowl to the brim with your sausage mixture. Use a spoon and pack that filling in…literally! You don't want to leave any empty spaces because your slices will crumble when you try to cut it if you don't. I'm just saying.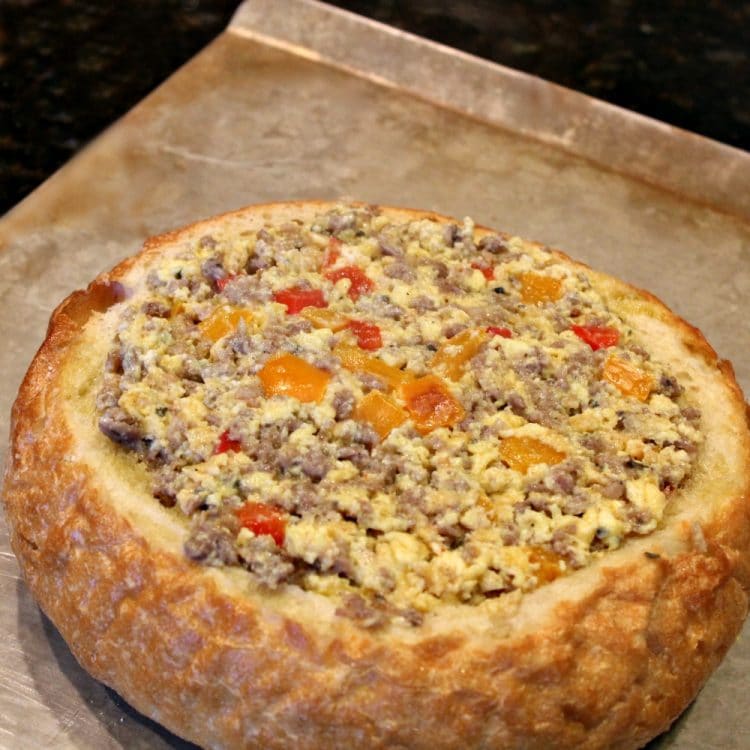 Just take a moment to gaze at your work. Take in the colors, the form, the texture…. Oh, this is a breakfast masterpiece! Now, cover up this loveliness with a super thick layer of cheese before popping it in the oven. Caution – you will need two hands to handle putting this whopper in the oven! Cook under the broiler until the cheese is melted and bubbly for about 3 minutes – until the eggs are cooked thru.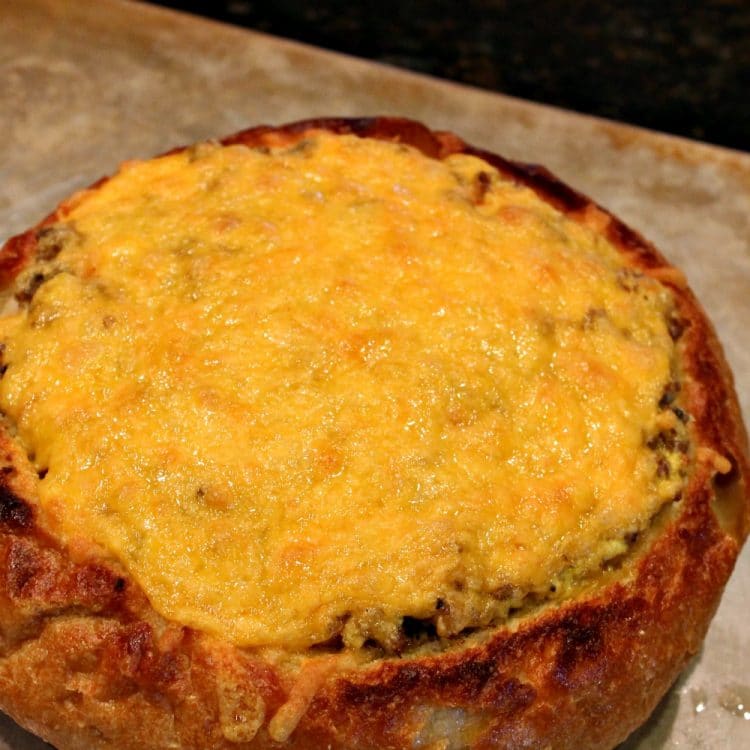 Did you ever see anything so perfect! Melted cheese, browned and crispy bread, and that savory sausage and egg just waiting for you. I get weak just looking at it…but you need to let it cool a little before slicing it.
Use a really sharp knife and cut yourself a piece. It is like having a full breakfast in one slice. Enjoy!
Sausage Egg Bowl Recipe
Crunchy Italian bread bowl filled with savory sausage, eggs, cheese and spices – the perfect recipe to create a centerpiece dish for your next brunch or dinner!
Ingredients:
1

loaf

round bread

6

large

eggs

,

beaten

16

ounce

mild country sausage

1

medium

red bell pepper

,

seeded and chopped

1

medium

orange bell pepper

1/4

cup

parsley

,

chopped

3

tbsp

fresh basil

,

torn into small pieces

1/2

tsp

salt

1/2

tsp

pepper

dash of red pepper flakes

,

optional

1/4

cup

parmesan cheese

,

grated

1-1/2

cups

Cheddar cheese

,

shredded
Instructions:
Preheat the oven to 350 F. Line a baking sheet with parchment.

Using a serrated knife, slice about 1 inch off the top crust of the bread. Carefully tear out the insides of the loaf, leaving about 3/4-inch of bread to form a shell. Put the loaf on the baking sheet, brush inside with some olive oil, and season with the salt and pepper. Bake until slightly crispy, about 10 minutes. Cool on a baking rack while you make the sausage mixture.

Heat 1 TBSP olive oil in a large skillet over high heat. Add the sausage and cook, breaking it up with a wooden spoon, until golden brown. Remove the sausage to a paper-towel-lined plate.

Add the orange and red pepper to the skillet. Cook and stir around until tender, about 6 minutes over medium heat. When the peppers are tender, reduce the heat to medium and add back in the sausage, beaten eggs, salt, pepper, parsley, basil and parmesan cheese. Stir to combine, and cook until the eggs begin to firm, about 1 minute.

Pack the sausage mixture into the bread shell and top with the cheddar cheese. Pop the pan under the broiler until the cheese is bubbling and the eggs are cooked through, about 3 minutes.

Allow the sausage egg bowl to cool for a few minutes before cutting into 6-8 wedges. Enjoy!
Notes
1. Substitute your favorite melting cheese for the cheddar.
2. Your favorite vegetables can be substituted for the peppers, about 2 cups
Nutrition Facts
Sausage Egg Bowl Recipe
Amount Per Serving
Calories 514
Calories from Fat 225
% Daily Value*
Fat 25g38%
Cholesterol 209mg70%
Sodium 1104mg48%
Potassium 434mg12%
Carbohydrates 45g15%
Protein 26g52%
Vitamin A 1509IU30%
Vitamin C 41mg50%
Calcium 238mg24%
Iron 5mg28%
* Percent Daily Values are based on a 2000 calorie diet.
© Copyright Christine Mello for Must Love Home. We would love for you to share a link to this recipe but please do not copy/paste the recipe instructions to websites or social media. We are happy for you to share a photo with a link back to this website instead.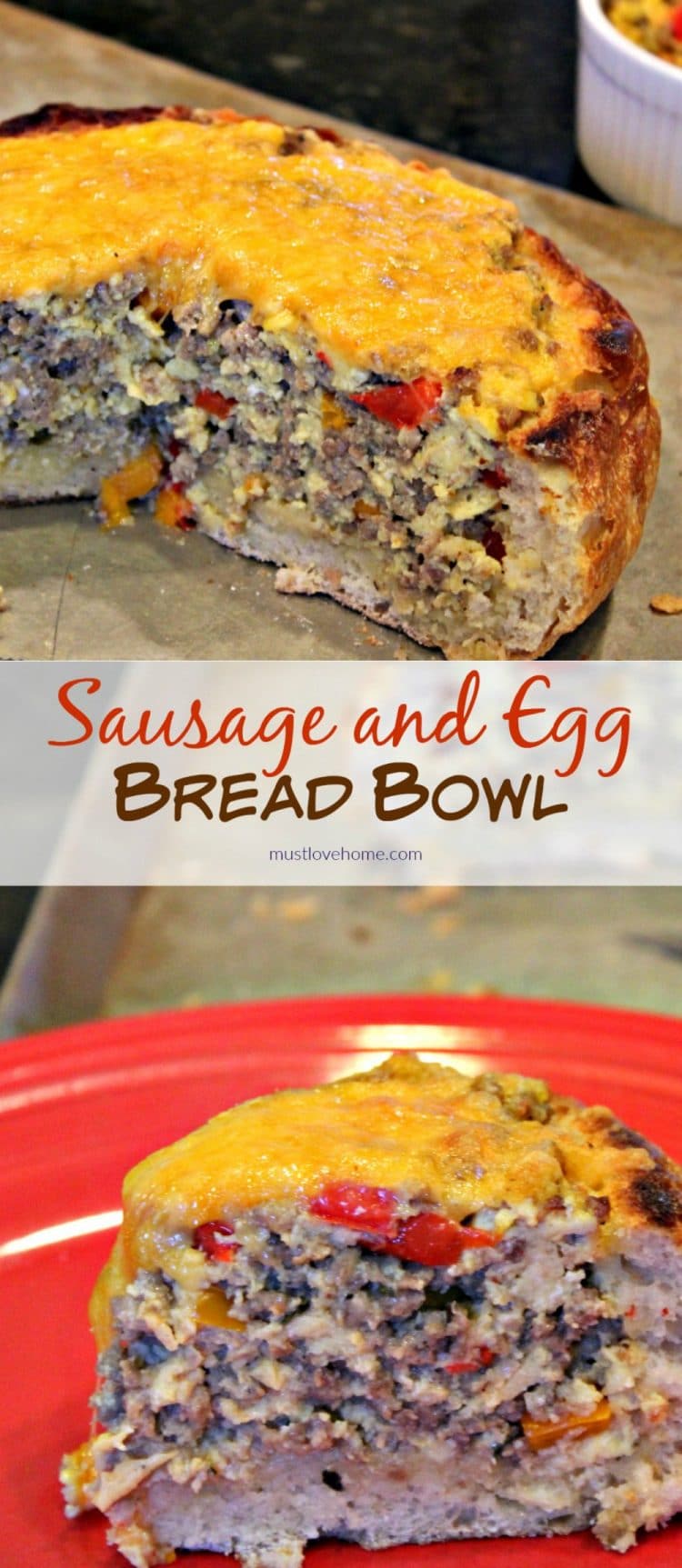 If you made this recipe, please leave a comment and rating. I would appreciate the chance to troubleshoot any issues you might have had before you leave the rating!