Fall parties and holidays are extra special with a rich and creamy homemade Brown Sugar Pumpkin Cheesecake. Packed with seasonal flavor in every bite!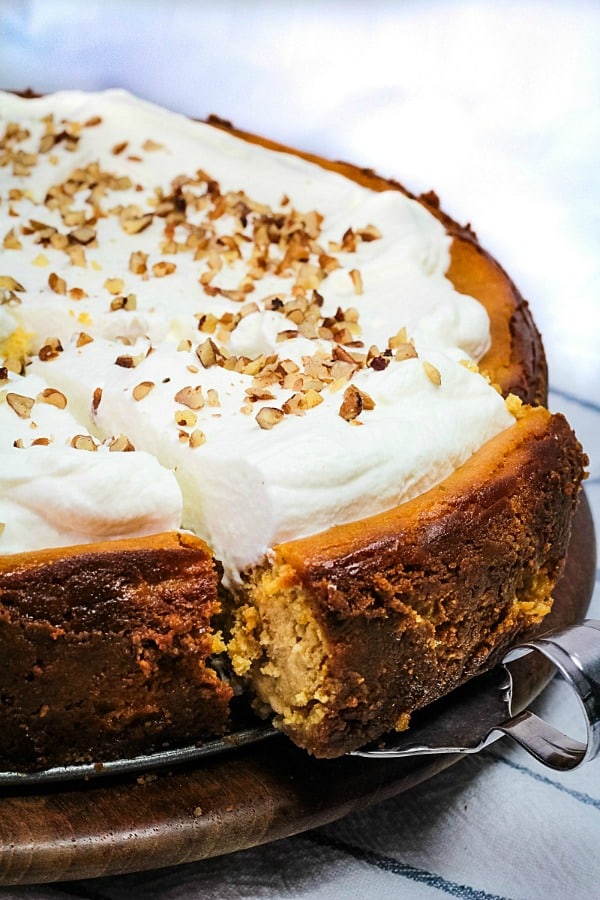 With the holiday right around the corner, we'd all love to have one really decadent dessert recipe to impress guests, right? This cheesecake recipe is pretty simple, but looks impressive. In my book, that's a perfect dessert.

This time of year, I always look forward to eating holiday favorites like bourbon glazed turkey, cornbread stuffing and sweet potato souffle. And dessert! Who can resist a gorgeous Brown Sugar Pumpkin Cheesecake piled with whipped cream? Your dessert table will be swarmed when guests see this!
Fluffy and decadent, this tasty cheesecake will be an amazing addition to any holiday table. You will want to make again and again…in fact, your family and guests may beg for it!
Put on your fat pants because once you taste these flavors, you will crave more. With a custard smooth filling and buttery crust this cheesecake will make you a hero! Okay, maybe not, but you will be loved.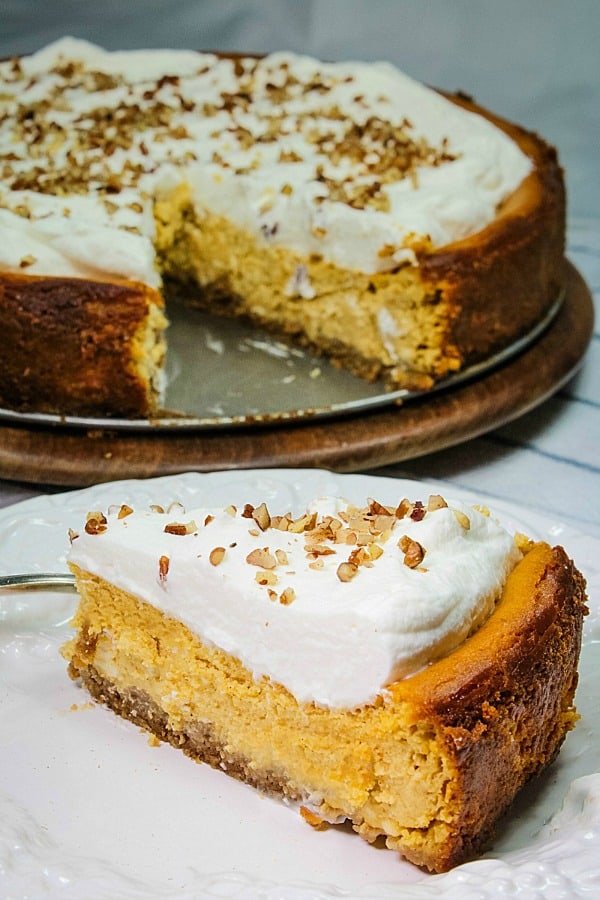 INGREDIENTS TO MAKE BROWN SUGAR PUMPKIN CHEESECAKE
This delicious dessert is made with simple ingredients you might already have in your pantry!
HOW TO MAKE BROWN SUGAR PUMPKIN CHEESECAKE RECIPE
This recipe is really made in 4 easy steps. It does take a little time…but it's so worth it!
Mix the crust ingredients and press into the bottom of a 9-inch springform pan. Set aside.
Beat together the the filling and pour on top of the crust in the pan. Spread the filling smooth. Bake for 1 to 1-1/2 hours until the edges of the filling are firm, but the center is just slightly jiggly. Turn off the oven and let rest with the oven door open for 30 minutes. Remove from the oven.
Cover the cheesecake and chill in the refrigerator for at least 4 hours.
Right before serving, remove the cheesecake from the pan. Beat the whipped cream and smooth over the cheesecake. Sprinkle with nuts. Cut, serve and enjoy!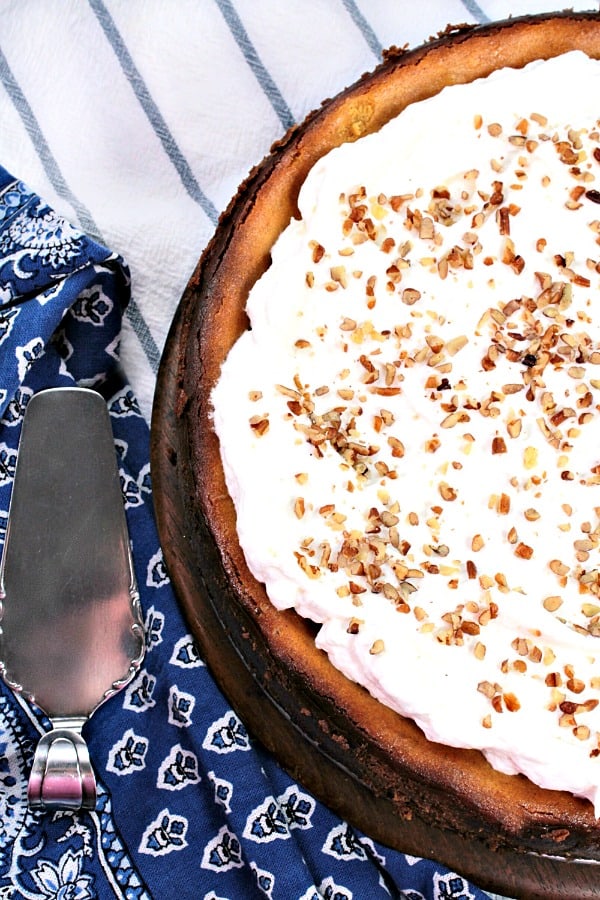 PRO TIPS FOR MAKING PUMPKIN CHEESECAKE
The cream cheese should be soft and at room temperature or the batter may have lumps and not mix smoothly. To soften quickly – remove cream cheese from foil and place in microwave safe bowl. Microwave at 30 second intervals until the cream cheese is soft in the center. Be careful not to overheat the cream cheese.
Be sure the pumpkin you are using is pumpkin puree. Pumpkin pie filling will not work for this recipe.
The crust is completely adaptable. Swap out the graham cracker crumbs for Amaretto or gingersnap cookies for more flavor, or add in ground hazelnuts for a delicious nutty texture and flavor.
Cheesecakes can crack from quick temperature fluctuations – to help keep your cheesecake from cracking, turn off the oven and let the cooked cheesecake cool in the oven, door open, for 30 minutes before removing.
Freezing Homemade Cheesecake
Can you freeze cheesecake? Yes, you definitely can! If you are party planning, store the cheesecake whole so you'll have a beautiful presentation for your guests. OR slice into individual portions for handing last minute desserts or snacking. What could be better?
Most cheesecakes, whether whole or individually sliced, will keep well in the freezer for up to a month, provided a few steps are taken to ensure they stay delicious and creamy.
Cool the Cheesecake
Be sure to allow your fresh creation to cool to room temperature, then put it into the refrigerator to "set". You may be tempted to put the cheesecake straight in the freezer, but the texture will be off, and the escaping moisture may cause ice crystals to form.
For a Whole Cheesecake:
Once chilled in the refrigerator, remove the cheesecake from the pan (if you need the pan) and place the cheesecake on foil-wrapped cardboard or in another pan. Wrap in plastic, then again in foil. Freeze for up to one month. Thaw in the refrigerator before serving.
For Individual Cheesecake Slices:
Slice the chilled cheesecake into portion size pieces, then wrap each piece tightly in plastic. Wrap each piece again in foil. Freeze for up to one month.
More Favorite Dessert Recipes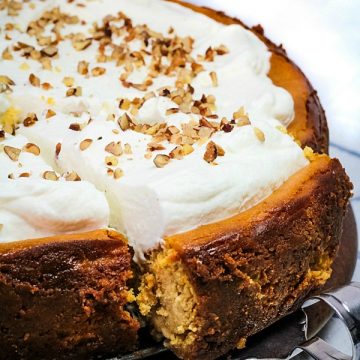 Brown Sugar Pumpkin Cheesecake
A velvety, rich cheesecake with extraordinary pumpkin flavor. Move over pumpkin pie – make this instead and impress your guests!
Ingredients
For the Crust
1 3/4

cups

graham cracker crumbs

3

tbsp

light brown sugar

1/2

tsp

pumpkin pie spice

8

tbsp

unsalted butter

melted
For the Topping
1

cup

heavy cream

1/4

cup

powdered sugar

1

tsp

vanilla extract

1/4

cup

pecans

chopped, optional
Instructions
Preheat the oven to 350°F.
For the Crust
In a medium bowl, combine the graham cracker crumbs, brown sugar and pumpkin spice. Pour the melted butter over the mixture and mix with a fork until crumbs are moistened.

Pour into a 9-inch springform pan and press flat into the bottom of the pan. Set aside.
For the Filling
Beat the cream cheese until smooth and fluffy, about 2 minutes. Scrape down the bowl. Add the pumpkin puree, eggs, sour cream, sugars, pumpkin spice and vanilla. Beat until all ingredients are well combined, about 1 minute, scraping down the bowl as needed. Pour the filling over the graham cracker crust in the springform pan. Spread out evenly.

Bake in the oven for 1 to 1-1/2 hours. Start checking at 1 hour. The cheesecake is done when the edges are puffed up and the center is just slightly jiggly when the pan is shaken gently.

Turn off the oven, open oven door and let cheesecake rest for 30 minutes in the oven as it cools. Remove from the oven. Cover the cheesecake in the pan and chill for at least 4 hours in the refrigerator.

Pour the cream into a medium bowl. With the beater on medium-high, whip the cream until it starts to thicken. Add sugar and vanilla and continue beating until soft peaks form. Set aside.

Run a sharp knife carefully around the edge of the pan.. Open the latch on the springform pan and lift the cheesecake out from the bottom and set on serving plate. Smooth the whipped cream over the cheesecake and sprinkle with nuts if desired. Serve cold.
Chef Tips
Note – cooking time does not include 4 hour cooling time. Note – Regular cream cheese was used for this recipe, as well as regular sour cream. This recipe has not been tested with reduced fat ingredients.
Nutrition Facts
Nutrition Facts
Brown Sugar Pumpkin Cheesecake
Amount per Serving
% Daily Value*
* Percent Daily Values are based on a 2000 calorie diet.
© Copyright Christine Mello for Must Love Home. We would love for you to share a link to this recipe but please do not copy/paste the recipe instructions to websites or social media. We are happy for you to share a photo with a link back to this website instead.