Thin sliced granny smith apples, baked with cinnamon and an oatmeal crumb topping, this is an Apple Crisp Recipe everyone will love!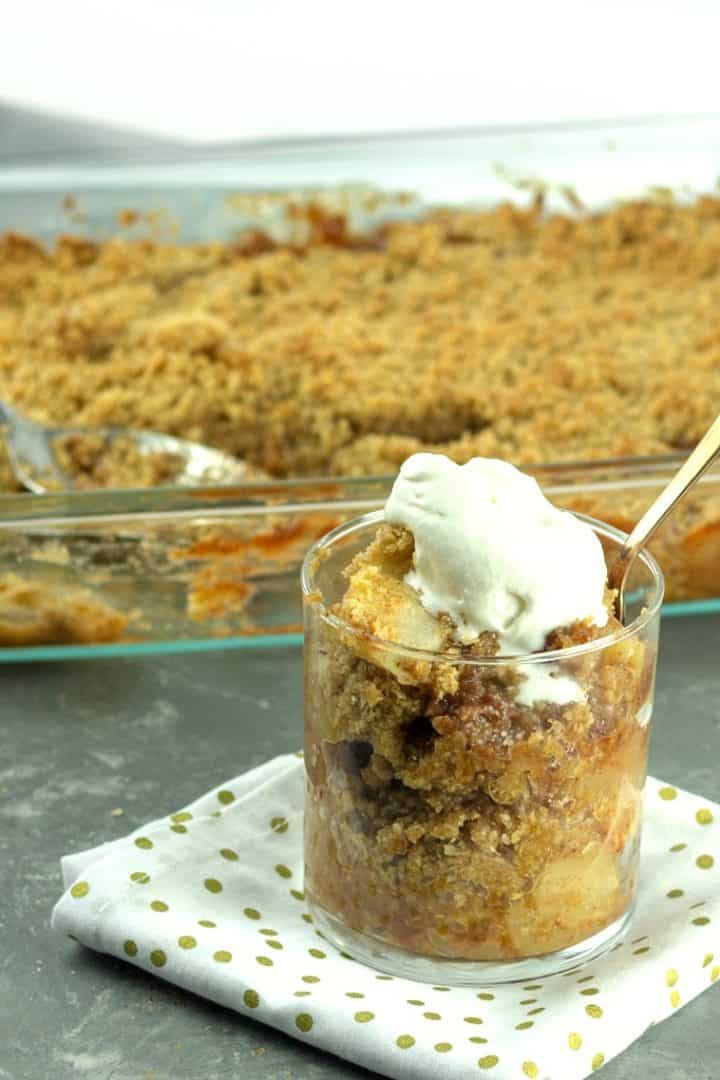 When cold weather hits, my family craves comfort food. Apple Crisp brings back a lot of memories from childhood, when things seemed a whole lot simpler.
I have made this many times over the years for my sons, when the smell of baking apples would bring them running into the kitchen. The windows would fog up from the heat of the oven and the whole house had the aroma of vanilla and cinnamon.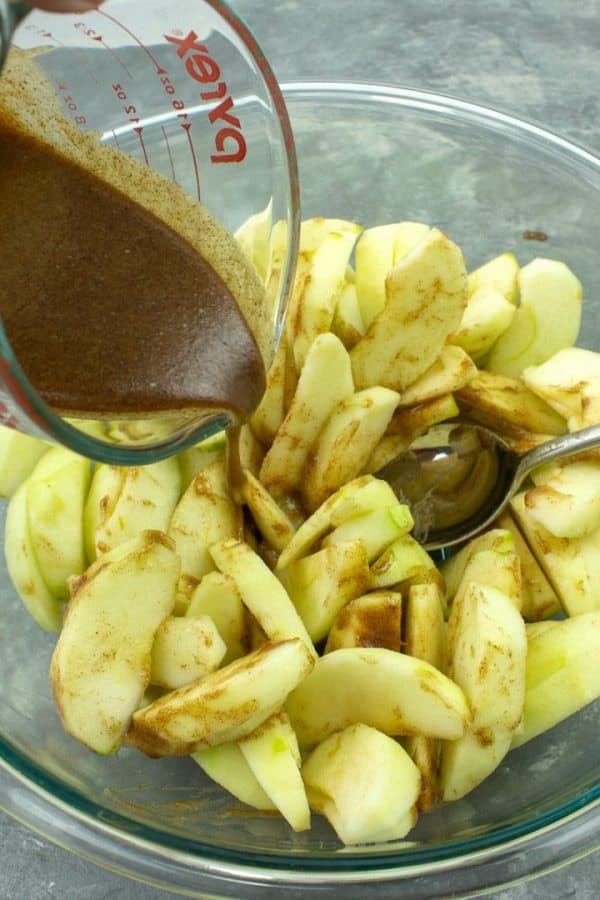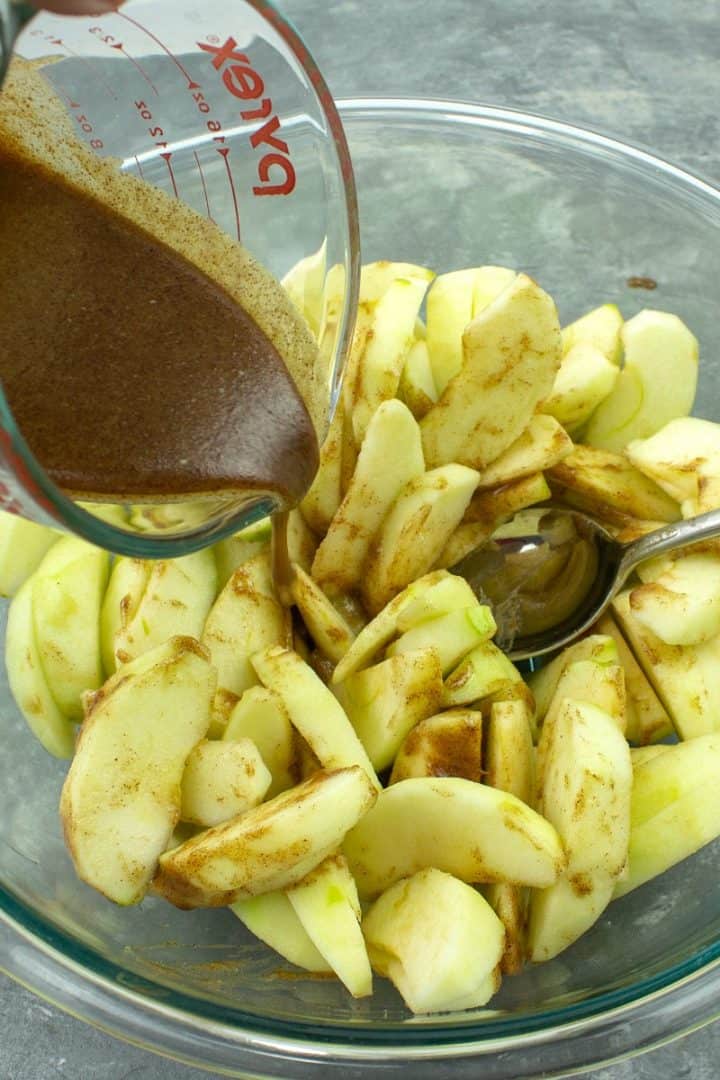 HOW TO MAKE THIS EASY CINNAMON APPLE CRISP
The ingredient list may look intimidating to some, but this is an easy apple crisp recipe. If you can peel apples and mix things up…you're good to go!
DIRECTIONS
Preheat the oven to 375°, and grease a 9 x 13 baking pan.
TO MAKE THE FILLING
Start by peeling and coring the apples. I'm old school when it comes to peeling apples, using a ceramic blade peeler because it peels just the thinnest layer off the apples. Then take a small paring knife to cut the apples into wedges and cut the remaining core from each wedge. If the apple wedges are thick, slice them lengthwise again for a thinner wedge. Aim for wedges that are the same thickness to bake evenly. Place the wedges in a large bowl. You can mix the apples and coating right in the baking pan, but it can get really messy.
Now make the tasty syrup that coats the apples. Melt the butter in a small bowl in the microwave, then stir in the flour. Once the flour and butter are completely mixed, add in the lemon juice, milk and vanilla. Stir again until combined. Add cinnamon, brown sugar and salt to the bowl and stir with a fork until you have a thick, smooth mixture. Pour over the apples and fold until the apples are coated. Pour the apples and any liquid remaining into your prepared baking pan.
TO MAKE THE TOPPING
Now, for the best part…the crunchy topping.
I use a food processor to make this step painless…but you can mix it by hand for a good arm workout! Add all of the topping ingredients except the butter to the food processor. Pulse a few times to mix it up. Add the butter and pulse until the mixture looks like course crumbs. Sprinkle over the apples.
This site may contain affiliate links to products. We may receive a commission for purchases made through these links, which helps to keep this content free.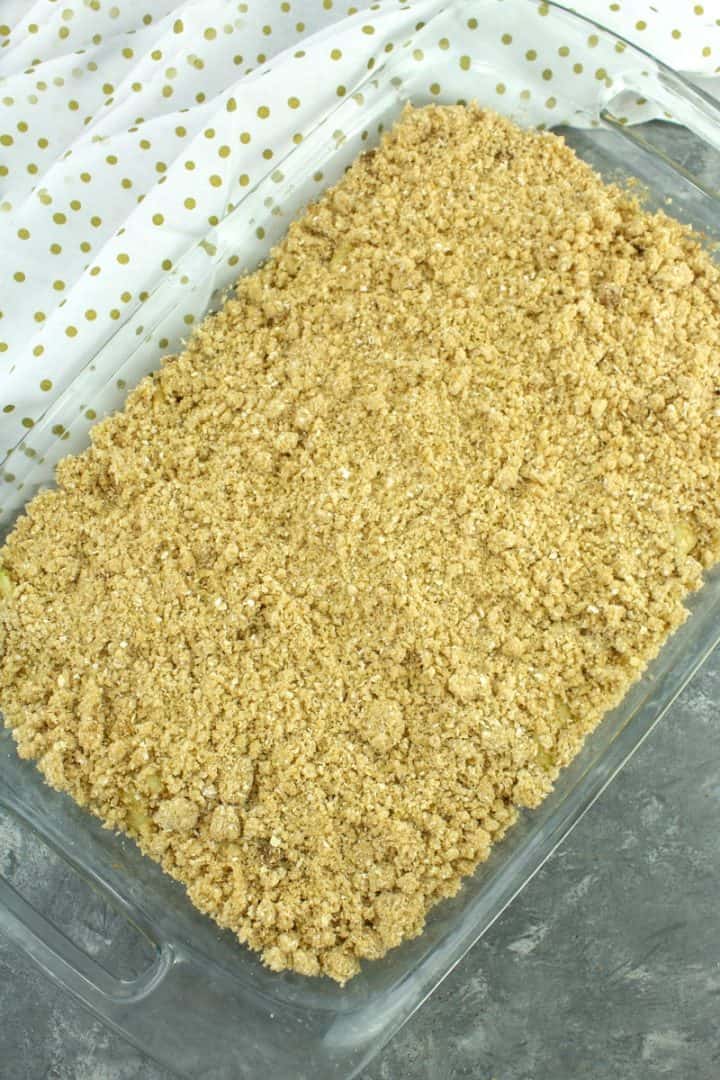 Put the baking pan on a rimmed baking sheet, and place on the center rack of the oven. The baking sheet will keep any spill-overs from landing in the bottom of the oven and creating a burning mess. Bake for about an hour until the crust is golden and bubbling.
Let the apple crisp cool for a few minutes before serving. The syrup inside is pretty hot!
WHAT IS THE BEST APPLE FOR APPLE CRISP?
Glad you asked! The best apples for baking crisps are all-purpose apples that stand up well to baking, liking Granny Smith, Cortland, Braeburn and Honey Crisp. These apples are slightly tart and remain firm during baking, without being overly juicy. Use any one of these or be bold and use a combination of two or more!
HOW TO STORE LEFTOVER APPLE CRISP
Baked Apple Crisp should be refrigerated after it cools. Cover with plastic wrap and store for up to 3 days.
HOW TO FREEZE APPLE CRISP
Prepare and bake the apple crisp according to the directions. Allow the apple crisp to cool completely, then cover the pan with a double layer of aluminum foil. Store in the freezer for up to 3 months. To serve, thaw overnight in the refrigerator. Preheat the oven to 350° and place foil covered pan in the oven for 20 – 25 minutes or until heated through. Store any leftovers in the refrigerator up to 3 days.
If you prefer a crisp topping with nuts, you can substitute the topping used for Sweet Potato Banana Souffle.
LOOKING FOR OTHER CRISP RECIPES?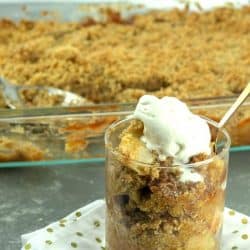 APPLE CRISP RECIPE
Apple Crisp, with tender apples and a crispy oatmeal crust is All- American comfort food!
Instructions
Preheat oven to 375° F. Butter a 9 x 13 baking dish.

Peel and core  apples, and cut into thin wedges. Place in large bowl.

In a small bowl, add melted butter and flour and stir to combine.

Add lemon juice, milk and vanilla to the flour mixture; stir to combine; stir in cinnamon, brown sugar and salt. Pour mixture over the apples and fold in until apples are coated. Transfer apples to baking dish.

In the bowl of a food processor, add the flour, brown sugar, oatmeal, salt, baking powder and cinnamon. Pulse a few times to combine.

Add butter to the topping mix and pulse until mixture resembles crumbs. No chunks of butter should remain. If mixing by hand, use a pastry blender or a fork and work the mixture until the butter has combined with the rest of ingredients until the size of small peas.

 Sprinkle the topping evenly over the apples in the baking dish.

Place  dish on a baking sheet on the center rack of  375° oven for 1 hour.

Apple Crisp is done when the top is golden brown and  bubbling.

Serve warm with whipped cream and enjoy.
Chef Tips
Use light or dark brown sugar.
2% milk was used for this recipe. Whole milk, half and half or heavy cream can be substituted.
Equipment Used
Nutrition Facts
Calories:
366
kcal
Carbohydrates:
54
g
Protein:
3
g
Fat:
17
g
Saturated Fat:
10
g
Cholesterol:
44
mg
Sodium:
134
mg
Potassium:
193
mg
Fiber:
3
g
Sugar:
36
g
Vitamin A:
554
IU
Vitamin C:
5
mg
Calcium:
51
mg
Iron:
1
mg
© Copyright Christine Mello for Must Love Home. We would love for you to share a link to this recipe but please do not copy/paste the recipe instructions to websites or social media. We are happy for you to share a photo with a link back to this website instead.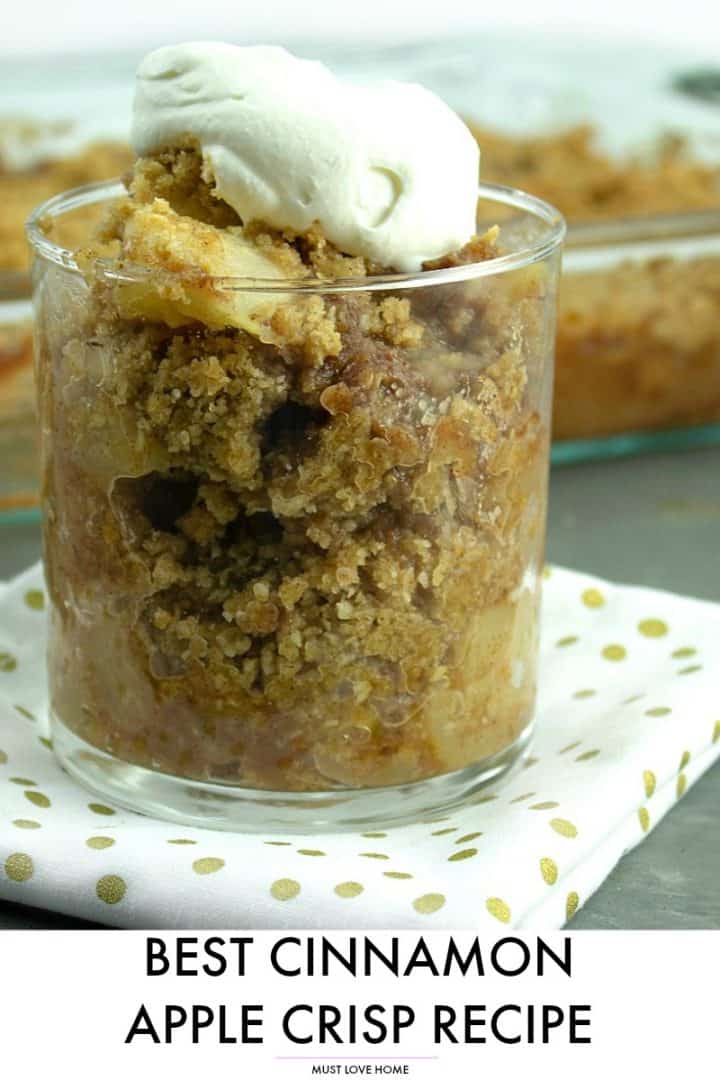 Photos and recipe updated 1/27/2019