Best Ever Deluxe Fried Rice is a take-away style rice recipe packed with delicious flavor and healthy vegetables that's prepped in just minutes!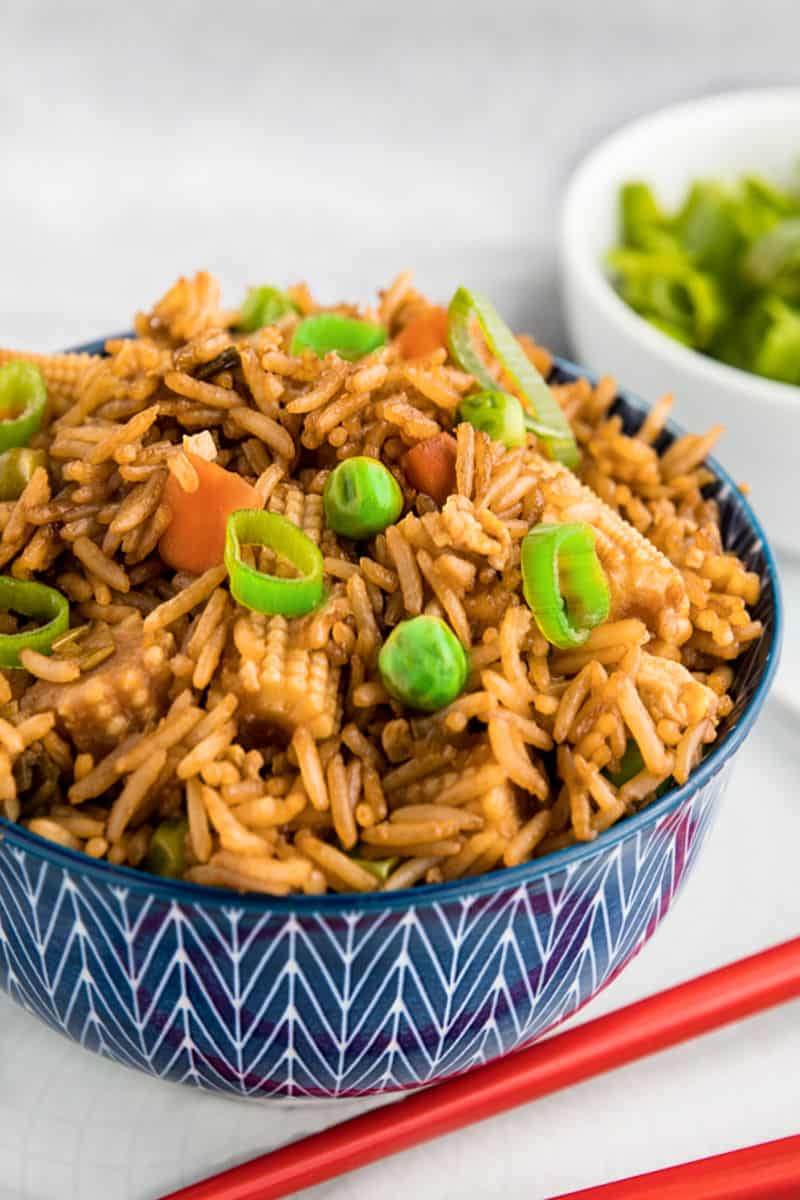 Deluxe Fried Rice is the BEST! It's quick to cook, super easy to make with not much prep time at all. Wait for your rice to chill and you're ready to GO!
As if rice coated with both soy and oyster sauce, spiced with garlic, ginger and drizzled with sesame oil weren't enough, this rice is packed with healthy veggies and crispy pieces of egg too!
We don't get stingy with those vegetables. We LOVE LOVE💗 that this recipe calls for about half rice and half veggies. Makes it easier on the waistline too, so of course you can eat more. Everything pulls together to create an amazing side dish for your stir-fry, or even a full meal on it's own.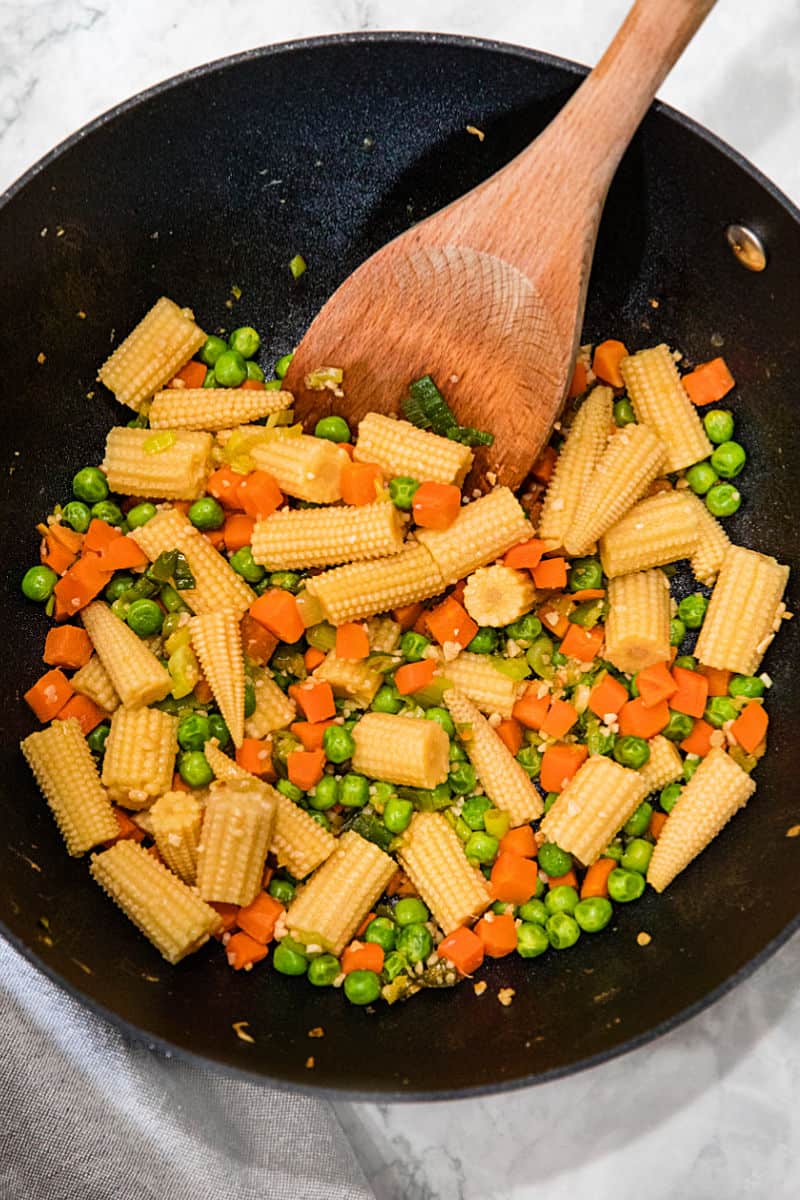 Ingredients For This Recipe!
All easy to find in the grocery store…you may have some of them already in your pantry!
Chilled Rice – You want to use chilled cooked rice for this recipe. Warm rice will hit the pan and get mushy before you'll ever get those delicious crisp edges on some of the rice pieces. I always cook mine in an Instant Pot for perfectly cooked rice every time. I recommend Basmati rice for making fried rice. It's a long-grain rice that remains an individual grain when cooked and doesn't stick together. It's also sturdy enough to stand up to frying. American long grain rice is a good choice too.
Eggs – This recipe calls for 2 eggs, but if you love those crispy egg pieces in your rice, throw in another one.
Baby Corn on the Cob – found in jars and cans on grocery store shelves. These tiny ears of corn are less sweeet than mature corn kernels and add a fancy touch to your rice!
Peas and Carrots – Grab a 12 ounce bag of frozen peas and carrots. It's so convenient, I keep a stash of them in the freezer.
Garlic – We love to keep it EASY so we keep a jar of pre-minced garlic in the fridge. It's my lazy girl secret weapon.
Ginger – a classic Asian cooking spice. Adds lots of interesting flavor to your rice!
Green Onions – also known as scallions in some parts of the country. Use just the green part for more subtle onion flavor.
Soy Sauce – Regular or Low-Sodium varieties are both fine.
Oyster Sauce – To build instant flavor, you don't want to miss this sauce. It's a sweet and salty ocean flavor that gives your rice that certain something. If you don't have it, that's okay, but be sure to add it to your market list for next time!
Toasted Sesame Oil – Pure liquid gold for Asian cooking and is 100% essential to making delicious, full-bodied fried rice. Toasted Sesame Oil is thick, rich and smells amazing….it's also a finishing oil so stir it in after you take the rice from the heat. Sometimes I'll cook the garlic and onions in sesame oil rather than veggie oil just to amp up the rich sesame flavor.
Add-Ins!
To make this a whole meal deal, throw in a handful of your favorite cooked protein like chicken, shrimp, scallops, pork or beef along with the rice
Delicious Fried Rice Varieties!
👉Make it your own by adding protein, different veggies or using a different kind of rice!
Pork Fried Rice – Fry a pork chop in your skillet before making the rice. Cool and slice into small pieces before adding into the finished rice. Or even better, make our favorite Pork and Vegetable Ponzu Fried Rice recipe.
Chorizo Fried Rice – This spicy pork will add major flavor to fried rice. Just cook and stir in at the end.
Chicken Fried Rice – Cook a chicken breast while making the rice and cut into bite size pieces to add at the end, or shred a rotisserie chicken. Even better, make our Slow Cooker Shredded Chicken. It's a meal starter you'll want to keep on hand in the freezer.
Shrimp Fried Rice – Saute a half pound of peeled, deveined shrimp in a separate pan while cooking the rice. Then add it to the fried rice at the end.
Fried Brown Rice – for a healthier option, swap long grain brown rice for the traditional white rice in this recipe.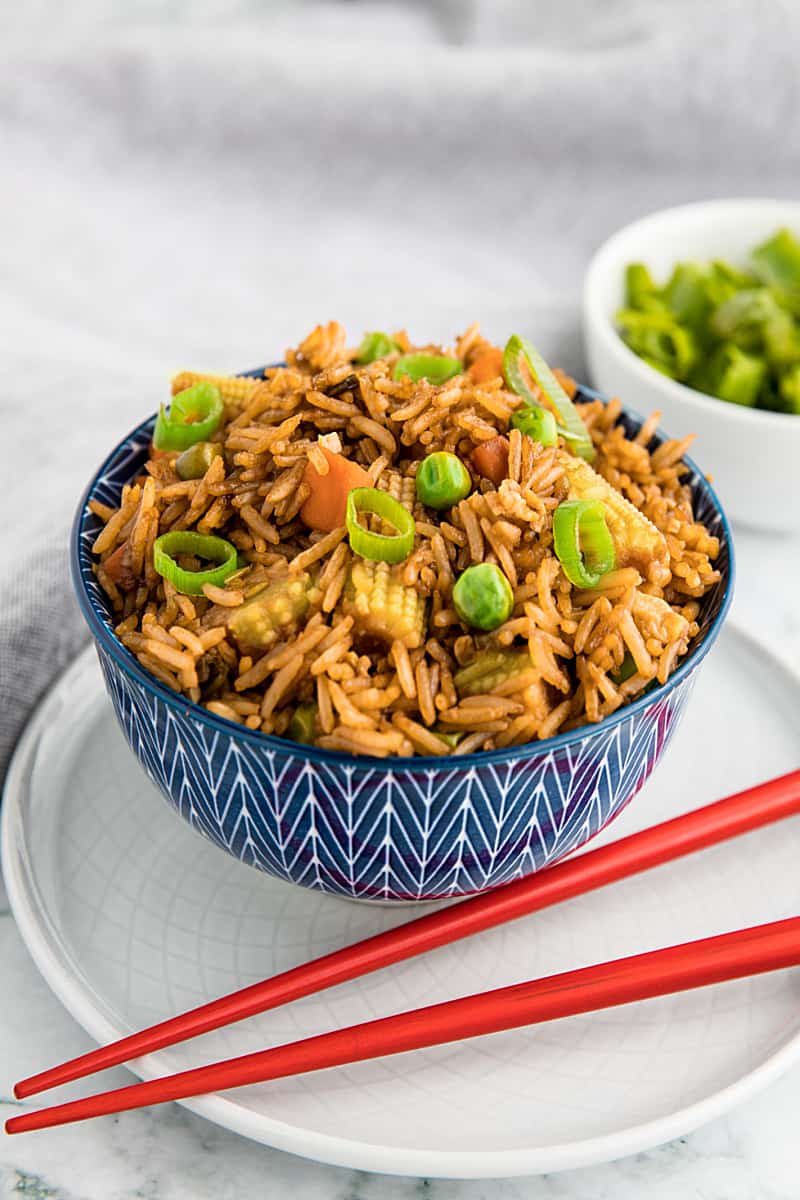 CAN FRIED RICE BE FROZEN?
Yes, definitely, and I totally recommend it!. Make a double batch to save for an easy side later. Let the fried rice cool in the pan, then transfer into freezer bags or containers. Label and freeze for up to 3 months. Thaw in the fridge and re-heat on the stove or pop the frozen rice into the microwave and cook until heated thru,.
More Delicious Rice Recipes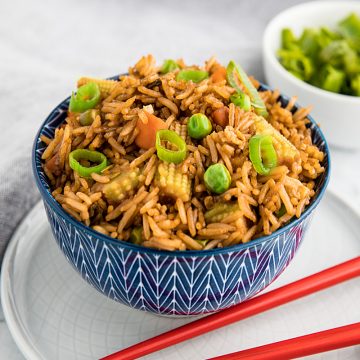 Deluxe Fried Rice
Best Ever Deluxe Fried Rice is take-away style rice packed with flavor and healthy vegetables that's ready in just minutes!
Ingredients
2

tbsp

oil*

divided

2

large

eggs

lightly beaten

3

medium

green onions

thinly sliced

2

tsp

minced garlic

about 4 cloves

1

tsp

minced ginger*

12

ounce

frozen peas and carrots

1 1/2

cups

baby corn on the cob

cut into 1-inch pieces

4

cups

Basmati rice

cooked according to package directions then chilled

1/3

cup

soy sauce

2

tbsp

oyster sauce

1/4

tsp

black pepper

1

tsp

toasted sesame oil
Instructions
Cook long-grain rice according to package directions. Cool slightly on counter then refrigerate for at least one hour. Fluff with a fork before adding to the pan.

In a wok or deep skillet over medium-high heat heat 1 tablespoon vegetable oil until hot.. Add eggs and scramble, scraping bits off the sides until almost dry about 2 to 3 minutes. Once cooked transfer eggs to a plate to keep warm.

Add remaining oil to pan to heat. Add green onions, garlic and ginger. Cook over medium-heat for 1 minute until onions are tender and garlic fragrant. Add corn and frozen peas and carrots to pan, cook until heated thru. Stir in rice, soy sauce, oyster sauce and pepper to pan and cook for 2 – 3 minutes more, tossing continuously.

Add eggs back to pan and toss to combine. Remove from heat and drizzle on sesame oil. Toss to combine.

Serve rice immediately or refrigerate in a sealed container for up to 3 days. Rice can also be frozen up to 3 months.
Chef Tips
We used vegetable oil, but use your favorite frying oil.
Fresh minced ginger (in a squeeze tube) can be found at most large grocery stores.
Nutrition Facts
Serving:
1
cup
Calories:
469
kcal
Carbohydrates:
90
g
Protein:
12
g
Fat:
7
g
Saturated Fat:
4
g
Polyunsaturated Fat:
1
g
Monounsaturated Fat:
1
g
Trans Fat:
1
g
Cholesterol:
47
mg
Sodium:
720
mg
Potassium:
352
mg
Fiber:
4
g
Sugar:
3
g
Vitamin A:
4286
IU
Vitamin C:
9
mg
Calcium:
55
mg
Iron:
2
mg
© Copyright Christine Mello for Must Love Home. We would love for you to share a link to this recipe but please do not copy/paste the recipe instructions to websites or social media. We are happy for you to share a photo with a link back to this website instead.