Fresh and crunchy, Parmesan Chive Corn on the Cob is the classic side dish recipe – hot and buttery for your next BBQ. Grilled or baked, it is perfect served with ribs and chicken!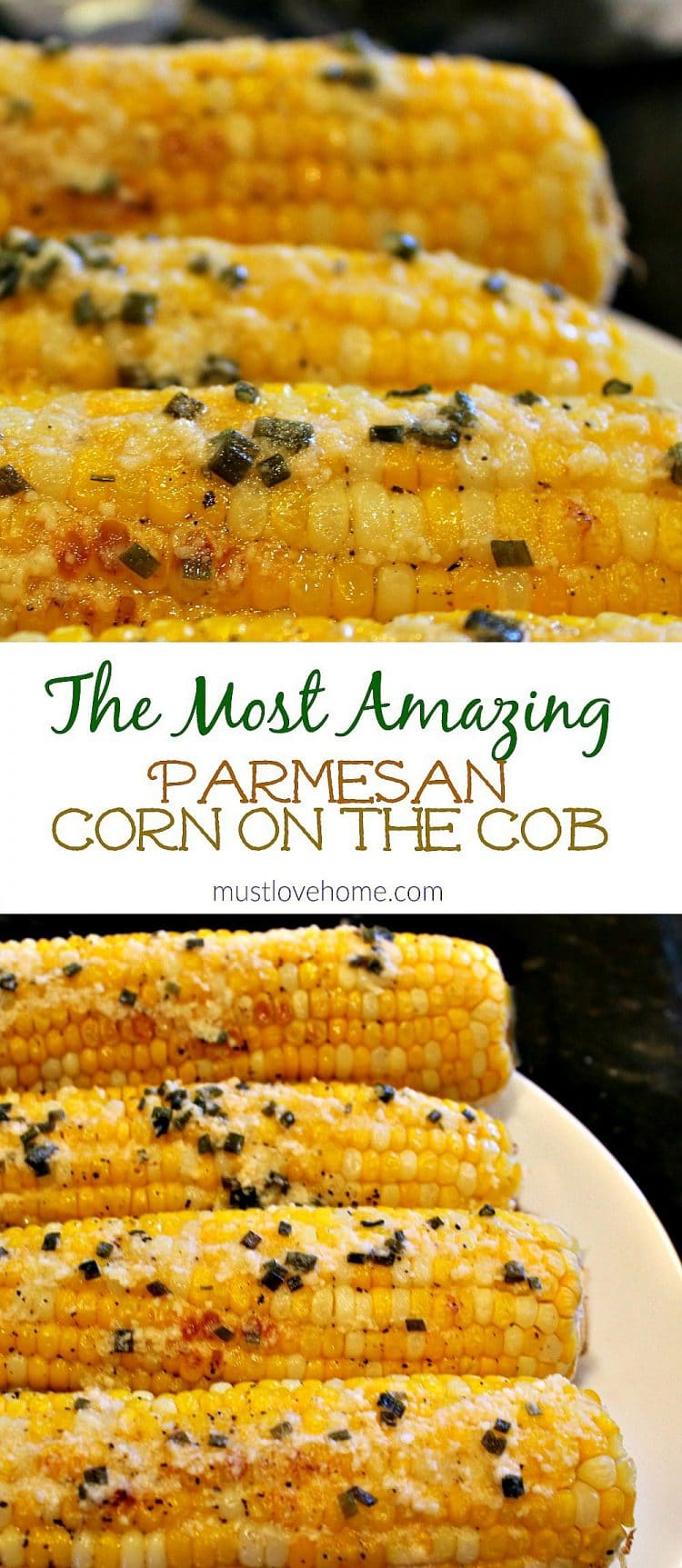 Did you know that there is a "right" way to shuck corn?  Recently that I found out I had been shucking corn the wrong  (hard) way for years… you  know…standing over the sink, pulling off leaves and corn silk for what seems like FOREVER!  Someone who I ridiculously call my "Corn Shuckin Superhero" showed me an easier way.  Just  rip down one or two husk leaves, break off the stem inside and then pull the corn ear away the husk!! DONE.
Keep this recipe in your back pocket all year long. Even though I prefer to use fresh corn on the cob still in the husk, this corn tastes amazing using frozen cobs too!
Reasons to love this Parmesan Chive Corn on the Cob recipe:
Easy to make in the oven year round
No wrapping in foil needed
Fresh or Frozen, chives and Parmesan cheese enhance the corn flavor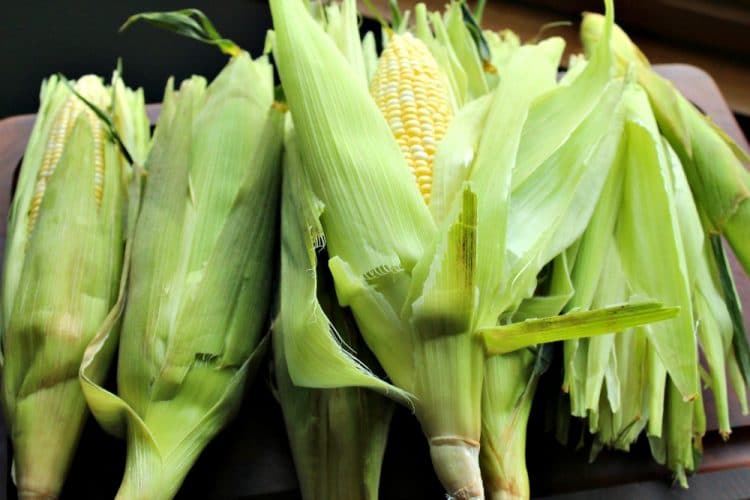 Tips and Hints for the best tasting Parmesan Chive Corn on the Cob:
Try to buy corn that is still in the husk. Look for green husks that are not too dry and still have moist golden silk inside. Peel one side of the husk down a few inches to check that the kernels are plump and tight.Then tuck  the husk back up to prevent the corn from drying out.
I always say this, but the best results start with quality ingredients, so use the best you can afford. Buy organic corn if possible.
Using fresh herbs is always best when the recipe calls for it. Unfortunately sometimes the grocer doesn't carry them or they are not in season.  When this happens I use re-hydrated herbs. I just soak the amount of herbs I need it in a few drops of water and it re-hydrates to almost fresh. You can find jars of dehydrated herbs in the spice aisle or produce section of most grocery stores
If using butter, make it the unsalted variety. Unsalted butter gives you, the cook, complete control of the overall flavor of your recipe.
Don't over-bake them. I like mine just golden-brown, with the kernels  soft.  I would start watching them at the 30 minute mark.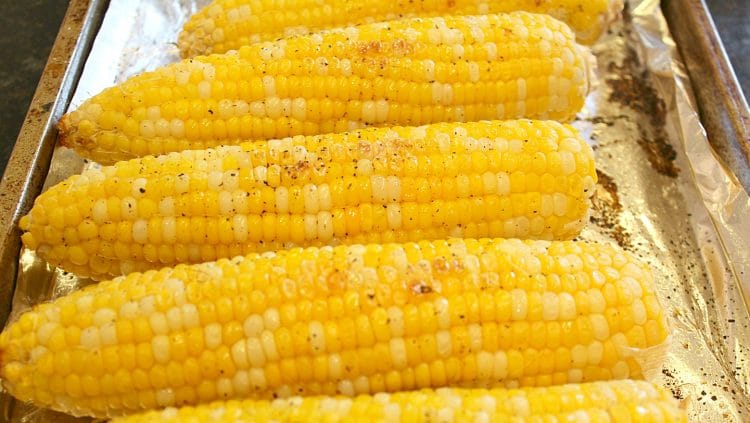 Looking for more delicious oven side dishes? Try these from my collection:
Here is the handy printable recipe. Enjoy!
Print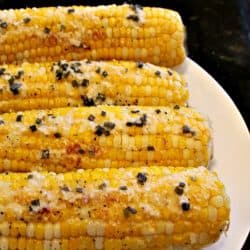 Parmesan Chive Corn on the Cob
---
Author:

Prep Time:

5 minutes

Cook Time:

40 minutes

Total Time:

45 minutes

Yield:

5 Corn on the Cob

Category:

Side Dish

Method:

Oven

Cuisine:

American
Description
The corn can also be prepared on the grill, instead of the oven. When fully grilled, follow directions for the topping and drizzle over the grilled Corn.
---
Ingredients
5 Ears Sweet Corn, husked and cleaned
1 Tablespoon unsalted butter
Kosher Salt and Pepper
Topping:
1/2 stick or 4 Tablespoons unsalted butter
1/4 cup grated parmesan cheese
1 Tablespoon dried or fresh chives,minced
---
Instructions
Preheat oven to 400 Degrees.
Line a baking sheet with foil and spray with cooking spray
Place cleaned corn ears on baking sheet, sprinkle liberally with salt and pepper
Top each ear with a pat of butter
Bake Corn in the oven for approximately 35-40 minutes until starts to brown. Turn corn occasionally during baking. Remove from oven.
In a small pan, melt 1/2 stick unsalted butter. When butter is melted, stir in parmesan cheese and chives. When mixed completely, remove from heat and drizzle immediately over Corn ears. Serve while hot!
Keywords: corn, corn on the cob, parmesan, vegetarian, paleo, oven baked