This Southern iconic favorite fuses traditional with spicy giving these Deviled Eggs a Tex Mex flair.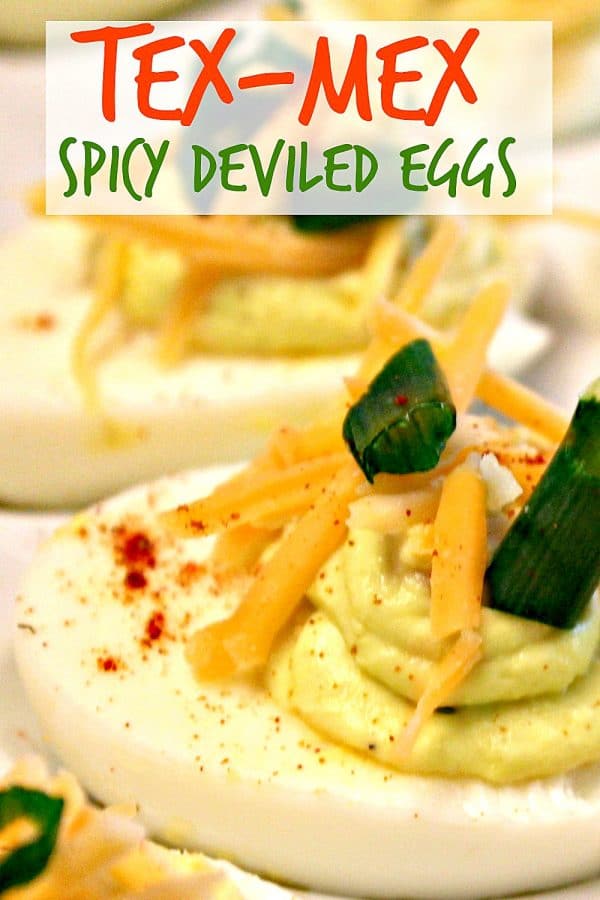 The Tex Mex obsession has been around since the 1970's, but the love of the delicious cheesy and spicy combination has not wavered. I don't know about you, but basically all the Mexican dishes I grew up eating weren't really Mexican. Fajitas, chili,  and nachos are all considered Tex-Mex food. So what is Tex-Mex?  To start, key characteristics include the heavy use of cheese, cumin, chili powder, and beef. Tex-Mex food is rooted in Texas's Tejano culture (Texans of Spanish or Mexican heritage who lived in Texas before it became a republic) and also Mexican immigrants who came largely from Northern Mexico.
To make really good deviled eggs, the eggs have to be cooked just until the yolks are hard, but still bright yellow. There are different methods to boil eggs and even the best cooks have different opinions on which is best. Over the years, I have found that boiling the eggs in salted water is still my favorite method.  Here is how I do it…
      1.   Fill a medium to large pot 3/4 full of water. Add 2 TBSP table salt.
     2.    Carefully place the eggs in the bottom of the pot, making sure they are in a single layer and not crowded (touching).
     3.    Heat the pot to boiling, allow the eggs to boil for 8 minutes.
     4. Immediately remove from the heat, dump out boiling water and refill the pot with cold water. Set the pot in the sink and allow the cold water to
          run over the eggs until the eggs are cool enough to handle (but still warm).
     5.  One at a time, place the egg on it's side on a hard surface, tap until the shell is cracked all over, then roll the egg beneath your palm on the hard
          surface, back and forth several time, to loosen the shell.
     6.  Peel; the shell should come off easily in strips.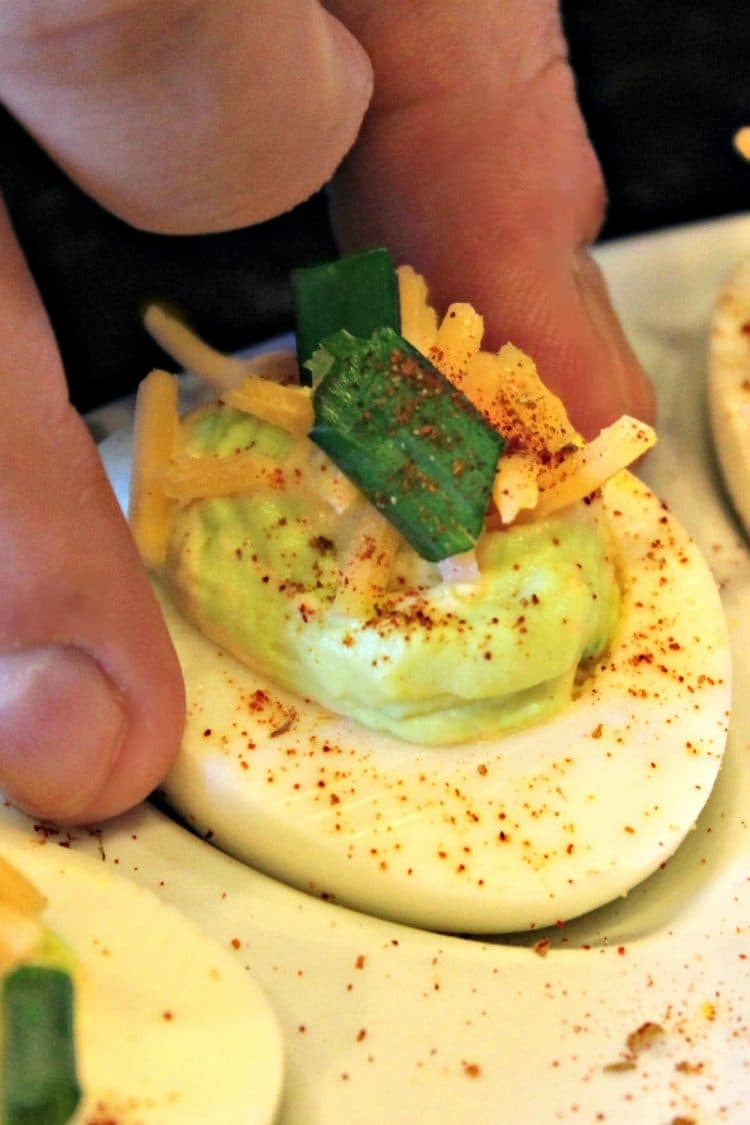 Deviled Eggs have always been a favorite with the kids. In grade school they loved them made with just mayo and mustard. As the boys grew up, (along with their taste buds) I started adding things like dill and a little horseradish.  These Tex Mex Spicy Deviled Eggs have stepped it up just a little more, with the addition of jalapeno and chili pepper spice to the basic recipe. The eggs are spicy, but still kid friendly!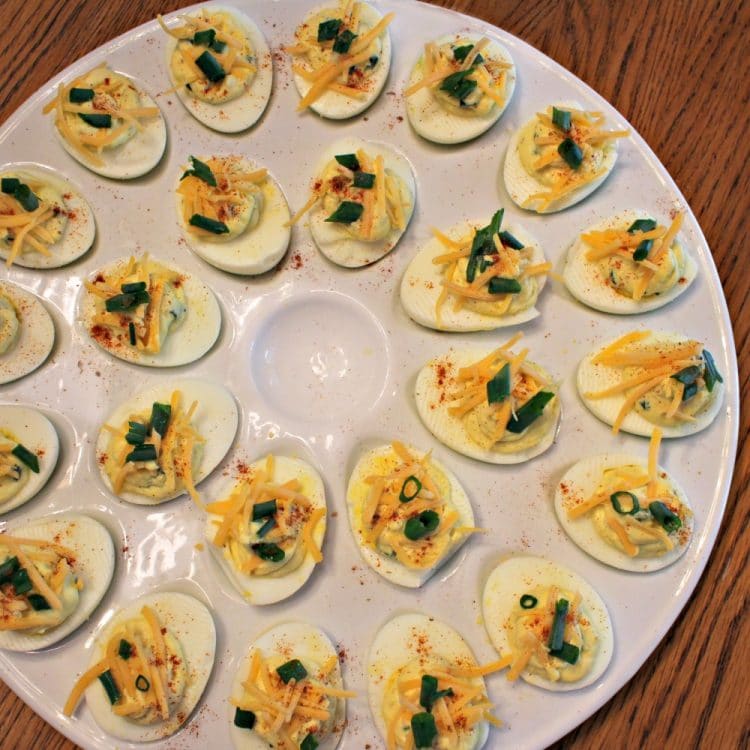 You cannot go wrong if you serve Tex Mex Spicy Deviled Eggs  in a cute egg holder at your next party…the crowd will go wild!
Print
Tex Mex Spicy Deviled Eggs
Prep Time:

15 minutes

Cook Time:

5 minutes

Total Time:

20 minutes

Yield:

24

deviled eggs

1

x
---
Description
Perfect as an appetizer or side dish for your next get together!
---
Scale
Ingredients
12

Hard Cooked Eggs, peeled

2 TBSP

Fresh minced cilantro

1

small jalapeno pepper, seeded and finely chopped

1/2 cup

mayonnaise

2 tsp

yellow mustard

3/4 tsp

salt

1/2 cup

shredded cheddar cheese

1 tsp

chipotle pepper spice

2 TBSP

Sliced Green Onions
---
Instructions
Cut eggs in half, crosswise. Remove the yolks and place in a small bowl.
Using a fork, mash the egg yolks. Stir in the cilantro and the next 4 ingredients.
Transfer the yolk mixture into a plastic pastry bag or food storage bag, and pipe the yolk mixture into the egg white halves. (You can spoon into the egg white halves if you prefer)
Sprinkle the eggs with cheddar cheese and dust with chipotle pepper spice. Garnish with green onion slices.
---
Notes
Substitute light mayonnaise and low fat shreddedcheese to reduce calories and fat.
 Be the hero of your next potluck by bringing Tex Mex Spicy Deviled Eggs. They are a super alternative to a bowl of potato salad or beans.