Made with baby red potatoes, this Classic No Peel Potato Salad made with baby red potatoes, celery, onion and fresh dill is bold flavored salad that is perfect for your next cookout or potluck!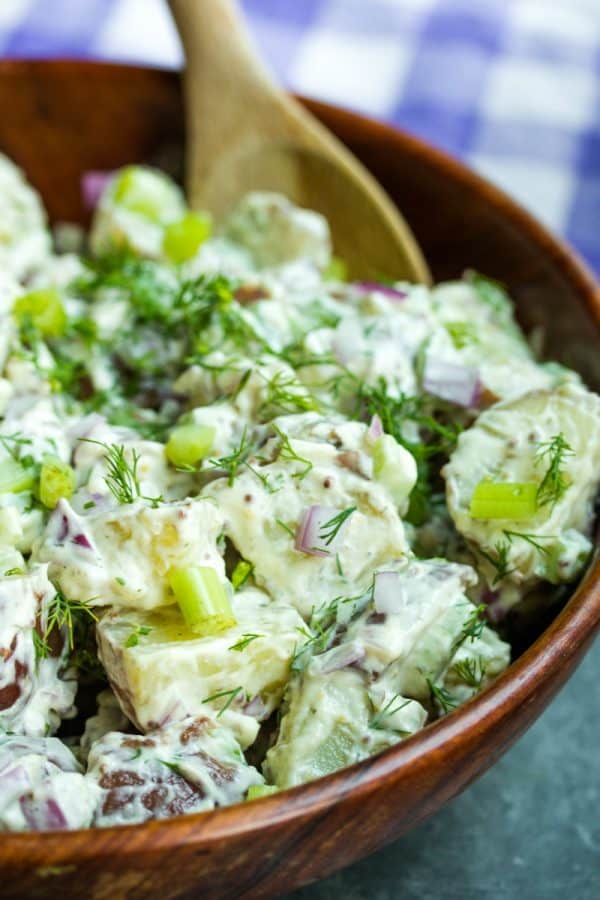 It would not be summer without a giant bowl of creamy homemade potato salad. It's the side dish that goes with everything! Growing up, we didn't have homemade potato salad. My German mom just didn't cook like that. Her specialty was to get store bought and doctor it up with apple chunks, dill weed and Dijon mustard. She thought that made it taste "European". Fast forward many years and my homemade potato salad has some throwbacks from my mom. There's no apple because my sons will not touch them in potato salad, but the dill weed and mustard remain.
Reasons to love Classic No Peel Potato Salad:
Simple recipe with no potato peels!
Mayonnaise and mustard dressing adds tons of tangy flavor
Economical – makes a crowd size batch for less than half from the Deli
Versatile – easily add in your family favorites like chopped eggs, pickles or apple chunks
The dish is packed with delicious flavors and essential Vitamin C
You will have amazing leftovers that can be stored in the fridge, in an airtight container for 3-4 days
A wise woman once told me that everyone who cooks should have a few signature potluck or party dishes. That advise was discounted when she gave it because 1) I thought it was old-fashioned and 2) I was young and thought I knew everything. A few months after hearing that advise and immediately ignoring it, a friend asked me to bring "my" potato salad to a potluck she was hosting. She told me she had been craving it! That was an epiphany for me…not to mention a huge ego boost. Someone actually liked what I made and remembered it! Really! To this day, I still make vats of this Classic No Peel Potato Salad for potlucks and watch as it is devoured. The pleasure is all mine.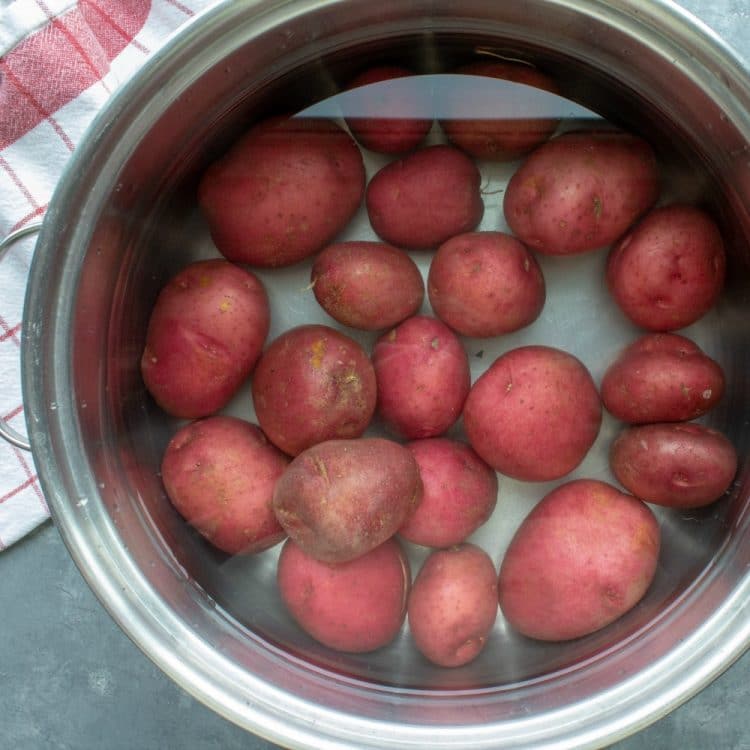 Are Potatoes Good For You?
The skins on new red potatoes are super thin, so there is no need to peel them. Not only does the red add pretty color to the salad, the skin is nutritious too. A medium red potato provides 36 percent of the needed daily value of vitamin C. Your body needs vitamin C to form collagen — an essential connective-tissue protein — to fight infections, to help iron and copper absorption and to maintain healthy bones. You'll also get 19 percent of the daily value for vitamin B-6, 13 percent for niacin and 12 percent for Folate from red potatoes. These B vitamins assist in energy metabolism, cell growth and repair, and keeping skin and nerves healthy.
What is Fork-Tender?
Potatoes do not change in appearance as they become tender during cooking. To avoid overcooking, periodically test the potatoes in the water for tenderness. Perfectly cooked potatoes are neither mushy nor hard but will give easily when punctured with a fork. For this recipe, cook the potatoes until barely fork-tender, which means that the fork will slide into the potato, but there will be a little resistance.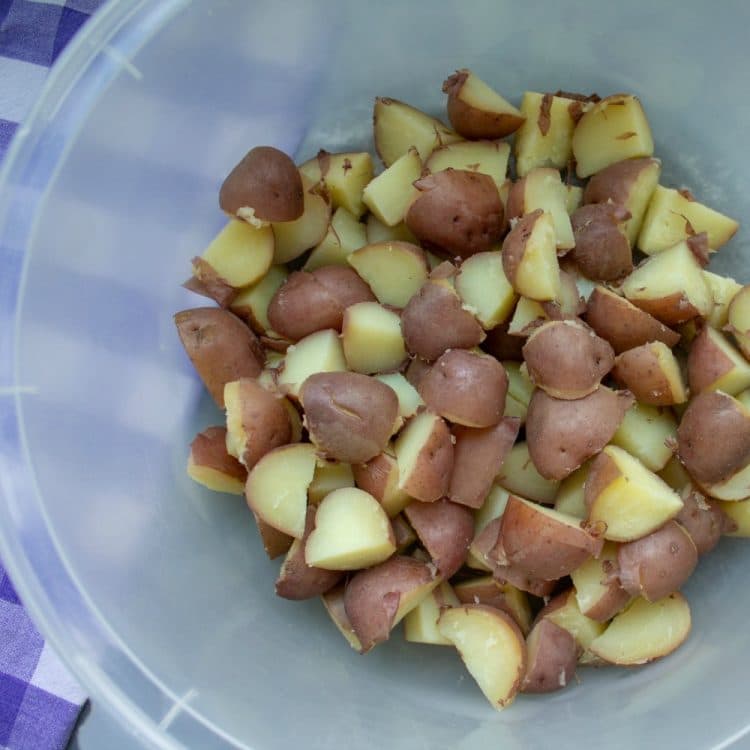 I bought a 3 pound pre-packaged bag of potatoes, and found that there was a lot of size variation of the potatoes. If your potatoes are all not the same size, cut the potatoes into equal size pieces by halving them, quartering or even eighths.
Tips for Making the Best Classic No Peel Potato Salad:
I always say this, but I'll say it again, the best results start with quality ingredients, so use the best you can afford.
Using fresh herbs is always best when the recipe calls for it. Unfortunately sometimes the grocer doesn't carry them or they are not in season. When this happens I use re-hydrated herbs. I just soak the amount of herbs I need it in a few drops of water and it re-hydrates to almost fresh. The smell and color were like fresh herbs, and to have herbs on hand anytime is a real treat. You can find jars of dehydrated herbs in the spice aisle or produce section of most grocery stores.
Use good quality mayonnaise. Generally that means a brand with the least amount of chemical additives or use homemade. I use Hellman's Real Mayonnaise which contains these ingredients (from their website): soybean oil, water, whole eggs and egg yolks, vinegar, salt, sugar,lemon juice concentrate, calcium disodium edta (used to protect quality), natural flavors.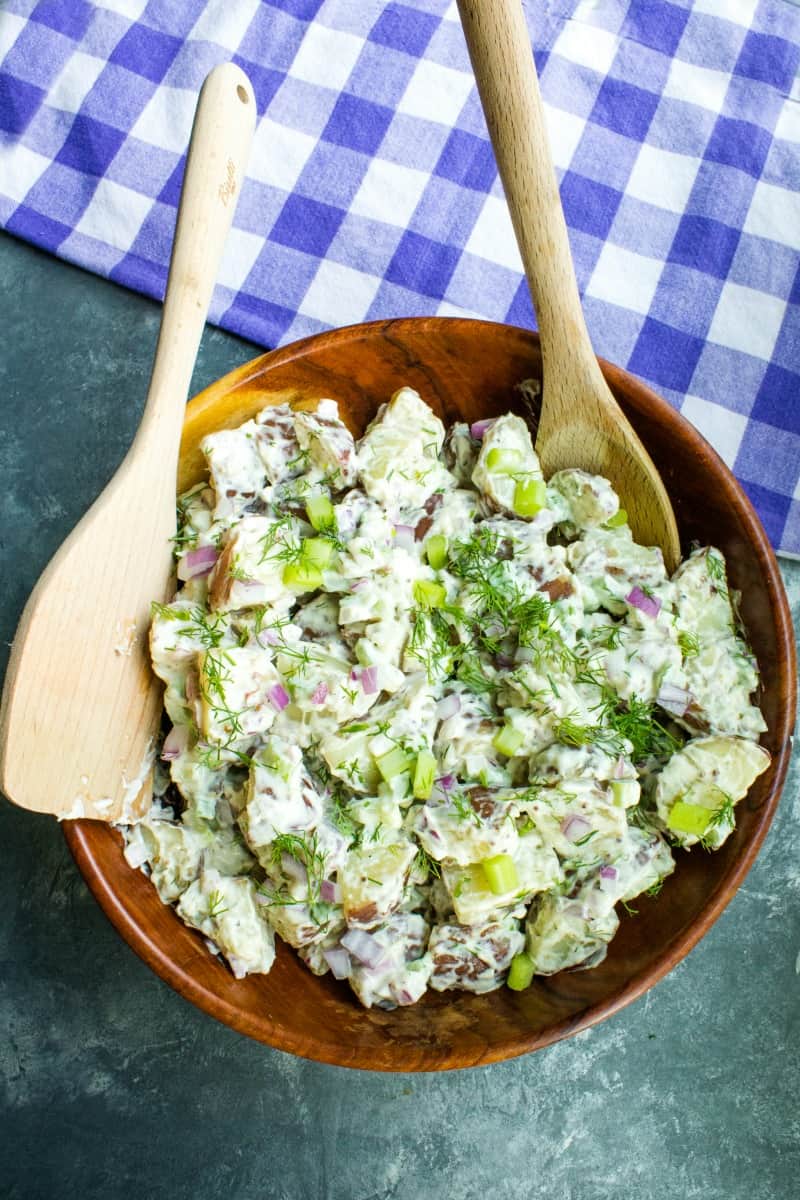 Helpful Tools and Ingredients:
Large Pot – You can use any thick-bottom large pot for boiling, but I prefer stainless steel and this brand for exceptional quality.
Large Eversharp Kitchen Knife – this is my favorite knife ever! It feels like an expensive knife in your hands. I have used mine everyday for years and it is still as sharp as brand new.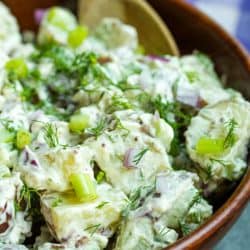 Classic No Peel Potato Salad with Dill
Made with new (baby) red potatoes, this Classic No Peel Potato Salad is a keeper. Creamy, crunchy and cold, this easy recipe makes a large batch of bold flavored salad that is perfect for your next cookout or potluck!
Ingredients
3

pounds

small red potatoes

1

cup

mayonnaise

1/4

cup

milk

I used 2%

1

tbsp

Dijon mustard

1

tbsp

whole-grain mustard

1

tsp

dried dill weed

1/2

cup

fresh dill

chopped, divided

2

medium

stalks celery

diced

1

medium

red onion

diced

salt and pepper
Instructions
Place the potatoes in a large pot of salted water.  Over high heat, bring the water to a boil, then lower the heat and let simmer for 10 – 15 minutes or until the potatoes are just fork-tender.

Drain the potatoes over the sink into a colander, then lift the colander and set it back inside the pot. Cover the pot with a clean, dry dish towel and let the potatoes steam for another 15-20 minutes. Remove the towel. The potatoes should be tender, but still firm.

In a small bowl, combine the mayonnaise, milk, Dijon and whole-grain mustard, dill weed, and 1/4 cup of the chopped fresh dill. Add salt and pepper to taste, then whisk until smooth.

When cool enough to handle, cut the potatoes into equal bite-size pieces. Place in a large bowl and pour enough dressing over them to coat. Add the celery, red onion and remaining 1/4 cup fresh dill. Salt and pepper to taste. Toss to coat, adding more dressing as needed to moisten.

Cover and refrigerate at least 1 hour to allow flavors to blend.
Chef Tips
Make a lower calorie version by substituting the mayonnaise with light mayonnaise and reduced calorie sour cream for the regular version.
Nutrition Facts
Serving:
0.5
cup
Calories:
162
kcal
Carbohydrates:
14.68
g
Protein:
2.09
g
Fat:
10.82
g
Saturated Fat:
1.75
g
Cholesterol:
6.26
mg
Sodium:
128.83
mg
Potassium:
415.68
mg
Fiber:
1.66
g
Sugar:
1.86
g
Vitamin A:
138.24
IU
Vitamin C:
9.07
mg
Calcium:
19.68
mg
Iron:
0.82
mg
© Copyright Christine Mello for Must Love Home. We would love for you to share a link to this recipe but please do not copy/paste the recipe instructions to websites or social media. We are happy for you to share a photo with a link back to this website instead.