No Churn Cinnamon Blueberry Ice Cream, with fresh blueberries, cinnamon, sweetened condensed milk and cream is a must-have frozen treat that's super easy to make. The smooth flavor will rival any gourmet ice cream.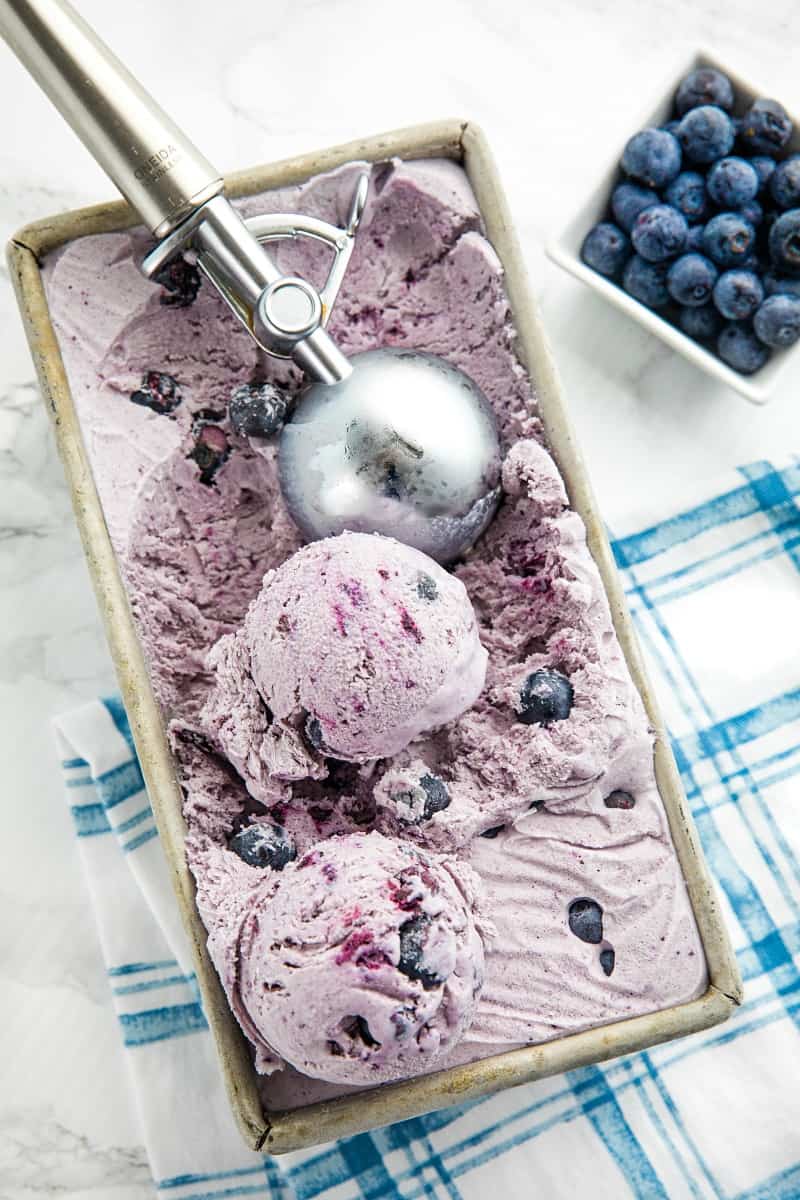 We LOVE ice cream recipes around here and are super pleased to introduce you to our new favorite…No Churn Cinnamon Blueberry Ice Cream! This ones a little DIVA for sure…delicate and creamy, flaunting a gourmet taste of sweet blueberry syrup and the perfume of ground cinnamon. It's fantastic and it's happening HERE
There's no delicate way to say this…you'll be tasting and eating this stuff-your- face goodness before it even gets to the freezer. The cinnamon smells will be calling out to you and when that creamy blueberry flavor hits your mouth, the spoon will develop a will of it's own as it digs in again and again. Enough said – you'll want to try this ice cream.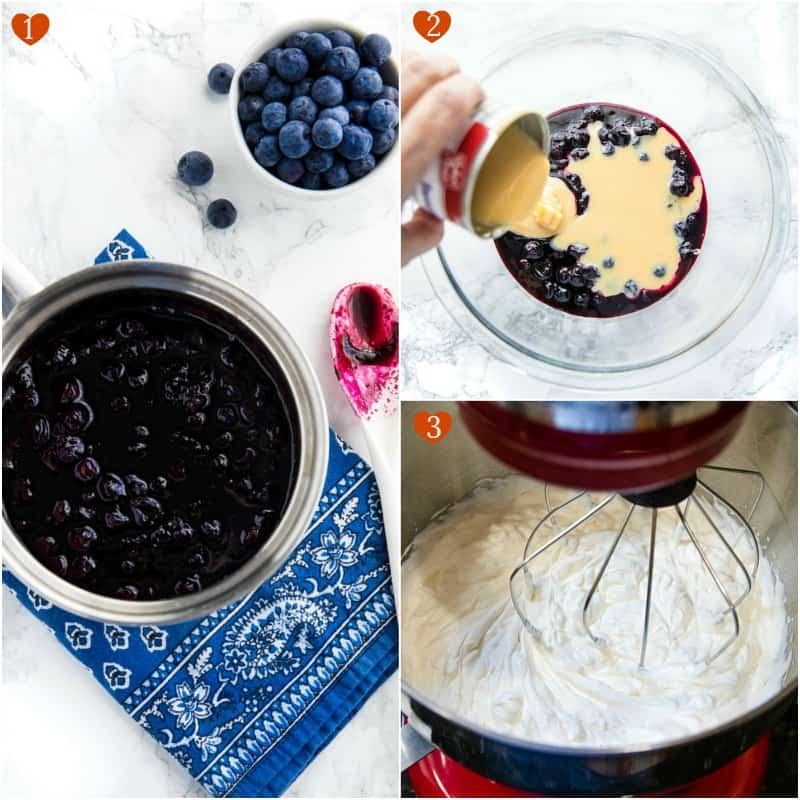 HOW TO MAKE NO CHURN CINNAMON BLUEBERRY ICE CREAM
Folks, it's just too EASY to literally whip up a batch of this yummy ice cream. That's right…no ice cream maker or freezing bowls involved, just like our No Churn Peanut Butter Crunch Ice Cream. Well, you know we like simple reasons at Must Love Home…and this one is a perfect fit. Sound good? Here are the easy steps:
Put the blueberries, sugar and lemon juice in a small saucepan. Bring the mix to a boil over medium heat, then turn down the heat and let it simmer for 15 minutes. The blueberry skins should start to crack and the liquid will get syrupy. That's what you want…now turn off the heat and let the blueberry syrup cool completely.
In a large bowl, whisk the sweetened condensed milk, vanilla, cinnamon and salt. Stir in the blueberry mixture. Have you ever seen such a beautiful purple color? I wanted to stop right there….but go ahead, set it aside.
In another large bowl, use a hand held mixer to beat the cream to the stiff peak stage. This will take about 2 minutes.
Gently fold half of your whipped cream into the condensed milk and blueberry mixture. Once combined, add the rest of your whipped cream to the bowl and gently fold it in until completed combined. The ice cream mix should be a uniform blue color with no white streaks in it.
Scrape your ice cream mix into a loaf pan or ice cream freezer container. Cover and freeze for at least 6 hours. The ice cream will be firm and scoopable. If you find it's too hard, let the pan sit on the counter for a few minutes to soften before trying to scoop it again.
👍Beating whipped cream until "stiff peaks" form
Most recipes will instruct you to whip cream to a certain firmness, or "peak stage". During the whipping or beating process, air gets trapped and causes the cream to foam, grow in volume, and become stiff. The stiffness of the cream is called soft, medium and stiff peaks. Here's what that means:
Soft peaks barely hold their shape. The peaks flop over immediately when the beaters are lifted.
Medium peaks hold their shape pretty well, except that the tip of the peak curls over on itself when the beaters are lifted.
Stiff or firm peaks stand straight up when the beaters are lifted and will hold their shape. (Medium-stiff peaks are just stiff enough to stand up firmly but with a slight curl at the tip.)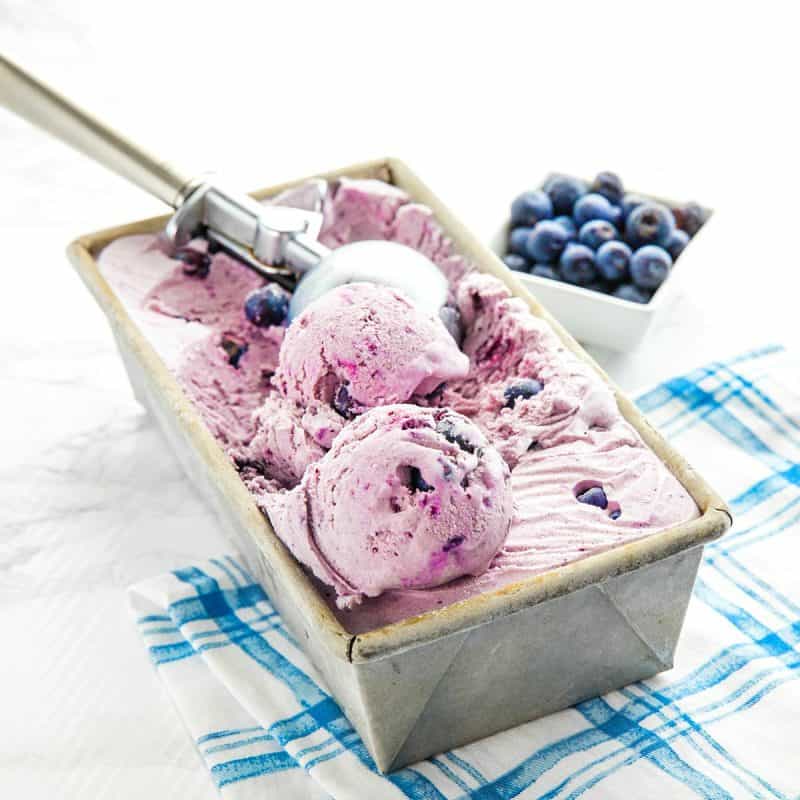 💡Tips for making the best No Churn Cinnamon Blueberry Ice Cream:
Completely chill all of your ingredients and tools before mixing. This will reduce freezing time.
Fresh blueberries are the best for this recipe, but frozen will do in a pinch.
Be sure to cool the blueberry syrup completely before adding it to the condensed milk mixture. You may want to cook the blueberries a say ahead and chill in the refrigerator overnight to be sure.
Use heavy whipping cream. It will whip easier and hold it's shape longer than lower fat whipping cream.
Allow plenty of time for the ice cream to freeze … at least 6 hours or better yet, overnight. If the ice cream is too hard to scoop when taken out of the freezer, let it sit a few minutes on the counter to soften.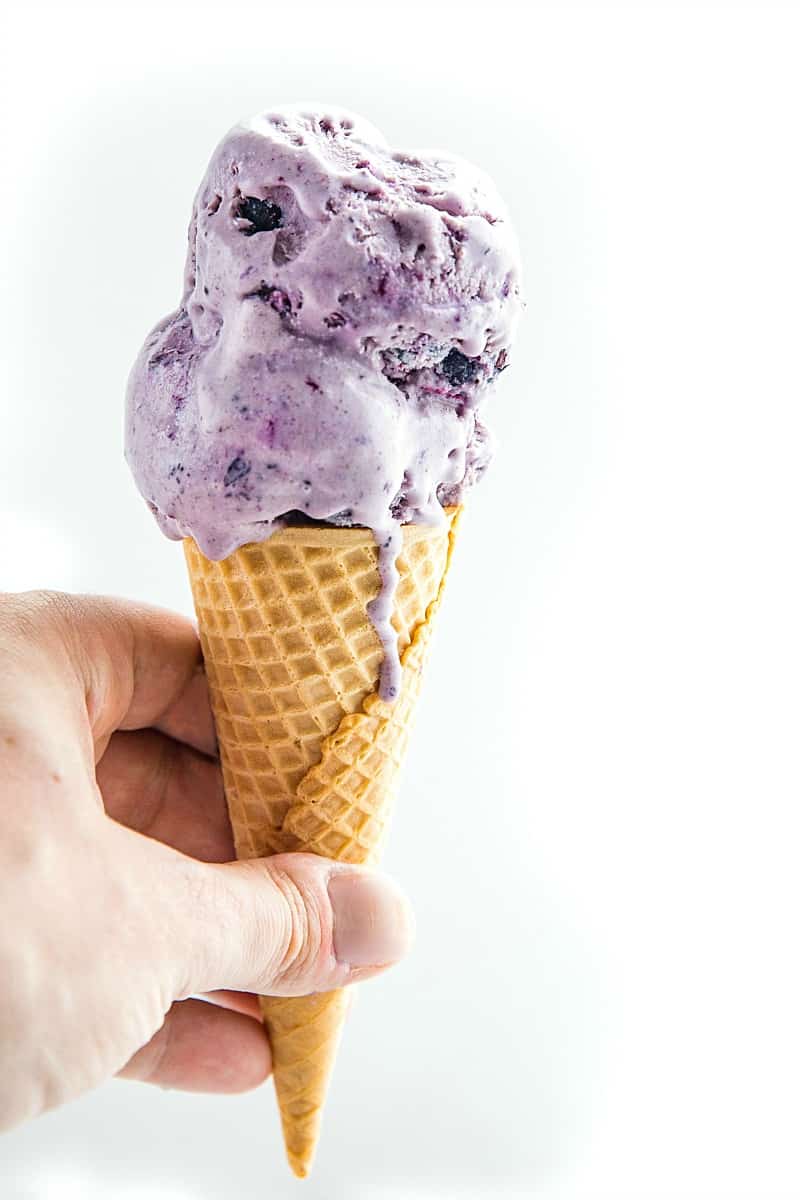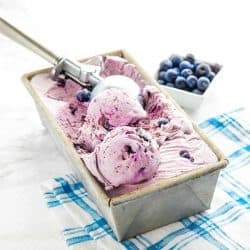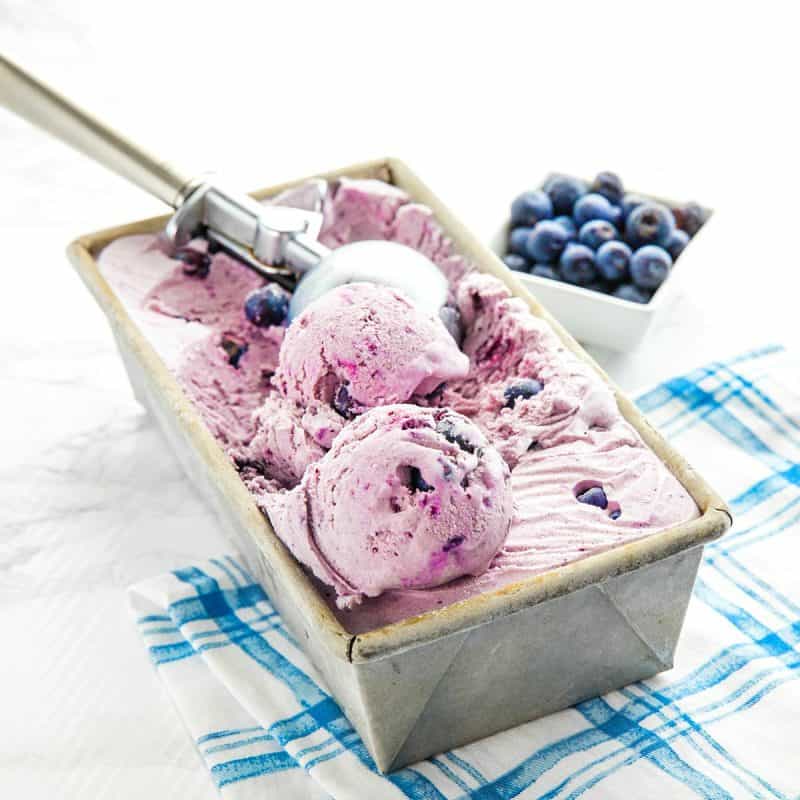 No Churn Cinnamon Blueberry Ice Cream
Amazing flavor with fresh blueberries and cinnamon, No Churn Cinnamon Blueberry Ice Cream is surprisingly easy to make. An easy frozen treat to rival any gourmet ice cream.
Instructions
In a small saucepan over medium heat, cook the blueberries, sugar and lemon juice until boiling, stirring occasionally. Reduce heat and simmer for 15 minutes until blueberry skins start to split and liquid is consistency of syrup. Remove from heat and cool completely.

In a large bowl, mix the condensed milk, vanilla, cinnamon and salt until well combined. Stir in the cooled blueberry syrup.

In a large bowl, beat the heavy cream, with mixer on high speed, until stiff peaks form, 1 – 2 minutes.

Fold 1/2 of the whipped cream into the condensed milk mixture gently with a rubber spatula until combined. Then fold in the remaining whipped cream until no white streaks remain.

Spoon the ice cream mixture into a freezer safe loaf pan (I used a metal pan) or a baking dish.

Cover with plastic wrap and freeze until firm, at least 6 hours or overnight.
Equipment Used
Nutrition Facts
Serving:
0.5
cup
Calories:
256
kcal
Carbohydrates:
31
g
Protein:
3
g
Fat:
14
g
Saturated Fat:
9
g
Cholesterol:
52
mg
Sodium:
78
mg
Potassium:
164
mg
Fiber:
1
g
Sugar:
29
g
Vitamin A:
539
IU
Vitamin C:
4
mg
Calcium:
115
mg
Iron:
1
mg
© Copyright Christine Mello for Must Love Home. We would love for you to share a link to this recipe but please do not copy/paste the recipe instructions to websites or social media. We are happy for you to share a photo with a link back to this website instead.