This post may contain affiliate links. Read my Disclosure Policy.
Velvety sweet with swirls of peanut butter sauce and toffee, No Churn Peanut Butter Ice Cream is surprisingly simple to make. With condensed milk and whipping cream, this easy frozen treat is so rich it tastes like you went to an ice cream parlor.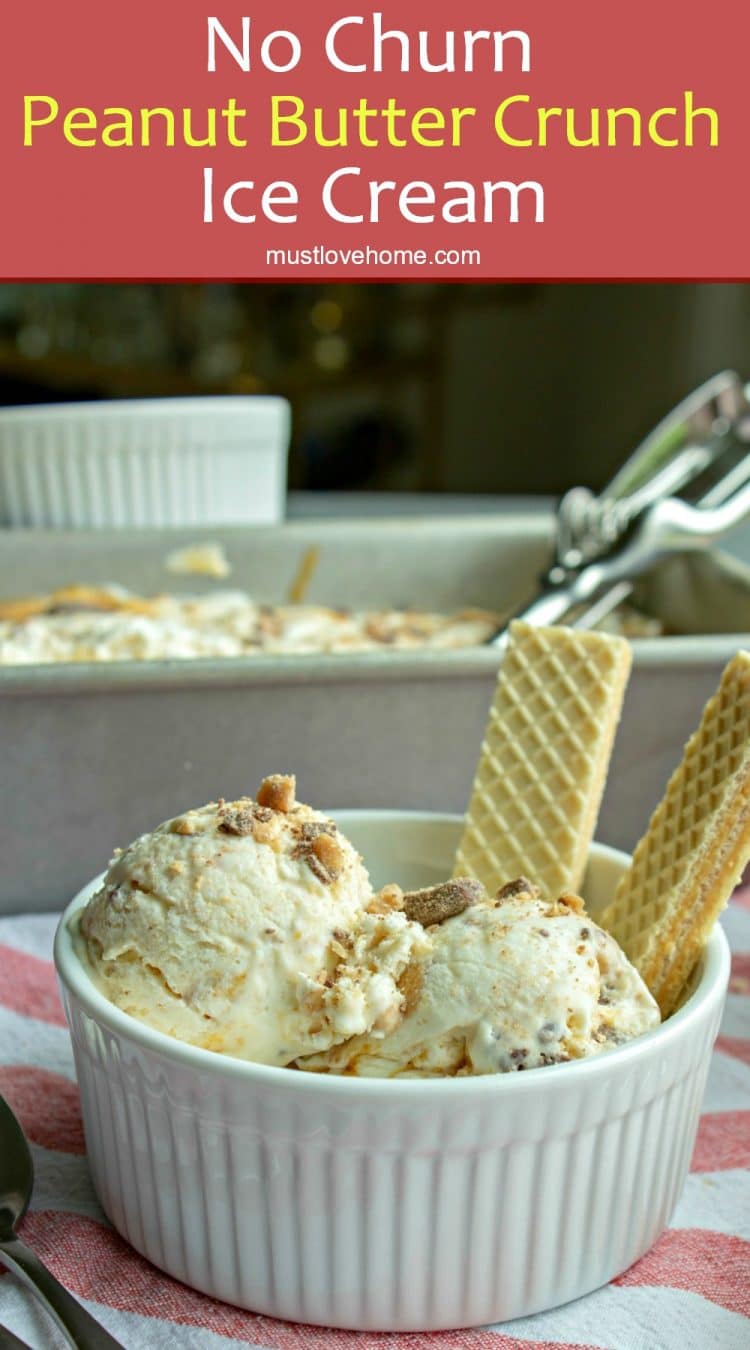 I love making homemade ice cream. For years I made it with my trusty kitchen stand mixer ice cream attachment. But the frustration…I could never remember to freeze the dang bowl.  Then I was gifted a fancy machine that could churn out batch after batch of frozen deliciousness without having to remember to freeze anything. The skies had opened up and the sun was shining on me!!  Then I discovered you could make really darn good ice cream without any maker at all…WHAT?  It's called No Churn! It is basic, no special equipment required and the ice cream is amazing. I am totally hooked and I think you will be too!
Reasons to love this No Churn Peanut Butter Crunch Ice Cream:
Amazing authentic ice cream flavor with no special equipment
Versatile – perfect for adding your own special touch by using favorite add-ins like chocolate chips or peanuts.
Economical – makes great ice cream for less than store bought
Easy to scoop – the whipped cream has lots of air so the ice cream is light.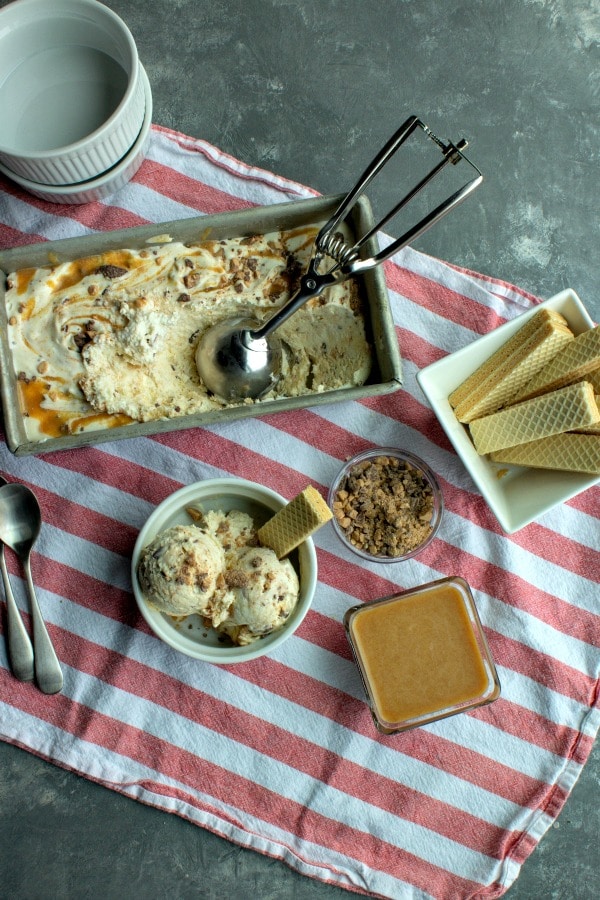 Love easy frozen desserts? Why not try my recipe for Frozen Lemon Blueberry Cheesecake Pie!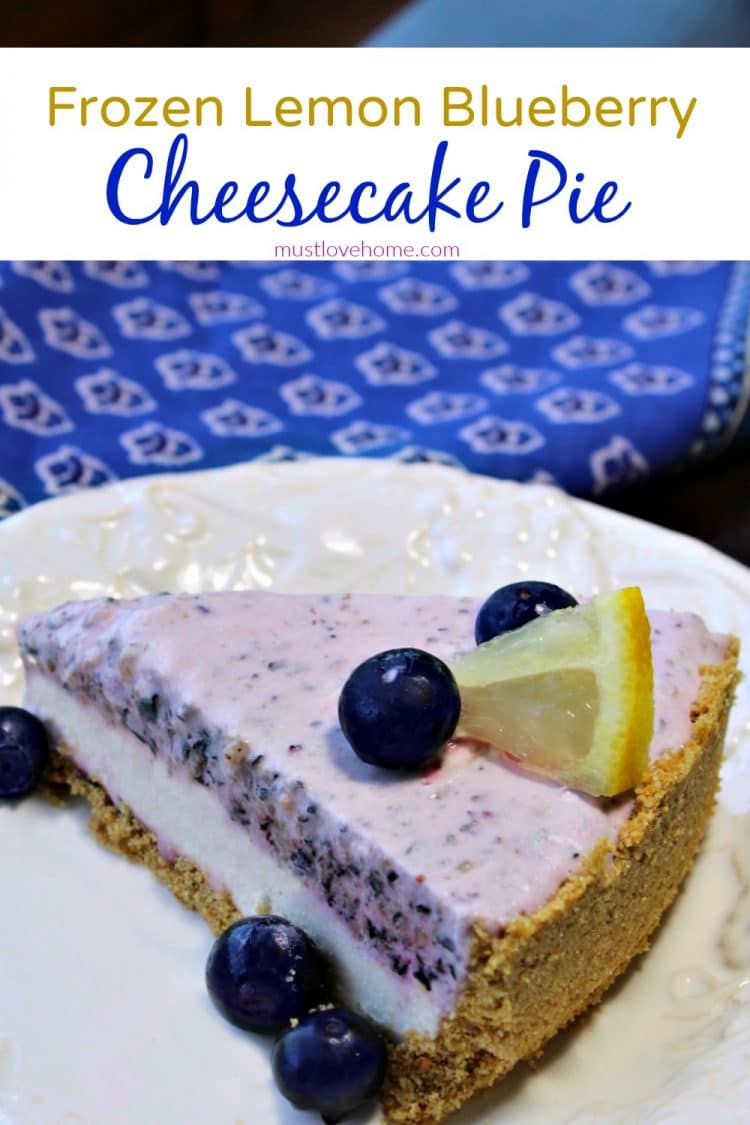 What does beating until "stiff peaks" form mean?
Recipes usually instruct you to whip cream to a particular firmness, or peak stage. When cream is whipped, air gets trapped inside and causes the cream to foam, grow in volume, and become stiff. There are soft, medium and stiff or firm peaks.
Soft peaks barely hold their shape. The peaks flop over immediately when the beaters are lifted.
Medium peaks hold their shape pretty well, except that the tip of the peak curls over on itself when the beaters are lifted.
Stiff or firm peaks stand straight up when the beaters are lifted. (Medium-stiff peaks are just stiff enough to stand up firmly but with a slight curl at the tip.)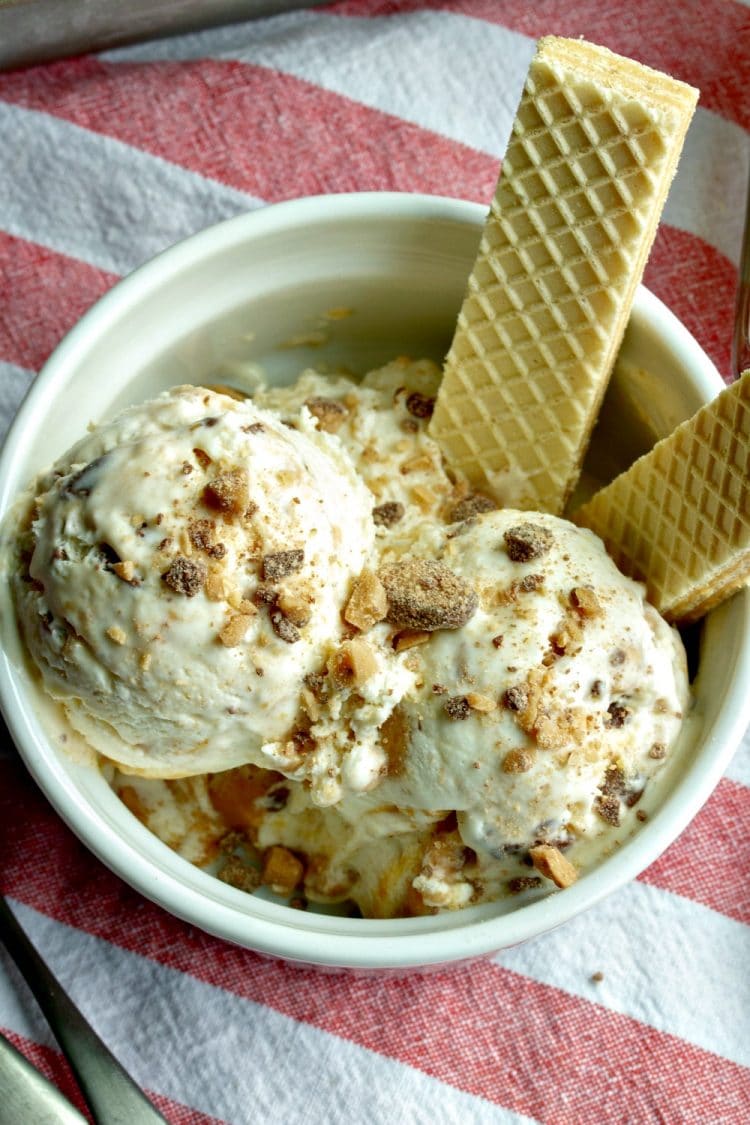 Tips for making the best No Churn Peanut Butter Crunch Ice Cream:
Completely chill all of your ingredients and tools before mixing. This will reduce freezing time.
Use heavy whipping cream (Heavy Cream). Heavy whipping cream will whip better and hold it's shape longer than regular whipping cream.
Allow plenty of freeze time, at least 6 hours or better yet, overnight.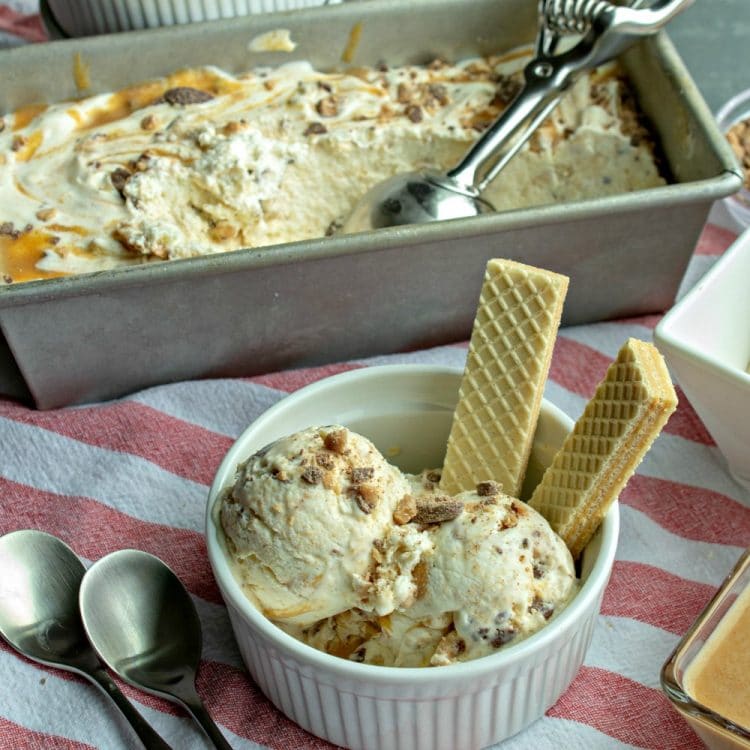 Helpful Tools and Ingredients: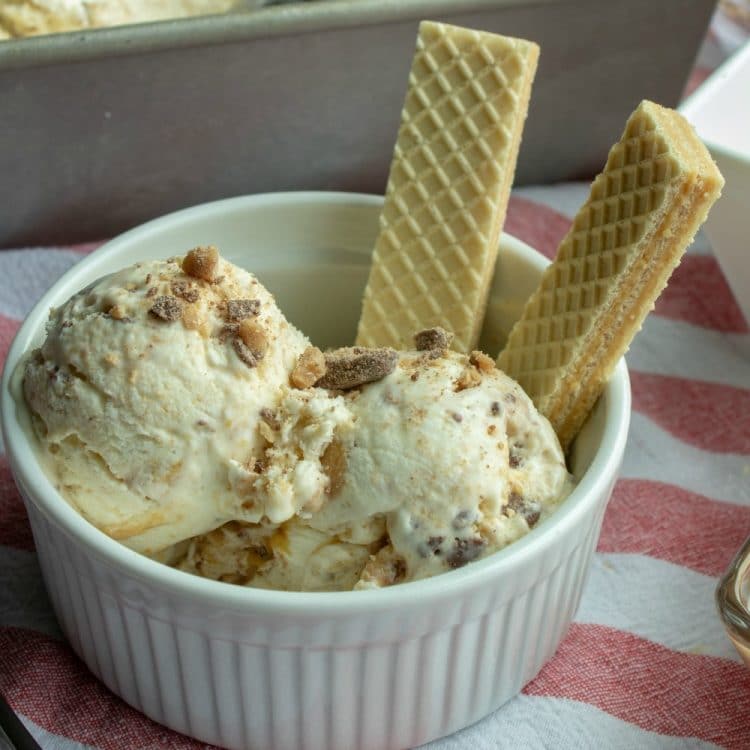 Electric Hand Mixer – this is the hand mixer that I have used for years. Still looks and works like brand new!
High Quality Ice Cream Scoop – I found these after searching for a scoop that would not break after a few uses. Different sizes are great for scooping  ice cream, muffins and cookies.
Print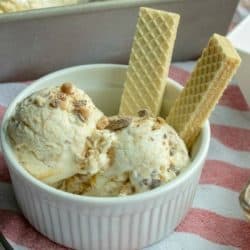 No Churn Peanut Butter Crunch Ice Cream
---
Author:

Prep Time:

15 minutes

Cook Time:

6 hours 15 minutes

Total Time:

6 hours 30 minutes

Yield:

6 cups

Category:

dessert

Method:

freezer

Cuisine:

American
Description
Velvety sweet with swirls of peanut butter and toffee, No Churn Peanut Butter Ice Cream is surprisingly simple to make. With condensed milk and whipping cream, this easy frozen treat is so rich it tastes like you went to an ice cream parlor.
---
Ingredients
For the Peanut Butter Sauce:
1/2 cup natural creamy peanut butter (the kind you have to stir)
1/2 cup heavy whipping cream
2 Tablespoons llight corn syrup
3 tablespoons white granulated sugar
1/4 teaspoon vanilla extract
For the Ice Cream:
3/4 cup sweetened condensed milk
1 1/2 cups plus 1 tablespoon heavy whipping cream
1/8 teaspoon salt
1/2 cup toffee baking bits
Extra toffee bits and wafer cookies to garnish (optional)
---
Instructions
Peanut Butter Sauce:
In a small saucepan over medium heat, combine the heavy whipping cream, corn syrup, sugar and vanilla until the sugar is completely dissolved and the mixture is smooth.
Remove the saucepan from the heat and allow the mixture to cool completely.
Add the peanut butter to the mixture and keep stirring until the peanut butter is well blended in.  It will have a grain texture but that is normal. Refrigerate the sauce to chill.
For the Ice Cream:
Whisk the condensed milk, 1 tablespoon of heavy cream and the salt in a large bowl until smooth.
Beat the remaining 1 1/2 cups heavy cream in another large bowl, with mixer on high speed until stiff peaks form, 1 – 2 minutes.
Fold 1/2 of the whipped cream into the condensed milk mixture gently with a rubber spatula until combined. Then fold in the remaining whipped cream until no white streaks remain.
Drop spoonfuls of the peanut butter sauce on the whipped cream mixture and sprinkle all but 1 tablespoon of the toffee bits. Drag a rubber spatula thru the mixture to lightly swirl.
Spoon the ice cream mixture into a freezer safe loaf pan (I used a metal pan) or a baking dish.
Spoon the remaining peanut butter sauce onto the ice cream mixture and sprinkle the remaining tablespoon of toffee bits. Lightly drag the rubber spatula thru the top to swirl.
Cover with plastic wrap and freeze until firm, at least  6 hours or overnight.
Notes
Cook time includes time for ice cream to freeze.
Make extra peanut butter sauce to drizzle over the ice cream to serve!
If substituting regular sugar-added peanut butter for the natural peanut butter, omit adding the 3 tablespoons of sugar to the sauce recipe.