Mini Mexican Tortas are little sandwiches filled with spicy chicken, guacamole and Queso Fresco served up on a warm toasted roll – perfect as appetizers or serve with beans and rice for a complete meal!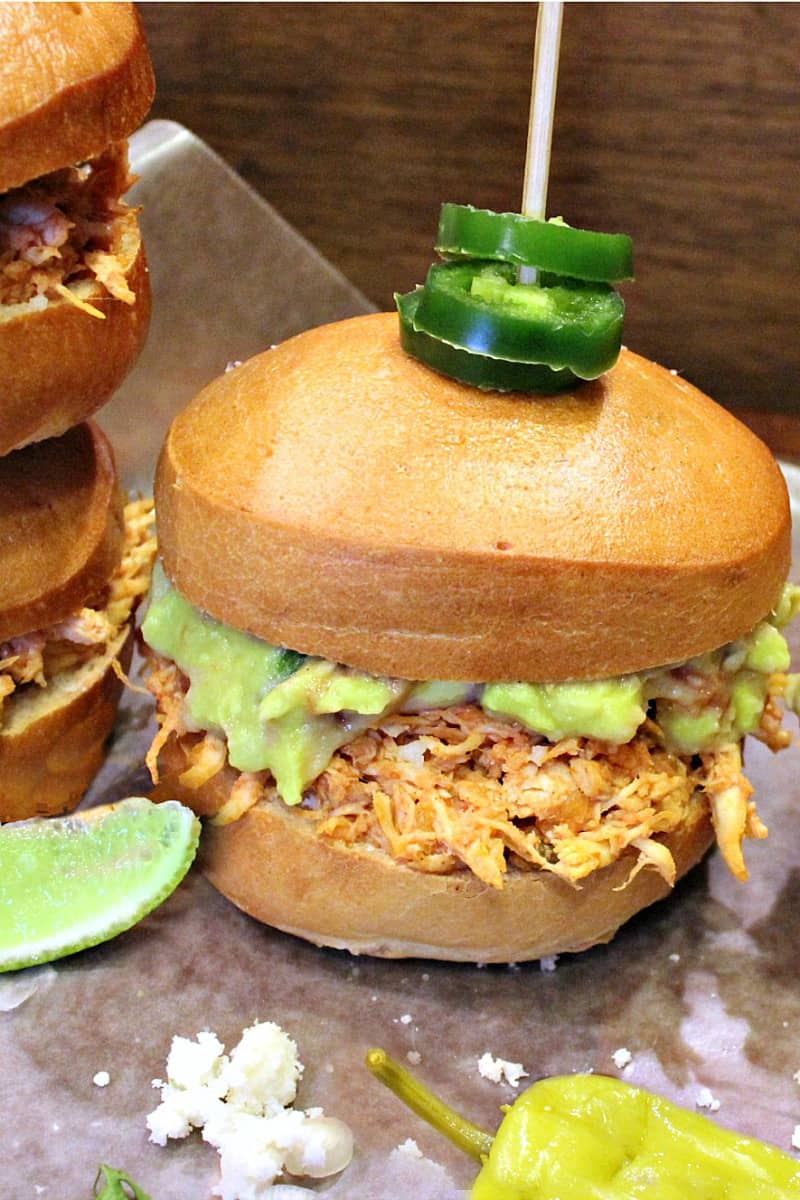 If you are having a get together, I strongly urge you to serve these spicy little bundles of creamy, chewy, decadent flavor! Oh my! I almost didn't want to taste them because they looked so cute stacked up, but after I took a huge bite to get the full effect I really started wondering what other deliciousness I have been missing in my life! Anyway, I went a little berserk and inhaled two more before I remembered that I want to share this with you. This is how you can make them…and you may want to double or triple the recipe for a crowd!
Ingredients Needed To Make Mini Mexican Tortas
Chicken Breasts
Salsa
Queso Fresco
Guacamole
Small rolls
One of the shortcuts (lazy) I took was to use pre and ready made ingredients. I bought the guacamole at the grocery and I always have cooked, shredded chicken in the freezer with my Slow Cooker Shredded Chicken recipe. Life is easy when the freezer is stocked!
In a large skillet over medium heat, warm the chicken. Pour the salsa over the chicken and stir around to combine and heat thru. Isn't this a lovely site, and if you could smell this…well, you would be inviting yourself to the party! Set aside.
Turn on your oven broiler. Lay the split rolls on a pan, cut side up, and lightly toast under the broiler. Remove from the oven and spoon meat mixture, about 1/4 cup each, onto the bottom half of the rolls. Did you notice that I used my best beat up and browned sheet pan to show off these buns?
Divide the queso fresco equally on top of the meat mixture. Return to the broiler just until the cheese is melted. Remove from the oven, spoon guacamole on top of the cheese and replace the top of the roll. Serve warm with peppers on the side. Note* I like ALOT more cheese on these, but I took it easy so you could see the chicken underneath…just telling it like it is!
To jazz it up even more, squirt a little fresh lime juice on top before adding the roll top. I decided to make them real purdy for you by holding the tortas together with a skewer threaded with peppers!