Homemade Buttermilk Ranch Dressing made creamy, tangy and full of herbs. This easy dressing is so tasty you'll never want bottled RANCH again!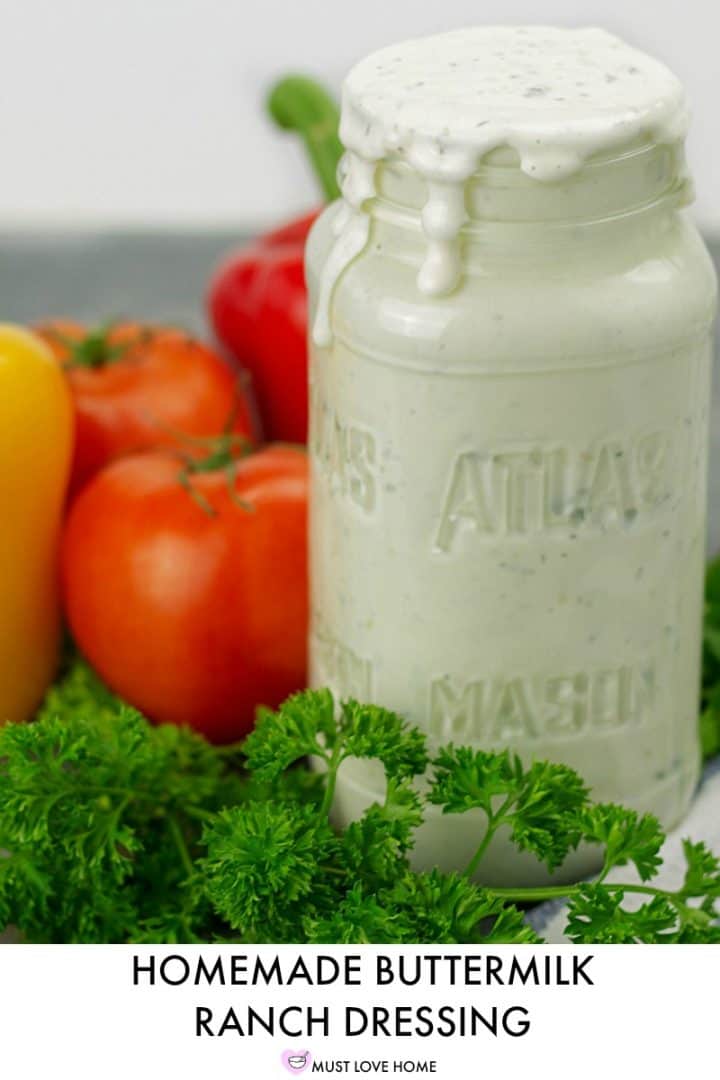 Ranch dressing is one of those staples that seems to live in every fridge in America. It's the number one salad dressing in America and our house is no exception. My sons drown everything they eat in ranch, and last week I saw my husband eating a ranch wrap sandwich. You know…ranch dressing on a wrap, a few shreds of cheese…and more ranch. Whoa hoss, get back here!
Necessity drove me to start making my own ranch salad dressing. Ever reach into your pantry expecting to find the ranch dressing you just bought, and find it gone? Yep, me too. To finish a recipe I was making, I punted and made my own. Turns out it was better than anything I ever tasted from the store, and homemade ranch is now the standard around here. That's okay because it's easy to make… and I can hide it in the vegetable drawer where they will never find it!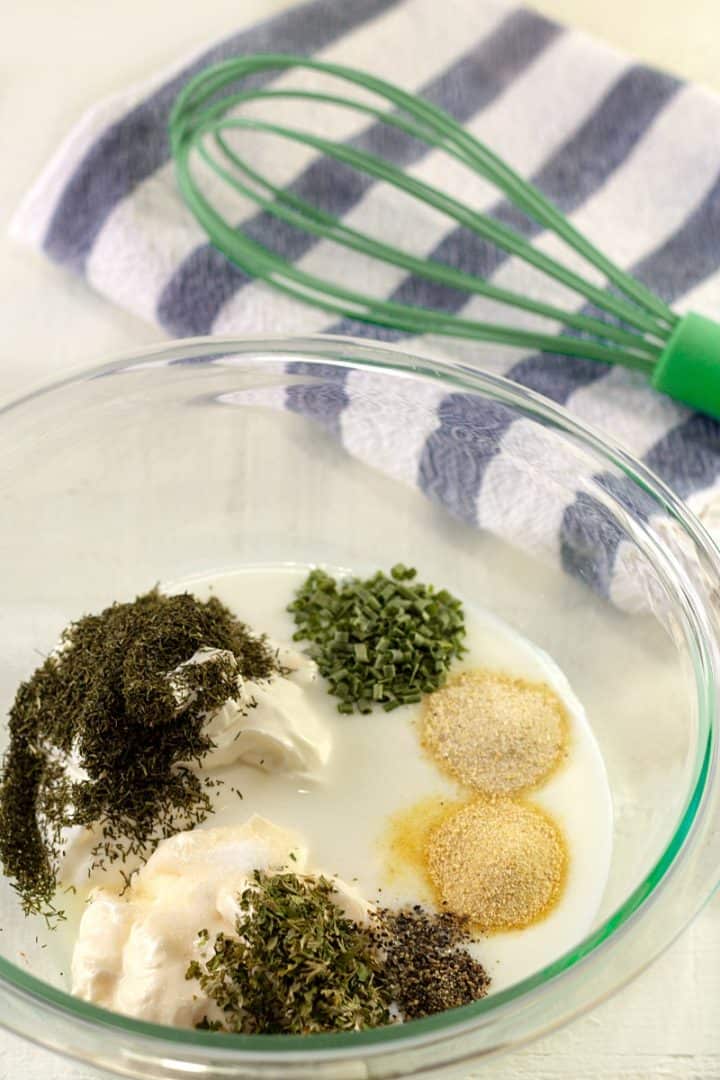 HOW TO MAKE HOMEMADE BUTTERMILK RANCH DRESSING
One of the great things about this recipe is that no special ingredients or fresh herbs are required. I grow my own herbs during the summer so I might add some then, but that's it. For great ranch, you'll need mayonnaise, sour cream and buttermilk. You'll also want spices like garlic, onion powder, parsley and chives that you probably already have in your pantry.
To make the dressing, put everything into a bowl and stir. I just throw everything into a mason jar and shake it. Let it sit in the fridge for an hour or so to let the flavors combine.
IS HOMEMADE BUTTERMILK RANCH DRESSING LOW CARB OR KETO?
Yes, this ranch dressing is KETO friendly, with only 0.7 grams of carbs per 1 Tablespoon, based on using full fat mayonnaise and sour cream. If you like, substitute a 1/2 teaspoon of erythritol for the sugar to make the dressing sugar-free.
WHAT IS A GOOD SUBSTITUTE FOR BUTTERMILK?
Buttermilk is great for adding tang to lots of dishes, including dressing. It acts as an acid in cooking. But if you don't have it or don't want to use it there are lots of substitutes to use:
Add 1 tablespoon vinegar or lemon juice to a measuring cup. Add enough milk to measure 1 cup. Let it sit for 5 minutes to develop. This equals 1 cup of buttermilk for a recipe.
Replace 1 cup of buttermilk with 1 cup sour cream thinned with a few tablespoons of milk.
1/4 cup milk mixed with 3/4 cup plain yogurt substitutes for 1 cup buttermilk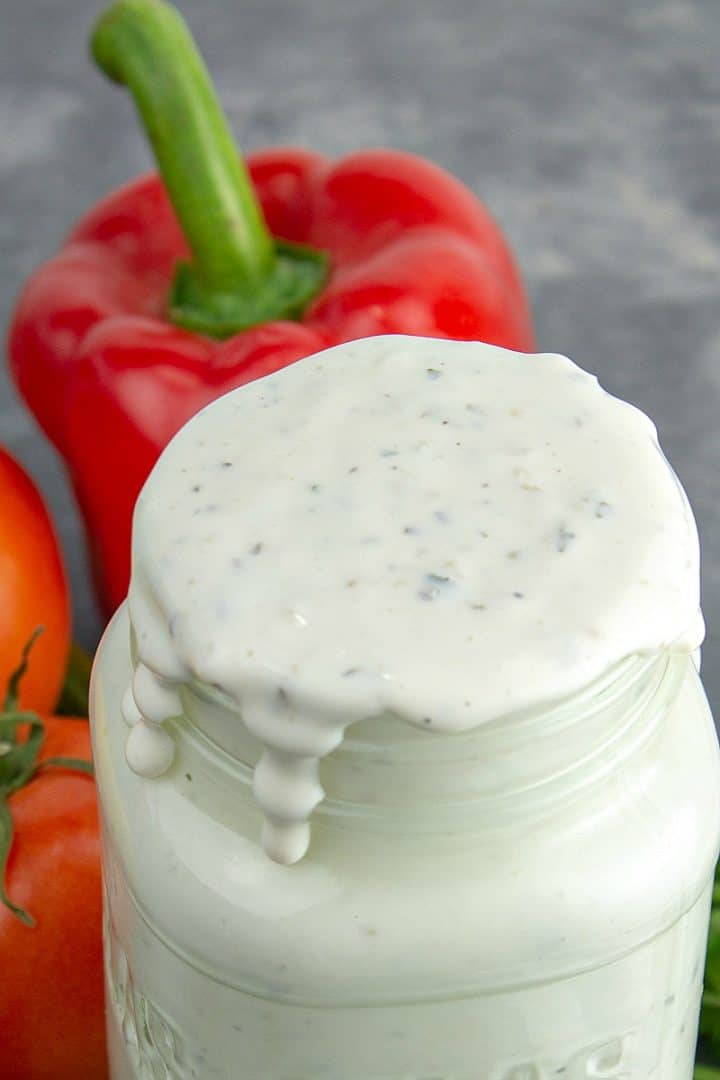 MORE SALAD DRESSING IDEAS
Creamy Herb Greek Yogurt Dressing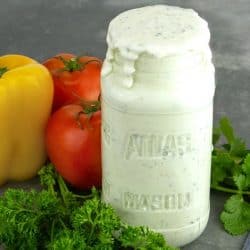 Homemade Buttermilk Ranch Dressing
Creamy, tangy and full of herbs, this easy buttermilk dressing is so tasty you'll never want bottled again!
Ingredients
1/2

cup

mayonnaise

1/2

cup

sour cream

1/2

cup

buttermilk

1

tsp

fresh lemon juice or vinegar

1/2

tsp

dried parsley

1/2

tsp

dried chives

1/2

tsp

garlic powder

1/4

tsp

onion powder

1/4

tsp

kosher salt

1/4

tsp

granulated sugar

1/8

tsp

ground black pepper

1/2

tsp

minced garlic

optional

1/2

tsp

dried minced onion

optional

1/2

tsp

dried dill weed

optional
Instructions
Add all ingredients to a medium bowl. Sir until well combined.

Cover and refrigerate for at least 1 hour to allow flavors to blend.
Notes
Store covered in the refrigerator for up to 1 week.
To lower calories and fat, I have used light mayonnaise and reduced fat sour cream to make this ranch. Still delicious!
For more robust flavor, try adding minced garlic, dried minced onion and dried dill weed to the recipe. I have made it either way and all are super tasty.
Nutrition information is based on using full fat mayonnaise and sour cream.
Nutrition Facts
Serving:
2
Tablespoons
Calories:
91
kcal
Carbohydrates:
1
g
Protein:
1
g
Fat:
9
g
Saturated Fat:
2
g
Cholesterol:
10
mg
Sodium:
126
mg
Potassium:
36
mg
Fiber:
1
g
Sugar:
1
g
Vitamin A:
223
IU
Vitamin C:
2
mg
Calcium:
24
mg
Iron:
1
mg
© Copyright Christine Mello for Must Love Home. We would love for you to share a link to this recipe but please do not copy/paste the recipe instructions to websites or social media. We are happy for you to share a photo with a link back to this website instead.