This freezer meal easy skillet cheese steak with peppers is the BEST! With tender shaved steak, peppers, onions and spices it's everything you could want in a freezer meal – delicious, pan ready and served in minutes.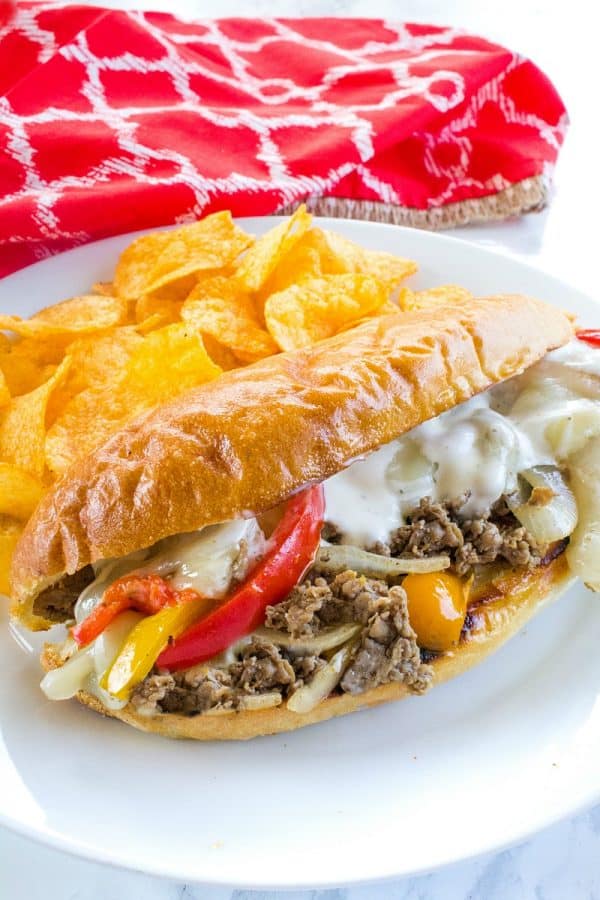 FREEZER MEAL EASY SKILLET CHEESE STEAK WITH PEPPERS
Freezer meals are my new favorite thing and this easy freezer meal Philly cheese steak has shot to the top of house favorites.
Before anyone gets upset, let me say that I know that this isn't real Philly Cheese Steak. But it's close, for a homemade freezer meal. And it has peppers…if that offends you, then leave them out. It will still be plenty tasty with the seasoned beef, cheese and onions!
Without having to really cook every night, freezer meals free up time for so many other things, like just sitting back and enjoying the early setting sun. Honestly, now if I look at a recipe and that bugger can't be frozen or at least made ahead of time, it's gone. No really, but I am thinking it. If you are loving freezer meals too, you'll want to try Freezer Meal Sweet Spicy Chicken and Freezer Meal Honey Maple Mustard Chicken.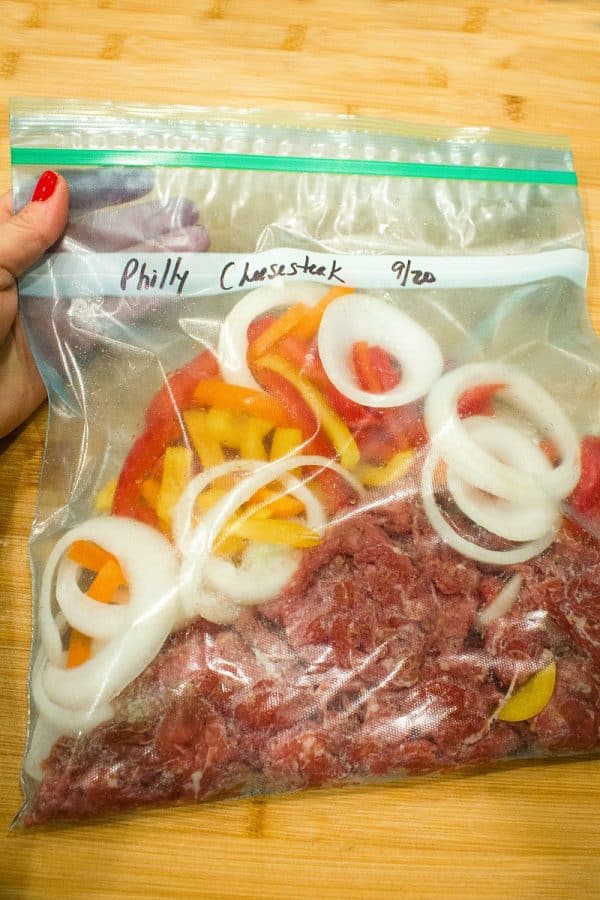 Make up multiples of this freezer meal so when the cravings for Cheese Steak starts, you are ready. It only takes minutes to prep, then you just toss everything in freezer bags. I made up 10 of these meals in less than 30 minutes! The great thing about this recipe is that you don't need to thaw before you cook it. The steak is cut so thin that it cooks right away, no center to thaw. Just leave the cheese on the counter to soften while you cook.
If you froze the rolls for the sandwiches, pop them uncovered in the microwave for a minute to thaw. If you don't have a microwave, put the rolls on a baking sheet in the oven at 300°F to thaw while you cook. After about 5 minutes, cut the rolls in half and open up on the baking sheet. Keep in the oven until they're thawed. Just keep an eye on them so they don't get hard on the outside.
Tips for Making Freezer Meal Philly Cheese Steaks
I used shaved steak for this freezer meal, but you could easily use your favorite cut of beef and just slice it very thin. It's easiest to do if the steak is partially frozen.
Buy the rolls the same time as the beef. Freeze them in a bag next to the cheese steaks so you'll have them on hand when the hunger hits.
Make multiples so you only have to clean up meal prepping once. It's a breeze to clean up after supper when you eat freezer meals!
What's the best meat to use for Philly Cheese Steaks?
Traditionally, ribeye steak is the meat of choice for a cheese steak sandwich because it's flavorful and has enough marbling to saute well. But that cut can be pricey. As an alternative, skirt steak is a good choice as well as sirloin.
Save your fingers and have the butcher shave the meat for you. I asked at the grocery and they said they do it all the time…must be lots of other cheese steak lovers out there! . Some stores carry shaved beef in the meat case, so that's an option too.
What is Shaved Steak?
Shaved steak is extremely thin slices of beef, cut across the grain of the meat. The beauty is with beef sliced this thin, it can come from any part of the steer and still be amazingly tender. It's usually sold in pre-packaged flats in the meat case and is generally more affordable than whole cuts of steak.
You could buy a steak, partially freeze it, then cut it into paper thin slices yourself, but that's hard on the hands. No need for all that drama if you go for the shaved steak.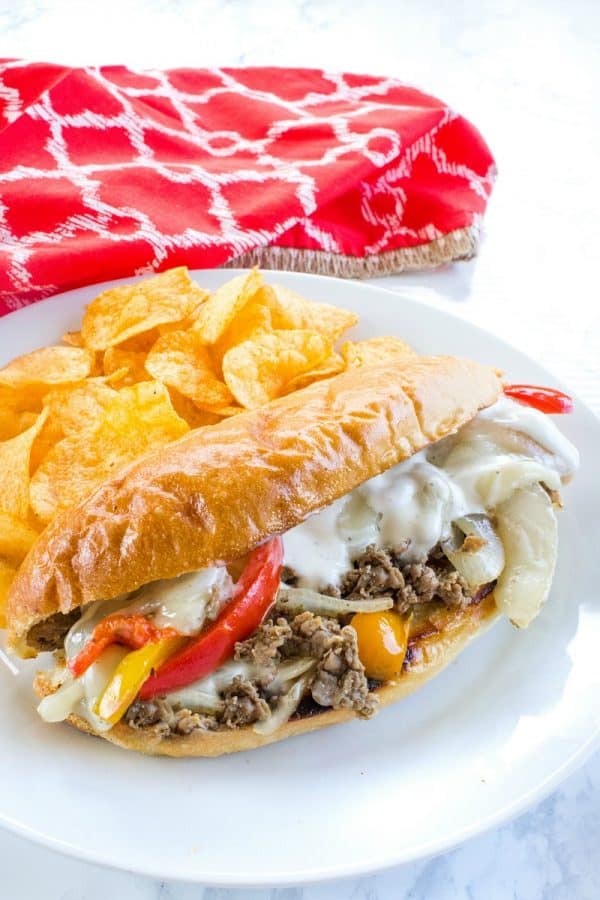 Tools to make Freezer Meal Skillet Cheese Steaks
EverSharp Pro Chef's Knife – it's my go-to knife….perfect 8-inch blade for all your kitchen cutting, slicing and chopping without ever needing sharpened!
Glass Nesting Bowls – the bowls I use all the time for mixing recipe ingredients, whipping cream and the large one is great for serving salad too!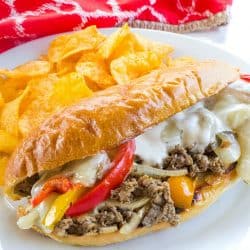 Easy Freezer Meal Philly Cheesesteaks
Freezer meal philly cheesesteak is the BEST! With tender shaved steak, peppers, onions and spices It's everything you could want in a freezer meal and ready in minutes.
Ingredients
FREEZE WITH
1

medium

red pepper

seeded, stemmed and sliced

1

medium

yellow pepper

seeded, stemmed and sliced

1

large

yellow onion

peeled and sliced into 1/4-inch thick rings

8

ounces

provolone cheese

sliced and wrapped in plastic
Instructions
Place steak with seasonings in large freezer bag, top with peppers and onions. Clip cheese to bag or place cheese in separate container. Seal, label and store in freezer for up to 3 months.
TO COOK
Pour frozen or thawed contents of bag into a heated skillet with 1 TBSP of oil. Toss and cook over medium-heat until steak is cooked and vegetables are tender, about 10 minutes. Natural moisture from the vegetables should evaporate as they cook.

Divide steak and vegetables into 4 even portions in pan. Top each with 2 slices of provolone cheese. Continue to cook until cheese is melted. Transfer each to a hoagie roll and serve.
Nutrition Facts
Nutrition Facts
Easy Freezer Meal Philly Cheesesteaks
Amount per Serving
% Daily Value*
* Percent Daily Values are based on a 2000 calorie diet.
© Copyright Christine Mello for Must Love Home. We would love for you to share a link to this recipe but please do not copy/paste the recipe instructions to websites or social media. We are happy for you to share a photo with a link back to this website instead.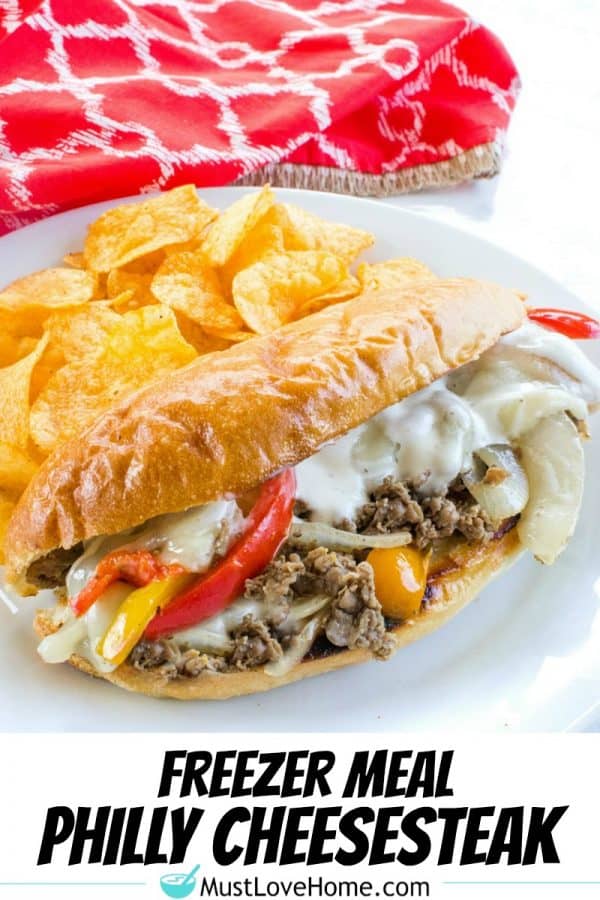 If you made this recipe, please leave a comment and rating. I would appreciate the chance to troubleshoot any issues you might have had before you leave the rating!