Freezer Meal Beef and Gravy – economical cubed chuck roast made with tasty onion and mushroom gravy. It's a perfect no-fuss meal.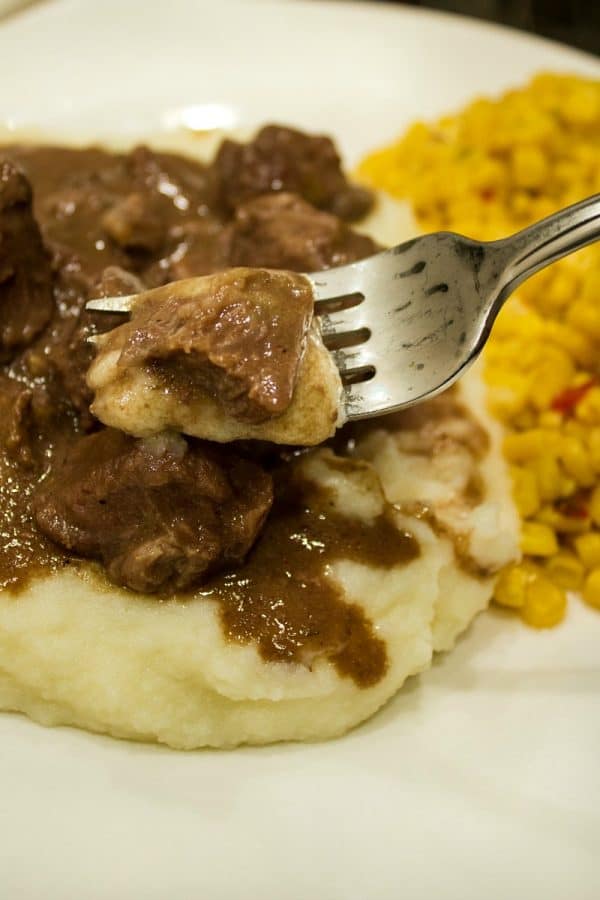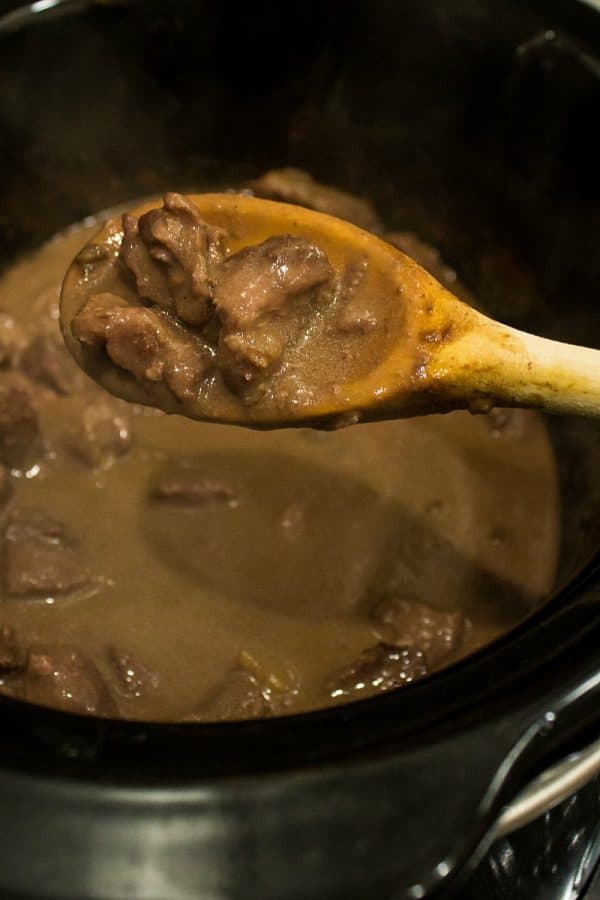 There's nothing better (or easier) than heading to the freezer and pulling out a ready-to-go meal for supper. Pop it into the oven or slow cooker (no thawing required) and you have dinner started. It's hands free from there. Serve over mashed potatoes or even easier, a baked potato, and you have a meat and potatoes dinner that will satisfy even the big appetites at your table. This meal is so nice and cozy on a cold winter night!
Remember the old saying, "Don't judge a book by it's cover", well this is a good example. Let's be honest, it's hard to make cooked brown food look good in a photo without adding other brightly colored things to it. For this freezer recipe, I want you to see exactly how it looks after cooking. Here you have it…in all it's brown gravy glory!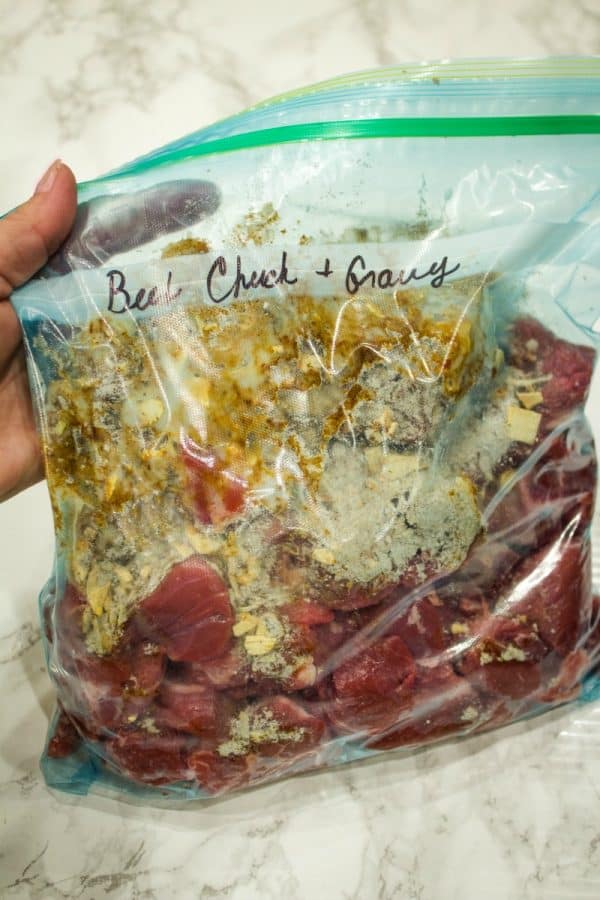 Let me tell ya, I love going to the freezer and pulling out one of these meals. AND saving money by buying a large chuck roast that can be easily cut into cubes. It's more budget friendly than buying stew meat and 4 dinners can be prepped for the freezer in about 20 minutes. Honestly, most of that time spent cutting up the meat! Speaking of time, this is one of those recipes that you can throw in the pot then put on your sweats to relax and wait for dinner to be done.
Tip – Keep the freezer and pantry stocked with easy ready-to-heat sides like veggies, mashed potatoes and rice.
*Freezer bags generally take up less space than containers, so if space is limited use the bags. I use throw away bags, but freezer-safe reusable plastic bags might be something to investigate.
How To Make Freezer Meal Beef and Gravy
This is a super simple freezer recipe with only 3 ingredients. There's one more to add if you want to thin out the gravy with beef broth.
There are two ways to make freezer meal beef and gravy that I always have success with. One's the oven method, and second, which is also my life-saver, the slow cooker or crock pot. With the oven method, the beef and sauce need to thaw in the fridge first so I resort to the slow cooker most of the time because I forget to take the bag out to thaw.
Other Good Info:
Only 3 Ingredients – beef roast, condensed cream of mushroom soup and beef onion soup mix.
Easily Doubled, Tripled or Cut in Half – an average chuck roast at my grocery store is about 3 pounds, so I use one chuck roast to make 2 meals for my family of grown men. When they're on sale, I get 2 roasts to make 4 meals. If your family is smaller, divide the freezer meal into smaller portions. Easy!
Deliciously Adaptable – the best part about this recipe is that you can easily change it to use your favorites. Swap out the mushroom soup for cream of potato or celery for a totally different flavor of the gravy. Or substitute ranch or Italian dressing mix for the onion soup mix. All are amazing!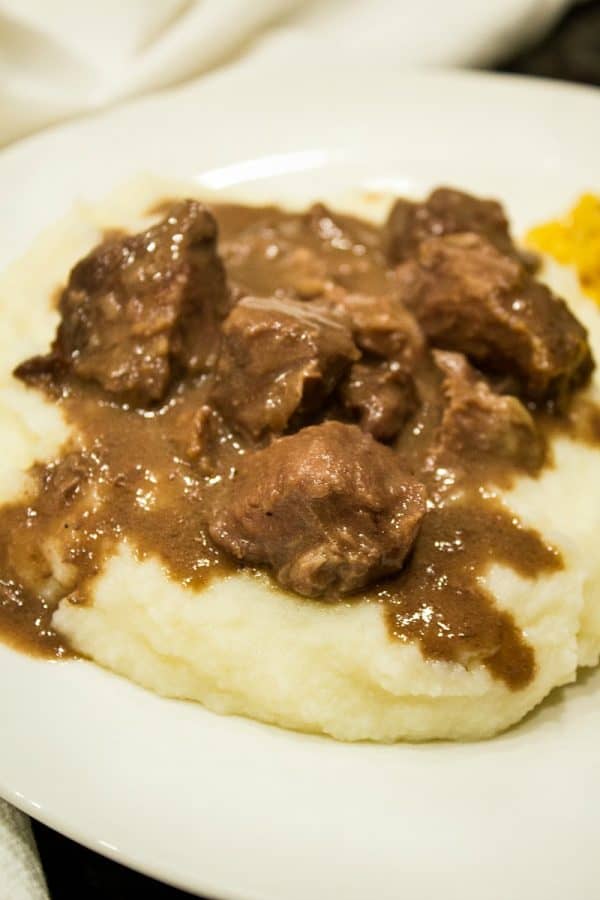 More Freezer Meal Recipes To Try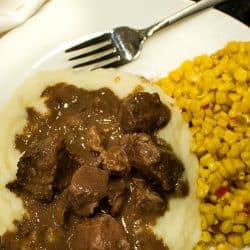 Freezer Meal Beef and Gravy
Freezer Meal Beef and Gravy – economical cubed chuck roast made with tasty onion and mushroom gravy. It's a perfect no-fuss meal.
Ingredients
Blend Into Sauce
1

packet

beef onion dry soup mix

10.5

ounce

condensed cream of mushroom soup

undiluted

2

cups

beef broth

optional
Freeze With
1.5

pounds

beef chuck roast

cubed
Instructions
In The Oven
Preheat oven to 350°F. Arrange thawed beef on greased pan, pour remaining sauce over the beef. Cover with aluminum foil and bake for 50 – 60 minutes, Stir at halfway thru the cooking time. Beef should reach an internal temperature of 145 – 155°F before eating.
In the Slow Cooker
Dump frozen or thawed beef and sauce into the slow cooker. Cook on High for 3 – 4 hours or Low 6 – 7 hours. Stir occasionally during cooking.
Nutrition Facts
Nutrition Facts
Freezer Meal Beef and Gravy
Amount per Serving
% Daily Value*
* Percent Daily Values are based on a 2000 calorie diet.
© Copyright Christine Mello for Must Love Home. We would love for you to share a link to this recipe but please do not copy/paste the recipe instructions to websites or social media. We are happy for you to share a photo with a link back to this website instead.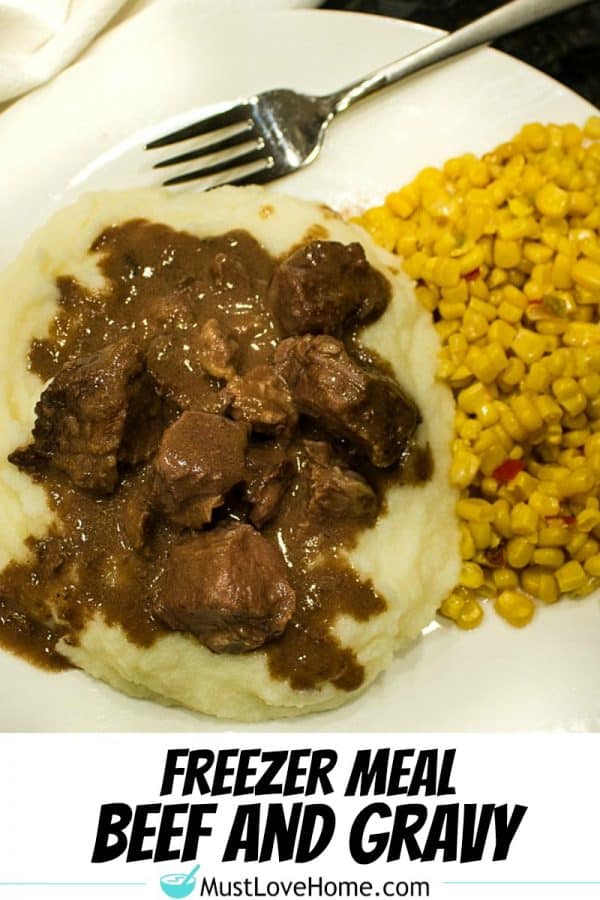 If you made this recipe, please leave a comment and rating. I would appreciate the chance to troubleshoot any issues you might have had before you leave the rating!