Make Ahead Pumpkin Pie let's you get a jump on Thanksgiving baking, freeing up time and oven space. Pie can be made it up to two days ahead or frozen and thawed just in time for the feast.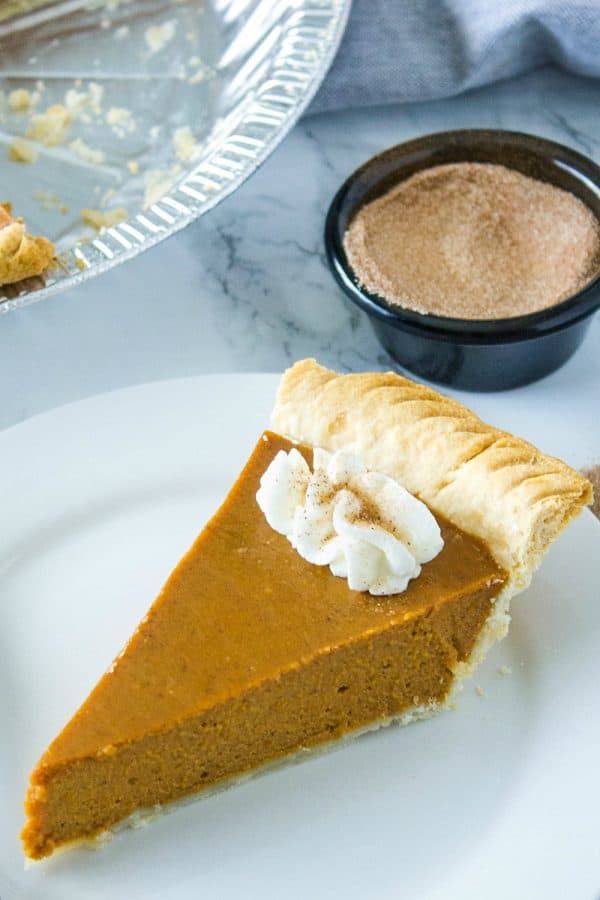 When I started thinking about cooking for the holidays this year, my main concern was how to make it easier. Let's face it, many of us do all the cooking ourselves and shortcuts can be a lifesaver. This year, my plan is to make-ahead everything I can get away with and stash it in the fridge or the freezer until it's needed. I feel better already.
This easy Make Ahead Pumpkin Pie is a keeper. Not only does it taste amazing, but it gets even better sitting in the fridge or freezer. Now, making your own pie crust is awesome, but my hands were tired from cookie baking, so I opted for refrigerated dough for this pie.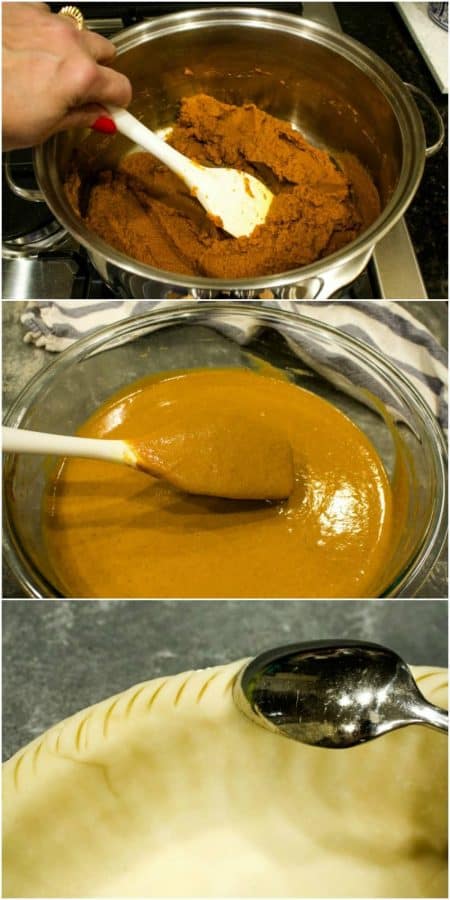 WHAT KIND OF PIE CRUST DOUGH TO USE
For this pie, I used refrigerated pie dough that comes 2 crusts to a box. If you're using this kind, let it warm up before trying to roll it out. If the dough is too cold, it will break apart. After rolling, place it in the pie pan, press down on the bottom and sides and crimp the edges. There's usually not much extra dough, so I just tuck it under the edges before crimping. Usually I make several pies at a time for freezing, so I use aluminum foil pans, but if I was only making one pie, I would use a glass or ceramic pie pan.
The easiest choice for a crust is a refrigerated or frozen crust that's already rolled and in it's own pie pan. All you need to do for that type of crust is pour in the filling and bake.
If your feeling ambitious or just like your own crust the best, then feel free. I call this an Easy Make Ahead pumpkin Pie because I'm not making my own dough.
HOW TO MAKE EASY MAKE AHEAD PUMPKIN PIE
One of the first things I do when using canned pumpkin puree is to cook it for a few minutes on the stove. Add the pumpkin, spices and salt to a heavy saucepan. Cook over medium-high heat until the pumpkin starts to steam. This removes the "canned" flavor from the pumpkin and starts to release the flavors of the spices. Transfer to a mixing bowl and let the mixture cool down.
While the pumpkin is cooling, get the pie crust ready. In a small bowl, beat the egg white until frothy. Use a pastry brush to very lightly coat the pie dough with egg white. This will keep your dough from getting soggy while the pie bakes.
Once cool, add the eggs, sweetened condensed milk (NOT evaporated milk), and vanilla. Mix until everything is well combined. Remember that the eggs need to be at room temperature to mix well. If you forgot to take out the eggs, you can put them in a bowl of warm (not hot) water and let them sit until they are no longer chilled.
Pour the filling into the crust, smooth the top, then bake in a preheated 400 degree oven for 10 minutes. Then lower the oven temperature to 350 degrees and continue to bake for 35 to 40 minutes. Just watch the oven…the pie is done when the filling is almost set. it should be a little wobbly right in the center. This is good. The pie will continue to cook after you remove it from the oven and the center will be firm once it's cooled.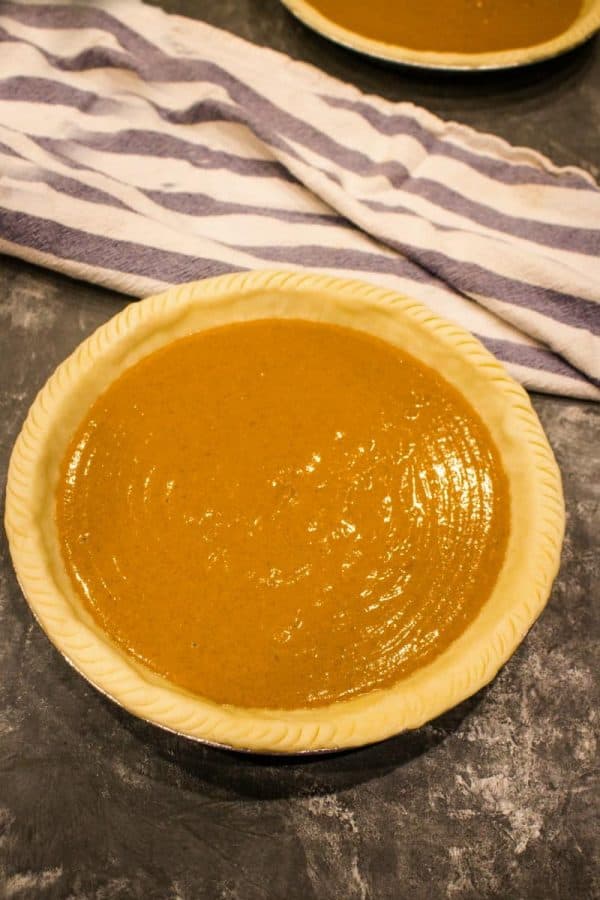 This crust was crimped with the edge of a spoon. I like the way it looks better than crimped with a fork. The fun part is that you can make any kind of designed you want. I finally bought an awesome silicone adjustable pie crust shield so I wouldn't have to deal with using foil anymore. I wish I had bought it years ago and saved myself a lot of grief.
ARE EVAPORATED MILK AND SWEETENED CONDENSED MILK THE SAME THING?
No, they're definitely different. The main difference between evaporated milk and sweetened condensed milk is that one contains added sugar and the other doesn't. Both are canned, shelf-stable and made from cows milk that has had the water content reduced, however sweetened condensed milk is just what the label says…sweetened, while evaporated milk is not. One can of sweetened condensed milk can contain more than 2 cups of sugar.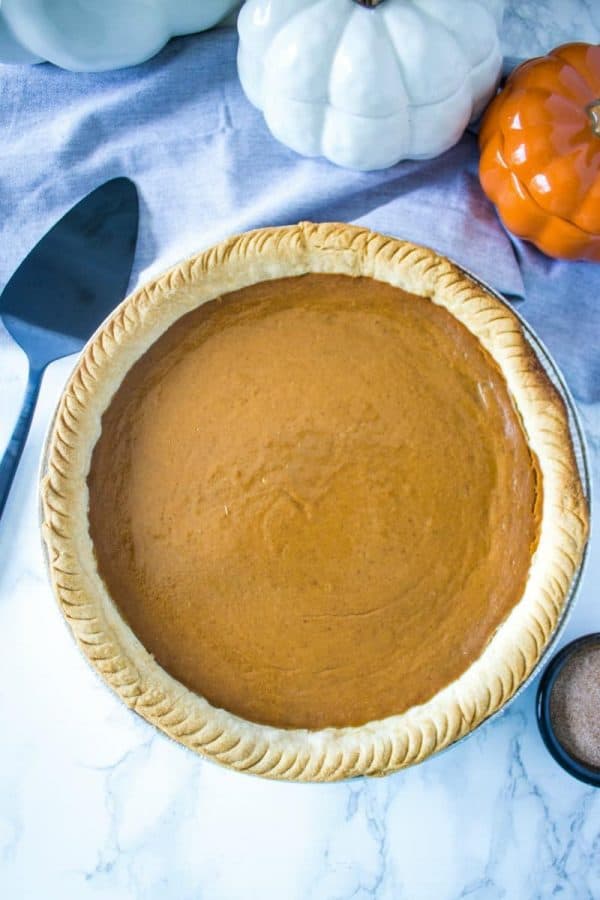 More Pumpkin Pie Recipes to Love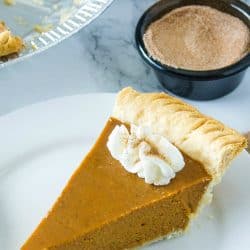 Make Ahead Pumpkin Pie
Make Ahead Pumpkin Pie let's you get a jump on Thanksgiving baking, freeing up time and oven space. It can be made it up to two days ahead or frozen and thawed just in time for the feast.
Ingredients
15

ounce

pumpkin puree

2

tsp

pumpkin pie spice

1

tsp

cinnamon

1/2

tsp

salt

2

large

eggs

room temperature

14

ounce

sweetened condensed milk

NOT evaporated milk

1

tsp

vanilla extract

1

9-inch

unbaked pie shell*

1

large

egg white

beaten
Instructions
Place pumpkin, spices and salt into a medium saucepan. Cook, stirring continuously, over medium-high heat, until pumpkin starts to steam. Remove from heat and transfer to a large mixing bowl to cool.

Preheat oven to 400°F. Beat egg white and lightly brush over surface of unbaked pie shell.

To the pumpkin mixture, add eggs, sweetened condensed milk and vanilla until smooth. Spread the mixture into the pie shell and smooth the top. Bake for 10 minutes.

Reduce oven temperature to 350°F and continue to bake for Bake 35 to 40 minutes, until the crust is browned and the filling is almost set in the center. If the crust start to brown too much, cover crust with strips of tin foil or a silicone crust protector. When the pie is done it will be slightly jiggly right in the middle. That's okay. Cool completely on wire rack.
MAKE AHEAD:
Bake pie according to recipe. Cool completely on a wire rack. Wrap pie in plastic or place entire pie in large plastic storage bag and refrigerate for up to 3 days.
TO FREEZE:
Bake pie according to recipe and allow to cool completely on a wire rack. Wrap entire pie in plastic, then a layer of foil. Label and freeze up to 3 months. Thaw in refrigerator 24 hours ahead, still wrapped in plastic before serving.
Chef Tips
This recipe uses sweetened condensed milk, which results in a sweet, smooth pie. Don't confuse with evaporated milk, which does not contain sugar.
*If using refrigerated or homemade pie dough, roll out dough to 12-inch round. Transfer to pie dish and press down to fit to bottom and sides of pan. Fold under excess dough around top and crimp with a fork or edge of spoon.  Fill according to recipe.
Nutrition Facts
Serving:
1
slice
Calories:
316
kcal
Carbohydrates:
44
g
Protein:
8
g
Fat:
12
g
Saturated Fat:
5
g
Cholesterol:
70
mg
Sodium:
334
mg
Potassium:
337
mg
Fiber:
2
g
Sugar:
29
g
Vitamin A:
8482
IU
Vitamin C:
4
mg
Calcium:
173
mg
Iron:
2
mg
© Copyright Christine Mello for Must Love Home. We would love for you to share a link to this recipe but please do not copy/paste the recipe instructions to websites or social media. We are happy for you to share a photo with a link back to this website instead.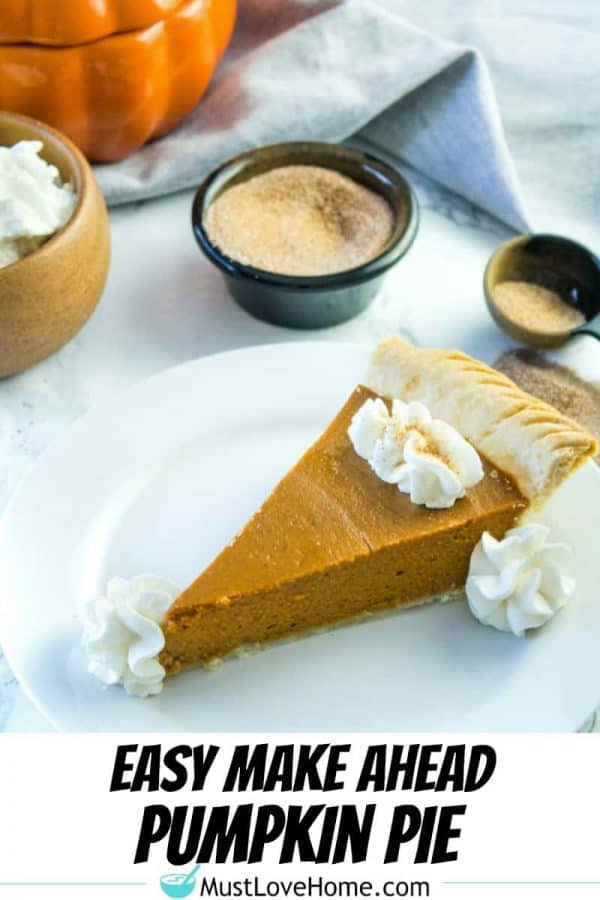 If you made this recipe, please leave a comment and rating. I would appreciate the chance to troubleshoot any issues you might have had before you leave the rating!