This simple Crispy Oven Baked Chicken Thighs recipe is full of incredible flavor in every bite. With a combination of tender chicken, garlic, paprika and Italian seasoning, this recipe is sure to become a favorite.
This is one of those dishes that there are a million recipes for. There are two things in common for all of them: skin-on, bone-in chicken thighs…and a hot oven. After that, choose what chicken rubs or flavoring you like.
My Mom used to make this recipe for Sunday dinner. I remember it was served with baked macaroni and cheese and corn. Now, I serve these chicken thighs with sides that are a little healthier, but man, the chicken is just as delicious now as it was back then.
These crispy oven baked chicken thighs take about 35 minutes to bake, and about ten minutes of prep. After throwing the chicken in the oven, there is just enough time to whirl up a couple of side dishes. My go-to sides for oven baked chicken thighs are Creamed Cauliflower which I think of as "healthy mashed potatoes", and my easy to make and super colorful Honey Dill Glazed Carrots!
Get started by drying the thighs with paper towel and refrigerating for a few hours to really dry out the skin. This "drying time" will make the skin extra crispy later on.
Mix up a spice mix that is to die for. You can never go wrong with garlic and Italian seasoning…they are a spice marriage made in heaven!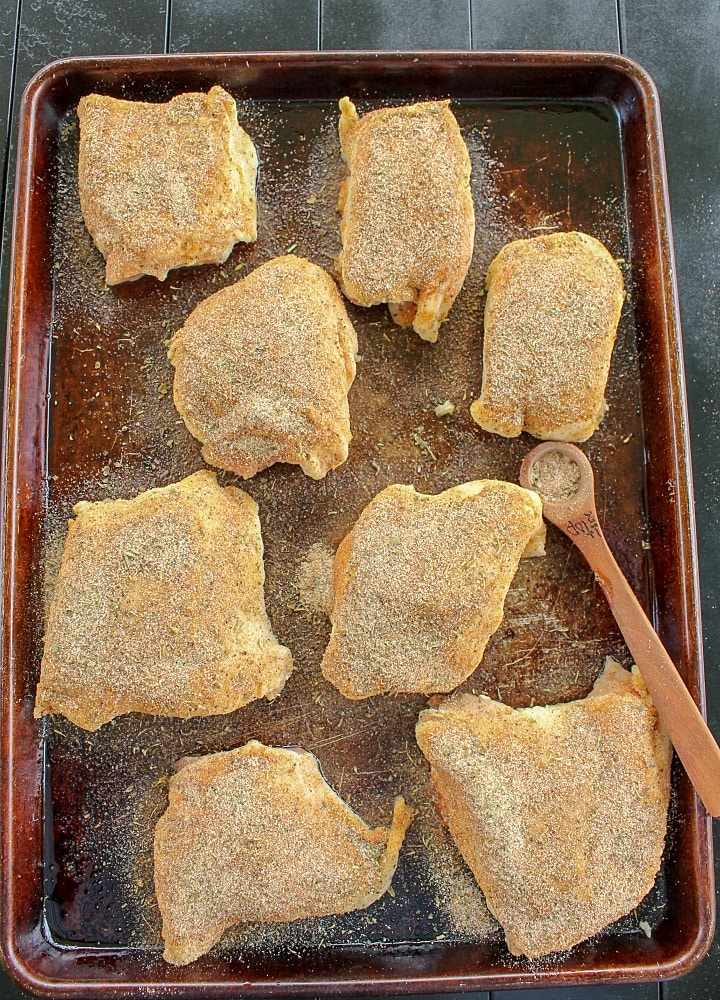 Liberally, and I do mean liberally, sprinkle the spice mixture over the chicken. I like to do this slowly, so the spices have enough time to stick to the skin before going back over all of the chicken pieces again.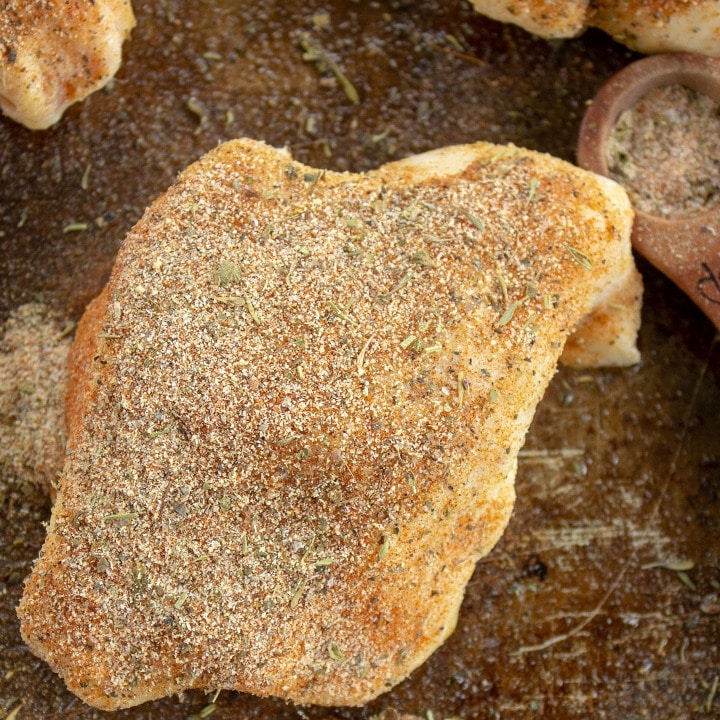 That is a well sprinkled piece of chicken thigh! I only do the skin and the sides of the chicken, but you can season the underside if you like. Be sure to bake the thighs with the skin side up.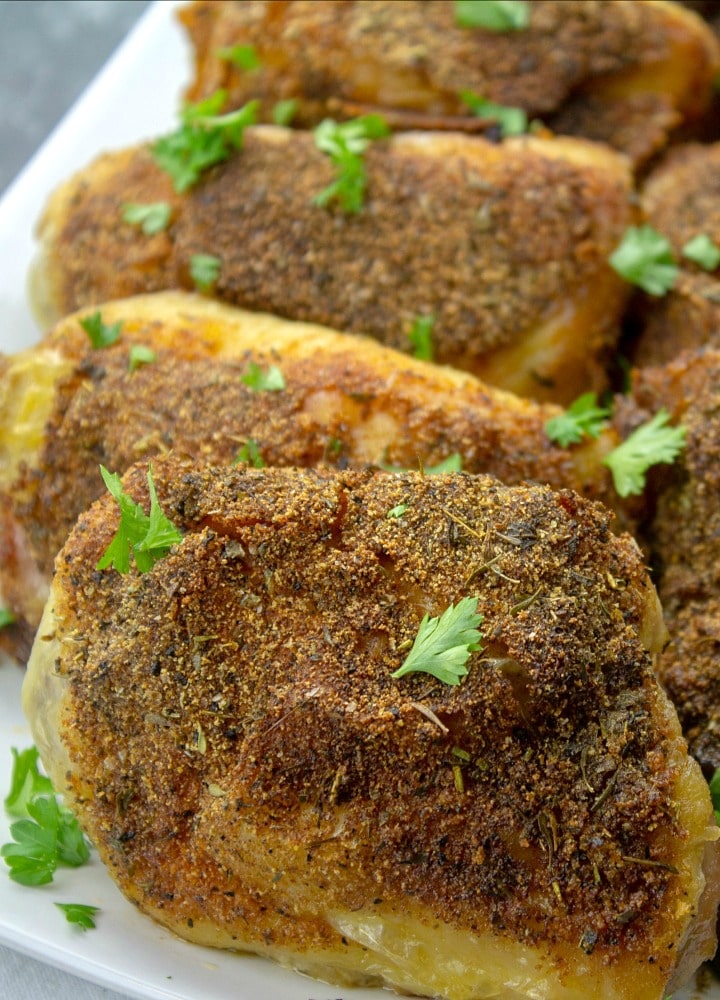 When the thermometer reads 165 degrees at the thickest part of the thigh, the chicken is fully cooked. If you don't have a thermometer yet, check the chicken by cutting a small incision in the thickest part of the meat. Pull apart the sides using a fork and a knife until you can see the color of the meat all the way through. Sometimes the meat will have some pink hues in the white, that means the chicken needs to be cooked a little bit longer. If the meat is white, then it should be fully cooked.
HOW LONG TO BAKE CHICKEN THIGHS
How long do you cook chicken thighs in the oven? Exact cooking times can vary. It depends on the temperature of the oven, the size and thickness of the chicken and how many dishes are cooking at the same time. (think holiday meals). This is a breakdown of the ranges of cooking times based on oven temperature:
Oven Baking Times:
When baking chicken thighs at 350, bake for 45 – 55 minutes. This baking temperature may to too low to get extra crispy skin.
If baking the chicken thighs at 375, bake for 35 – 42 minutes. Again, this temperature may be too low to get extra crispy skin.
At 400 degrees, bake for 32 – 40 minutes. This is the temperature that I use and recommend. It is hot enough to get extra crispy skin and cook the chicken completely.
When baking chicken thighs at 425 , bake for 30 – 35 minutes.
Baking at 450 degrees, the skin may crisp before the chicken meat is done. Be sure to check the meat for done before removing from the baking pan. To bake at 450, bake for 22 – 28 minutes.
Note: the best way to determine how long the chicken thighs need to bake is to invest in an instant read meat thermometer! The Chicken thighs are done when they reach 165 degrees at the thickest part.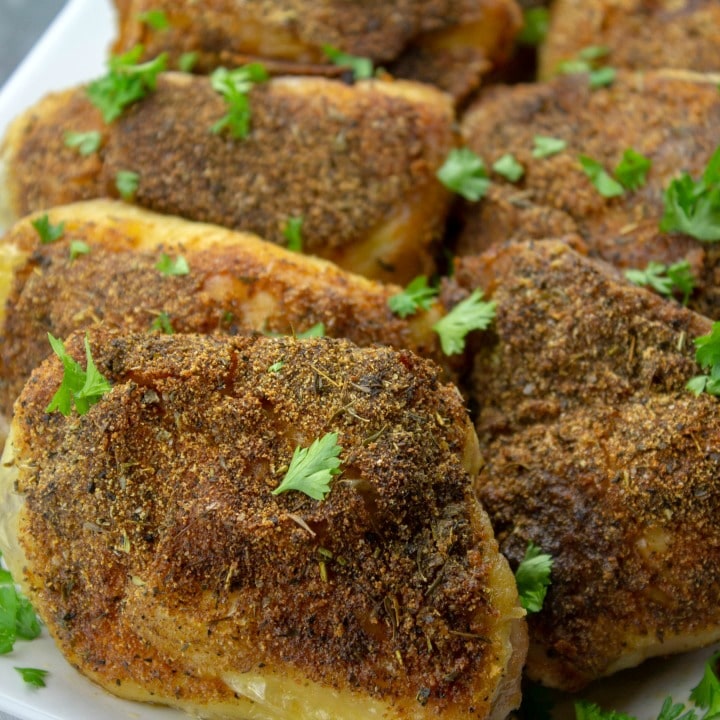 REMEMBER TO SUBSCRIBE TO MUST LOVE HOME NEWSLETTER FOR FREE AND RECEIVE FRESH RECIPE NOTIFICATIONS DELIVERED INTO YOUR INBOX!
If you try a recipe, please use the hashtag #mustlovehomecooking on INSTAGRAM for a chance to be featured! FOLLOW MUST LOVE HOME ON FACEBOOK | INSTAGRAM | PINTEREST | TWITTER FOR ALL OF THE LATEST CONTENT, RECIPES AND UPDATES.
Add this dinnertime favorite to your Yummly recipes for later!
Print
Crispy Oven Baked Chicken Thighs
Author:

Prep Time:

10 minutes

Cook Time:

35 minutes

Total Time:

45 minutes

Yield:

4 servings

Category:

Main Dish

Method:

Oven

Cuisine:

American
---
Description
This simple Crispy Oven Baked Chicken Thigh recipe is full of incredible flavor in every bite. With a combination of tender chicken, garlic, paprika and Italian seasoning, this recipe is sure to become a favorite.
---
Ingredients
3 pounds chicken thighs, skin-on, bone-in (6 – 8 thighs)
2 tablespoons olive oil
2 teaspoons garlic powder
2 teaspoons onion powder
2 teaspoons Italian seasoning
1 teaspoon kosher salt
1 teaspoon paprika
1/2 teaspoon ground black pepper
1/8 teaspoon cayenne
1/4 cup fresh snipped parsley for garnish (optional)
---
Instructions
Remove chicken thighs from the packaging to a plate. Pat the chicken dry with paper towels to remove any moisture. Place in the refrigerator, uncovered for several hours to continue drying.
Preheat oven to 400 degrees. Lightly grease a large baking pan.
Remove the chicken from the refrigerator and place on the prepared pan. Drizzle chicken with olive il, rubbing the chicken with oil to coat.
In a small bowl, mix together the garlic powder, onion powder, Italian seasoning, paprika, salt, black pepper and cayenne.
Evenly sprinkle the spice mix over the chicken.
Bake on center rack of preheated oven for 35 – 45 minutes until golden brown and internal temperature reads at least 165 degrees on a meat thermometer.
Let stand 5 minutes before serving.