Tender Chicken Drumsticks with Savory Glaze is perfect for the oven or the grill. Lemon, vinegar, cumin and oyster sauce make a mouthwatering sauce that you will want to make again and again. Try the glaze on fish and beef too!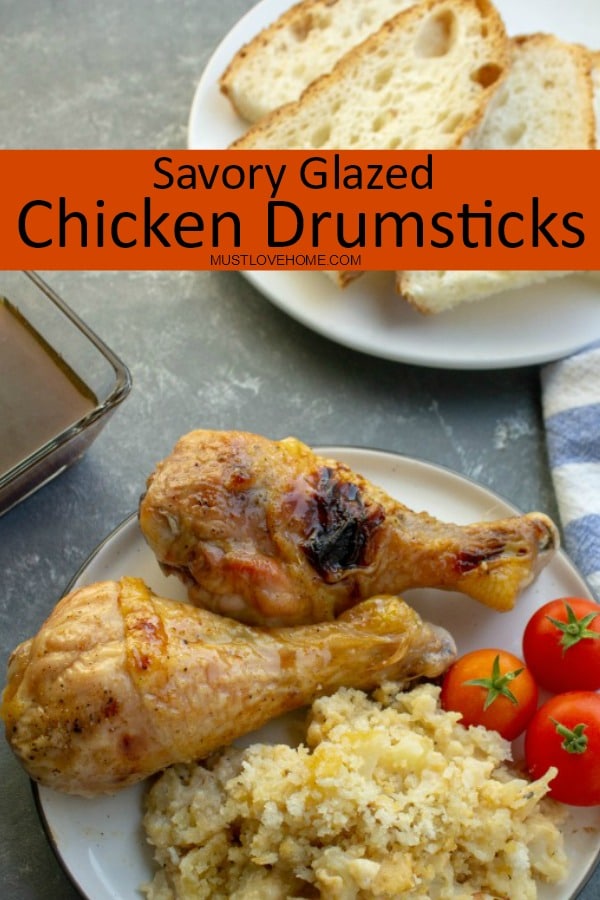 Ever since I was a kid I have loved chicken drumsticks..and wings. Back in the day, our grocery store only sold chicken as a whole bird or as 8 piece cut up fryers. And because I had to share with my sister, we each got only one drumstick and one wing each. Honestly, we gnawed that chicken down to the bone!
Now, one of my favorite things to cook up in big batches are these Chicken Drumsticks with Savory Glaze. I coat them in a tasty mixture of garlic, lemon zest and seasonings, then bake them in the oven. They are great to eat hot or cold, and being drumsticks (with a built in handle) they're portable, which is handy when people around you often have to grab something to eat as they're headed out the door. And with just a caramelized coating, the delicious chicken flavor still shines through.
Reasons to love this Chicken Drumsticks with Savory Glaze Recipe:
The dish is packed with amazing flavors and lean protein.
It is perfect for busy weeknights and also for entertaining guests.
Family-friendly comfort food – kid tested!
Economical – chicken is a cheap source of low-fat, protein-rich meat.
Versatlie – savory sauce recipe can be used for pork and beef too!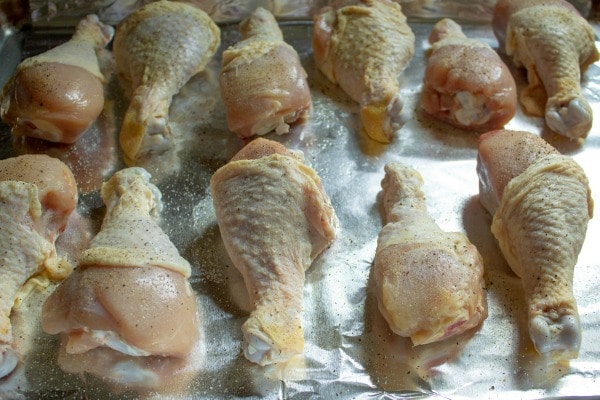 This is how I bake chicken drumsticks: Place chicken in a single layer on a foil coated sheet pan. Spraying the foil with cooking spray so the chicken releases easier. For even cooking, make sure the side of the chicken are not touching. Place the pan on the middle rack of a preheated 350 oven and bake for 40 minutes, or until the internal temperature on a meat thermometer is 165 degrees. There is some controversy as to what temperature is the right one to bake chicken drumsticks. Some like a hotter oven of 425 degrees with a shorter bake time, and that is fine, too. I find that the chicken is not as juicy baked at a high heat so I generally avoid that method. It really is personal preference for how you like to bake them.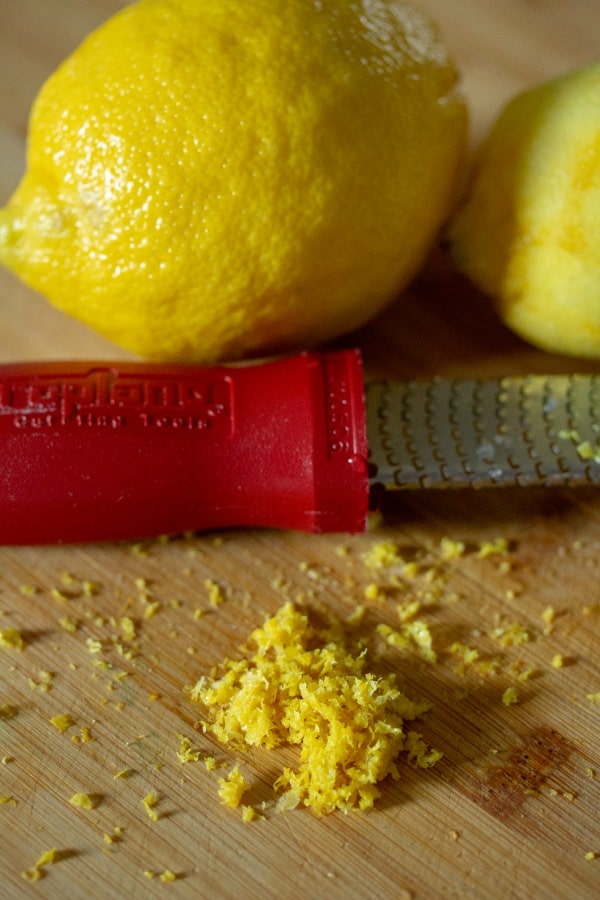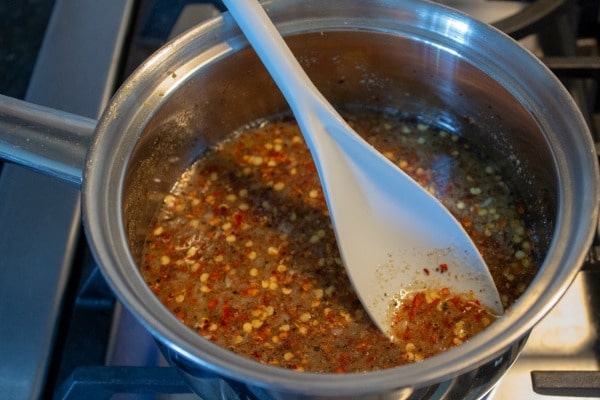 After the sauce has cooked and cooled, pour it thru a fine mesh strainer. Discard the solids.
Divide the strained sauce in half. Use one half to caramelize the chicken and the other half can be served as a dipping sauce.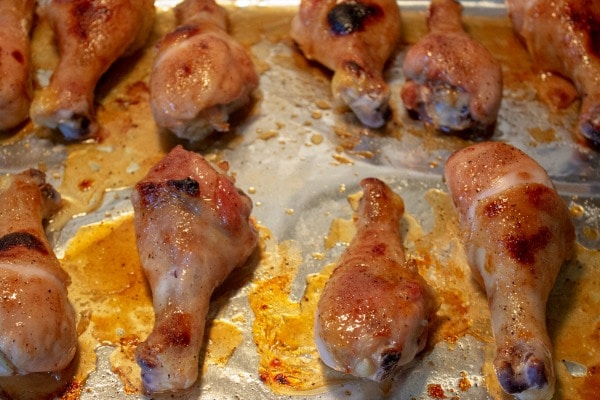 Tips/Tricks for making the best Chicken Drumsticks with Savory Glaze:
I always say this, but a good meat centered meal starts with quality meat, so use organic chicken drumsticks.
Use fresh lemon zest for the best flavor and results. A microplane grater is the best tool to use for zesting.
Spare yourself a messy clean-up – cover the sheet pan with foil before baking the chicken
If cooking on the grill be sure to preheat! Failing to preheat the grill may lead to meat sticking to the grate. When meat can sear and caramelize on a hot grate, it will release easily and make flipping a breeze. If you add meat to a cold grill, it may require a longer cooking time, easily leading to overcooked and dried out results.
For extra heat, increase the red pepper flakes from 1/4 teaspoon to 1/2 teaspoon or to your taste.
Garlic is an integral component of this sauce recipe, so use fresh minced garlic if possible.
The drumsticks are extra delicious served with a side of Cauliflower Mac and Cheese !
Hungry for more tasty chicken recipes? I think you might enjoy these!
Helpful Tools and Ingredients:
Chicken Drumsticks with Savory Glaze
Tender Chicken Drumsticks with Savory Glaze is perfect for the oven or the grill. Lemon, vinegar, cumin and oyster sauce make a mouthwatering sauce that you will want to make again and again. Try the glaze on fish and beef too!
Ingredients:
12

chicken drumsticks

,

about 3 pounds

1/2

teaspoon

kosher salt

1 1/2

teaspoon

ground black pepper

,

divided

1/2

cup

water

4

cloves

garlic,

finely minced

1

tsp

lemon zest

1/2

cup

sugar

1/4

cup

rice vinegar

,

unseasoned

1/4

teaspoon

red pepper flakes

2

teaspoons

ground cumin

1/4

cup

oyster sauce
Instructions:
Place rack in the middle of oven and preheat oven to 350 degrees. Cover a large baking pan with foil.

Arrange the drumsticks on the baking pan and sprinkle with salt and 1/2 teaspoon of the black pepper. Place the pan in the oven and bake for 40 minutes.

While the chicken is baking, bring water, garlic, lemon zest, sugar, vinegar, red pepper flakes, cumin and remaining black pepper to a boil in a small saucepan, Stirring occasionally until the liquid is reduced to 1/2 cup. Remove from the heat to cool.

When sauce has cooled, pour thru a sieve into a small bowl, pressing on solids to strain all liquid. Discard solids. Stir oyster sauce into cooled sauce. Transfer half of sauce into small bowl and set aside for serving.

After 40 minutes, begin brushing glaze onto the chicken. Place pan back in the oven for 5 minutes to allow glaze to caramelize. Repeat.

Use a meat thermometer on the thickest part of the drumstick to check that the chicken has reached an internal temperature of at least 165 degrees. If not, bake an additional 5 minutes and check again. Repeat as needed until 165 degrees has been reached.

Preheat the broiler on high. Brush a last layer of glaze on the chicken and place the pan under the broiler for a 1 – 2 minutes, until the chicken has char marks and the glaze is bubbling.

Remove from broiler and serve immediately with reserved sauce.
Notes
While each glazed piece will contain a very small amount of sugar, you can omit sugar from the sauce for strict  low-carb and Paleo diets.
Nutrition Facts
Chicken Drumsticks with Savory Glaze
Amount Per Serving
Calories 319
Calories from Fat 126
% Daily Value*
Fat 14g22%
Cholesterol 139mg46%
Sodium 620mg27%
Potassium 364mg10%
Carbohydrates 19g6%
Protein 27g54%
Vitamin A 103IU2%
Vitamin C 1mg1%
Calcium 30mg3%
Iron 1mg6%
* Percent Daily Values are based on a 2000 calorie diet.
© Copyright Christine Mello for Must Love Home. We would love for you to share a link to this recipe but please do not copy/paste the recipe instructions to websites or social media. We are happy for you to share a photo with a link back to this website instead.
If you made this recipe, please leave a comment and rating. I would appreciate the chance to troubleshoot any issues you might have had before you leave the rating!