Garlic and Honey Chicken is seared to perfection, then baked with a buttery garlic sauce, the chicken remains moist and flavorful! Ready in 30 minutes.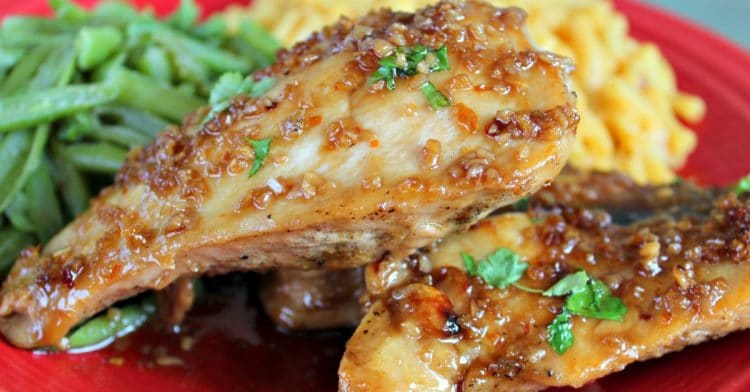 Chicken is my go-to meat not only because it tastes great and almost everyone likes chicken, but because it is so versatile. For now, chicken is also affordable and can be eaten with just about any diet that includes meat. And the variety of ways to make it are almost endless. Whether you like boneless or bone-in, skinless or skin-on, there is something for you.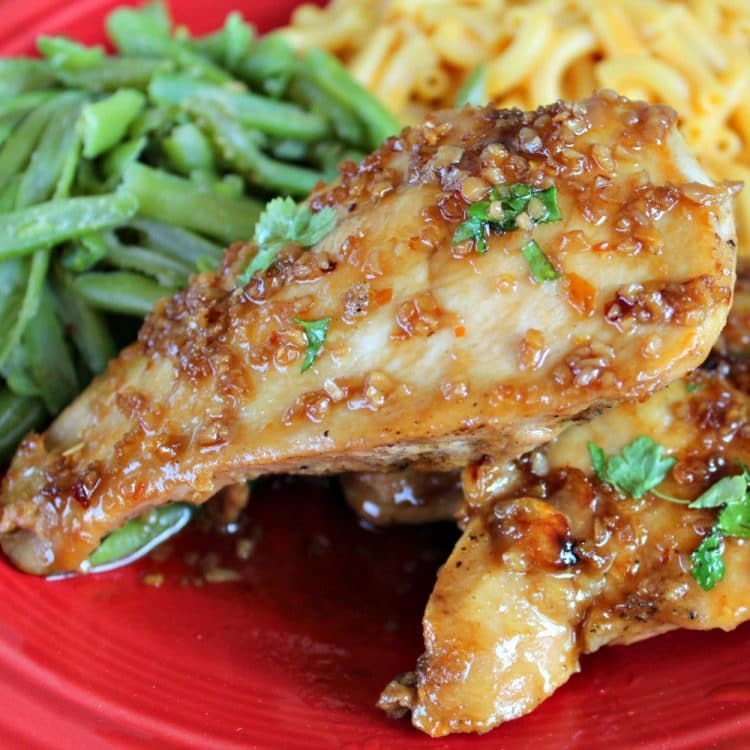 Garlic and chicken together are classic. To make it more modern and to challenge the tastebuds, I upped the recipe a few notches. The secret is the mellow sweetness of honey and the kick of red pepper flakes. Combined with the flavor of lightly browned chicken, it is just delicious.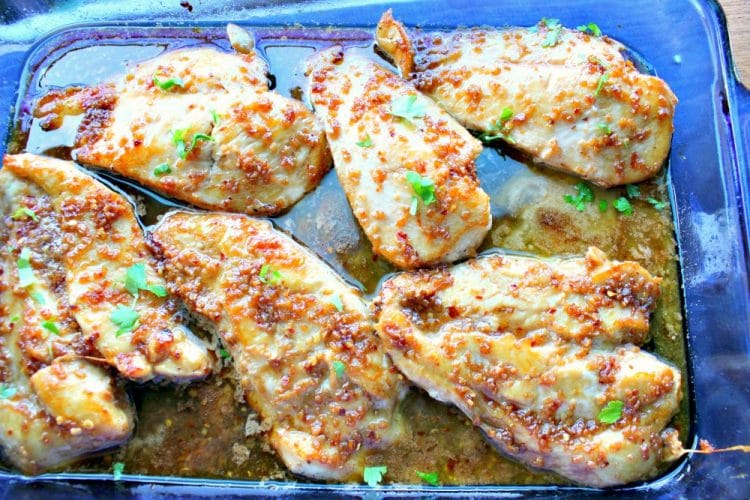 The preparation is so easy. First you need to sear the chicken in a skillet. I do this in 2 batches.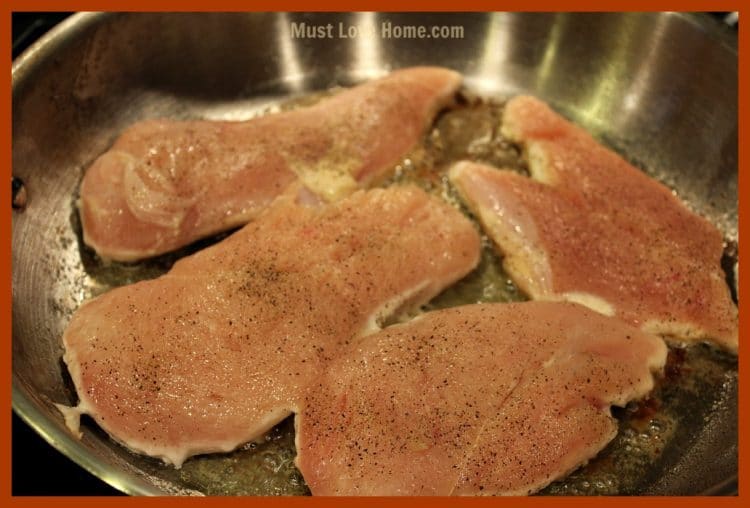 Sprinkle liberally with salt and pepper to help lock in the flavor of the chicken.
When the chicken is done searing, it will not be fully cooked. The chicken will finish cooking in the oven, covered in the garlic sauce.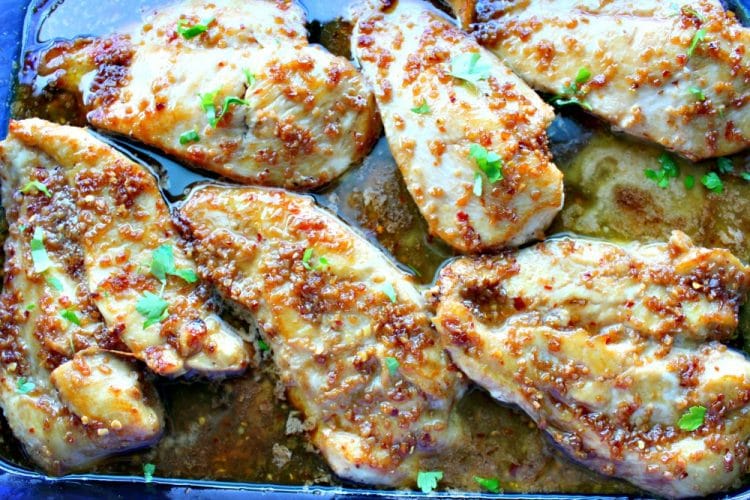 When the chicken is done baking, use the pan drippings as a delicious sauce for the chicken.The chicken comes out of the oven so moist and flavorful because it has been seared first, then baked in the sauce. Yummy!
Helpful Tools and Ingredients to make this Garlic and Honey Chicken:
Large Skillet – this one has two handles to make moving heavy food from the stove to counter a breeze! I own and love this one.
Meat Thermometer – costs a few extra bucks…but worth every penny for the backlight! No more squinting to read the numbers. Love it!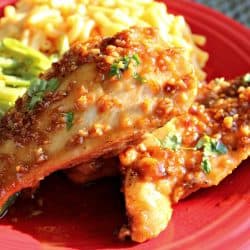 Honey and Garlic Chicken
This easy and delicious chicken dish will have everyone asking for seconds. Casual or fancy, dress this dish up or down for any occasion.
Instructions
Preheat the oven to 350°F.

In a large skillet, heat 1 TBSP olive oil. Add 1/2 TBSP butter to melt. When the skillet is hot, add 4 sliced chicken breasts, sprinkle liberally with salt and pepper, and brown each side for 3 – 4 minutes, until golden and seared. Transfer the chicken to a greased baking pan. Repeat with the remaining 4 breast pieces.

In a small saucepan, melt the remaining 2 TBSP butter. Stir in the garlic and cook until garlic is golden brown. Add in the brown sugar, red pepper flakes and honey, bring to a boil and remove from heat.

Spoon the honey and garlic mixture evenly over each chicken breast.

Place the baking pan on the center rack of preheated oven. Bake uncovered for 20-25 minutes until the chicken is fully cooked and a meat thermometer placed in the thickest part of the breast reads at least 165°F.

Spoon sauce drippings over the chicken breasts, garnish with parsley flakes and serve hot.
Nutrition Facts
Serving:
1
serving
Calories:
261
kcal
Carbohydrates:
16.35
g
Protein:
24.28
g
Fat:
10.71
g
Saturated Fat:
3.83
g
Cholesterol:
83.86
mg
Sodium:
137.51
mg
Potassium:
445.88
mg
Fiber:
0.04
g
Sugar:
15.53
g
Vitamin A:
183.75
IU
Vitamin C:
1.99
mg
Calcium:
21.96
mg
Iron:
0.55
mg
© Copyright Christine Mello for Must Love Home. We would love for you to share a link to this recipe but please do not copy/paste the recipe instructions to websites or social media. We are happy for you to share a photo with a link back to this website instead.