Made with bursting blueberries and fresh nectarines, this quick and simple Blueberry Nectarine Cake is totally delicious. Don't be looking for any leftovers!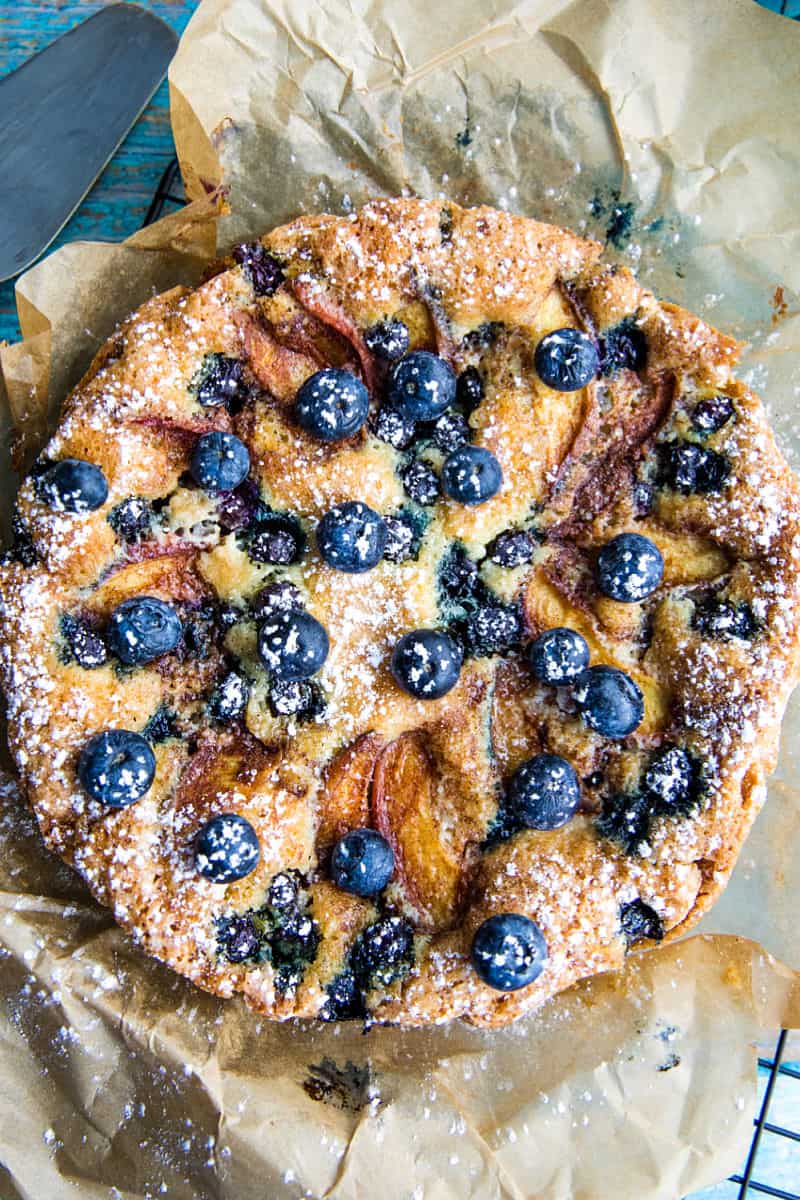 We have fallen head over heels for this little diva Blueberry Nectarine Cake. Bursting with fresh blueberries and the sweetness of nectarines, we say "yes, please"!
Like a cake that's super easy? This is for you. Honestly, we love making fruit-topped cakes because, lazy girl here, there's ABSOLUTELY no need for frosting! It's a satisfying healthy-ish dessert, or you can be truly decadent and add a luscious scoop of ice cream 😋.
While we love our desserts, I'm a diabetic, so I have to watch it. To keep eating the sweets I love, I created the blog Holistic Yum. The inspiration for this tasty blueberry cake is Low Carb Roasted Strawberry Cake, which can be found there.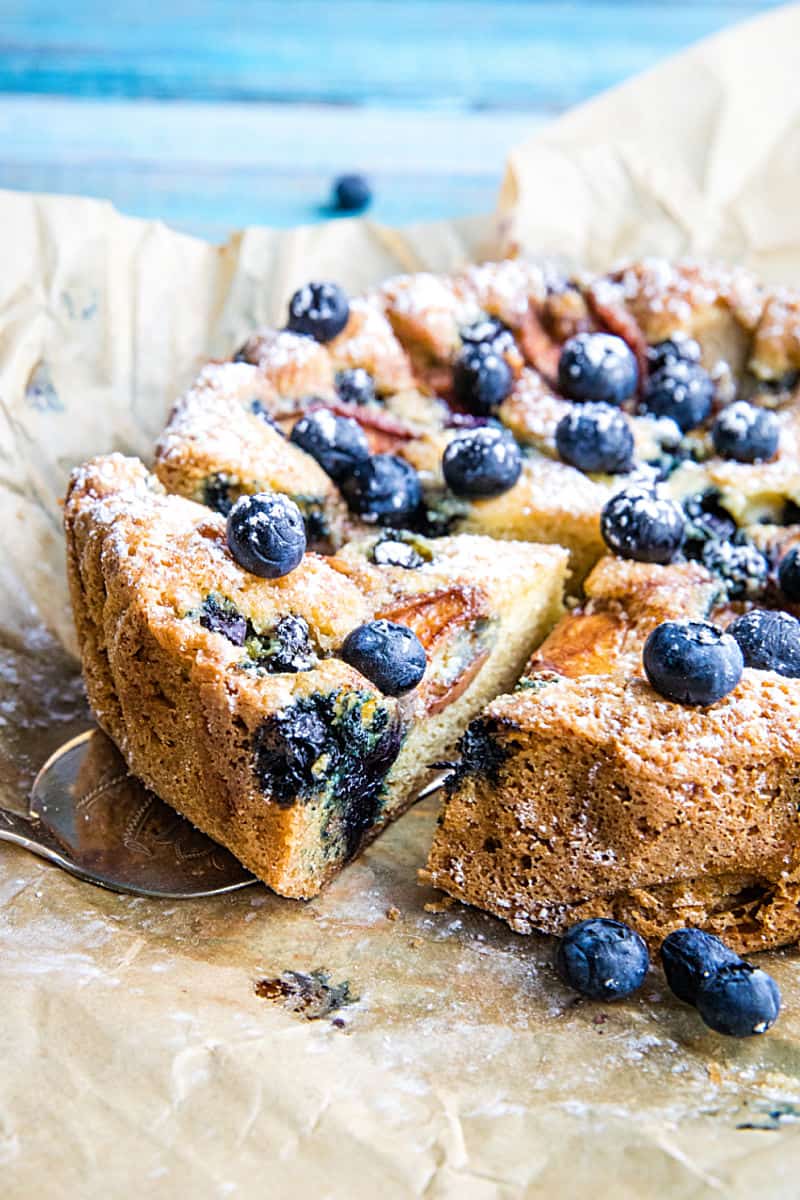 How to make this Easy Blueberry Nectarine Cake
Fresh fruit, simple pantry ingredients and spices are all you need to make this fantastic cake! All you do is make the simple cake batter, transfer to the cake pan, add fruit to the top and pop this little cake in the oven to bake to golden deliciousness That's it!👍
Ingredients to make Blueberry Nectarine Cake
Unsalted Butter – we always use unsalted butter so the cook controls the salt. For reference, 1 stick (8 tablespoons) of salted butter contains about 1/4 teaspoon of salt, depending on the brand.
Granulated (White) Sugar – for sweetness and flavor.
Brown Sugar – you can't go wrong with a hint of maple in your baked goods!
Vanilla Extract – baking staple that adds heavenly flavor and aroma.
All-Purpose Flour – no fancy flour needed, just plain old AP flour.
Baking Power and Baking Soda – these are the leavening agents for the cake, to make it rise. They're not interchangeable in the recipe.
Blueberries – bursting fresh flavor. You can use frozen blueberries, just be sure to thaw and drain them well before using.
Nectarines – sweet, juicy and flavorful. Nectarines (or substitute fresh peaches) have luscious flavor when they're in season. You can remove the skin, or not, your preference.
Cinnamon – familiar spice that compliments almost every fruit.
Powdered Sugar – adds more sweetness for the blueberries and looks so pretty for serving!
Parchment Paper
Whether you're a beginner or avid cook, one of the best budget-friendly upgrades you can make it to keep parchment paper on hand. No stick, breezy clean-ups and easy pan release are just a few reasons to keep it around. We love the large pre-cut sheets for baking, making flatbread pizzas and roasting meat. If we need a special size, we just cut it down or use 2 sheets.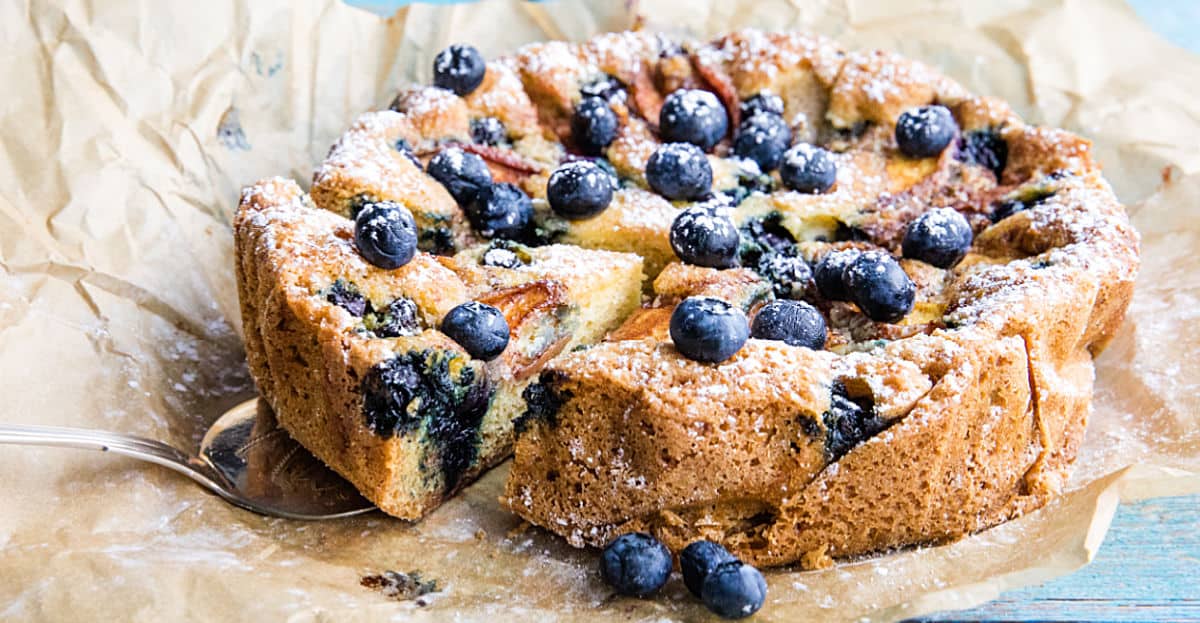 Tips for the Best Results!
Let the butter soften to room temperature before mixing with the sugars. You'll need several minutes of mixing to get that light and fluffy texture. First they'll clump together, then stick together like a dough…keep mixing….when the butter-sugar mixture starts to stick to the sides of the bowl and looks whipped, that's when it's ready.

If you're not using parchment paper, be sure to grease the pan well before adding the batter.

Wait until cake has cooled a bit before dusting on the powdered sugar. The sugar will melt into the cake if it's still hot.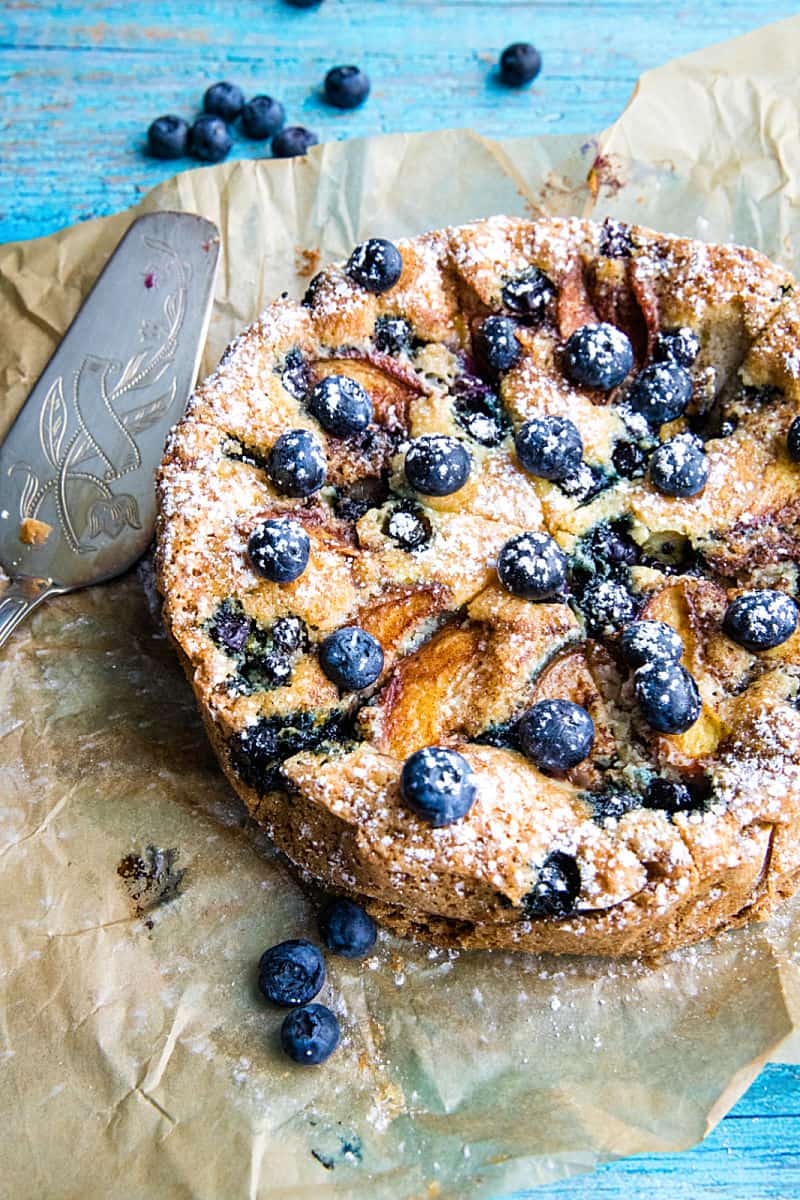 Even More Blueberry Recipes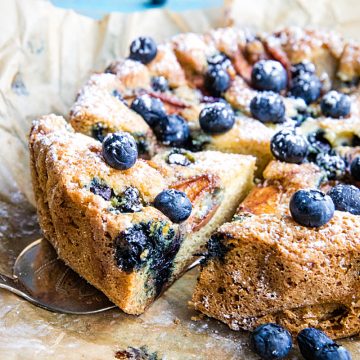 Blueberry Nectarine Cake
With bursting blueberries and fresh nectarines, this simple Blueberry Nectarine Cake is totally delish. No leftovers here!
Instructions
Preheat oven to 350°F. Line 8-inch round baking pan (or similar size) with parchment paper.

In a large bowl, beat butter and sugars together until light and fluffy, about 4 – 6 minutes with electric mixer. Add eggs one at a time, beating well after each until combined. Add vanilla and mix until well blended.

In a separate bowl, whisk together flour, cinnamon, baking powder, baking soda and salt. Add to the creamed mixture, beating until just combined. Scrape the batter into prepared pan (batter will be thick) and spread out into an even layer.

Arrange nectarine slices on top of batter, then randomly sprinkle over the blueberries. Bake in preheated oven for 25 – 35 minutes, until cake springs back when pressed in the center. Allow to cool in the pan for 10 – 15 minutes. Lift out of pan using parchment as handles and cool another 5 minutes. Dust with powdered sugar and serve.
Chef Tips
If using salted butter, reduced added salt in recipe to 1/4 teaspoon.
Granulated (white) sugar can be substituted for the brown sugar.
Equipment Used
Nutrition Facts
Serving:
1
slice
Calories:
373
kcal
Carbohydrates:
56
g
Protein:
4
g
Fat:
16
g
Saturated Fat:
10
g
Polyunsaturated Fat:
1
g
Monounsaturated Fat:
4
g
Trans Fat:
1
g
Cholesterol:
40
mg
Sodium:
305
mg
Potassium:
228
mg
Fiber:
2
g
Sugar:
33
g
Vitamin A:
637
IU
Vitamin C:
5
mg
Calcium:
50
mg
Iron:
2
mg
© Copyright Christine Mello for Must Love Home. We would love for you to share a link to this recipe but please do not copy/paste the recipe instructions to websites or social media. We are happy for you to share a photo with a link back to this website instead.