Strawberry Cheesecake Muffins are studded with fresh strawberries and a luscious swirl of cheesecake in the middle. Sprinkled with a thick layer of buttery graham cracker topping, these moist and fluffy muffins WILL change you…for life.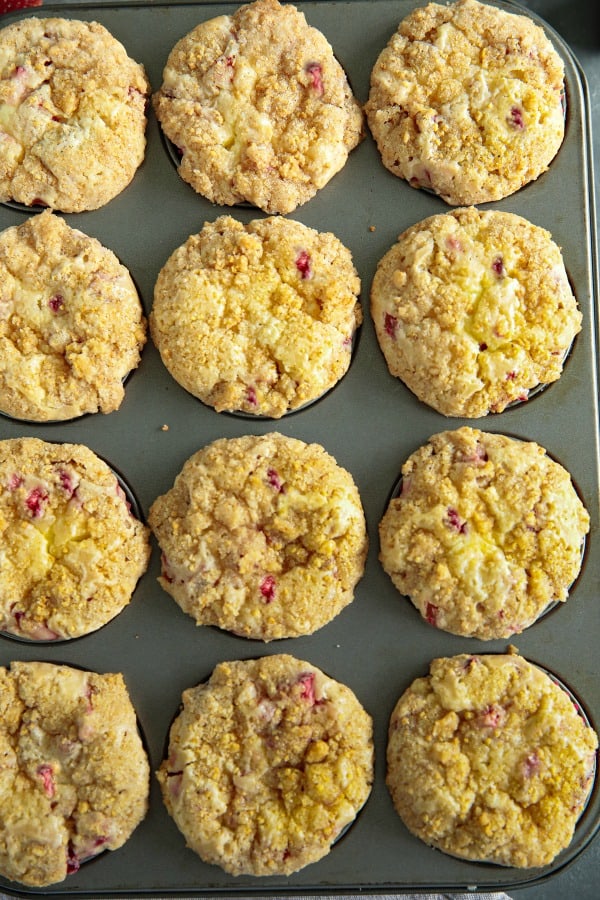 Oh, how the summer has flown by and it's time for Fall baking! These little Diva strawberry cheesecake muffins are made from luscious end of summer strawberries are are just the recipe to get you started.
We LOVE to bake cheesecake when the temperature outside starts to cool, like our Brown Sugar Pumpkin Cheesecake and Instant Pot Strawberry Cheesecake. So we starting thinking – why not carry that amazing cheesecake flavor into some awesome muffins? They're totally easy to make for a breakfast on the go (or anytime) and no fork required!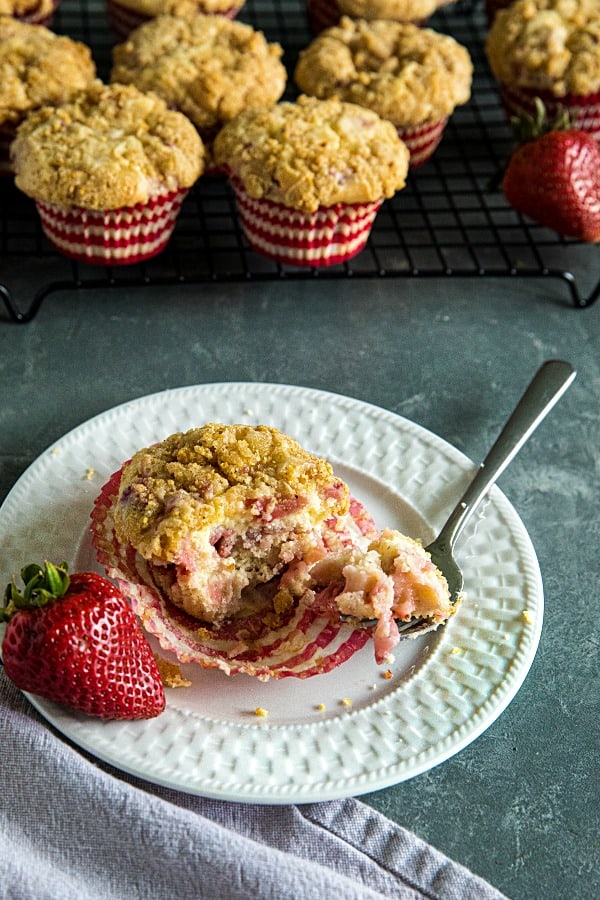 How To Make Strawberry Cheesecake Muffins
Ingredients:
Strawberries – we used fresh strawberries to make these incredible muffins, but frozen (thawed and drained) are perfectly fine.
All Purpose Flour – nothing fancy here!
Eggs – large eggs were used here.
Vanilla Extract – this is my favorite vanilla extract for baking. The company has been around for more than 100 years!
Sugar – this recipe is super tasty using either white or brown sugar…or both.
Sour Cream – Natural Sour Cream is what I used, but regular or light sour cream are fine if that's what you have.
Butter – unsalted butter is our preference so we can control the salt, but salted butter or margarine can be substituted!
Baking Powder – if you're in doubt about whether it's still fresh, spoon a little bit into a bowl and our about 1/4 cup of boiling water over it. If it starts to really bubble up immediately, you're good to go. Otherwise, replace it.
Cream Cheese – adds the most wonderful creamy center to the muffins – we used full fat cream cheese but light cream cheese is fine to substitute.
Graham Cracker Crumbs – crush up whole graham crackers or use pre-made crumbs from the grocery or order online.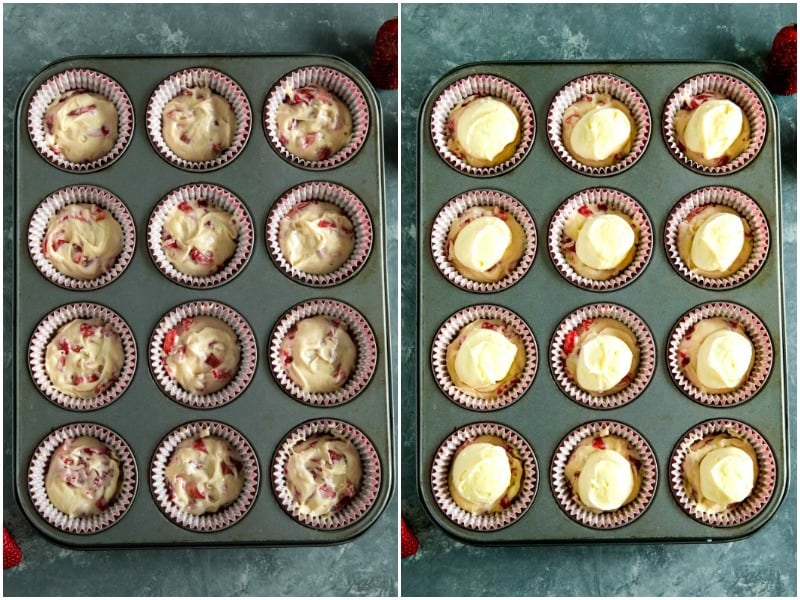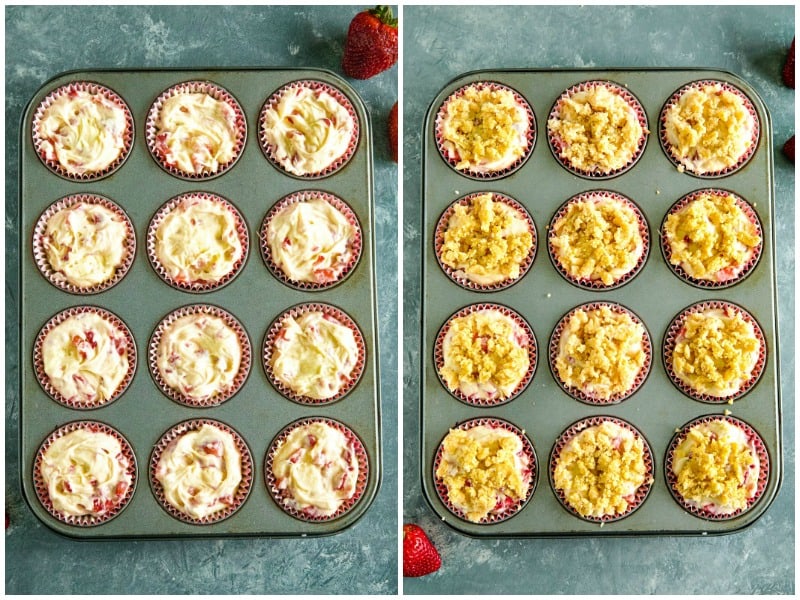 Directions:
These super moist and delicious muffins are assembled in a few simple steps:
Preheat the oven to 350 degrees F and grease or line your muffin tin with paper liners.
Make the batter – I use a stand mixer to make this easy batter recipe, but an electric hand mixer or even by hand (the old fashioned way) are perfectly fine.
Mix up the cheesecake filling – just take a small bowl and a fork to mix up the 4 ingredients needed for the cheesecake filling. The cream cheese MUST be softened or the egg won't mix into it.
Stir together the graham cracker topping.
Fill the muffin cups 1/4 full with batter, then a tablespoon of cheesecake filling, then with batter again until 3/4 full. Sprinkle the top of each muffin with graham cracker topping.
Bake muffins for about 25 minutes, until the top is golden and crusty. You won't be able to check them by sticking a tester in the center due to the filling…you're tester won't come out clean!
💡👉 Soften the cream cheese in the microwave to easily mix with other ingredients-
Place the cream cheese in a small bowl and place in the center of the microwave.
Microwave on High for 10 second intervals, stirring the cream cheese after each interval. When it can just be stirred (about 30 seconds total) it's softened enough to use. Do not allow the cream cheese to become too warm, it should still be cool at this point.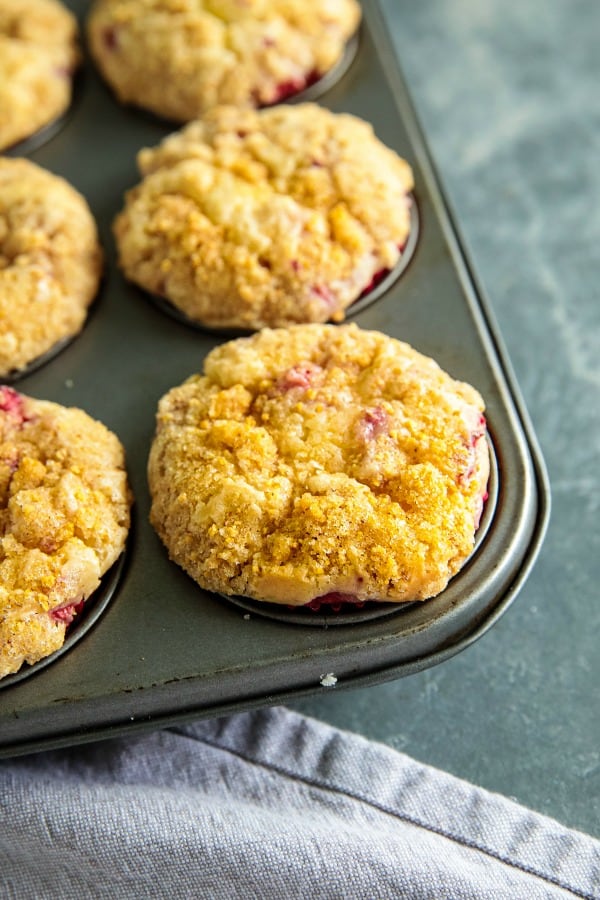 More Easy Muffin Recipes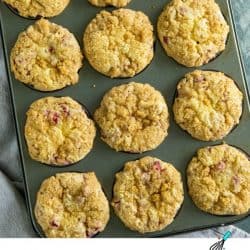 Strawberry Cheesecake Muffins
Moist and fluffy muffins, studded with fresh strawberries, a luscious swirl of cheesecake in the middle and sprinkled with a thick layer of buttery graham cracker topping.
Instructions
Preheat the oven to 350°F. Grease 12-cup tin or use paper liners.

In the bowl of a stand mixer fitted with a paddle attachment, beat the butter and sugar on medium speed until light and fluffy. Crack in the eggs, beating until completely mixed in. Add the vanilla and sour cream, mixing until just blended.

In a large bowl, mix together flour, baking powder and salt.

Add the flour mixture to the butter mixture, beat on medium speed until just combined. Scrape down the sides of the bowl as needed. The batter will be thick.

Gently fold the strawberries into the batter until well distributed in the batter. Set aside.
Make the Cheesecake Filling:
In a medium bowl, beat the cream cheese, eggs, sugar and vanilla until completely blended.
Make the Crumb Topping:
In a small bowl, mix the sugar, graham cracker crumbs, flour, butter and salt until combined and moistened.
Assembling and Baking:
Using an ice cream scoop or spoon, fill muffin cups 1/4 full of batter. Place a tablespoon of cheesecake filling on top of batter in each cup. Continue to fill muffin cups with batter to 3/4 full. Divide the topping mixture evenly between muffins, completely covering the batter with crumb topping.

Place muffin tin on center rack of oven and bake for 25 to 28 minutes and topping is crispy and golden brown. Place pan on cooling rack and allow to cool at least 10 minutes before removing muffins from tin.
Equipment Used
Nutrition Facts
Nutrition Facts
Strawberry Cheesecake Muffins
Amount per Serving
% Daily Value*
* Percent Daily Values are based on a 2000 calorie diet.
© Copyright Christine Mello for Must Love Home. We would love for you to share a link to this recipe but please do not copy/paste the recipe instructions to websites or social media. We are happy for you to share a photo with a link back to this website instead.