All of us want convenience. I get it. Perfectly picked out groceries magically showing up on our doorsteps is something a lot of us daydream about. Unfortunately, that kind of service usually comes at a steep cost. So we slog to the grocery store and fill up our carts. And when we get to the checkout, the total is always higher than we thought it would be. Not a pretty picture when one of the reasons we went to the store ourselves was to save money.
Honestly, for a lot of us, our food bill each month is second only to our mortgage or rent. There has to be a way to cut costs and still be able to eat pretty well, right? There is, if you have a strategy. Follow the ideas outlined below and you should start seeing some savings right away. The important thing is to start having a plan right now.
Take a look at the tips and see how easy easy it is to save real money at the market!
Save Cash by Letting the Store Do Some Work For You!
Check out your regular grocery stores website. There will be a slew of nifty ways to use the site. Most will offer a digital shopping list, digital coupons, loyalty discounts and the weekly ads. Compare your grocery store with others in your area to see if you are getting the best deals and discounts.
Sign up for your grocery stores email newsletters. You will get discounts that only email subscribers would get. I get an email each Friday from my grocery store, asking me to log in to my account and accept a free product for the week. I just load the free item on my digital coupon list, then pick up my free product the next time I visit the store.
Save Cash By Going Directly To The Brands You Love
Keep track of brands that you buy and visit the brand websites. Get the newsletters. Different brands are always looking for feedback on new products and will provide coupons to subscribers to try them. I subscribe to Pillsbury and Kraft and receive coupons and recipes from each. Recently, I received a coupon for a free milk just for subscribing!
Search Money Saving Websites For Additional Savings
Check out websites that offer grocery product coupons. Do a quick check before heading to the grocery. There are so many coupons that I limit myself to only printing them if they are for 50 cents or more off on the purchase of one product. Check your stores policy on coupons printed off the web. Some only accept one printed coupon for the item.
Do Your Homework and Make A List
If your grocery store has digital coupons, check them before visiting the store. Check your store's policy because only some will allow you to stack a digital coupon on top of a paper coupon for extra savings. A digital coupon for $1.00 off of Tide was offered by my grocery store. I coupled that with a $2.00 paper coupon I had for a total of $3.00 off. When I combined that with a store sale on tide for $4.99 a bottle, I got the bottle for $1.99. That's a score!
Make a list of everything you need. Notate if that product has a digital coupon and/or a paper coupon. Also, notate if it is part of a "deal". My grocery frequently has sales on different products that are "buy 5, save $5.00" or something similar. You do not have to buy 5 of the same item, just 5 products included in the campaign. Keep track when you are shopping of how many you bought.
Now, these are all strategies to save money on your groceries and you haven't even left your house yet. Let's go to the store now and save some big bucks! Let's grab a cart and get started…
IN-STORE SAVINGS
You can save bucks by getting your prescriptions at your grocery store. This week, my grocery store is running a special that you can get $10.00 off THE grocery bill if you transfer a prescription to their pharmacy. And when I pick up prescriptions at the grocery store, I can earn gas points. If you have a monthly prescription, those are points you can rely on each month to reduce your fuel costs.
Stick to your list and only buy the amount you need. I have heard people complain that buying a gallon of milk is cheaper than buying a half gallon by the cost per ounce…but they end up throwing part of it away. It is not "cheaper" to spend more for an amount you don't need. If you have a strategy in place to use up any extra food, then by all means buy the larger product. In our house we routinely do not finish the gallon of milk by the expiration date. To use it up, I will make a bread pudding and freeze it for later.
Be flexible, try different brands of the items you usually buy. If your regular bread is not on sale, but the store brand is…give it a try. Some store brand food is just as good if not sometimes better than a brand name product. I always buy the store brand of milk, eggs and bread.
Produce prices have gone up dramatically nationally. For most cooked vegetables, frozen is much cheaper than fresh. Frozen vegetables are very similar in nutrients to fresh and can be stored longer. Last week at my grocery store, fresh green beans were $2.99 per pound, and a pound of frozen whole greenbeans was $1.99. I saved a dollar buying the frozen green beans and when sauted in butter and garlic, they tasted the same.
Check for use-by-this-date discounts. Go early to get the best deals on meat and breads. I get meat for my family at 25% off on a managers discount and throw it in the freezer. The freezer can extend the use-by dates for months. The same goes for buns, donuts,and cakes. If you find a product that has a discount, you might want to substitute it for something on your list or just buy it in addition. Last week there was a managers special on chicken breasts. So instead of buying ground chicken for chicken tacos , I made chicken breast tacos instead.
Now that we have our cart full and our list is complete, let's head to the cash register for more savings!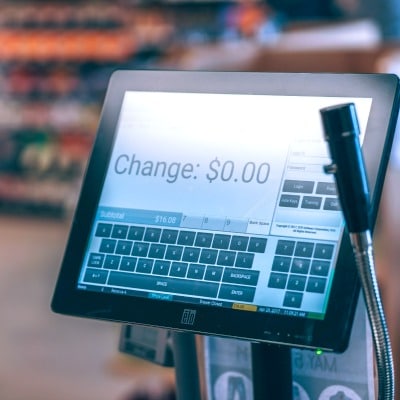 Watch Carefully As Your Cart Is Rung Up
Watch the screen as your items are being scanned. Sometimes the prices are wrong (especially on sale items). Most stores have a price guarantee. Don't be overcharged and nullify your hard work to save money.
Wait until all of our items are rung, then give the cashier the coupons. Watch as these are rung thru. Sometimes the cashier is going so fast that the coupon does not scan. Check to make sure that all of your digital coupon savings were given. That is why you notated on your list which items had a digital and/or printed coupon. Ask the cashier to check each one. One time I was not give $12.00 worth of digital coupons. Lastly, make sure any quantity discounts are given. You should have notated if any of your items were part of a campaign to give dollars off for buying a certain quantity of items. This all sounds like a long process, but it really only takes a few minutes at the checkout. When I first started doing this, I thought people behind me in line were getting upset that I was taking time to verify my discounts. Instead, they came up to me and commented that they were going to start doing what I was doing!
Lastly, pay with a credit card that offers rewards. Just make sure you pay off the full balance when you get the statement each month and it will be just like you paid in cash for your groceries. I use a credit card that gives extra points for buying groceries and let's me automatically use those points as cash on Amazon!
Thanks for joining in today and I hope these 14 Super Ways to Save on Groceries help you to more value every time you shop!