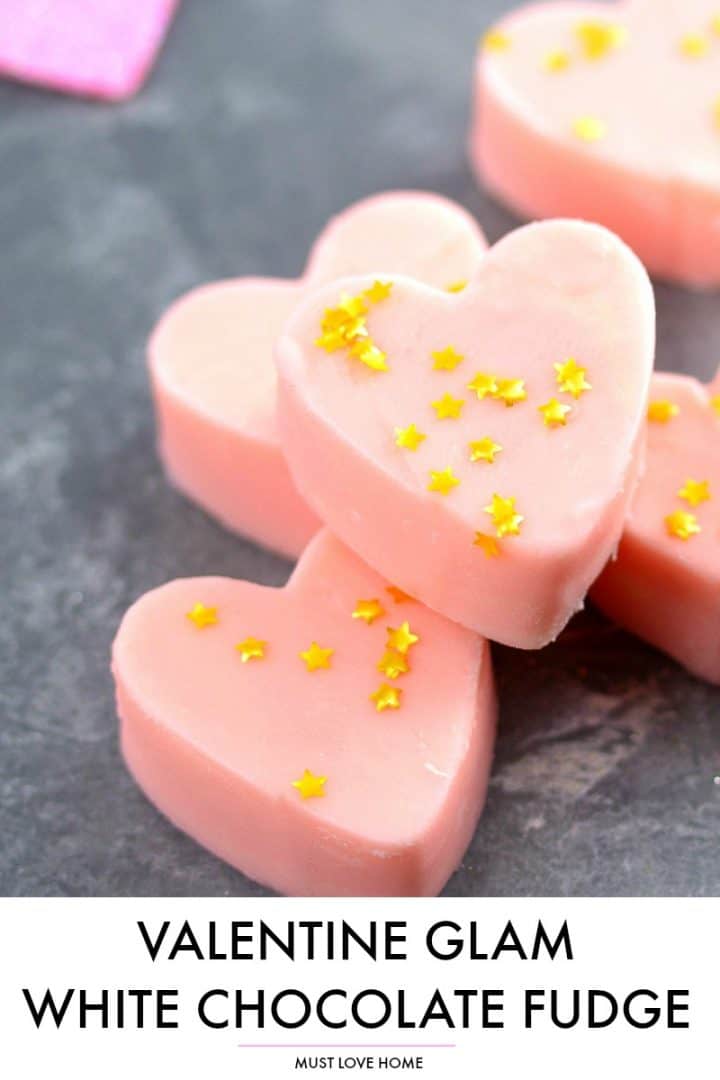 Every year for Valentines Day it seems like the same gifts change hands…cards, chocolates, flowers. This year, I have been looking for ways to make the exchanges different and add some fun, like with this recipe for Valentine Glam White Chocolate Fudge. It's easy to make and you get to give some bling…without the hefty price tag.
Just pack up the fudge in a pretty, reusable tin with a note and you have a tasty, thoughtful gift.
My hubby is one the road working most of the time, so we won't get to celebrate Valentines Day together this year. Instead, I'm going to send him a care package of Valentine sweets, including this fudge, to show him how much he means to me.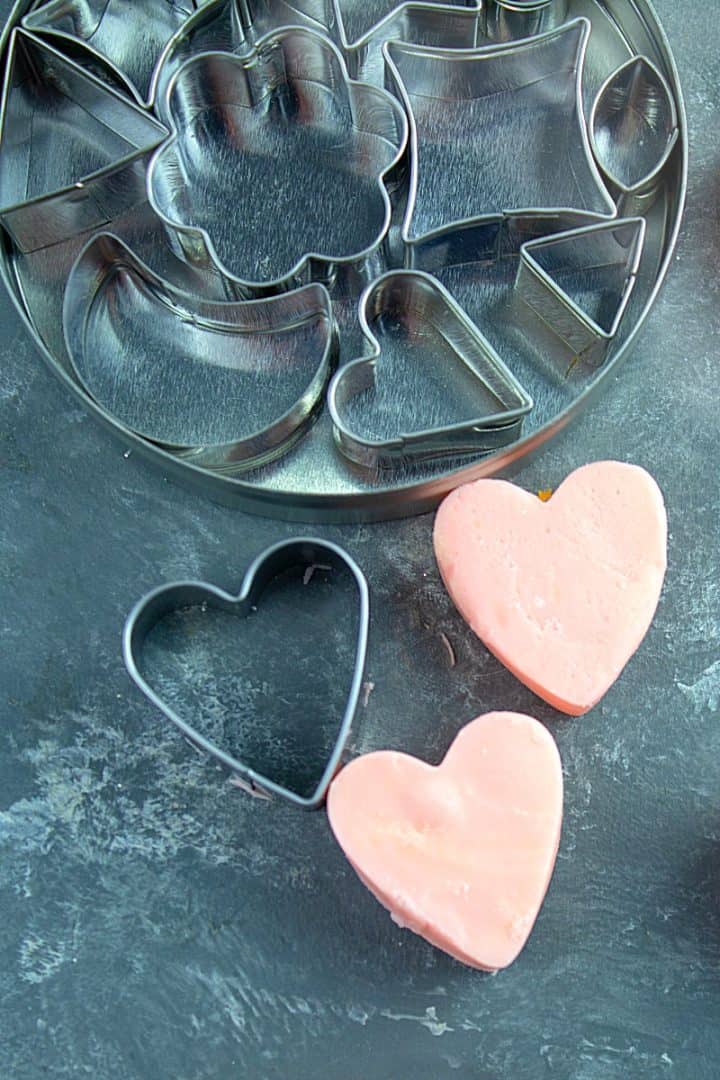 A while back, I kept seeing gorgeous images of food on Pinterest that were decorated with little shapes cut out of fruits and veggies. I wanted to try it so I invested in a mini cookie cutter set. This set is awesome and even comes with it's own storage case…a must for people like me who lose track of things.
HOW TO MAKE WHITE CHOCOLATE FUDGE
This fudge is so simple that anyone can make it. If you can stir and pour, you have the skills necessary for this job!
Start by prepping a 9 x 13 pan. Line the entire pan with foil, pressing down at the corners so there are no air bubbles. Apply butter liberally all over the foil to keep the fudge from sticking after it has chilled.
Grab a large, heavy saucepan and add the 3/4 cup of butter (1-1/2 sticks), the sugar and the evaporated milk. Only use 2/3 cup of the can of milk, not the whole thing or the fudge won't set. While stirring over medium heat, bring the ingredients to a boil.
You will boil the mixture at a full rolling boil for 4 minutes. You must keep stirring the whole time so it doesn't burn. After 4 minutes, remove the pan from the heat.
Working quickly, stir in the white chocolate chips and the marshmallow creme. As the chocolate and marshmallow creme melt, the mixture will become very thick. Stir in the vanilla and any food coloring, if any, you are using.
Pour the final mixture into the prepared pan and smooth the top out with a spatula. Place the pan in the refrigerator for an hour or two to set. Once set, cut the fudge into pieces or use a mini cookie cutter to cut out shapes.
CAN I SUBSTITUTE POWDERED SUGAR FOR THE GRANULATED SUGAR WHEN MAKING FUDGE?
Generally, the answer is no, not when making fudge. Powdered sugar is just granulated sugar that has been ground into a fine powder, then cornstarch is added to prevent caking. The cornstarch is the culprit here. It does not dissolve well, so you could end up with lumps of unmixed sugar and cornstarch.
For some baked goods, the substitution of powdered sugar for regular white sugar is fine. For every one cup of granulated sugar the recipe calls for, use 1-3/4 cups powdered sugar. You should experiment with the recipe until you are satisfied with the sweetness from the powdered sugar.
MORE WHITE CHOCOLATE FUDGE FLAVORS USING ADD-INS
This recipe is for a basic white chocolate fudge. Adding in fruits, nuts, candies and extracts can make this basic recipe into any flavor you desire. A few to try are:
Add crushed candy canes and a 1/2 teaspoon of peppermint extract to make Peppermint Candy Fudge.
Stir in chunks of milk chocolate and walnuts for Chunky Monkey Fudge.
Dried cranberries, apricots and pistachios can be stirred in to make Fruit and Nut Fudge.
Dried blueberries and a 1/2 teaspoon of almond extract stirred in make Blueberry Almond Fudge.
The combinations are endless and are a great way to use up leftovers from your baking shelf.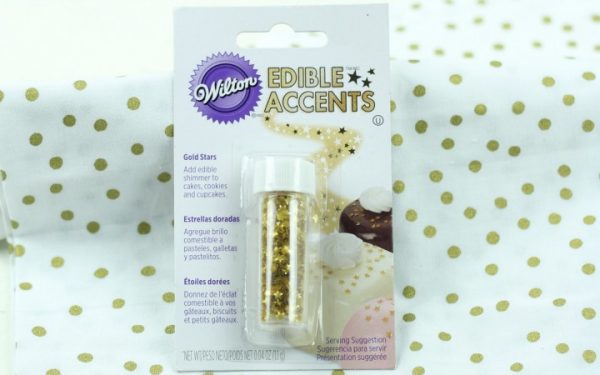 The edible gold star sprinkles are the real deal. They are gold metallic and hold up well even on moist food.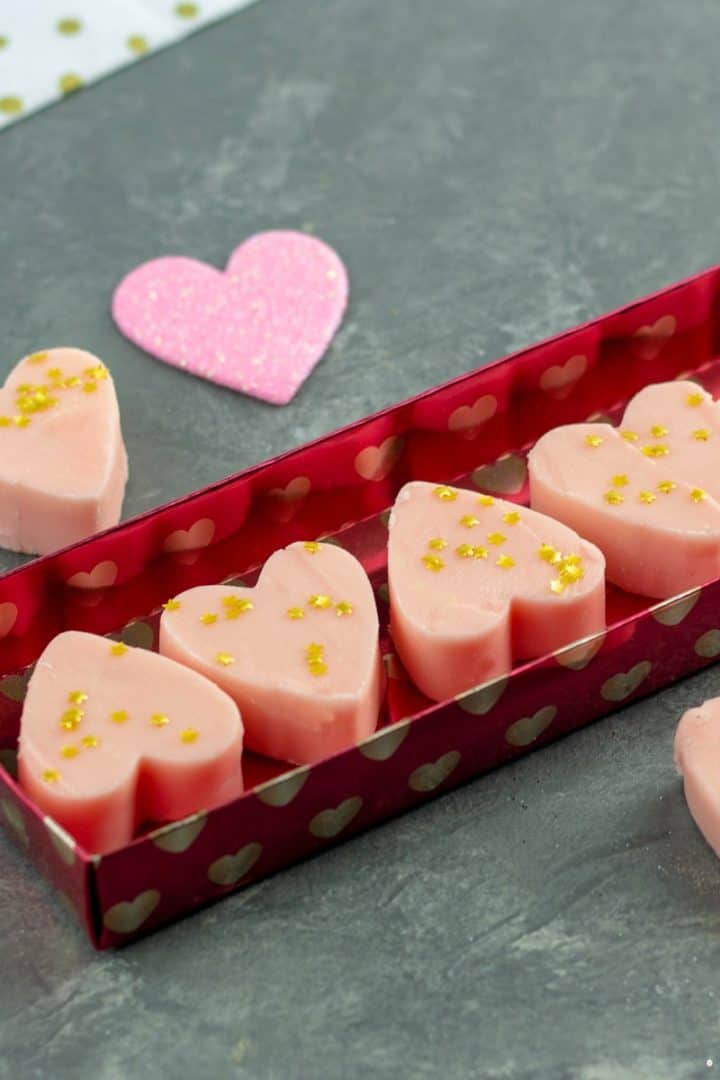 If you are looking for other ideas to celebrate your Sweety on Valentines Day, why not try making a batch of Baked Valentine Cherry Donuts. Kids and adults both love them!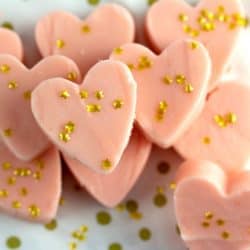 Valentine Glam White Chocolate Fudge
Creamy and delicious, made from white chocolate chips, evaporated milk, sugar and lots of butter! They literally melt in your mouth!
Instructions
Line a 9 x 13 inch pan with foil, pressing foil flat at the corners.  Liberally grease foil with butter or margarine.

In a heavy saucepan, combine butter, sugar and milk.  Bring to a rapid boil over medium heat, stirring constantly. Continue to boil 4 minutes, stirring mixture constantly.

Remove the pan from heat. Stir in the chocolate chips and marshmallow creme until melted. Mixture will become very thick. Stir in the vanilla. 

Using a toothpick, add tiny drops of pink food coloring and stir in, until the desired shade is reached.

Immediately pour into prepared pan, using a knife or spatula to smooth the top. Refrigerate until firm, 1-2 hours. 

Using foil, lift fudge out of pan. Remove foil; cut fudge into 1-in. squares. or desired shape. Sprinkle on edible gold star sprinkles, making sure they lay flat to stick.

Store between layers of waxed paper in an airtight container on the counter for up to 1 week, or in the refrigerator for up to 2 weeks.
Chef Tips
Note – I added the gold star sprinkles after the fudge was firm and cut into shapes. They will stick if laying flat. If you want to add regular sprinkles, use them while the fudge is still soft and lightly press to adhere.
Nutrition Facts
Serving:
1
piece
Calories:
64
kcal
Carbohydrates:
10.26
g
Protein:
0.32
g
Fat:
2.69
g
Saturated Fat:
1.67
g
Cholesterol:
4.99
mg
Sodium:
5.02
mg
Potassium:
15.03
mg
Fiber:
0.01
g
Sugar:
9.75
g
Vitamin A:
48.91
IU
Vitamin C:
0.05
mg
Calcium:
11.33
mg
Iron:
0.01
mg
© Copyright Christine Mello for Must Love Home. We would love for you to share a link to this recipe but please do not copy/paste the recipe instructions to websites or social media. We are happy for you to share a photo with a link back to this website instead.