This slow cooker whole chicken is a deliciously seasoned Sunday dinner style chicken made with the help of a crock pot.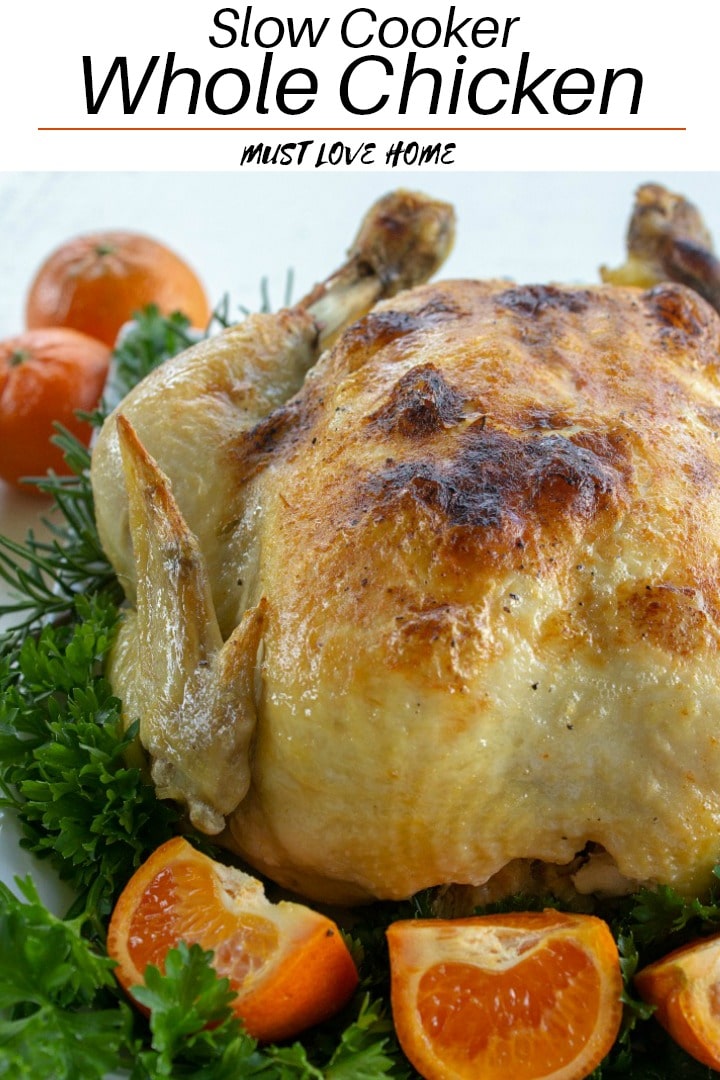 I love serving a whole cooked chicken for dinner. Everyone is happy that they get to choose their favorite pieces…and get to fight over the deliciously crisp skin. It used to be a breeze to do this… pick up a rotisserie chicken at the grocery deli and bring it home to reheat. I changed my ways and now make my own after reading that the store-bought chicken contains preservatives I didn't want for my family.
Hands down,  the easiest way to cook a whole chicken is in a slow cooker, followed by a short stint under the broiler to get that extra crispy skin everyone loves. Life is good!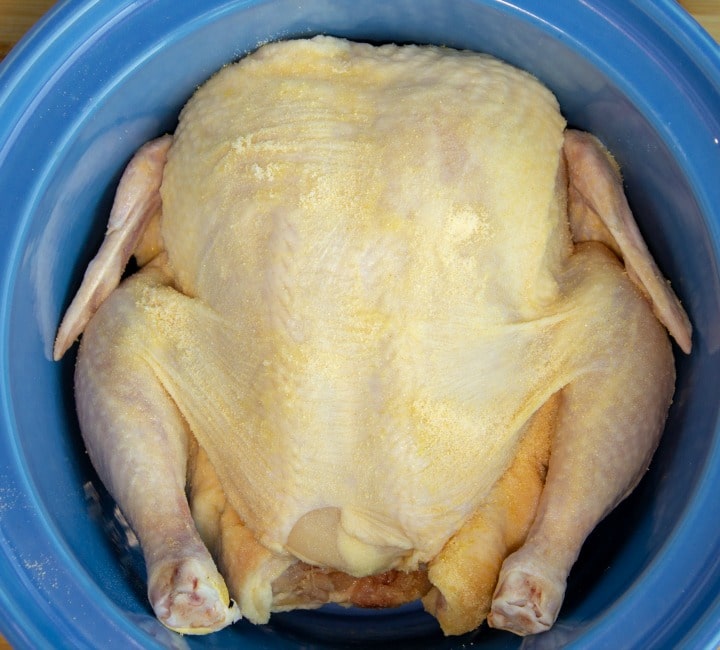 IS IT SAFE TO COOK A WHOLE CHICKEN IN THE SLOW COOKER?
Although it may seem that cooking food at such a low temperature might be dangerous, slow cookers are safe  according to the USDA.
When you use a crock pot, the food stays at 170-280 degrees in a tightly covered container.
It's generally recommended that you cook the chicken on high heat for at least one hour for food safety purposes. This recipe already calls for cooking the chicken on high heat for the entire cooking time.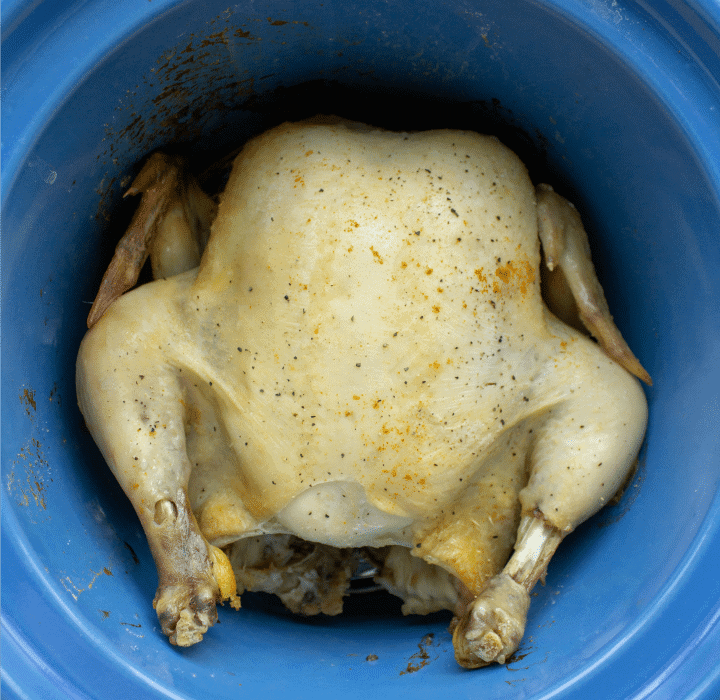 HOW LONG DOES IT TAKE TO COOK A CHICKEN IN A SLOW COOKER?
It generally takes 3 – 4 hours to cook a whole chicken on high heat in the slow cooker. It generally takes 7 – 8 hours to cook on low heat.
If you plan to cook your chicken on the lower heat setting, be sure to cook the chicken on the high setting for one hour before you switch to low. This will make sure the chicken is at the correct temperature for food safety purposes. If using this method, continue to plan on 7 – 8 hours full cooking time.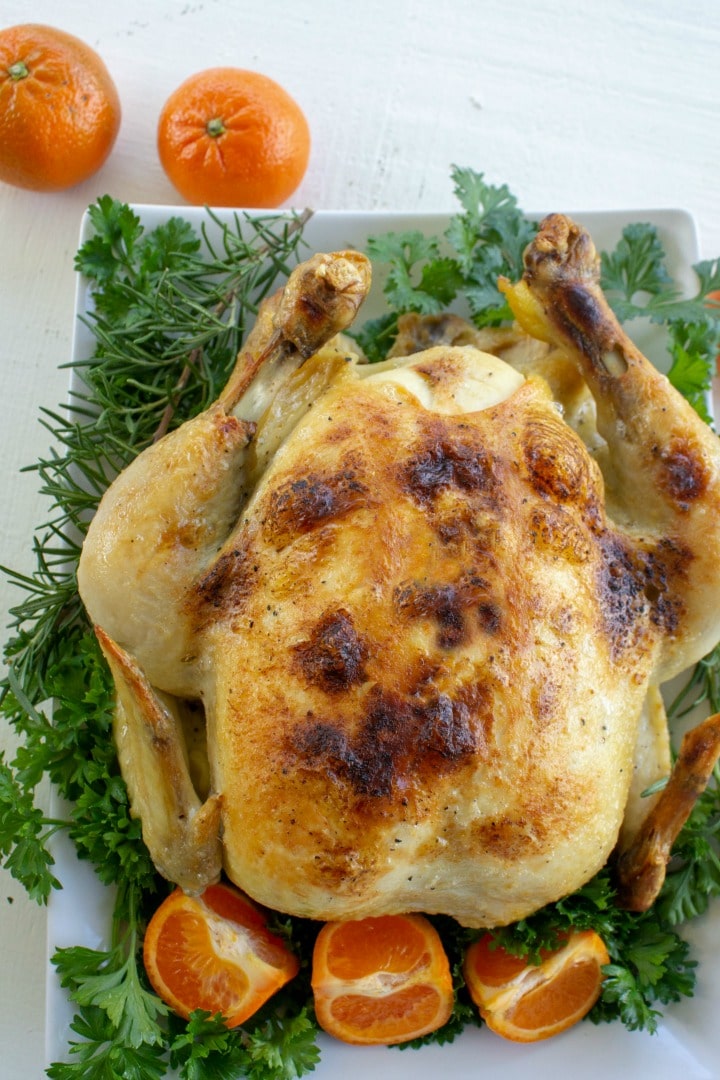 Slow Cooker Chicken Flavor Alternative
This chicken is delicious as is, or you can add more spices and sauces before broiling! Some of my favorites are:
brush on a thick layer of barbecue sauce
sprinkle with thyme and parmesan cheese
mix 2 tablespoons melted butter, 2 tablespoons honey, and a teaspoon of minced garlic. Brush all over the chicken.
brush on honey mustard sauce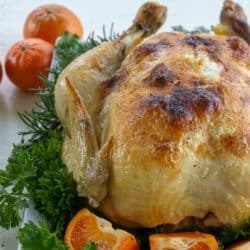 Slow Cooker Whole Chicken
Slow Cooker Whole Chicken recipe is a deliciously seasoned Sunday dinner style chicken made in the crock pot. It's a super simple meal option that will be the centerpiece of your dinner table.
Instructions
Tear off 2 pieces of heavy duty foil. 8 inches wide each. Roll each piece lengthwise into a loose tube. Place the foil into the bottom of the slow cooker insert, creating a rack for the chicken.

Wash chicken and remove giblet bag. Pat the chicken dry inside and out with paper towels.

In a small bowl, mix together all of the spices. Rub the chicken inside and out with the spice mix. Place the chicken breast side up into the prepared slow cooker insert.

Cover and cook on High for 3-4 hours or on Low for 6-8 hours.  The chicken is done when a meat thermometer inserted into the thickest portion of the chicken thigh reads at least 165°F.

Remove the chicken from the slow cooker to a platter, allowing a few minutes to cool before carving.
Nutrition Facts
Serving:
1
serving
Calories:
314
kcal
Carbohydrates:
0.33
g
Protein:
27.07
g
Fat:
21.89
g
Saturated Fat:
6.26
g
Cholesterol:
108.86
mg
Sodium:
489.5
mg
Potassium:
274.33
mg
Fiber:
0.06
g
Sugar:
0.03
g
Vitamin A:
285.3
IU
Vitamin C:
2.32
mg
Calcium:
15.97
mg
Iron:
1.45
mg
© Copyright Christine Mello for Must Love Home. We would love for you to share a link to this recipe but please do not copy/paste the recipe instructions to websites or social media. We are happy for you to share a photo with a link back to this website instead.