Get ready for hot and spicy with Slow Cooker Habanero Chicken Tacos. Piled high with chunks of juicy chicken and corn salsa, they're a smoldering treat for the taste buds.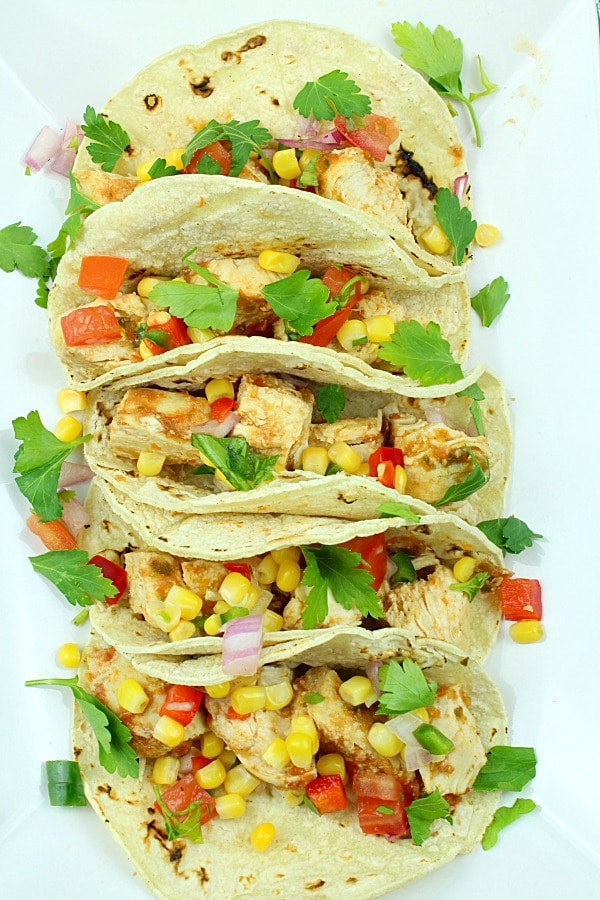 Recently I got my first taste of a raw habanero pepper. Talk about eye-watering heat!! Thankfully, the habanero's burn is toned down when it is cooked for hours in the slow cooker, but is still plenty hot for all us spice lovers. There is something important you should know when you cook with peppers that are this hot. WEAR GLOVES! I cut two Habaneros is half then washed my hands with soap, twice! Hours later I rubbed my eye and it burned something fierce from pepper oil still on my fingers. The oil contains an irritant called capsaicin and when it contacts your skin or eyes, it burns. To finally get all of the pepper oil off my hands, I had to rub them with cotton balls soaked in alcohol. Lesson painfully learned!
Talking about heat – have you heard of the Scoville scale? If you aren't familiar with it, it is a measurement of the spicy heat of chili peppers or other spicy food in Scoville Heat Units, or SHU. Just to give you an idea, Jalapeno peppers are 1,000 – 10,000 Scoville Heat Units while Habanero peppers are a giant 100,000 – 350,000 SHU's. That's seriously a lot of burn!
Reasons to enjoy Slow Cooker Habanero Chicken Tacos:
Throw everything in the pot and walk away for hours
Easy to double, only need to increase the chicken amount, not sauce
Versatile – serve leftover meat on buns with slaw, or add to pasta with veggies for a quick meal
Economical – chicken is an inexpensive source of protein
Looking for more slow cooker chicken recipes? Check a few from my collection here: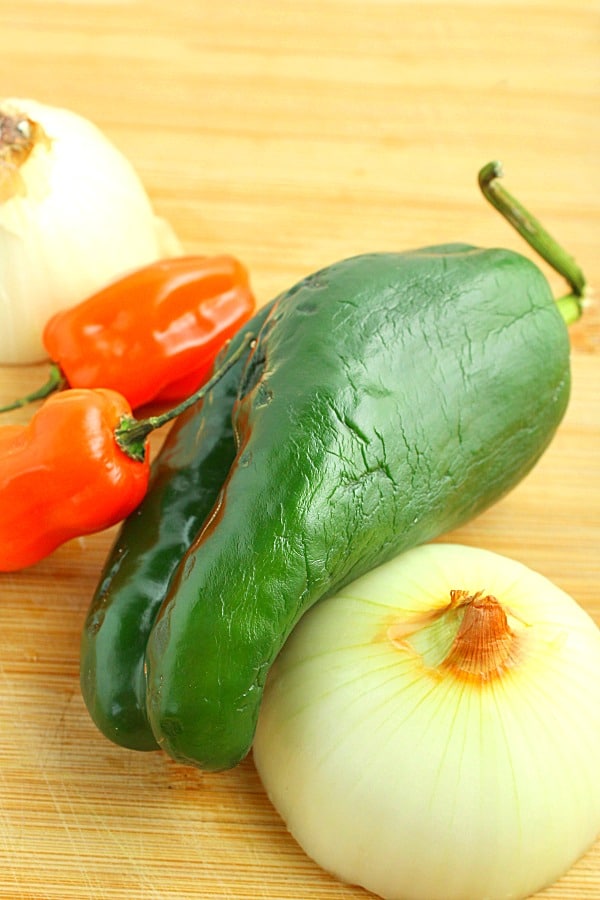 The incredible flavor of this recipe starts with habanero and poblano peppers, as well as onions.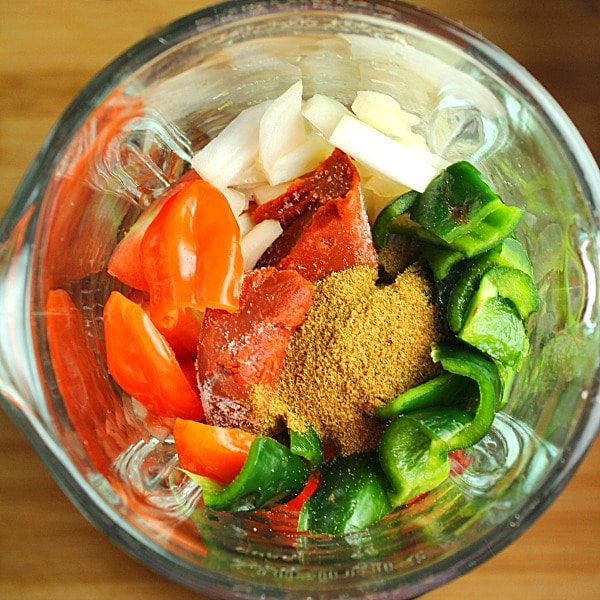 I like to throw everything into the blender because 1) it's quick and easy and 2) it's easier to clean than the food processor. Just be sure to put the chopped tomatoes in the bottom so the blender has enough soft food and liquid to puree everything.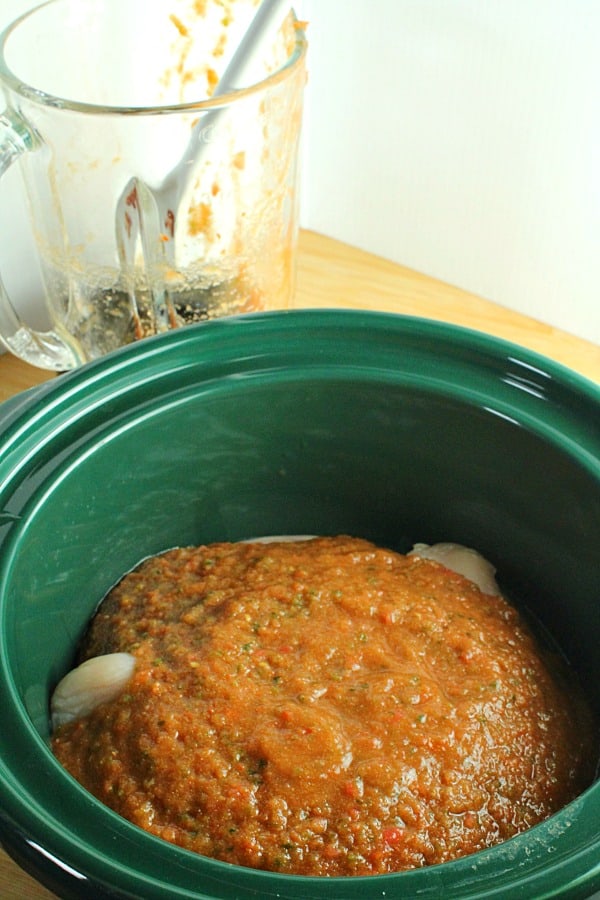 I debated over whether to include this picture. It is not attractive, I know. But in the end, this is a cooking blog so I thought you should see what the pepper puree looks like when it's poured over the chicken. Stay calm, things will look very different when the chicken is cooked!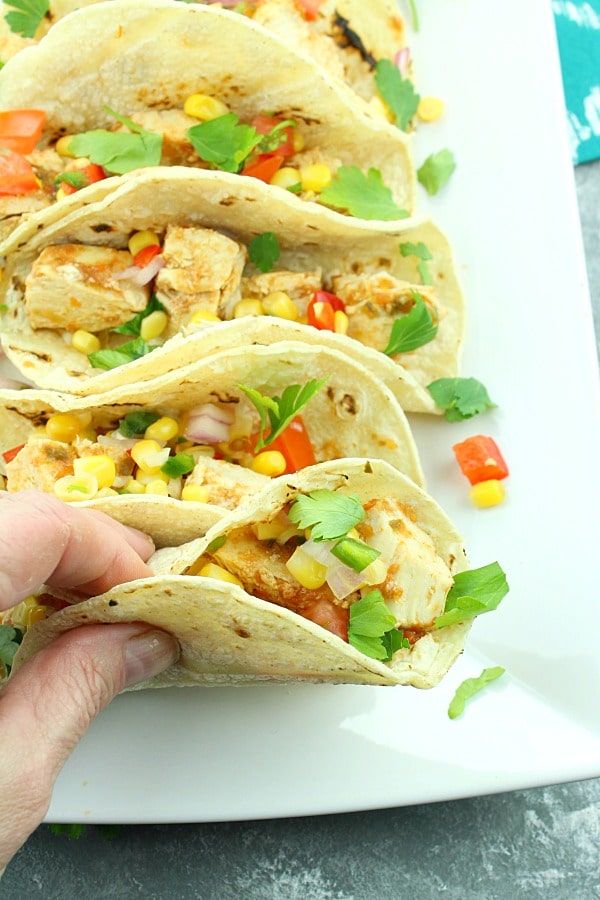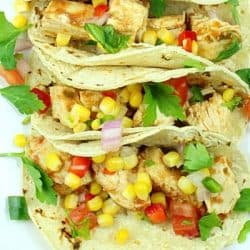 Slow Cooker Habanero Chicken Tacos
Chunky Habanero Chicken Tacos – piled high with chunks of juicy chicken and corn salsa, they are a smoldering treat for the taste buds!
Ingredients
3

pounds

chicken breasts

boneless, skinless

4

medium

plum tomatoes

chopped

1/2

medium

yellow onion

chopped

1

medium

Poblano pepper

stemmed,seeded and chopped

2

medium

Habanero peppers

stemmed and seeded

2

tbsp

tomato paste

1

tbsp

cumin

pinch

salt and pepper

10

medium

corn tortillas

Cilantro leaves for garnish

optional
Instructions
Sprinkle the chicken breasts with salt and pepper and place in the bottom of the slow cooker. .

Place the tomatoes, onion, peppers, tomato paste and cumin into a blender or food processor and puree until smooth. Pour the pepper mixture over the chicken. Cover and cook 3-4 hours on Hugh or 6-8 hours on Low. The chicken is done when it reaches an internal temperature of 165°F on a meat thermometer.

Remove the chicken from the slow cooker. Cut into bite size chunks.

Top each tortilla with chicken garnish with salsa, tomatoes, lettuce and cheese if desired.

Reserve cooking liquid and serve as a sauce for the chicken.
Nutrition Facts
Serving:
1
taco
Calories:
226
kcal
Carbohydrates:
14.59
g
Protein:
31.02
g
Fat:
4.5
g
Saturated Fat:
0.92
g
Cholesterol:
87.09
mg
Sodium:
197.78
mg
Potassium:
686.31
mg
Fiber:
2.47
g
Sugar:
1.85
g
Vitamin A:
359.1
IU
Vitamin C:
16.25
mg
Calcium:
39.54
mg
Iron:
1.42
mg
© Copyright Christine Mello for Must Love Home. We would love for you to share a link to this recipe but please do not copy/paste the recipe instructions to websites or social media. We are happy for you to share a photo with a link back to this website instead.