Marinated Beef Gyros with Tzatziki Sauce ~ A Greek takeout favorite has a new twist! The all-beef filling is marinated for hours, then grilled to perfection and stuffed into a warmed flatbread.
\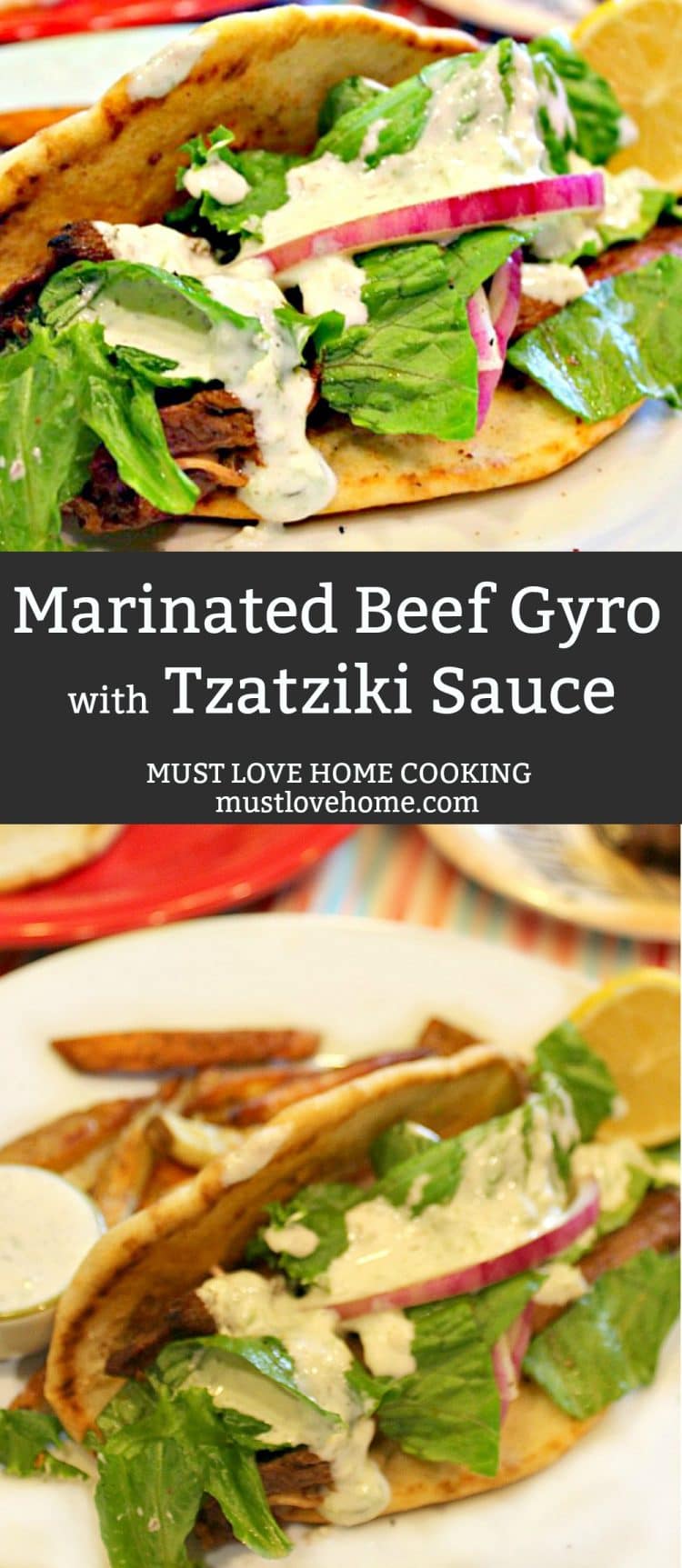 Grilling beef for making Gyros is a great reason to keep your grill ready to go until the snow flies, and sometimes even after!  Who needs to go out for a Gyro when you can make an amazing Gyro at home!
One of our house favorites is Marinated Beef Gyros with Tzatziki Sauce. Beef  that is succulent after hours bathing in a garlic marinade and served with  Tzatziki Sauce…enough said!  Just the smell of the warming Pitas is enough to make my mouth water. Follow this recipe and you too can have a Gyro at home anytime!
Tips and Hints to make the best Marinated Beef Gyros with Tzatziki Sauce recipe:
Start with quality meat – use organic beef and vegetables if possible
When it comes to using spices, keep the shelf fresh by storing spices in a cool, dark place, away from direct heat or sunlight. In tightly closed containers whole spices will stay fresh for about 4 years, ground spices for about 2 to 3 years and dried herbs for 1 to 3 years.
Use fresh squeezed lemon juice for the best flavor and results. If lemon zest is required in the recipe, be sure to zest the lemon BEFORE squeezing it.
I know… It looks like a long recipe, but it's really easy. There are just a few steps to follow….the hardest  part is waiting for the meat. Once I smell the marinade I just want to light up that grill and get started!
Here is the handy printable recipe. Enjoy!
Print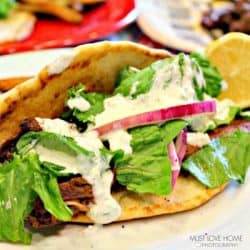 Marinated Beef Gyros with Tzatziki Sauce
Prep Time:

8 hours

Cook Time:

15 minutes

Total Time:

8 hours 15 minutes

Yield:

6

servings

1

x
---
Description
Marinated Beef Gyros with Tzatziki Sauce ~ A Greek takeout favorite has a new twist! The all-beef filling is marinated for hours, then grilled to perfection and stuffed into a warmed flatbread.
---
Scale
Ingredients
2–3 Ibs Sirloin Beef, trimmed and cut into 1/4 inch thick slices
6 Pocketless Pitas
Shredded Leaf Lettuce, Tomato, Slice Red Onion
For the Marinade:
1/2 cup olive oil
1/4 cup lemon juice
2 Tbsp Balsamic Vinegar
3 cloves minced garlic, about 1 Tbsp
1/2 tsp dried Thyme
1/2 tsp dried Oregano
For the Tzatziki Sauce:
2 cups Greek Yogurt**
2 Tbsp Lemon Juice
1 clove minced garlic, about 1/2 tsp
1/2 English cucumber, diced (long and skinny, usually wrapped in plastic)
1/2 Tbsp salt
1 Tbsp fresh Dill or 1/2 Tbsp dried Dill
salt and fresh ground black pepper to taste
---
Instructions
To Make the Marinade:
Place all of the ingredients in a small bowl, mix well to combine. Place the sliced beef into a large ziploc bag, and pour the marinade over the meat. Work the marinade around the beef until all of the slices are coated. Refrigerate for at least 8 hours.
For Tzatziki Sauce: 
Place a colander over a medium bowl. Combine the diced cucumber with the salt.( draws the water out of the cucumber). Put the salted diced cucumber in the colander and sit something heavy on top. ( A few stacked plates works well for this). Allow the water in the cucumber to drain through the colander into the bowl. Allow about 60 minutes for this process. Place the drained cucumber onto a clean kitchen towel. Gather the ends of the towel and squeeze the rest of the moisture from the cucumbers. Do this several times until no more water runs out.
In a food processor or blender, combine the drained cucumber, lemon juice.garlic, dill, salt and pepper. Process until well blended. Stir this mixture into the yogurt and refrigerate for several hours to allow the flavors to blend.
To cook the steak:
Preheat the grill to 350 Degrees. Using a grill liner (steak slices may fall thru grill rack), place steak slices on the preheated grill and cook for 3-4 minutes per side, or until desire doneness. Remove from grill. Discard marinade left in the bag.
Place Pitas directly on the grill rack and heat about 30 seconds on each side to warm.
Assemble Gyros by placing slices of steak in the center of the pita bread. Add lettuce, tomato and onion slices, then drizzle with Tzatziki Sauce. Fold the Pita over on itself to make a half circle. Enjoy!
---
Notes
Prep time includes time needed for steak to marinade.
** Do not use Low Fat Greek Yogurt.