This gorgeous Jack Frost Martini is an excellent addition to any holiday party. It's a classic martini with a chilly blue curacao twist!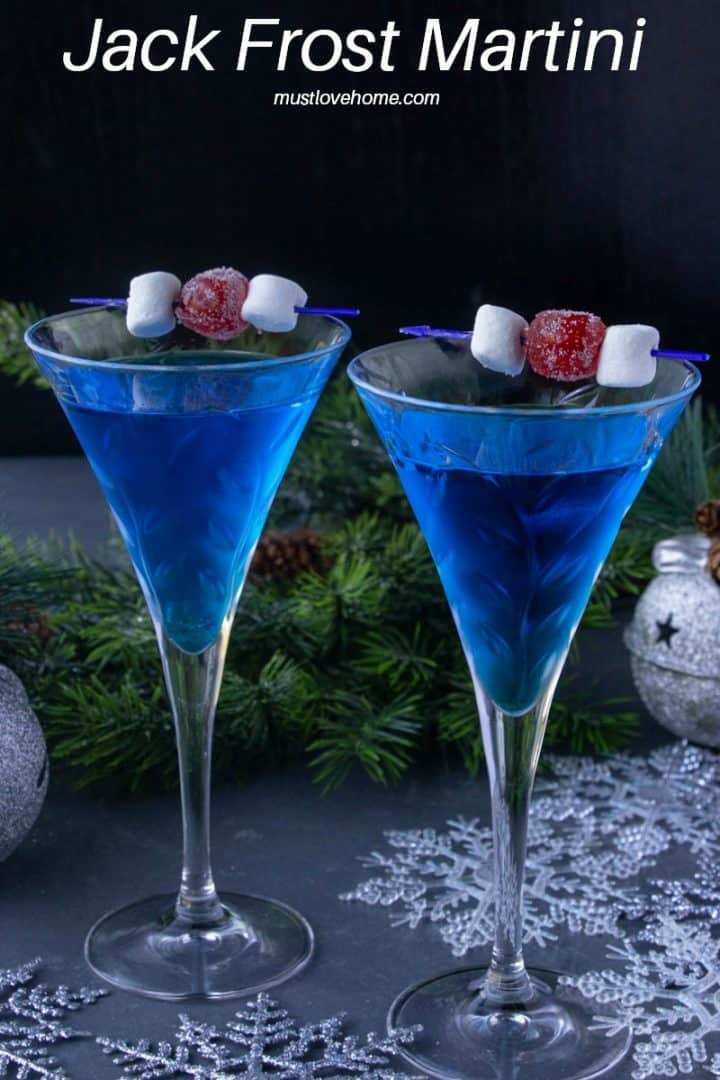 With all of the red, green and peppermint of the holidays, it's time for a break. Push out of your comfort zone and add some beautiful blue to the festivities with a Jack Frost Martini, made with Blue Curacao.
If you are anything like me, you still have gifts to buy, goodies to bake and oodles of wrapping left to do. When somehow it magically all come together in the end, I just want to sit back and enjoy the celebration with a cocktail in hand. Salut!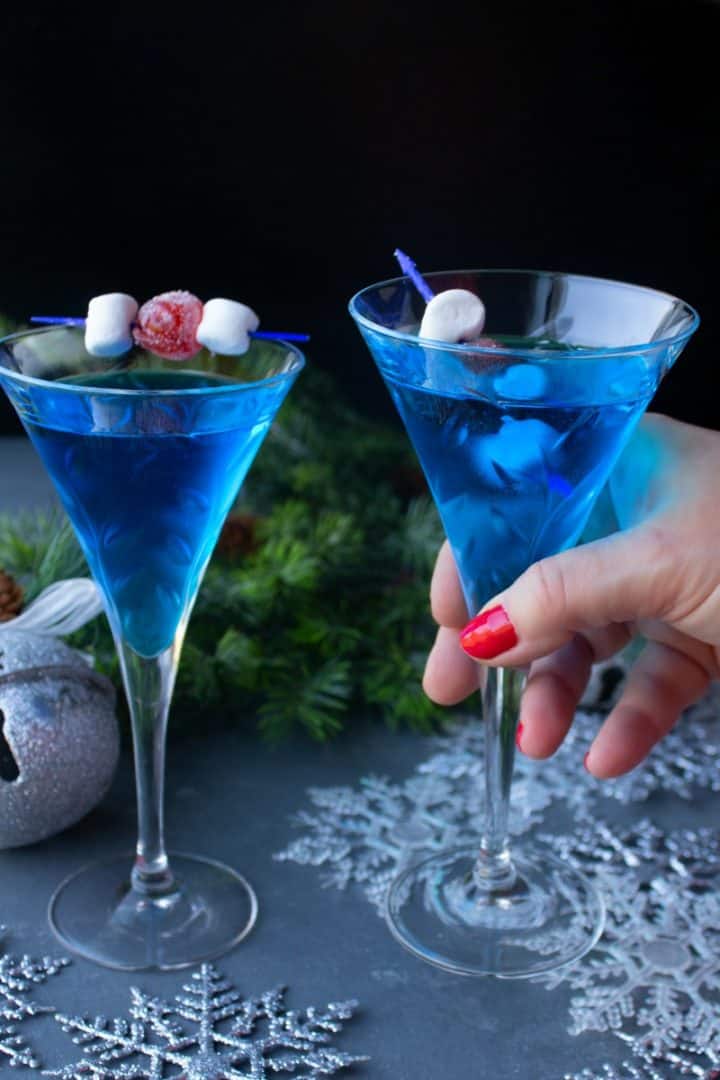 WHAT IS A MARTINI AND WHERE DID IT START?
A martini is a cocktail made with gin or vodka and dry vermouth. Choosing whether to use gin or vodka is a simple matter of taste. Gin brings a more complex, botanical-influenced flavor, whereas vodka provides a smoother, some say tasteless, profile to the drink.
There are competing stories of who actually invented the Martini. Some say it was a concoction mixed in the 1860's by bartender Jerry Thomas, of the Occidental Hotel in San Francisco. Other suggest that the drink originated in a prominent bar in Martinez, where it was known as a "Martinez Special." There it was served to a gold miner who was celebrating on his way to San Francisco. Still others say that the Martini came from the East Coast, in the heart of New York City and involves the uber-wealthy Astor and Rockefeller families.
WHAT IS VERMOUTH?
Vermouth is essential for any well-stocked home bar. Vermouth takes it's name from the German word "Wermut" and is an aromatic fortified wine. It's flavored with herbs, roots, bark, flowers and other botanicals. Vermouth comes in two basic types: sweet and dry, each with different cocktail uses.
Simply put, dry vermouth is white and sweet vermouth is red. There are different gradients of vermouth and lots of exceptions to just the dry or sweet label. For our purposes, we'll stick to the basics.
Dry White – sips like a slightly boozy, slightly floral white wine (which is what it is) and has about 4% sugar content.
Sweet Red – classic Italian vermouth that gets it's red color from caramel coloring and contains simple syrup. The sugar content is about 10 – 15%.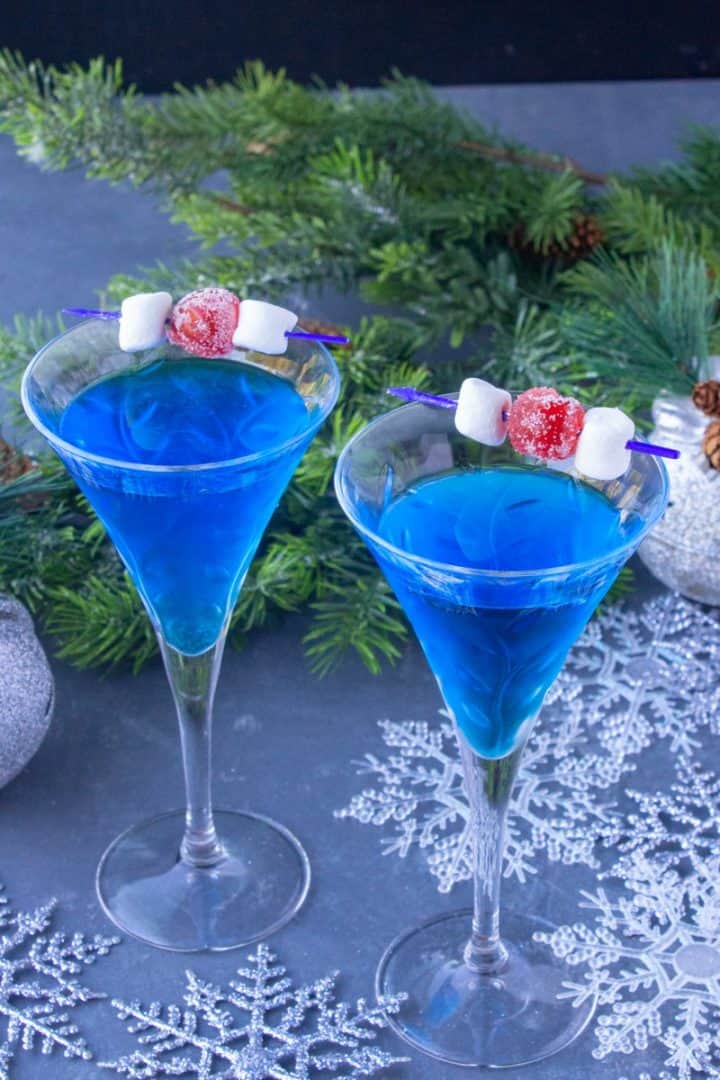 Jack Frost Martini
A frosty Classic Gin and Vermouth Martini with a Blue Curacao twist!
---
Click highlighted ingredients to buy them!
INGREDIENTS
2

ounces

Gin

1/2

ounce

Blue Curacao

1/2

ounce

dry Vermouth

mini marshmallows and cherries for garnish
INSTRUCTIONS
Put a handful of crushed ice and drink ingredients in a cocktail shaker and shake well. Strain into a chilled martini glass and add a garnish.
---
NUTRITION INFORMATION PER SERVING
Serving:
1
cocktail
|
Calories:
186
kcal
|
Carbohydrates:
5.09
g
|
Protein:
0.02
g
|
Fat:
0.04
g
|
Saturated Fat:
0.02
g
|
Sodium:
1.7
mg
|
Sugar:
4.56
g
---
© Copyright Christine Mello for Must Love Home. We would love for you to share a link to this recipe but please do not copy/paste the recipe instructions to websites or social media. We are happy for you to share a photo with a link back to this website instead.