Make this Creamy French Mustard Chicken – juicy sauteed chicken breasts with an easy, tangy sauce made with two kinds of mustard and real cream! Great on pork and seafood too!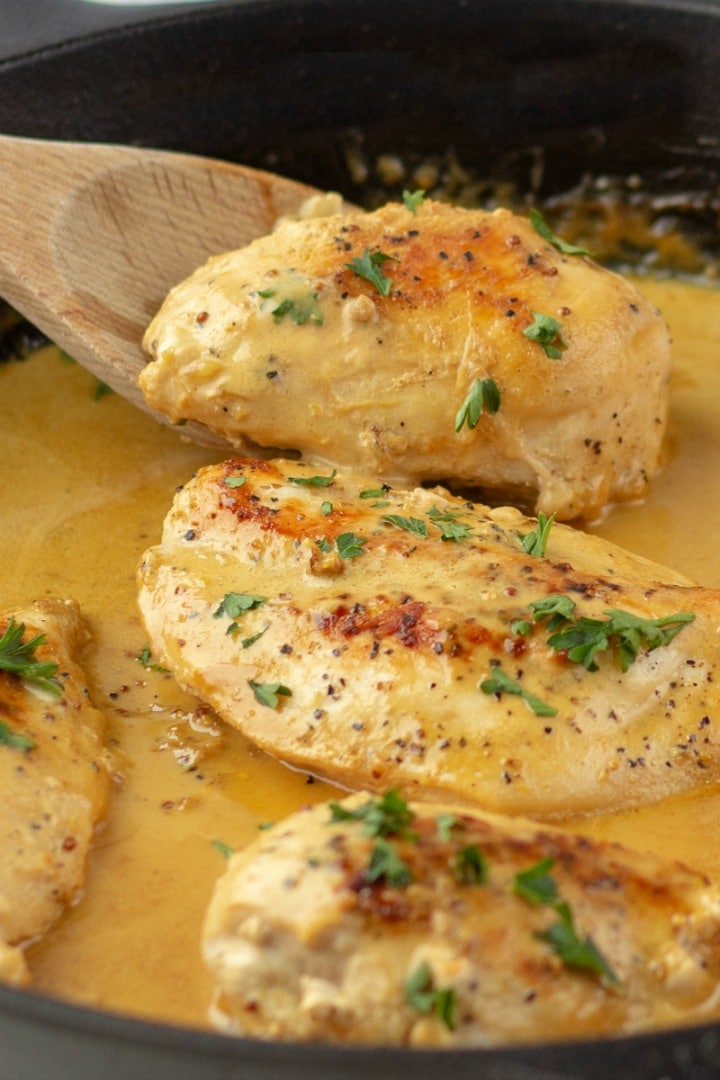 Chicken is a staple for dinner at our house. Fried, baked, roasted, sauteed, love them all. But this recipe is honestly one of the best I have ever tasted. The sauce is what makes this dish so special, so try it on pork ,seafood and veggies too!
One mistake I used to make was not wiping out the pan after removing the chicken from the skillet. Check your skillet. If you have little dark particles in the pan after sauteing the chicken, remove them before de-glazing to keep your sauce from darkening. Honestly, I just use a paper towel and swirl it around the pan to get any loose charred pieces out.
When you add the chicken back to the skillet, be sure to pour any juice back in the pan too. You don't want to lose any of that flavor!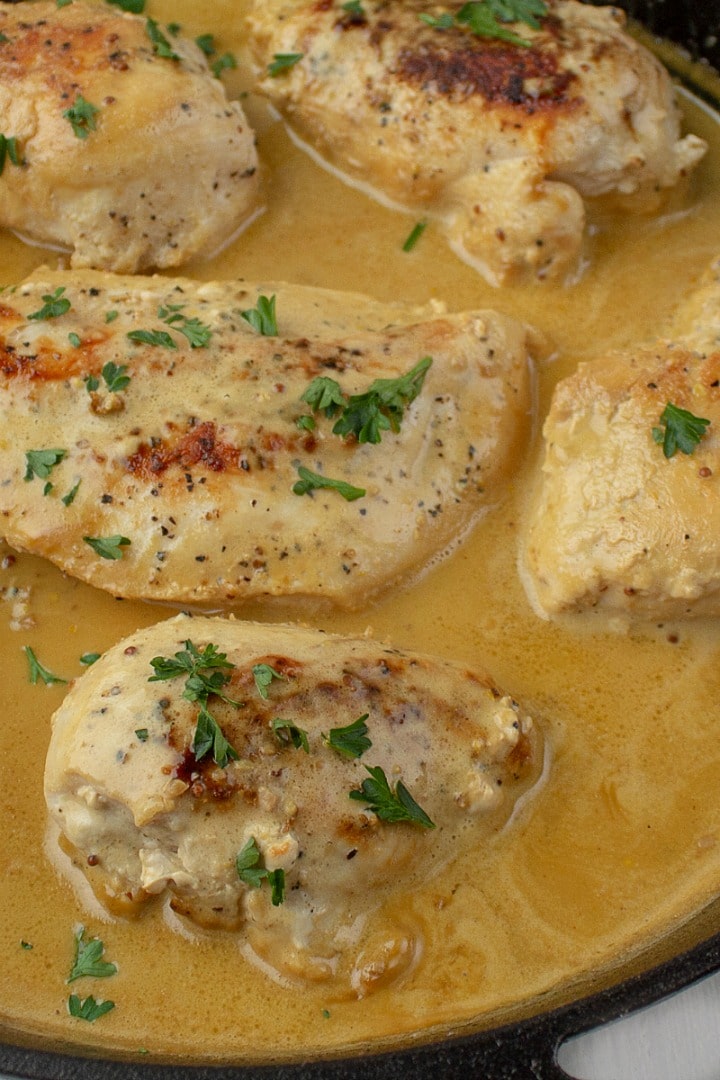 Normally, I would cut the breasts lengthwise in half. Thinner chicken breasts will cook in half the time. This time, I cooked the breasts right out of the package. I was lazy and didn't feel like cutting them or pounding them into thinner pieces. They still turned out moist and juicy even with the longer cook time.
Either way, be sure to check with a meat thermometer that the chicken has reached an internal temperature of 165° F. Don't have a thermometer…cut into the center of one piece to check. Just pull apart the sides using a fork and knife until you can see the color of the meat all the way through. Do this in good lighting to make sure the meat is actually the color you see. If the meat has some pink hues in the white, it needs to be cooked a little bit longer. If the meat is all white, then it is fully cooked.
TIPS FOR MAKING THE BEST CREAMY FRENCH MUSTARD CHICKEN
Creating a creamy mustard sauce for sauteed chicken breasts was fairly simple. The hardest part was deciding on whether to make the sauce with cream or butter and if I wanted to add white wine. In the end, I wanted a thick sauce so I decided to use cream and wine (why not?). To make a tangy sauce, I added two kinds of mustard, Dijon and whole grain. When you taste it, if it's too tart, just add a little more cream or broth to the sauce until you get the flavor you like.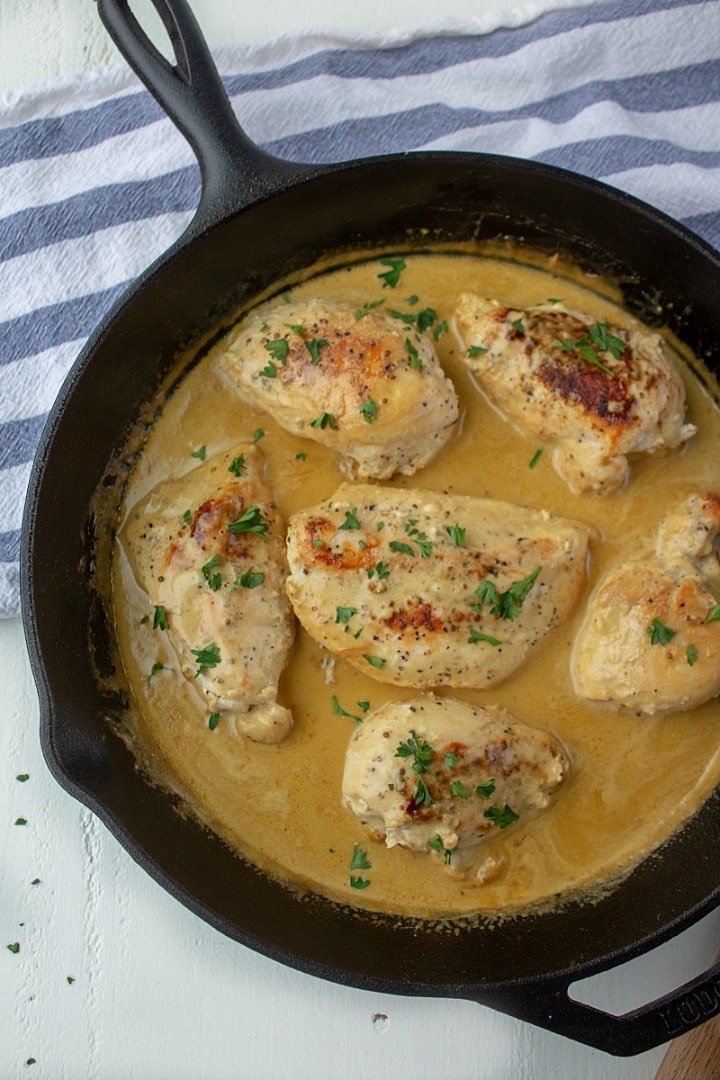 INGREDIENTS NEEDED TO MAKE THIS RECIPE
Chicken – this recipe was made with chicken breasts for their quick cooking and mild flavor. Chicken thighs are delicious with the mustard sauce, but may take a little more time to cook.
Butter – when cooking, I use only unsalted butter (unsalted is all I buy). That way the cook controls the salt in the dish. You could use olive oil for sauteing the garlic if you want to, but the butter adds creamy flavor (as only butter can, of course) so it was my choice.
Garlic – fresh minced or pressed is the best. If you are able to find a jar of ready minced garlic that you like, then use it.
Dijon Mustard – this recipe works best with a good, balanced Dijon. Our favorite is Grey Poupon, which is the brand I used for this sauce. If you like the punch of heat from some other Dijon mustards, then go for it. Some brands are really sour from too much vinegar or their choice of white wine added so might not work well here. In the end, the best Dijon to use is the one you like.
Stone Ground Mustard – there is a lot of variety in stone ground mustard. For this recipe, I used Inglehoffer Original Stone Ground Mustard. It has a mild, sweet taste that compliments the Dijon. I can't say this enough … use what you like.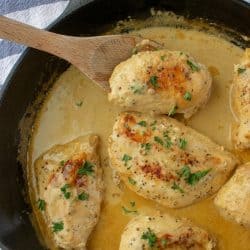 Creamy French Mustard Chicken Recipe
Creamy French Mustard Chicken are juicy sauteed chicken breasts smothered in a tangy sauce made with two kinds of mustard and real cream! Great on pork and seafood too!
Ingredients
2

pounds

chicken breasts

boneless, skinless

pinch

salt and pepper

1

tbsp

olive oil

2

tbsp

unsalted butter

4

cloves

garlic

minced (about 2 teaspoons)

1

cup

white wine

or chicken broth

1/2

cup

chicken broth

1/4

tsp

dried thyme leaves

3/4

cup

heavy cream

1

tbsp

Dijon mustard

1

tbsp

stone ground mustard
Instructions
In a large skillet, heat olive oil and butter over medium-high heat until shimmering. Add chicken breasts and sprinkle with salt and pepper.

Cook chicken breasts 4 – 5 minutes per side or until meat thermometer registers 165° F and chicken is done. Remove breasts to a large plate. Set aside.

Drain all but 1 TBSP drippings from the pan. Add garlic and cook until fragrant, about 1 minute. Add wine and to skillet, scraping brown bits from bottom of pan. Simmer until reduced by half,  about 4 minutes. Add chicken stock and thyme to pan. Bring mixture to a boil. Add cream, Dijon and stone ground mustard.  Stir to combine, and bring to a simmer. Sauce will start to thicken.

Add chicken back to the pan and cook additional 3 – 4 minutes until chicken is heated thru.

Serve chicken with sauce spooned on top.
Chef Tips
Slice chicken breasts in half lengthwise for faster cooking time.
Nutrition Facts
Serving:
1
serving
Calories:
369
kcal
Carbohydrates:
2.91
g
Protein:
33.21
g
Fat:
21.3
g
Saturated Fat:
10.45
g
Cholesterol:
147.56
mg
Sodium:
318.03
mg
Potassium:
633.83
mg
Fiber:
0.21
g
Sugar:
0.48
g
Vitamin A:
599.3
IU
Vitamin C:
3.99
mg
Calcium:
34.12
mg
Iron:
0.82
mg
© Copyright Christine Mello for Must Love Home. We would love for you to share a link to this recipe but please do not copy/paste the recipe instructions to websites or social media. We are happy for you to share a photo with a link back to this website instead.