Cold Noodle Broccoli Spinach Salad is a tasty blend of ramen noodles, roasted fresh broccoli and spinach, tossed in a light vinaigrette. Full of vitamins and fiber, this flavorful dish tastes good is good for you, too!
Sometimes I just have to have salad. After indulging in too much game day food. I come back to my senses and try to lighten up and serve something healthier. You just cannot go wrong with broccoli, and spinach too!
This salad is one of my Matthew's favorites. He wondered about the noodles at first, but after eating ramen smothered in vinaigrette, he was hooked. If you add the ginger, or use rice vinegar, it tastes like one of those delicious Asian salads from the deli.
To make life easier, I keep bags of washed fresh broccoli and spinach in the fridge. With the staples already there, throwing together something good for you is easy. This recipe only takes about 20 minutes to make if you have broccoli already cut and ready, and about 5 minutes if you already have the roasted veggies. Go ahead and throw in any leftover vegetables you have too.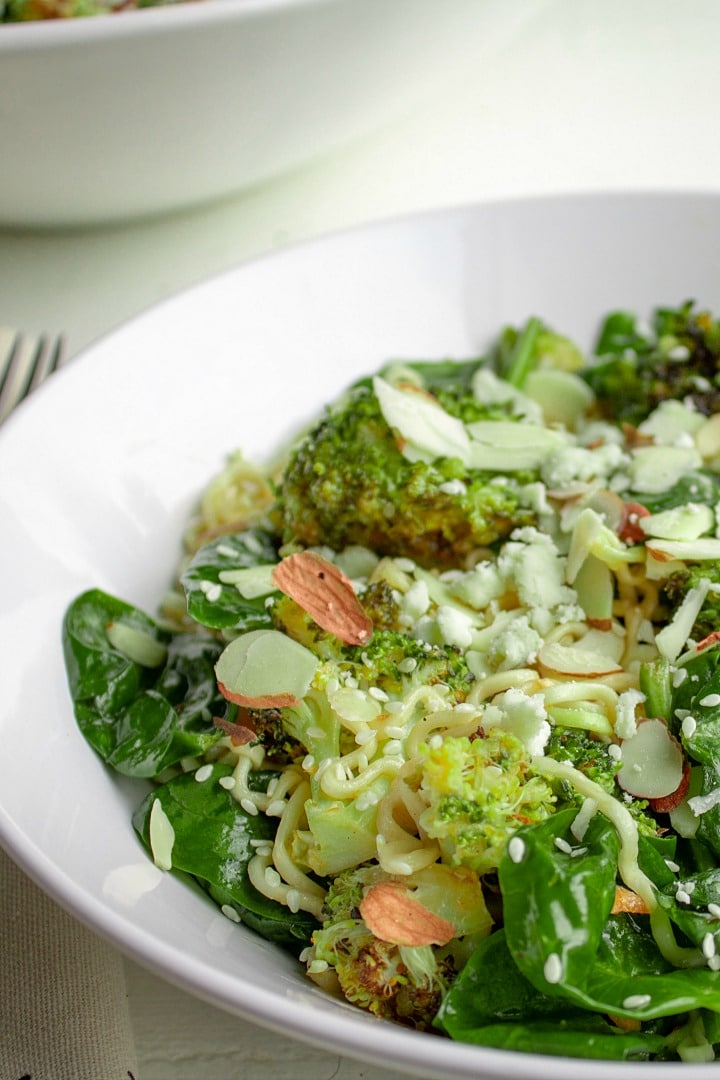 6 TIPS FOR MAKING A GREAT BROCCOLI AND SPINACH SALAD
Cut most of the stem off of the broccoli. Leave just enough to hold the floret together. Save the stems and add to Cheddar Broccoli Soup or another dish.
Pick over the spinach, remove any leaves that have brown spot or feel soft.
Toast the sesame seeds and almonds before adding to bring out all of their flavor. Heating releases the oils.
Use a light vinegar like sherry, rice or white wine for the vinaigrette. Regular vinegar will overpower the vinaigrette.
Add some shredded carrots to the mix for extra color and flavor.
This salad is best served at room temperature or slightly chilled.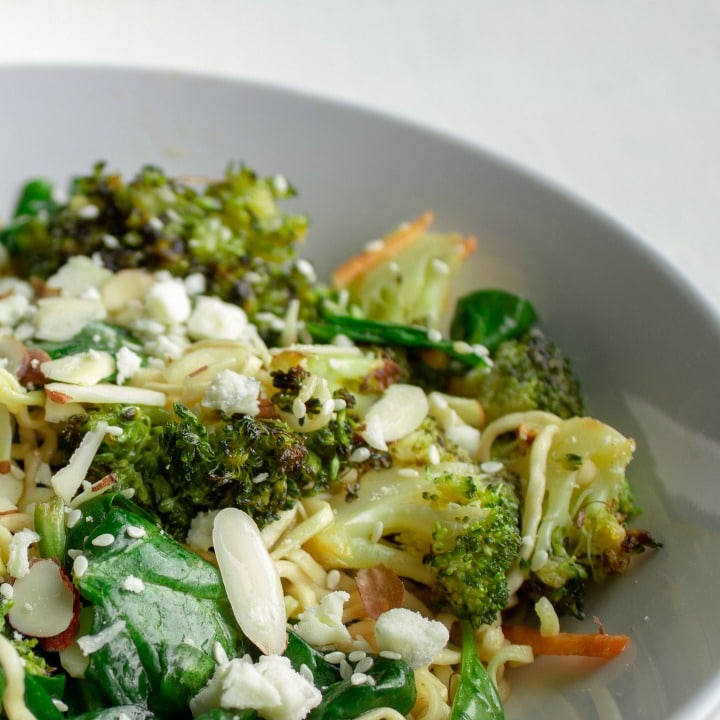 HOW TO EASILY TOAST NUTS AND SEEDS – STOVE TOP METHOD
It couldn't be easier to toast your own nuts and seeds. Just heat a small skillet over low heat. When hot, add the seeds or nuts to the skillet and let them get warm. Stir occasionally and keep a strict eye on the pan to avoid over-toasting. DO NOT OVER-TOAST. Take it from me, I have ruined more than one batch of toasted almonds because I thought they needed "a little more time". Once you see the nuts or seeds start to darken slightly and you just start to smell the oils, remove the pan from the stove. Immediately scrape the nuts or seeds into another dish to stop the cooking process. They will be hot from the heated oil so allow to cool before handling.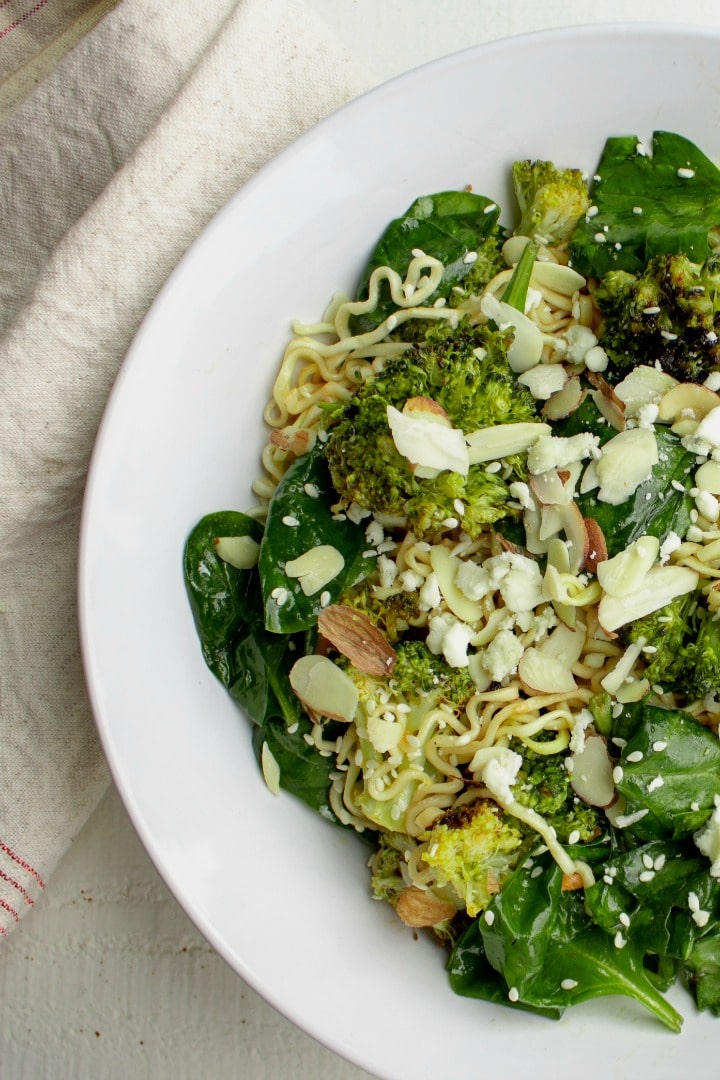 Craving more? Subscribe to MUST LOVE HOME , to get new recipes, our Newsletter , offers and updates delivered straight to your inbox.! Let's stay connected… follow MUST LOVE HOME on FACEBOOK | INSTAGRAM | PINTEREST | TWITTER .
Print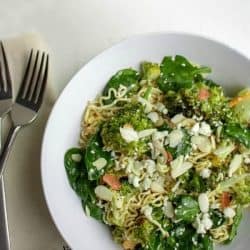 Cold Noodle Broccoli Spinach Salad
---
Description
Cold Noodle Broccoli Spinach Salad is a healthy blend of ramen noodles, roasted fresh broccoli and spinach, tossed in a light vinaigrette. Full of vitamins and fiber, this flavorful dish tastes good is good for you, too!
---
Scale
Ingredients
4 cup

s fresh broccoli florets (

1

large head)

2

cloves thin slices garlic

2 Tablespoon

s +

1/2 cup

vegetable oil

1 teaspoon

kosher salt

1/2 teaspoon

freshly ground black pepper

2

(3 ounce) packages ramen noodles

1/2 cup

sherry vinegar

2 teaspoon

s sriracha

1 teaspoon

fresh ginger, finely grated
pinch of light brown sugar

4 cup

s loosely packed fresh spinach leaves

3

scallions, thinly sliced

1 tablespoon

each toasted sesame seeds and sliced almonds (optional)
---
Instructions
Preheat oven to 450 degrees F.
Toss broccoli and sliced garlic with 2 tablespoons oil, salt and pepper on a rimmed baking sheet. Roast 20 – 25 minutes until broccoli is tender.
Meanwhile, in a small bowl whisk together remaining 1/2 cup oil, vinegar, sriracha, ginger and brown sugar. Set aside.
In a medium saucepan, add ramen noodles and enough water to cover. Discard any seasoning packets.
Bring water to a boil, reduce heat and allow noodles to simmer for 3 minutes or until tender. Remove from heat, drain and rinse with cold water.
Transfer broccoli and garlic to a large bowl. Pour vinaigrette over broccoli and toss to coat. Add spinach and scallions, gently toss. Top with sesame seeds and almonds.
Serve at room temperature or cold.
---
Notes
Store tightly covered in refrigerator for 1 – 2 days.
Rice or white wine vinegar may be substituted for sherry vinegar.