Best Smoked Turkey Stock, savory and rich with smoked turkey wings, is just what you need to up the flavor ante of soups, stews and gravy. Try this silky stock recipe as a base for rice dishes too!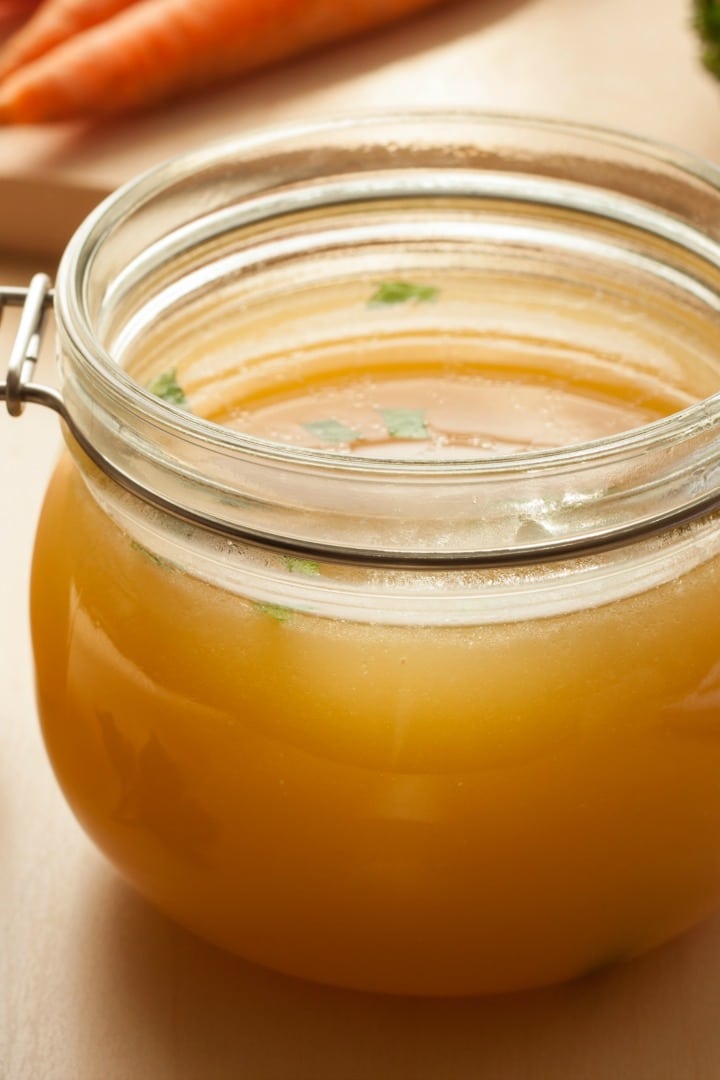 Best Homemade Smoked Turkey Stock is just what you need to kick up all of your favorite dishes. Put that chicken stock away and just revel in this stuff. I use this turkey stock as the starter to make the most incredibly flavorful rice, soups and gravy. It adds a silky feel that you just don't get from store bought stock.
The first time I made my own stock, I was so scared that I would mess it up. I made my Grandma's Vegetable Stock Recipe and it was so simple I thought I did something wrong. Where had this stuff been my whole life? It transformed the dishes I cooked from just "it's good" to "wow, how did you make this"!
Make this stock recipe ahead of time and freeze it. You'll have all the stock you need for weeks. Freeze a few cups in ice cube trays. Just pop out a cube or two to quickly add tons of flavor to skillet and slow cooked dishes.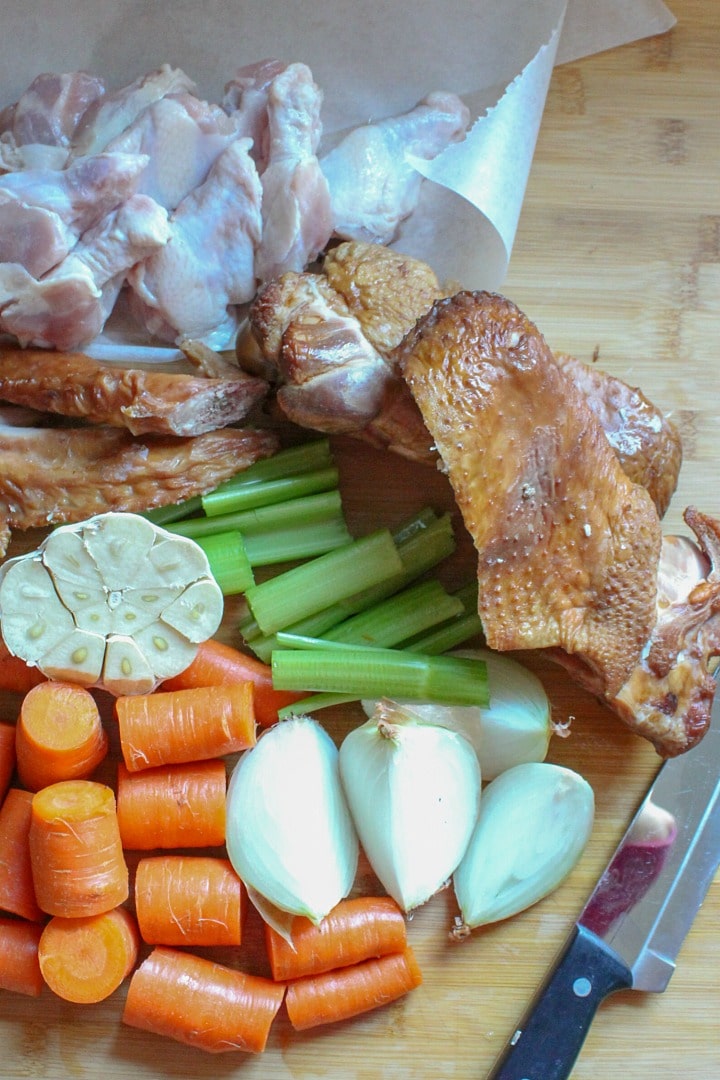 Don't be intimidated. Making Your Own Stock Takes Only A Few Steps
Sticking to my promise to deliver simple and easy recipes, this recipe is just that. It takes a little time, but most of that is spent just kicking back and enjoying the amazing smell of the pot boiling away. Here is all you need to do:
Gather ingredients for your stock
Chop up veggies, garlic and meat
Add all ingredients and water to large stockpot
Allow to come to a boil, then reduce heat to simmer for a few hours.
Strain, leaving only the liquid.
Allow to cool then skim off fat (optional)
Package into freezer containers, label and freeze until you need it.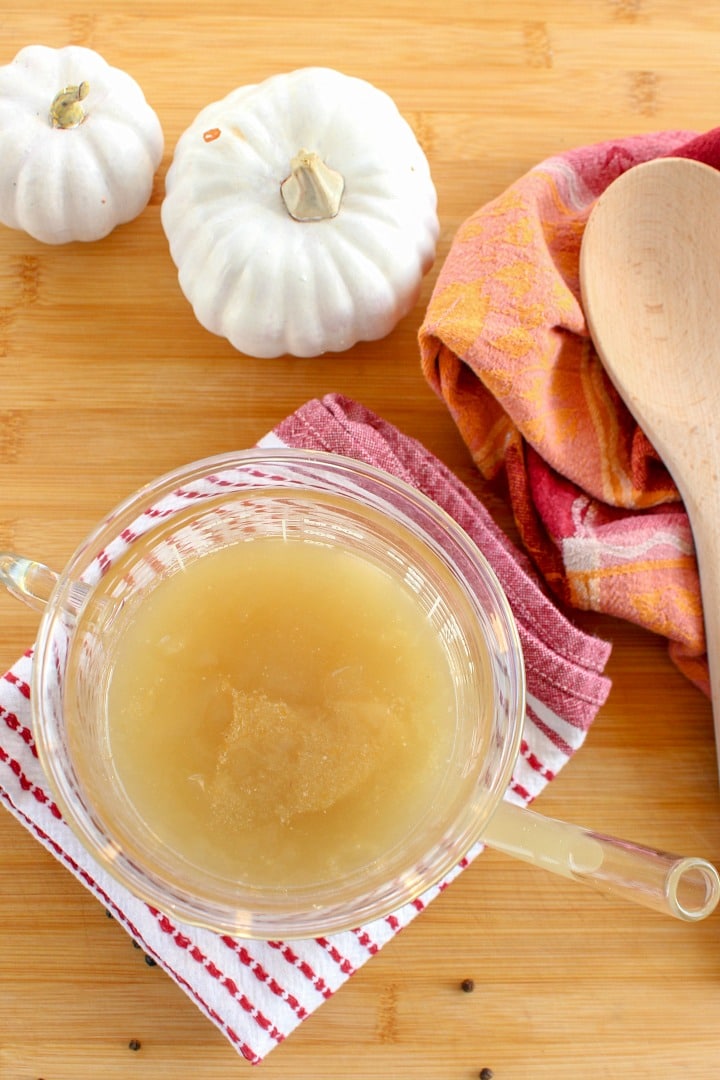 Here are some tips for making the Best Homemade Smoked Turkey Stock:
Use a combination of both smoked turkey wings and chicken wings. All smoked meats may result in a stock that is too salty.
Make it easy…the carrot and celery only need to be coarsely chopped,
Leave the onion peels on for a richer and darker stock.
You may saute or roast the meat, garlic and veggies before placing in the stockpot, but I don't find that step necessary for this recipe.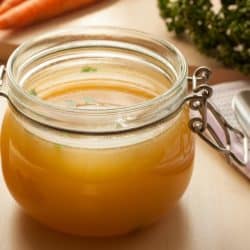 Best Homemade Smoked Turkey Stock
Best Smoked Turkey Stock, savory and rich with smoked turkey wings, is just what you need to up the flavor ante of soups, stews and gravy. Try this silky stock recipe as a base for rice dishes too! A must-have for every Thanksgiving cook!
Ingredients
2

pounds

smoked turkey wings

2

pounds

chicken wings

1

large

onion

quartered

2

medium

carrots

scrubbed and coarsely chipped

2

large

celery stalks

coarsely chopped

1

medium

garlic

halved crosswise

1

bunch

parsley

2

large

bay leaves

1/4

cup

dry white wine

1

tsp

black peppercorns

24

cups

water
Instructions
Add all ingredients to a large stockpot over medium-high heat. Stir. Bring to a boil, reduce heat to a simmer, cook uncovered  3-1/2  – 4-1/2 hours until meat is falling apart and liquid is reduced by half.

Scoop out large pieces and discard. Strain stock into another large pot, discard solids.

Allow to cool slightly, then chill. Fat will rise to the top in a solid layer and be easier to remove. Skim off the fat and transfer stock into airtight containers. Refrigerate until use.
FOR FREEZING:
Cool completely. Ladle into airtight freezer safe plastic containers. Leave 1-inch at top open for expansion. Freeze for up to 6 months.
Chef Tips
Recipe requires a large 3 gallon stockpot.
Simmer stock for the full 4-1/2 hours for stock that is rich, thick and gelatinous.
Make Ahead   Stock can be made up to a week in advance, and will keep in the freezer for up to 6 months.
*Nutrition Information is based on all ingredients nutritional count. Actual amounts are reduced by discarded solids, cooking time and amount of fat skimmed.
Nutrition Facts
Serving:
1
quart
Calories:
496
kcal
Carbohydrates:
7.01
g
Protein:
43.59
g
Fat:
30.84
g
Saturated Fat:
8.43
g
Cholesterol:
160.54
mg
Sodium:
224.97
mg
Potassium:
649.84
mg
Fiber:
1.79
g
Sugar:
2.68
g
Vitamin A:
5194
IU
Vitamin C:
19.7
mg
Calcium:
99.36
mg
Iron:
3.39
mg
© Copyright Christine Mello for Must Love Home. We would love for you to share a link to this recipe but please do not copy/paste the recipe instructions to websites or social media. We are happy for you to share a photo with a link back to this website instead.