Banana Bread Cream Cheese Bundt Cake is made decadent by adding a luscious cream cheese filling – incredibly light yet so moist and delicious you will want to make it again and again!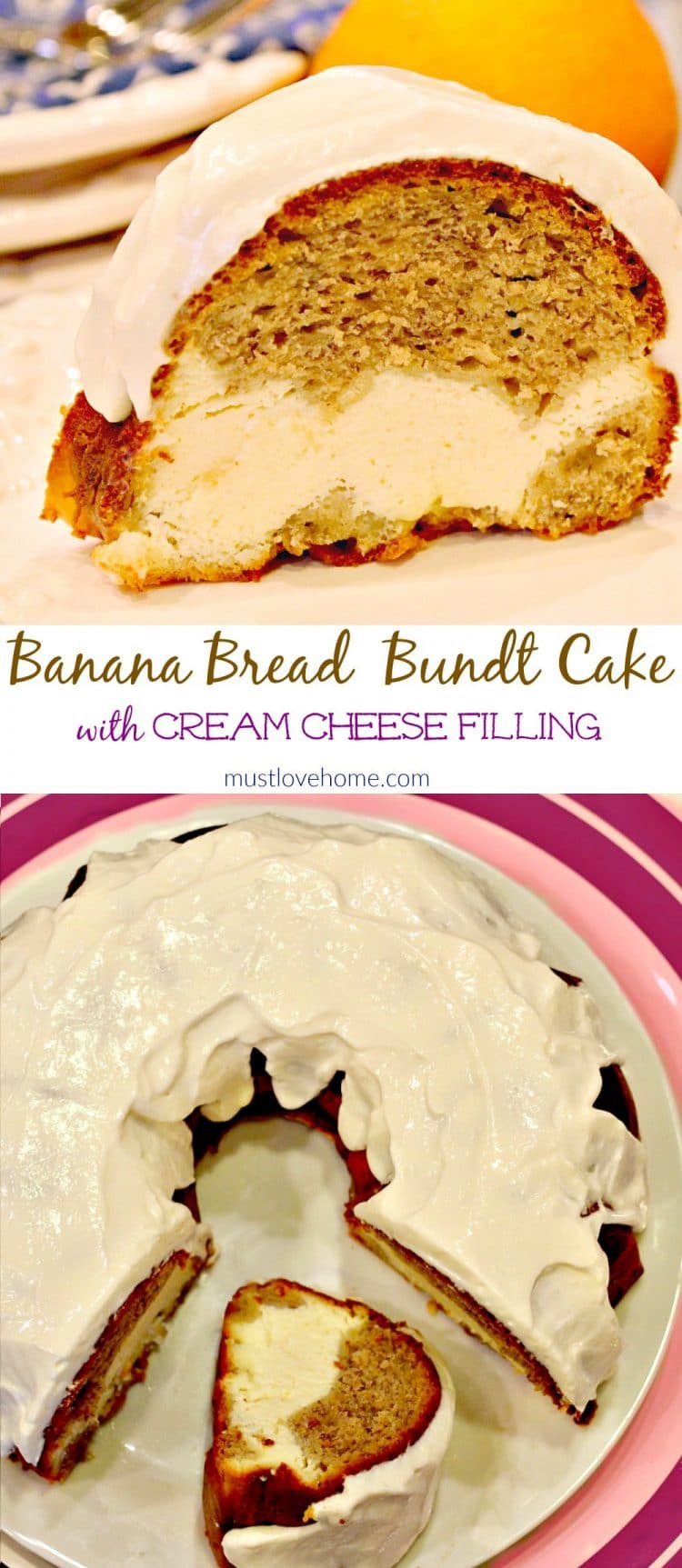 Have you ever seen a recipe for something, with the amazing photo next to it and thought…"that recipe would be perfect if only…"?   Recently I came across a recipe for a cream cheese filled bundt cake..but the cake part was Red Velvet. (Honestly, there are no red velvet eaters in this man-filled house. It must be the "velvet" that sends them running. They truly do not know what they are missing!) Anyway, my guys will inhale anything banana flavored so to keep the peace I created a banana bread cake for this recipe.
Tips for the best Banana Bread Cream Cheese Bundt Cake Recipe:
Use fresh squeezed orange juice for the best flavor with no added sugar. Fresh orange zest is essential for this recipe and  be sure to zest the orange BEFORE squeezing.
Bananas that are best for baking should be overripe. The banana should be soft and evenly pale brown all over. To quickly ripen bananas for baking, place unpeeled bananas on a lined baking sheet in a 300 degree oven for 15 – 30 minutes. They are done when the peel is shiny and black. Stay close as they are cooking – oven temperatures can vary and the bananas can leak as they cook.
Proper measuring is critical for baking. Precise measurements using proper dry and liquid measuring tools is key to a successful baking.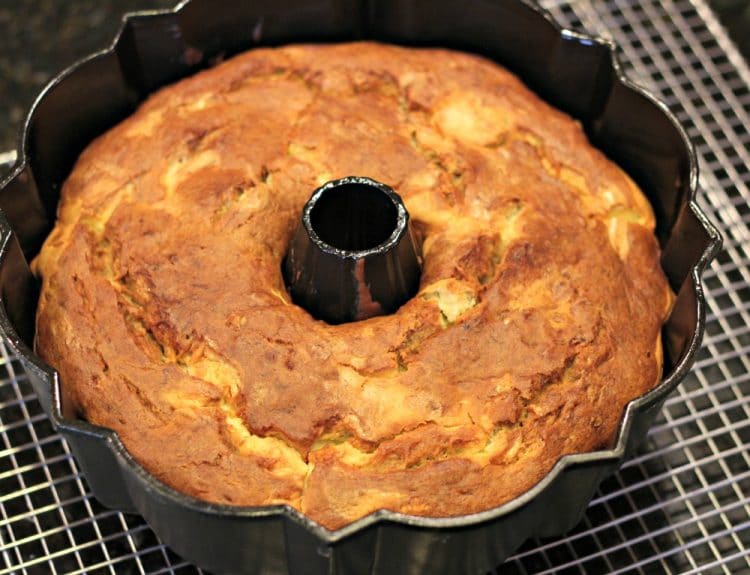 This smelled heavenly coming out of the oven – just like banana cheesecake.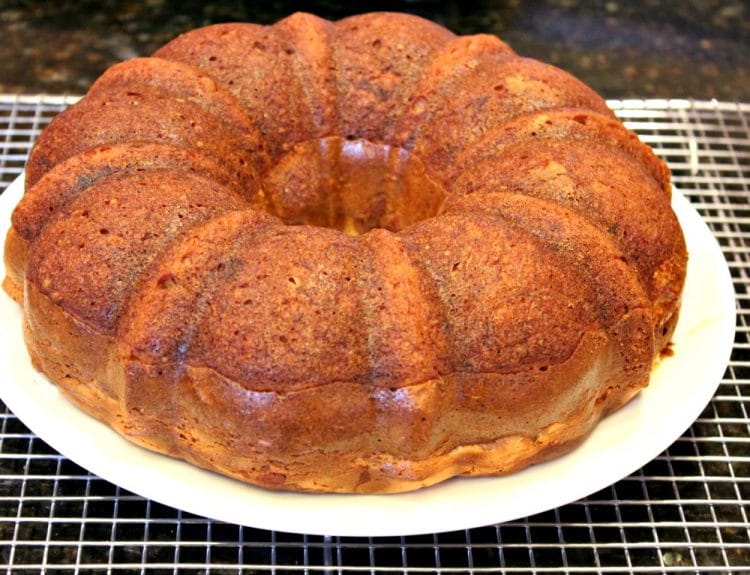 Good Lord, nothing I make is safe in this house! I saw my son heading toward my cooling cake with a butcher knife in hand. He thought it was "just" banana bread and he was ready to dive right in.
When I was physically and emotionally ready, I cut into the cake. Tears were (almost) shed. It is a thing of beauty.
Essential Tools and Ingredients for making the best Banana Cream Cheese Bundt Cake:
Measuring cups – the two most common types are graded cups for measuring dry and solid ingredients and glass cups for measuring liquids. Graded cups usually range from 1/4 cup to 1 cup in size and come in sets. Glass cups commonly come in 1 cup, 2 cup and 4 cup sizes to measure liquid ingredients.
Here is the handy printable recipe. Enjoy!
Print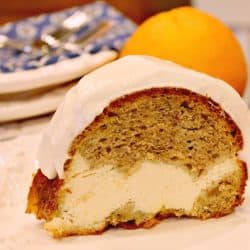 Banana Bread Cream Cheese Bundt Cake
Author:

Prep Time:

15 minutes

Cook Time:

1 hour

Total Time:

1 hour 15 minutes

Yield:

16 servings

Category:

Dessert

Method:

Oven

Cuisine:

American
---
Description
Banana Bread Cream Cheese Bundt Cake is made decadent by adding a luscious cream cheese filling – incredibly light yet so moist and delicious you will want to make it again and again!
---
Ingredients
For the filling:
2 8-ounce packages reduced-fat cream cheese
2/3 cup granulated sugar
2 large eggs
3 TBSP reduced-fat sour cream
3 TBSP heavy cream(I use whipping cream)
1 tsp pure vanilla extract
For the cake:
2/3 cup unsalted butter
1-1/3 cup granulated sugar
5 large eggs
1-3/4 cups mashed overripe bananas, ( 5 medium)
2 tsp fresh grated orange peel
1/2 cup fresh orange juice
3-1/2 cups all-purpose flour
2 tsp baking powder
1 tsp baking soda
1 teaspoon salt
For the glaze:
4 ounces reduced-fat cream cheese
1/2 cup confectioners sugar
1/2 cup reduced-fat sour cream
1 tsp pure vanilla extract
1/8 tsp salt
---
Instructions
Preheat the oven to 350 F and grease the bundt pan.
To make the filling, combine the cream cheese, granulated sugar, eggs, sour cream, heavy cream and vanilla in a medium bowl and using a hand mixer*, beat on medium speed until smooth.  Set the filling aside.
In the bowl of a stand mixer**, using the paddle attachment, cream the shortening and sugar at medium speed about 4 minutes. Add the eggs, one at a time, beating for about 45 seconds after each addition. The batter should be light and fluffy.
Add the banana, orange peel and orange juice. Beat on medium speed until completely combined, about 1 minute.
In a separate bowl, combine the flour, baking powder, baking soda and salt. On low speed, add half of the dry ingredients to the banana mixture, stir until moistened. Add the remaining dry ingredients and beat on medium speed for 1 minute,more, scraping down your bowl with a rubber spatula.
Pour 3 cups of the banana bread batter into the greased bundt pan. Spreading with a spatula until level all around and the top is smooth.
Carefully pour the cream cheese filling mixture evenly in a circle over the cake batter.
Spoon the remaining banana bread batter evenly over the cream cheese filling.
Bake 1 hour on the middle rack of a 350 degree oven or until the top is golden brown and a toothpick inserted into the banana bread comes out clean.
Transfer the cake to a rack and let cool about 20 minutes in the pan, then carefully invert the pan onto a plate and let the cake release. Cool completely, about 2 hours.
For the glaze combine the cream cheese, confectioners sugar, sour cream, vanilla and salt in a medium bowl and on medium speed of the hand mixer*, mix until smooth. . Pour and spread on the cooled cake.
---
Notes
*I prefer to use a hand mixer but a food processor will work too…just puree until the mixture is smooth.
**I like to use a stand mixer to mix cake batter, but it can be made with a hand held mixer or hand beaten.
I used reduced-fat cream cheese and sour cream for this recipe. Full fat cream cheese and sour cream can be substituted.
If you enjoyed this recipe, please pin it and share it with your friends! This recipe was adapted in part from Food Network Magazine and Campbell's Great American Cookbook, 1984.