Primo Crushed Strawberry Gelato, with it's pure berry taste, will have you believing you are summering in Italy – Whether you are in Florence or in your own hometown, this frozen treat with little chunks of fresh strawberries will be a winner!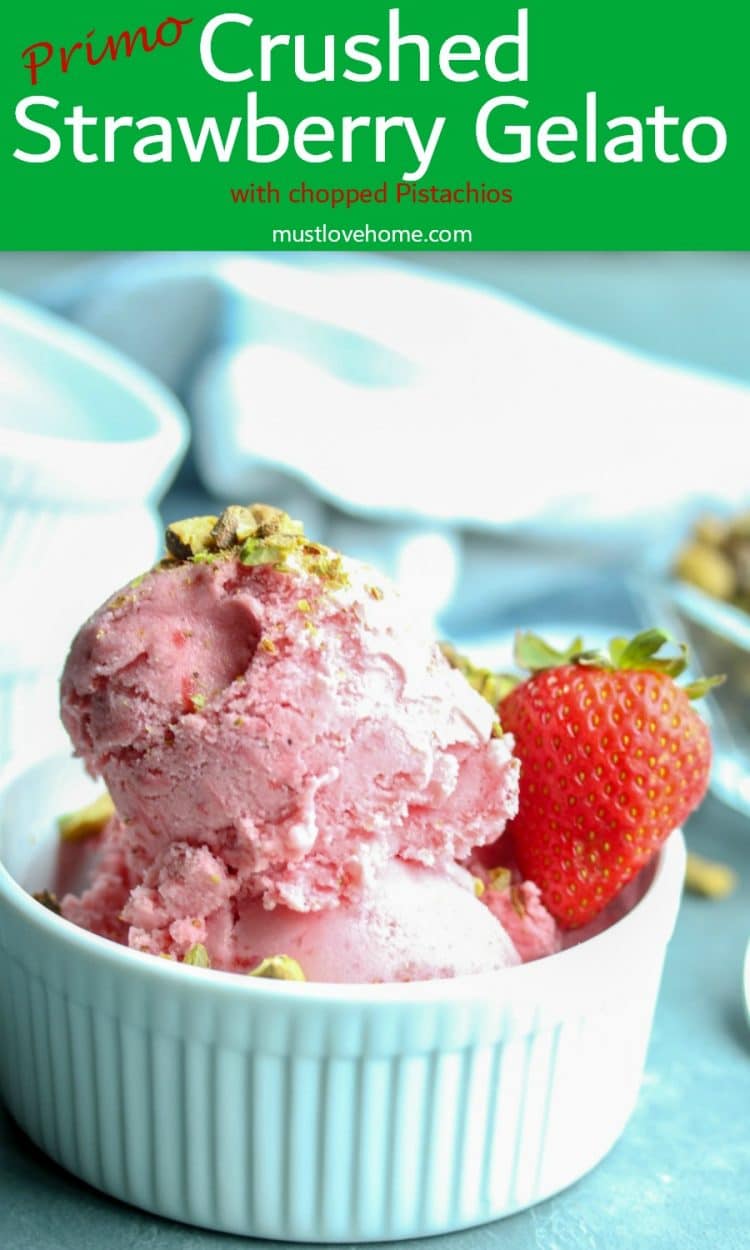 Now that the warm months are finally here to stay, it is time to dust off the ice cream maker. I use my trusty Cuisinart ICE-100 Compressor Ice Cream and Gelato Maker that makes it so easy to make batch after batch of ice cream, sorbet and gelato in one afternoon. Perfection! With so much seasonal fruit rolling in to the supermarkets, it would be a waste not to make something delicious out of it, right?
Most who love it would agree that Gelato is one of life's little pleasures to be savored and enjoyed with company. To me, there is nothing more beautiful than to see the look of sheer joy on my grandson's little face as he devours his gelato. It almost makes me want to give him mine to be able to keep watching. Almost.
Reasons to love this Primo Crushed Strawberry Gelato recipe:
Simple, fool-proof recipe comes out perfect every time
Packed with essential Vitamin C, manganese and fiber
Healthier and lower in fat than strawberry ice cream
Economical and versatile – great with seasonal berries and tropical fruit
Kid tested – what's not to love?
What is Gelato and where did it come from?
When I talk about making gelato, I am usually asked "what is the difference between gelato and ice cream?" From the look on the questioners face, my answer is probably too long and rambling…so this is the short version of what I tell them.
Gelato ( jel- lah- toe) in Italian means "frozen", and is used to indicate the Italian type of ice cream. One of the differences between Gelato and ice cream is that gelato contains two thirds less butterfat. It also doesn't have as much air, therefore has a more intense flavor. It is also generally served 10-15 degrees warmer than ice cream which even further enhances the flavors in the mouth. The traditional flavors of Gelato consist of vanilla, chocolate, hazelnut, pistachio and cream. There are also modern fruit flavors like strawberry, raspberry, mango, and pineapple.
Cold desserts in Italy go way back….they can be traced back through Italian history to ancient Rome! According to legend, it was Bernardo Buontalenti, a native of Florence, who brought gelato to the court of Catherina dei Medici . In Italy the art of gelato making was passed on from father to son, improved and perfected right up to the 20th century. When many Gelato makers began to emigrate, they spread the delights of gelato to the rest of Europe.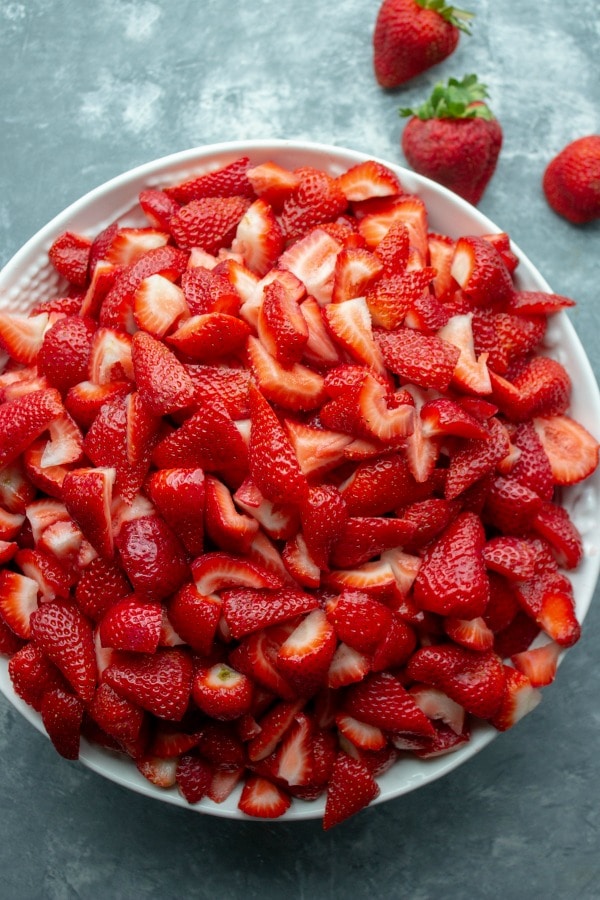 Strawberries were on sale at the grocery so I bought 8 pounds – and made A LOT of gelato! Each strawberry gets hulled and quartered. If they are large berries, cut into 1/8th size pieces.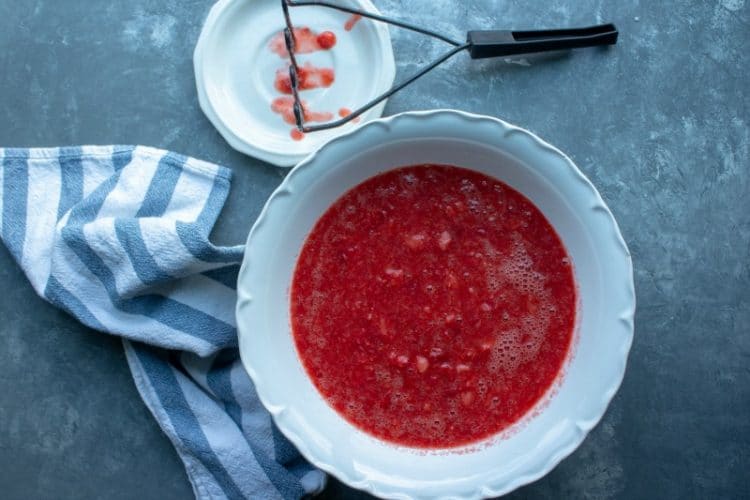 This is what the potato masher crushed strawberries should look like. It's okay and expected that there are still some small chunks of strawberries. They will add more delicious texture to the Gelato.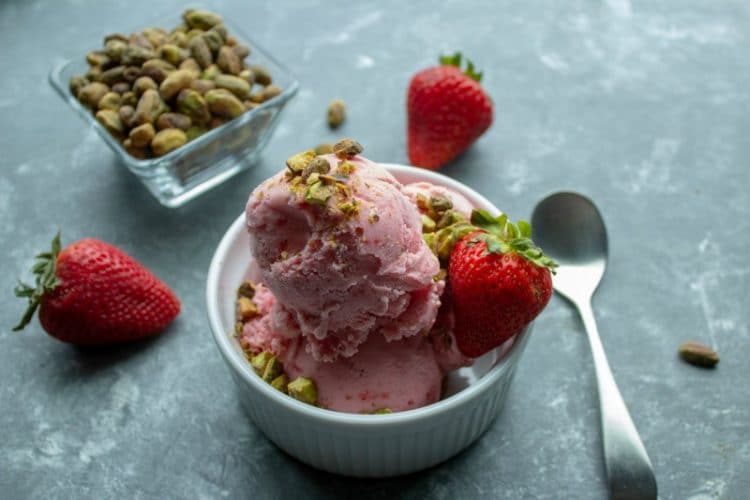 The final touch for our family is a sprinkling of chopped salted pistachios, but there are so many alternatives that would be just as tasty. How about walnuts, mini chocolate chips or even banana slices. YUM!
Helpful Tools and Ingredients:
Ice Cream Maker – I love this ice cream maker! It was an investment but is so easy to use it was well worth it.
No-Shell Pistachios – these are my favorites. You can buy them at many supermarkets, but this is the best price I have seen for them.
Primo Crushed Strawberry Gelato
The pure berry taste of this Primo Crushed Strawberry Gelato will have you believing you are summering in Italy. Thickened with cornstarch, this no-egg Gelato recipe is completely fool proof!
---
Click highlighted ingredients to buy them!
INGREDIENTS
3

cups

half-and-half

,

divided

2

tbsp

cornstarch

1-1/3

cups

granulated sugar

1-1/2

tsp

vanilla extract

2

pounds

strawberries

,

hulled and quartered

1/4

cup

chopped pistachios for garnish

,

optional
INSTRUCTIONS
Whisk together cornstarch and 1/4 cup half-and-half in a small bowl to make a slurry.

Combine sugar and remaining 2 3/4 cups half-and-half in a medium saucepan; bring to a simmer over medium heat. Remove from heat; gradually whisk in slurry.

Return pan to medium heat and cook, stirring, until mixture comes to a boil and thickens slightly, 8 to 10 minutes. Pour mixture into a heatproof bowl. Add vanilla and stir. Cool completely in an ice bath, about 25 minutes.

While mixture is cooling, use a potato masher to crush strawberries in a large bowl. Crush until strawberries are juicy and mostly pureed. There will be some small chunks of the pulverized berries left. Yield will be about 3 cups of puree.

Stir puree into cooled half and half mixture. Cover and refrigerate until cold, at least 2 hours.

Pour chilled strawberry mixture into freezer bowl of ice cream maker and process according to manufacturer's instructions. You may need to make the Gelato in several batches depending on your machine's capacity.

Transfer Gelato into freezer safe containers, label contents and seal with an air tight lid. Freeze Gelato at least 8 hours or overnight.
NOTES
Chill gelato mixture in a container with a pour spout and handle. This will make pouring the mixture into the ice cream maker a breeze.
Use the gelato paddle of your ice cream maker (if available) to get less air into the gelato.
---
NUTRITION INFORMATION PER SERVING
Calories:
130
kcal
|
Carbohydrates:
15
g
|
Protein:
2
g
|
Fat:
7
g
|
Saturated Fat:
4
g
|
Cholesterol:
22
mg
|
Sodium:
26
mg
|
Potassium:
194
mg
|
Fiber:
2
g
|
Sugar:
9
g
|
Vitamin A:
223
IU
|
Vitamin C:
45
mg
|
Calcium:
76
mg
|
Iron:
1
mg
---
© Copyright Christine Mello for Must Love Home. We would love for you to share a link to this recipe but please do not copy/paste the recipe instructions to websites or social media. We are happy for you to share a photo with a link back to this website instead.